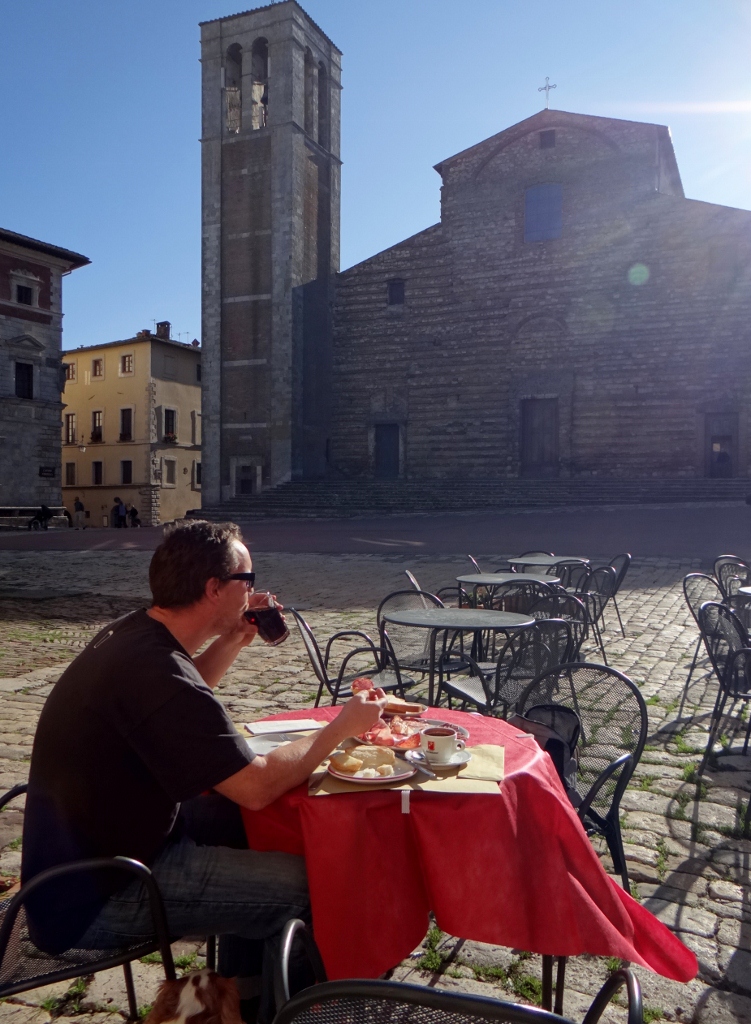 Dave the motorhome has moved, honest he has. He's now in a gravel car park just a few metres away from the official motorhome sosta – the difference? About 40 steps more into the town and €10 less a night – we make that around 25c a step! We're here: N43.09575 E11.78807
When we picked up the map from the tourist office yesterday it said in the motorhome parking bit that there was free parking right next to the sosta. Possibly because the sosta is used for the weekly market, so you can't stay there on a Wednesday night (the market is on Thursday morning), or possibly because the Italians just like free places to park. We don't care either way, it means we get another day to relax in the amazing town – and we'll get to look around the market tomorrow morning too.
Waking up this morning the sun was shining, it was a perfect day for relaxing. While supping his umpteenth cup of espresso (the boy is addicted to his new machine) Jay took a wander around to find the free car park, it was right next to where we parked last night, we could even see it out of our window, so after an empty and fill up at service point we pootled round the corner and parked up. Then it was time for Operation De-dirty Dave. We've been busy working on our next book and seeing places to give Dave a big clean out, a task normally performed when we're on a campsite, but we haven't been on any of those for a while. Jay tackled the bathroom and kitchen while I did the rest. About a kilo of dog fur is now filling up the sosta bin and Dave is feeling much happier about himself.
About lunchtime, just as all the shops are starting to close, we headed up into town and wandered, getting lost in the maze of tiny alleys and narrow steep passageways that make up this place. Fortunately it's only about a mile long, so we were never too lost. As we rounded the corner into the main square we could hear voices. In comparison to the silence yesterday where we were the only ones in it, today was like a theme park as two bus loads of school children spilled out the town hall with free time on their hands. The teachers had wisely taken to the local cafe and were supping coffees, leaving their charges to, well, charge.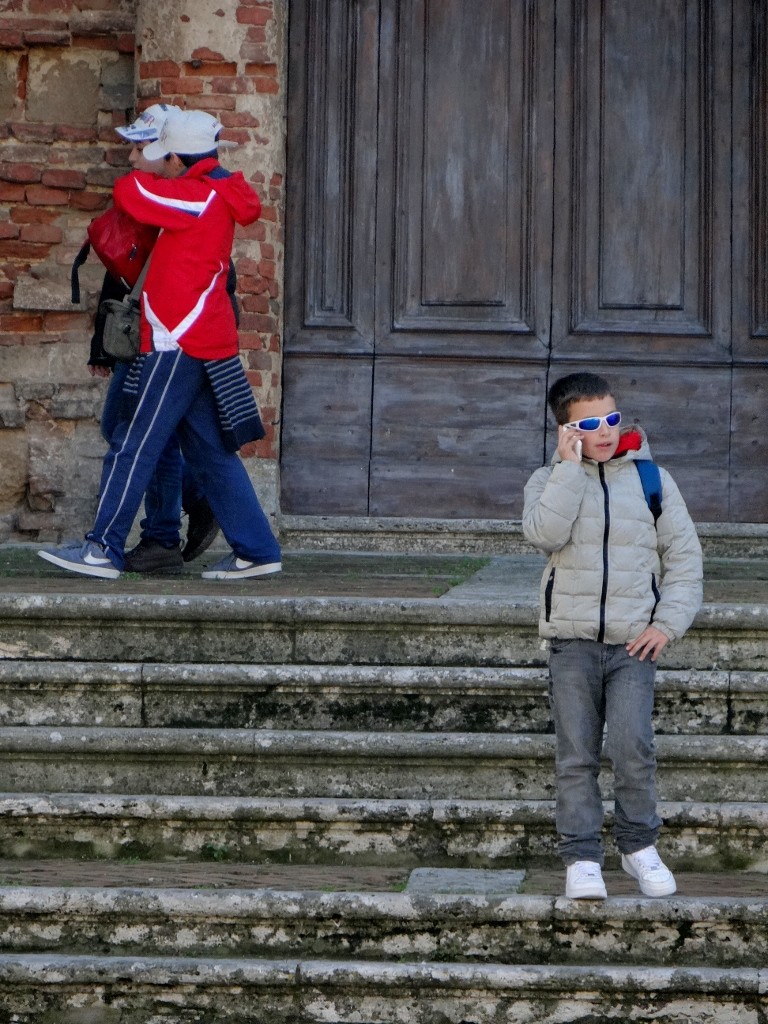 Spotting somewhere that not only does food and is open, but has Italians sitting outside it we dived in. Ordering a plate of the local antipasto to share we sat in the sunshine and listened to the children play and the cathedral bells chime the hour, oh not just once for one pm, no they rang non-stop for the whole hour! Jay enjoyed more caffeine in a coke while I had a hot chocolate so thick I could stand the spoon up in it. A huge plate of various cured meats arrived with a stack of thick white bread and we ignored our knives and forks and tore in with our fingers. This is what travelling is all about.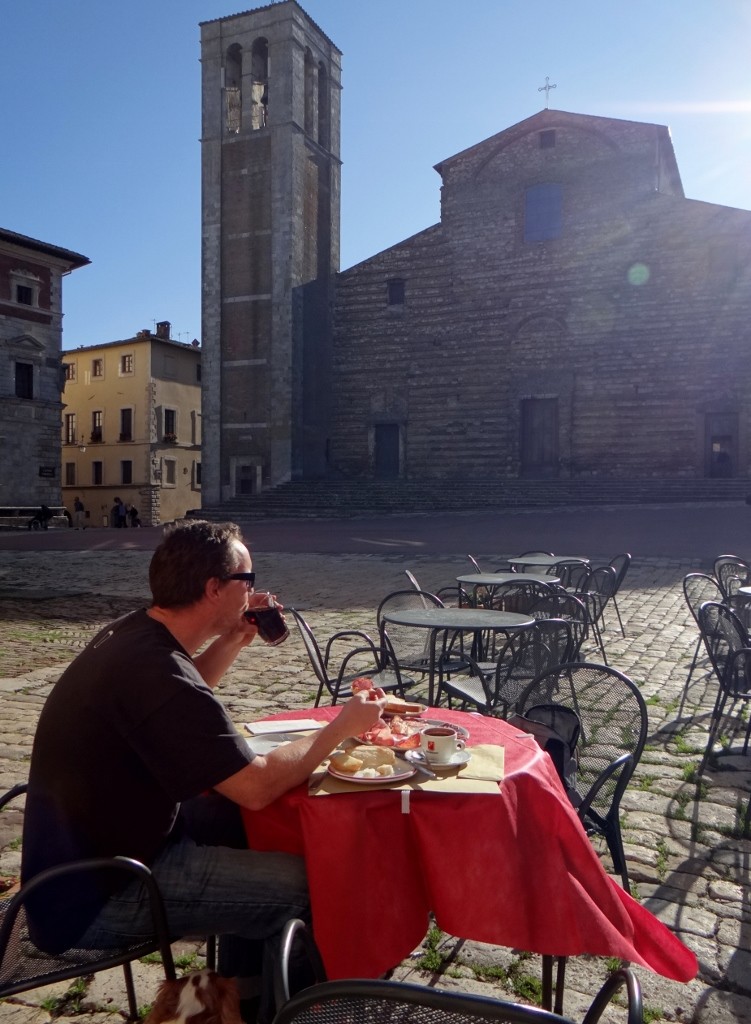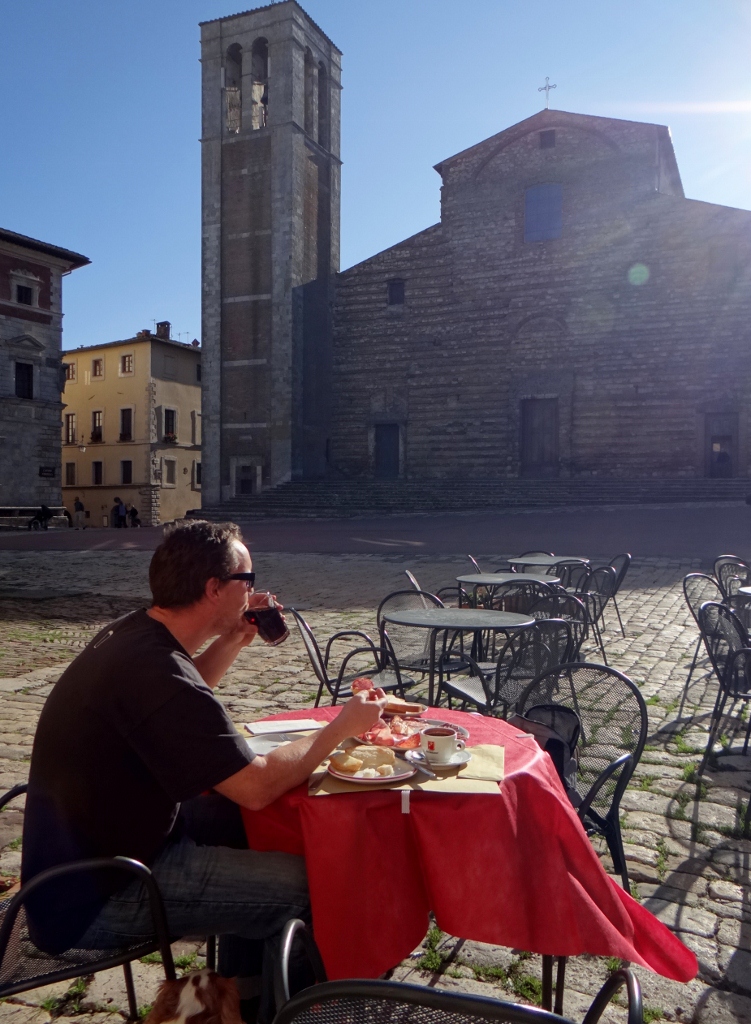 Slowly, like cats, the children were herded up and accompanied off the square, the bells fell silent (either that or I'd finally gone deaf) and peace was restored. We wandered around the town some more, taking in the views over the Tuscan countryside which were shrouded in mist yesterday.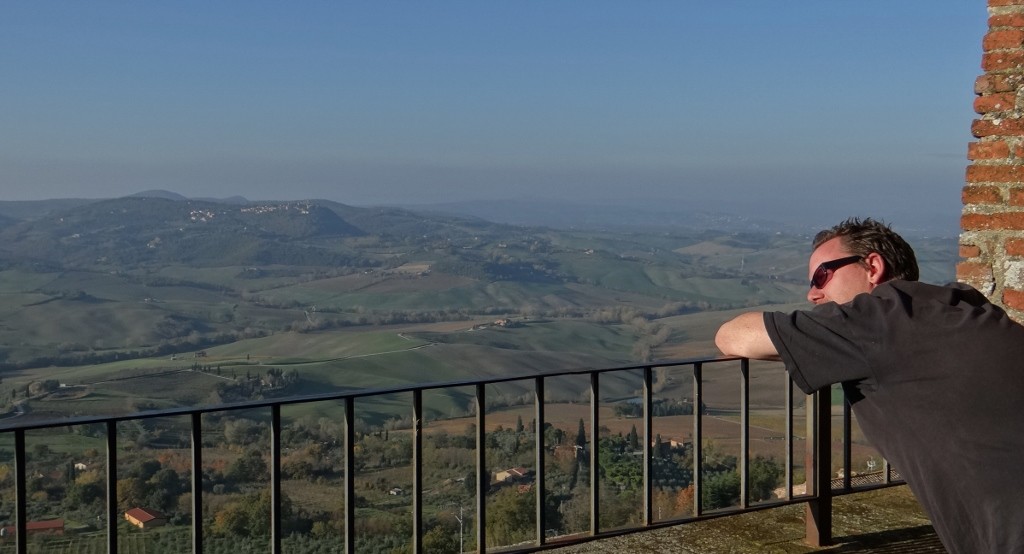 One final detour on our way back to Dave, the supermarket, to pick up some of the local vino. Unable to part with €8.50 for the cheapest bottle of Vino Nobile (which used to be drunk by popes and nobles) and would surely be wasted on our palettes, I opted for two bottles of Montepulciano D'Abruzzo and a pack of dried porcini mushrooms which all together cost less than the bottle of Nobile.
The sun has set and the wine is now open. On a blind taste test neither of us could tell the difference between one of the new purchases and the remains of last nights Chianti – so it is a good job I didn't splash out!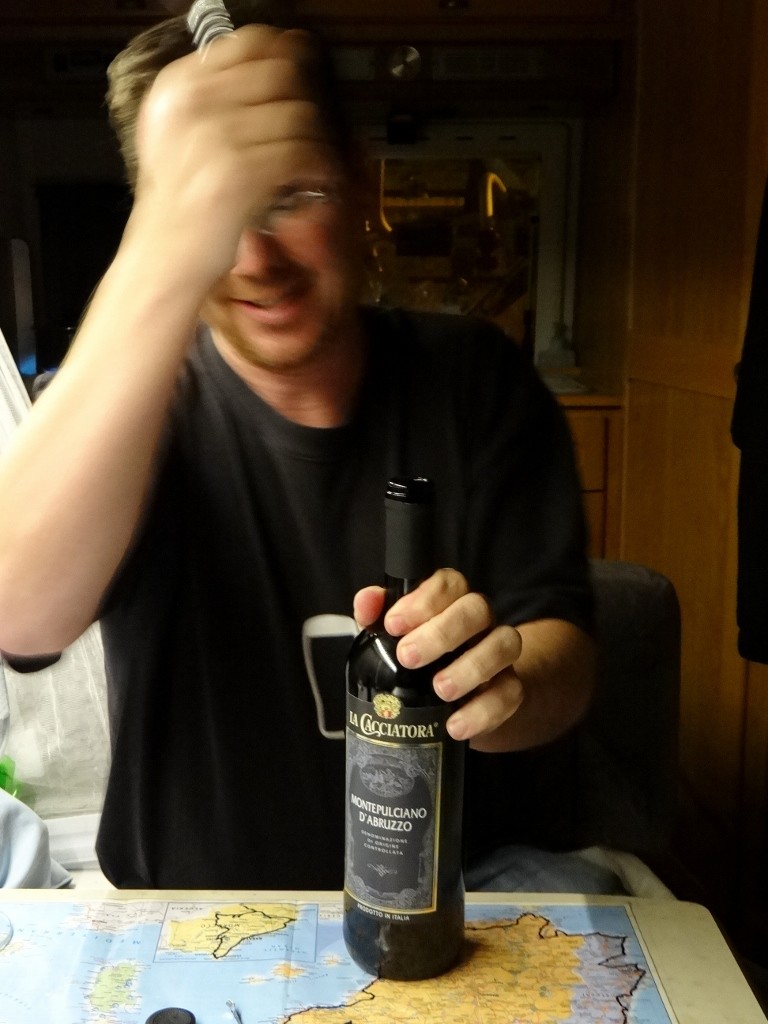 Ju x