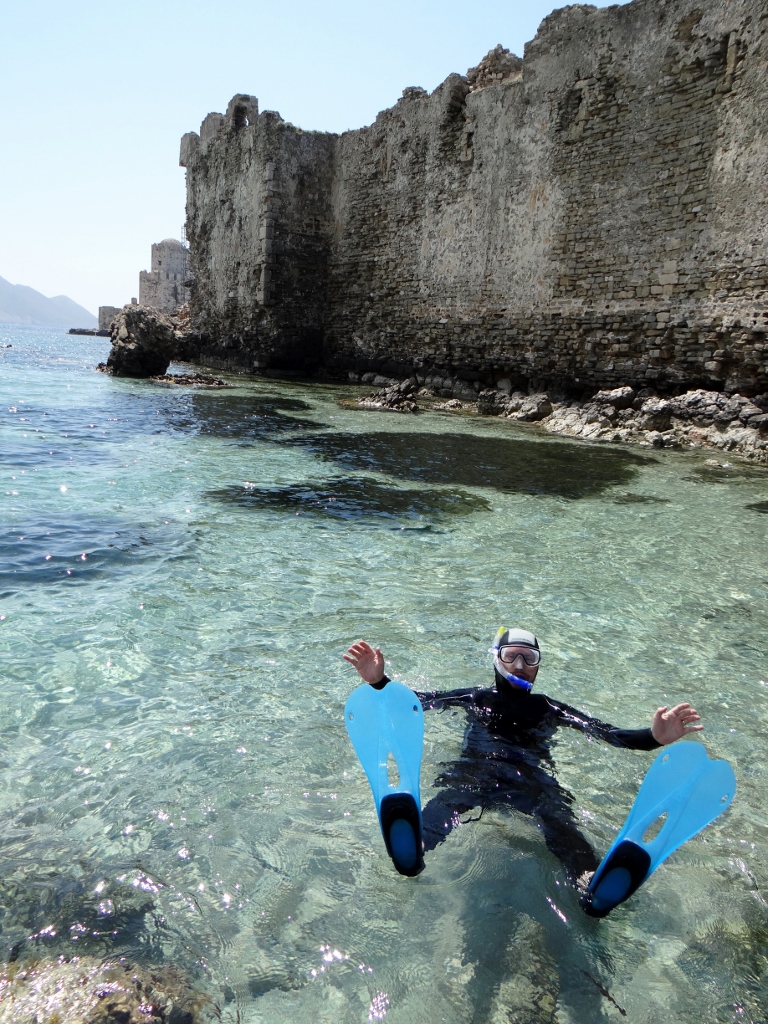 Dave the motorhome hasn't moved, he likes his view over the bay and the ancient castle – and who can blame him. He's still in a car park next to the sea in Methoni, Greece.
Last night we chatted to Jay's parents on Skype, between our dinner and desert. I'm still struggling to get my head around the fact that we are now 2 hours ahead of the UK, so it was a very late dessert of mascarpone cream, raspberries and amoretti biccies (Dave's version of Eton Mess) before we headed for bed just after 11pm. Around midnight whoever was playing the country and western music yesterday started to pump the tunes out again, this time, either planned or ironically, they played 'In the midnight hour'; three times in a row. Other tunes followed, but I'd dozed off by then.
This morning we faced a tough decision, should we stay or should we go? The sun was shining, the water crystal clear – of course we opted to stay.

We had planned to get a flea collar from the vets this morning for Charlie (as they only open in the morning on Mondays – well you need half a day off after a two day weekend!). A look on the internet told us why he's picking up ticks only two weeks after his monthly treatment of Advantix; it only lasts for two weeks on ticks. A quick application and he's ready to repel any bugs that want to suck his blood, no collar needed (and it means Jay can't take him swimming for a few days too!).
We went for a wander around the town of Methoni which didn't take very long. It is mainly made up of small hotels and holiday apartments, but with these come loads of cafes and tavernas. Walking down one of the main streets was like being on a catwalk with the locals sitting on the pavement either side of us. A quick nip into the local supermarket (a Carrefour Express no less) and I emerged with only the one item I had gone in to get – butter. Jay is always astounded at my ability to go in for one thing and come out with two bags full, but as Dave's cupboards are still so full their contents tip onto us when we open then I restrained myself.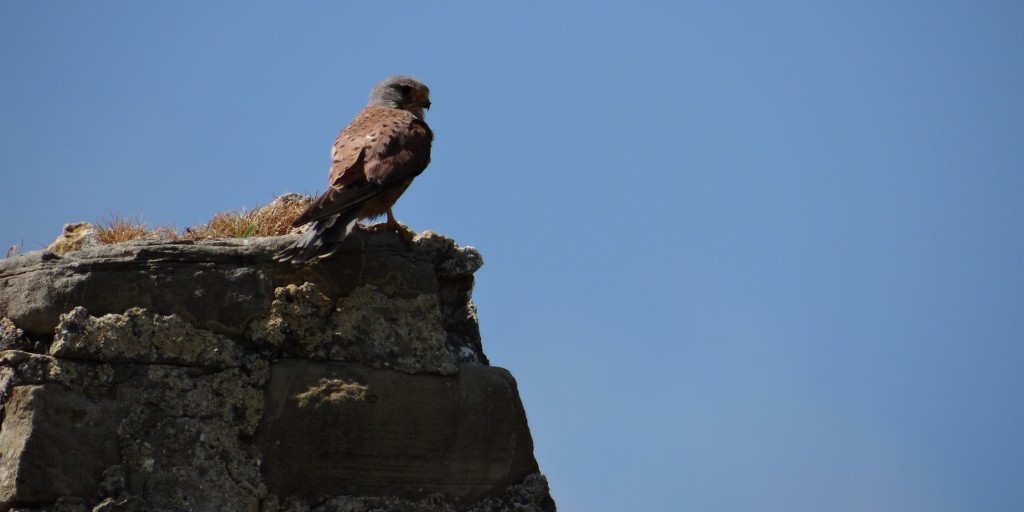 The afternoon was spent doing our own things. For Charlie this meant sleeping, snoring, waking himself up snoring, then going back to sleep. For Jay it was spent snorkeling around the base of Methoni castle, and for me it was spent finishing off something we started to write ages ago. We've now been to both Morocco and Tunisia and thought we'd do a comparison of the two, to help people decide which is best suited for them if they want to experience North Africa.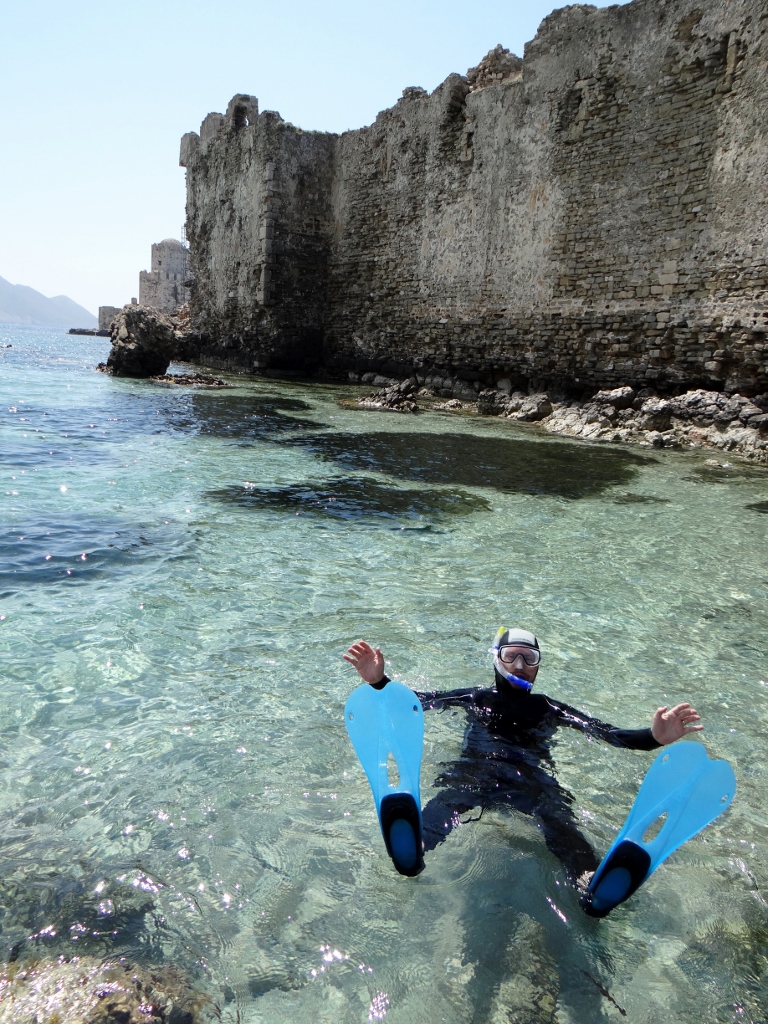 Another stroll around the town this afternoon saw us, as always, with our noses pressed against the estate agent windows. We thought it would be cheap to buy a property around here, how wrong were we? It's a shame because it is such a beautiful and chilled out place, but as the local shop stocks several German and British newspapers and we've seen several British registered cars about it looks like we might have already missed the ex-pat property boat.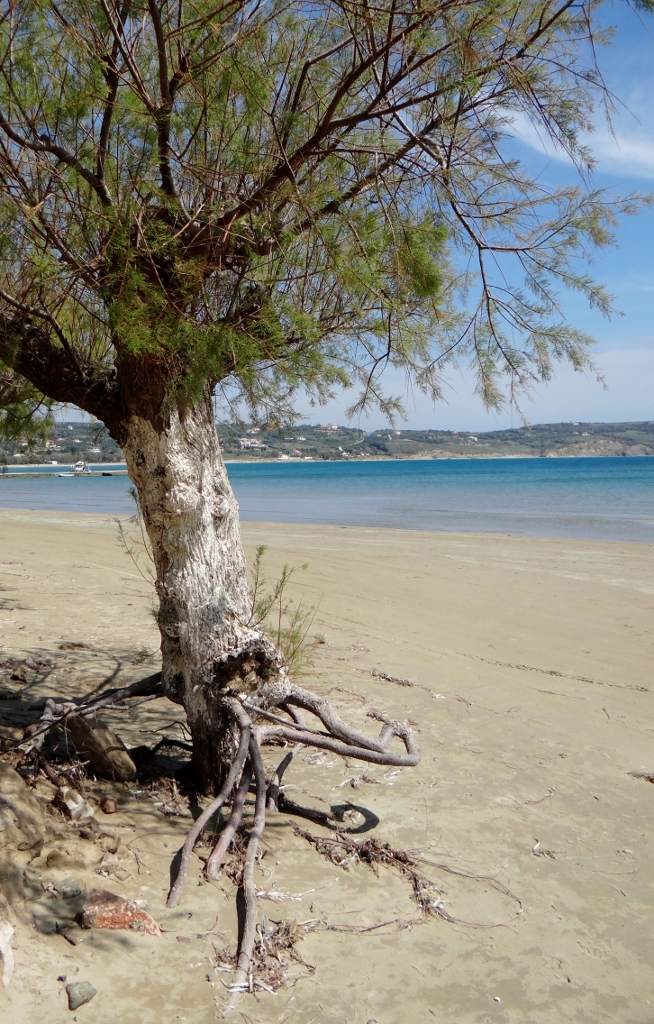 After our walk we tucked into biccies back in Dave as the hoped for Baklava from the bakery didn't materialise – the bakery was shut, Monday afternoon it seems a lot of places are shut! Jay then carried on his study of all things Greece via the Lonely Planet and Rough Guide to Greece – we have both, albeit one is slightly older than the other (as its prices are still in Drachma!). I've almost finished The Dark Heart of Italy by Tobias Jones. Jay read it ages ago and kept telling me snippets of information from it, but reading it now it's answered many questions for me about Italy; why are the bins never emptied? Why does everyone drive so fast? Why don't people obey the laws? If you're thinking of going to Italy it's worth picking up a copy as you'll see things in a whole new light.
So all in all we've had a very relaxing day, apart from a call from our insurance company to let us know that we might not have the right policy for our trip. Because we've rented out our house we need to be on a full-timing policy, which we thought we were. A man at the brokers is getting to the bottom of it for me – how did this come about? Our insurer had read our article about living in Dave in the April edition of MMM magazine. We like feedback from our articles, but maybe not this sort!!
Ju x