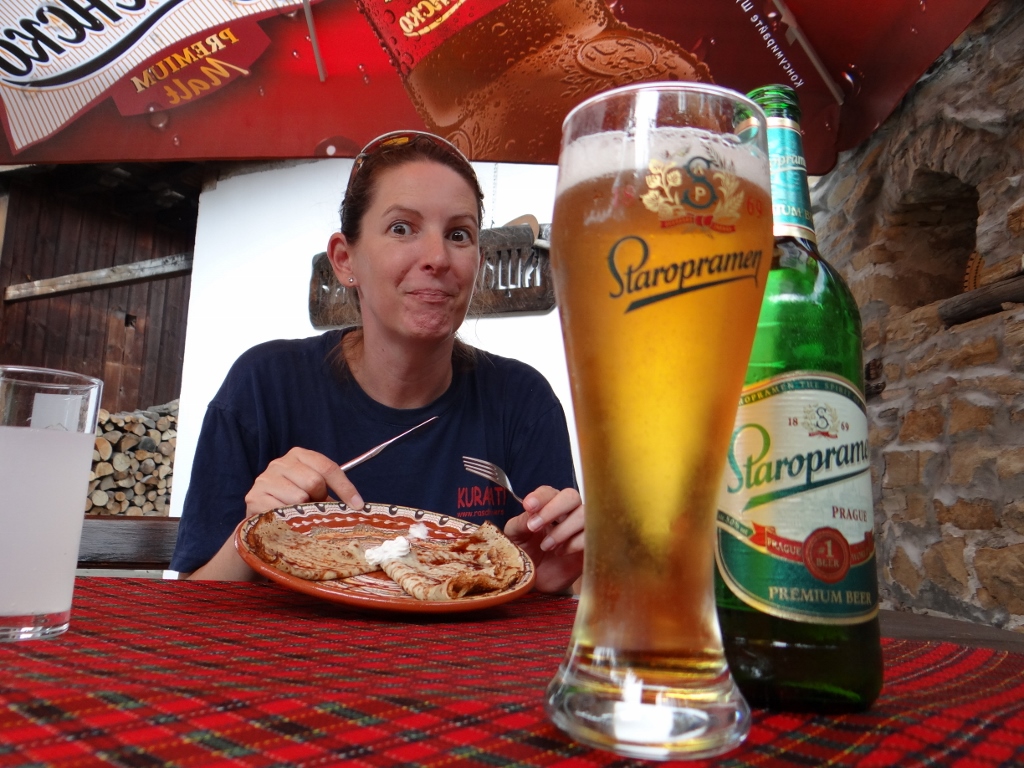 Dave the motorhome is being a tad cheeky, parked up by the roadside next to the fire/police station virtually in the middle of the wood carving capital of Bulgaria, Tryavna (Трявна), N42.86401 E25.48628. We've checked with the Tourist Office and they were more concerned about the noise keeping us awake, suggesting somewhere a bit quieter to sleep, than the fact that we're right in the middle of their town!
Last night we waited for the power to come back to Koprivstica so we could go out and belatedly celebrate Jay's birthday. At 8pm, umbrella in hand Jay wandered over the restaurant we'd been eyeing up. Inside a couple sat nursing drinks in the dark with no sign of staff. Figuring it wasn't going to be a goer I cracked open a couple of cans of baked beans, grated some cheddar cheese (thank you Lidl English week) and toasted up some bread. Just as I served it, the lights all around us came back on. Still it was very tasty, even if eating it was interrupted by Charlie who had got a poorly stomach and needed out immediately!
We decided instead to go out for a drink and spotting all the local police in the cafe across the square from us we headed over there. We don't have a clue what the security guard / police relationship is here in Bulgaria – maybe the security guard parked next to us was keeping an eye on the police, or vice versa? Either way no one batted an eyelid to us being parked up in the main square for the night. Jay's coffee (for only after we got in there did we realise that the cafe only served soft drinks) came with a little slip of paper which had a phrase or saying on it. We asked the girl behind the counter if she could translate it for us, but as it took us five minutes to get the word 'snail' we all decided it was best to give up and leave it to Google Translate!
Back in Dave Jay watched a film while I finished the last of the books in the Twilight Saga. I enjoyed the books much better than the films, and I think you really need to read the books before you see the films. But I have to say I'm not all caught up in the excitement of it all and don't pledge my allegiance to team Edward or Jacob – still it was a good read. Our personal security guard left our side around 10pm leaving just the police who were still in the cafe and us in the main square. The cafe closed so they moved to the front of their car and stood around laughing and chatting until long after we had gone to bed.
With a different driver the security car arrived promptly at 8am and parked up next to us again. We were already awake and keen to head off as we had a long driving day ahead of us. The air weather was much cooler with plenty of cloud cover, a check on the t'interweb forecast thunder and rain for the next week – still it will stop us complaining about the heat! Charlie seemed a quieter than normal, but wasn't off his food, so we set off just after 8.30am. As we reached the edge of the town we spotted two fellas on a horse and cart being spoken to by a bloke in a 4×4 with a logo on the side, for the next ten minutes we discussed the fact that Koprivstica might not be as real as we though, perhaps those two blokes were actors who had tired of riding around in circles around the town (the security guard was there to check they were running to time – of course!) and made a break for it. Who knows, but the old worldly charm of the place surely can't last for too many more years – and it kept us entertained as we wound our way through tree lined roads.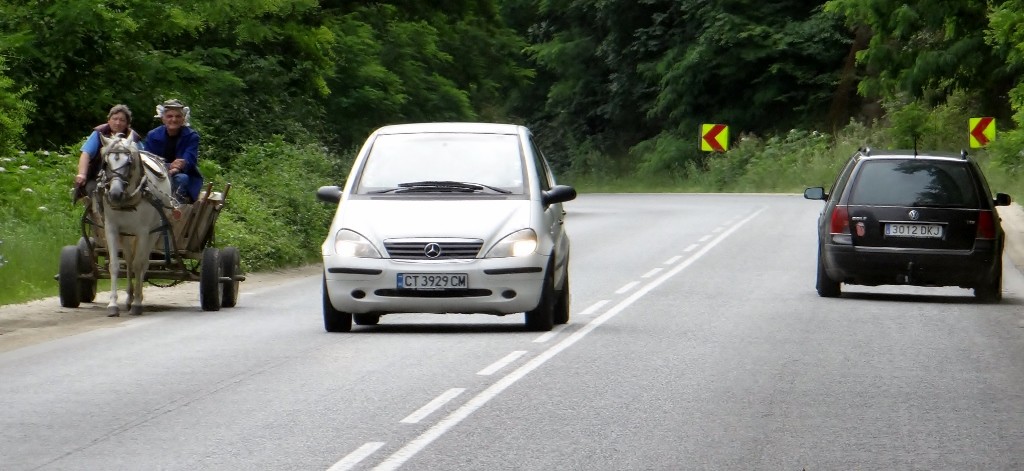 We made it to the main road which runs east from Sofia to Burgas. We missed the first turn for Burgas so carried on following the road. We knew we didn't want to go to Sofia as it was in the wrong direction, so when we were offered a choice of two roads we took the one that wasn't signposted for Sofia. As we neared the top of the slip road we suddenly realised that we were driving the wrong way up the off-ramp! Mild panic hit Dave in a wave, a frantic look around told us that the road was clear, so we nipped across onto the right lane, thanking our lucky stars that we had set off early, the traffic was light and there wasn't a crash barrier! Ooops!
The rest of our journey was much less eventful as we made great time on the smooth road, slowing as it became pot-holed around towns and villages. We missed most of them so the cupboard contents were only lightly shaken today. As we drove through small towns and villages the way was dotted with signs of the communist era, mainly in the form of huge massive memorials, statues and square concrete buildings. The buildings may be an eyesore, but at least they're still standing, which is more than can be said for a lot of the houses we saw, one had a huge crack right down the middle of it and part of its roof had gone in, others had big dips in their roof or just brickwork that looked like it had been a self build project. I don't know if anyone knows the answer, but are most of the homes in Bulgaria self built – only they really do look that way!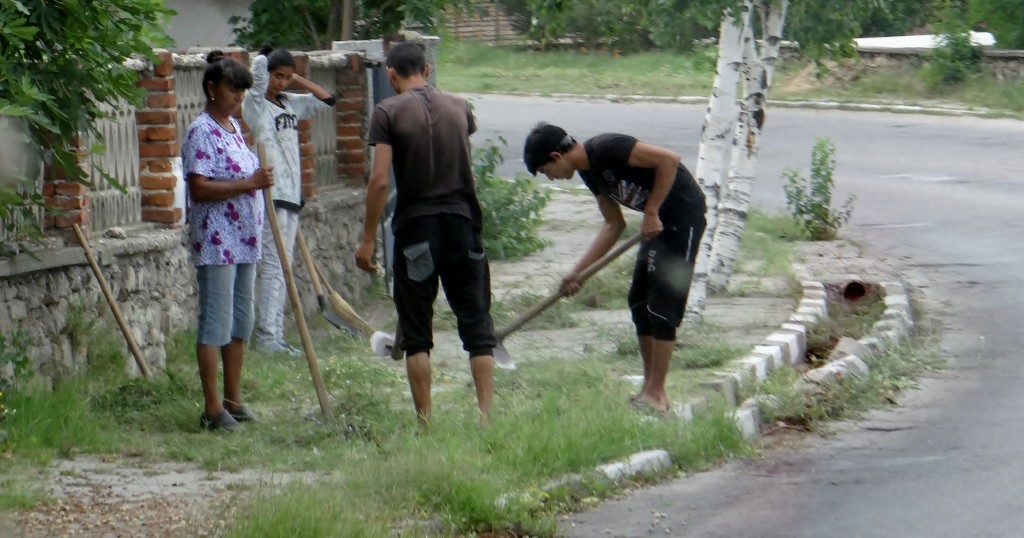 We knew of an overnight stopping place near Shipka and made our way there, through 'Rose Valley' which produces over 80% of the worlds Rose Oil, but unfortunately we're just a couple of weeks after picking season, so we ended up admiring the lavender and sunflowers as they whizzed past Dave's windows. Unfortunately there was still loads of pollen in the air and as we drove my eyes and throat started to itch really badly.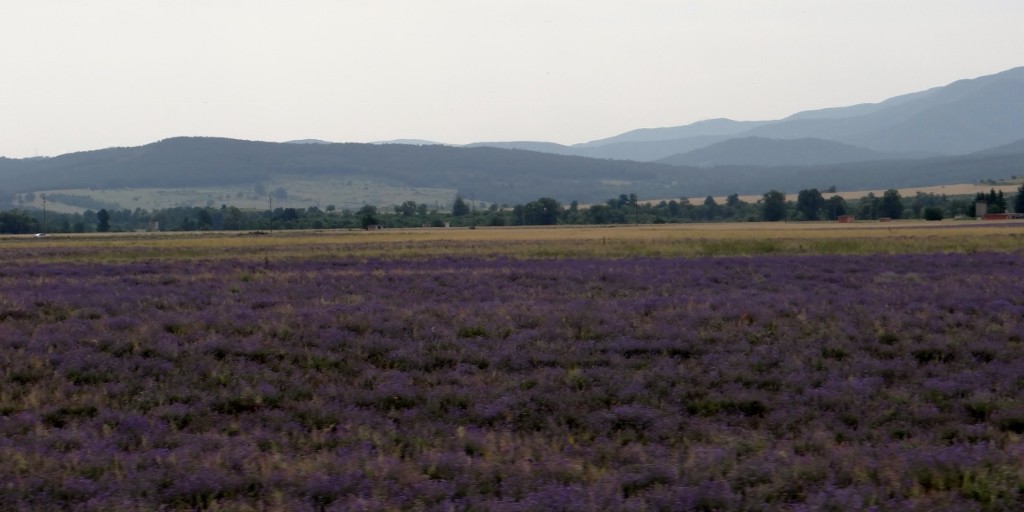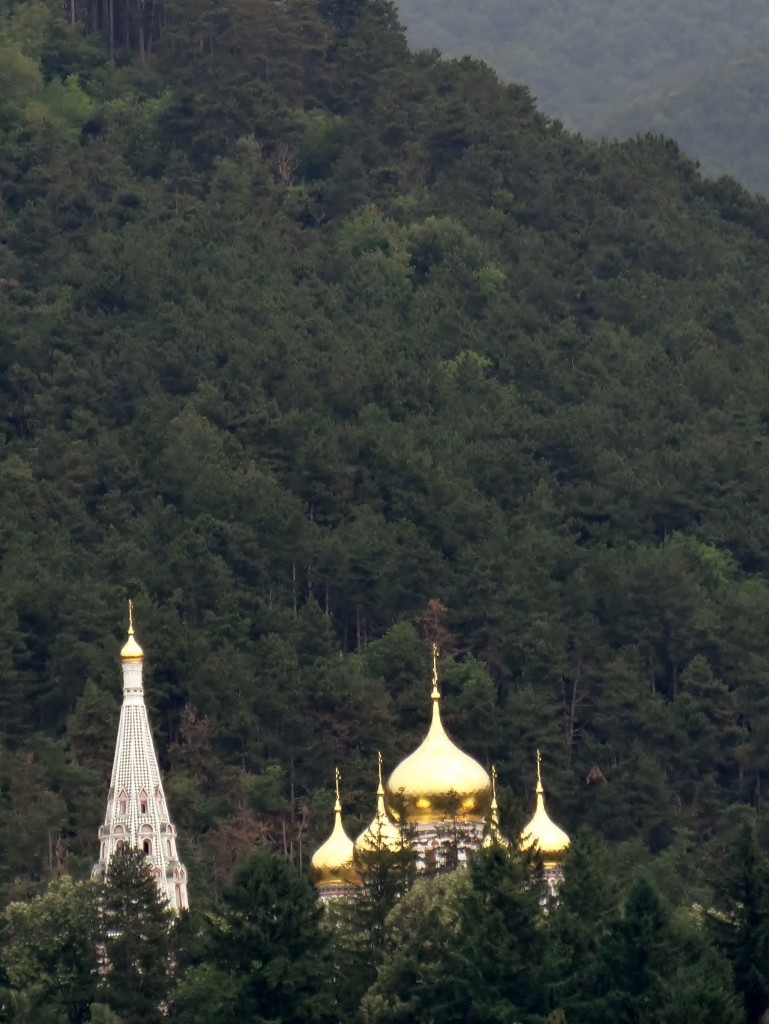 The GPS co-ordinates we had for our the overnight stop meant that we needed to continue past the town of Shipka and up the famous Shipka pass (Шипченски проход), the scene of four battles fought between the Russians and Bulgarians against the Ottoman empire in the Russo-Turkish War during 1877-1878. Pulling into the parking area at the top of the pass, alongside a couple of coaches and restaurants, I was feeling rough so I had an anti-histamine and a sleep in Dave while Jay and Charlie climbed up to the monument and took in the views back across the valley we had just driven across.


Jay told me afterwards that there was a man working up there, fighting a loosing battle against the weeds to try and keep the place looking half decent. All along the roadsides today we've seen people sweeping up and clearing away the debris from last night's thunderstorm and strong wind, but this poor chap looked like he might need an army of 10 for a whole month to get the place ship shape.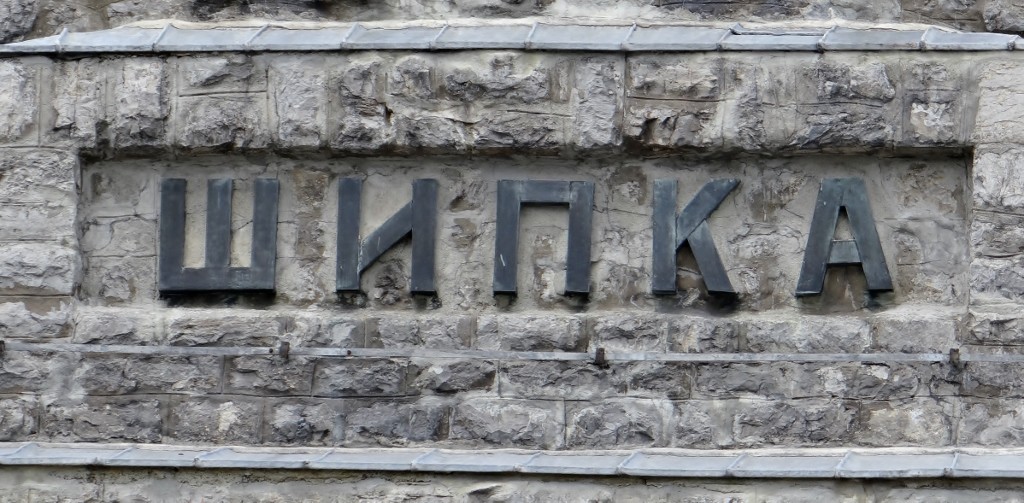 Back at Dave we got the map out. There really wasn't much there and it wasn't yet noon, so we'd be hanging around all day if we were going to stay the night (which we can easily do with wifi, but not when we're limited to 100Mb on our EuropaSIM!). So we decided to move on. We were sorely tempted by the campsite at Veliko Tarnovo that everyone raves about, but we have put that off until tomorrow with a plan to have a few days there to rest, do the laundry, eat their full cooked English breakfasts and do research for Romania. We set off to Tryavna, Bulgaria's ever-whittling woodcarving capital, we'd also read that we could do a wood carving course. The towns carvers have been called on in the past to provide sculptures for monasteries as far away as Iran and Turkey, and of course there is some of it at Rila Monastery.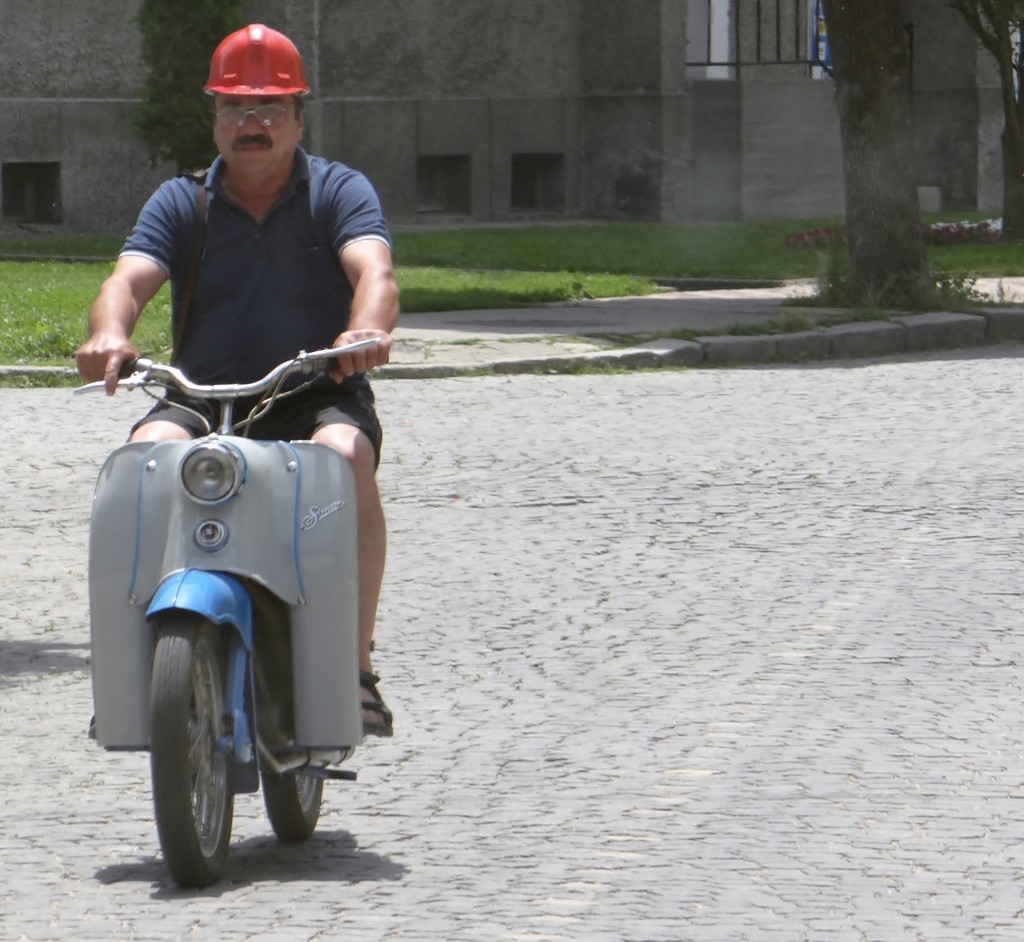 We arrived in the town and drove around for a bit until we spotted the tourist information office. Jay pulled Dave into a space across the road from a car park which you had to pay for, the plan was that I would jump out and get the info of where we could stop then we'd head there. It was now 1.30 and lunchtime in the tourist office, I was given a map and not made to feel very welcome as the person returned to their PC – obviously important facebook stuff to do. Opening the map I worked out where we might want to go and see as Jay did a look around for a sign to say we couldn't park where we were – there wasn't one so we stayed put. We sat in Dave for a short while as the temperature has risen again, the clouds not keeping out the heat of the sun, then decided we might be cooler outside in some shade.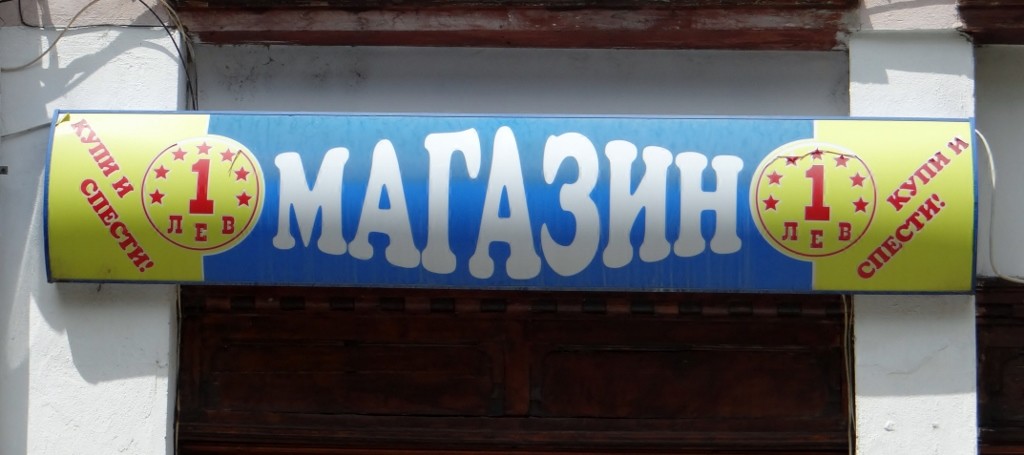 After drawing on our map we set off to see the sights. These included a church, unsurprisingly filled with carvings and icons, which meant that we didn't need to visit any of the several wood carving and icon museums. The main square has a slightly wonky clock tower and just over a bridge is what our guide described as 'the most beautiful cobbled street in Bulgaria'. It would have been postcard pretty, if it wasn't for the cars and wheelie bins, but overall it's a nice little town to stroll around.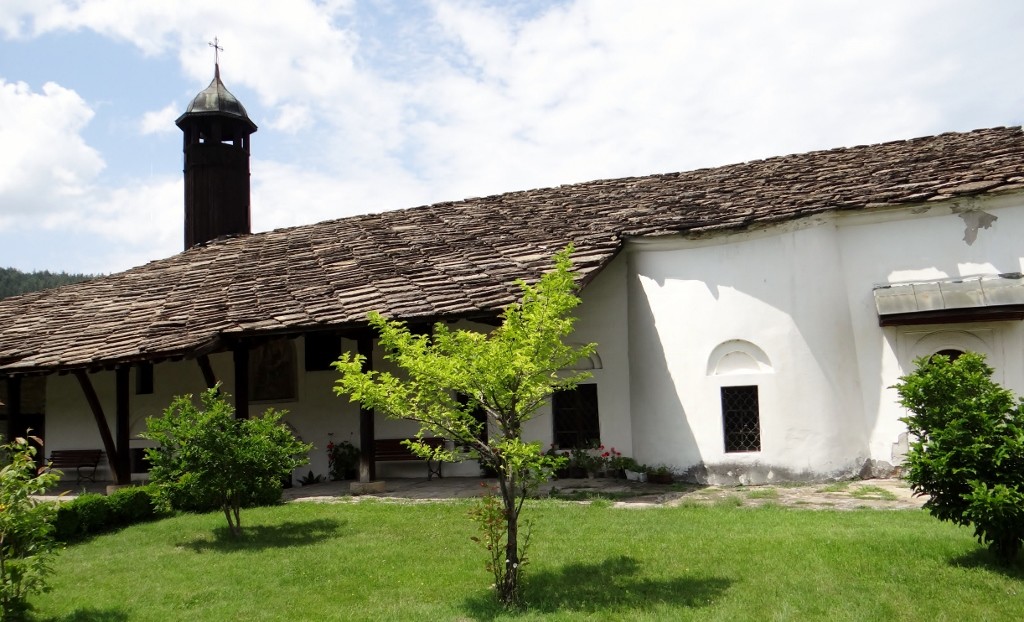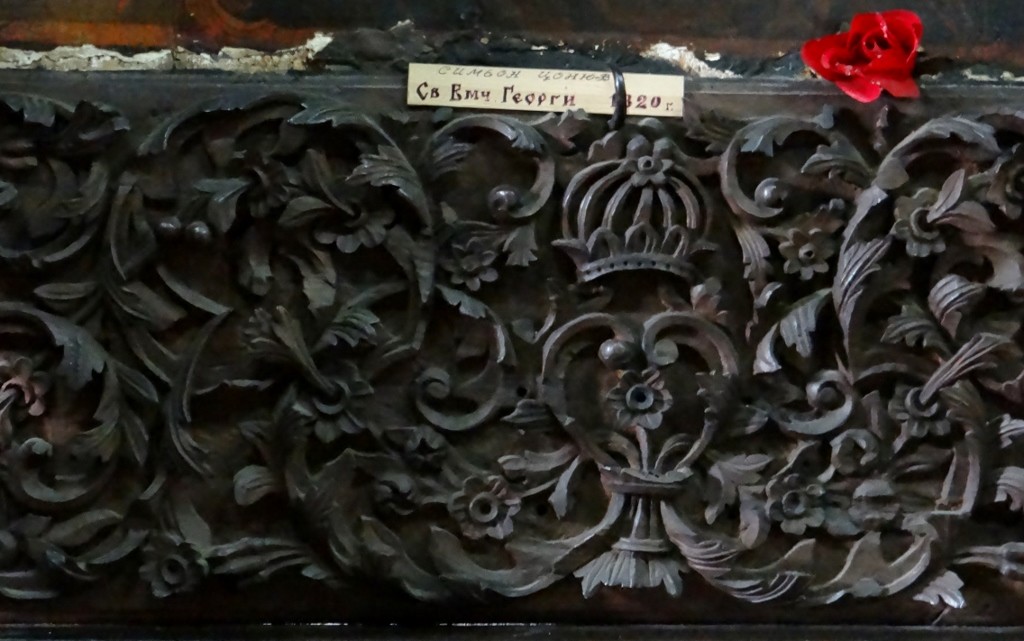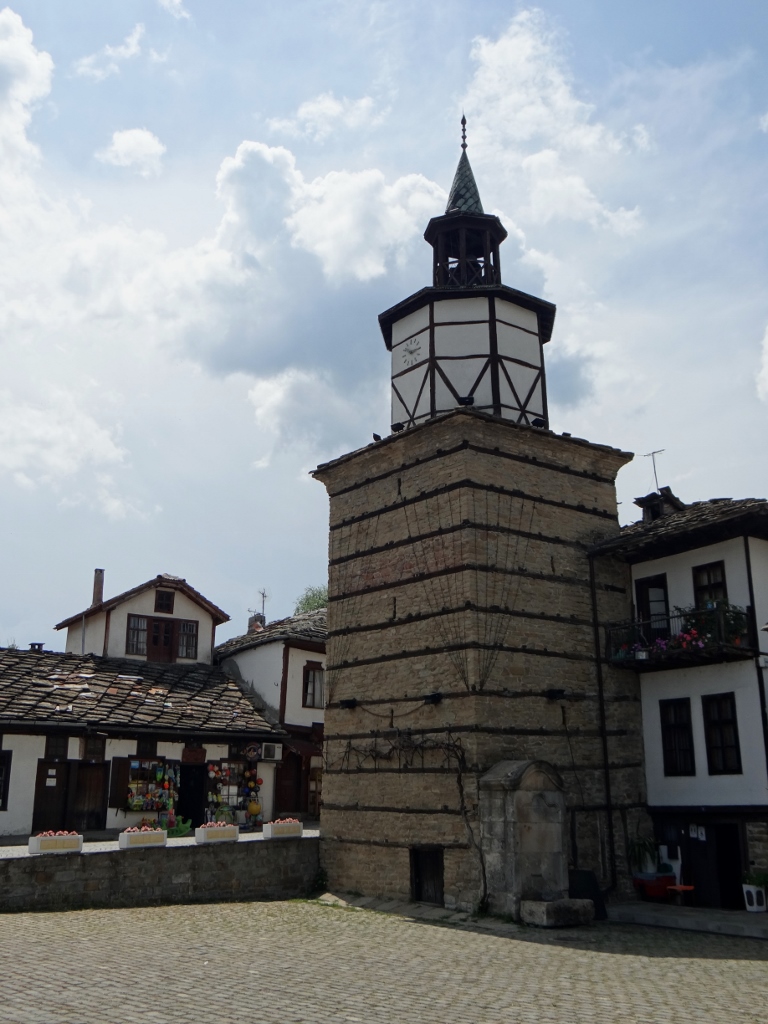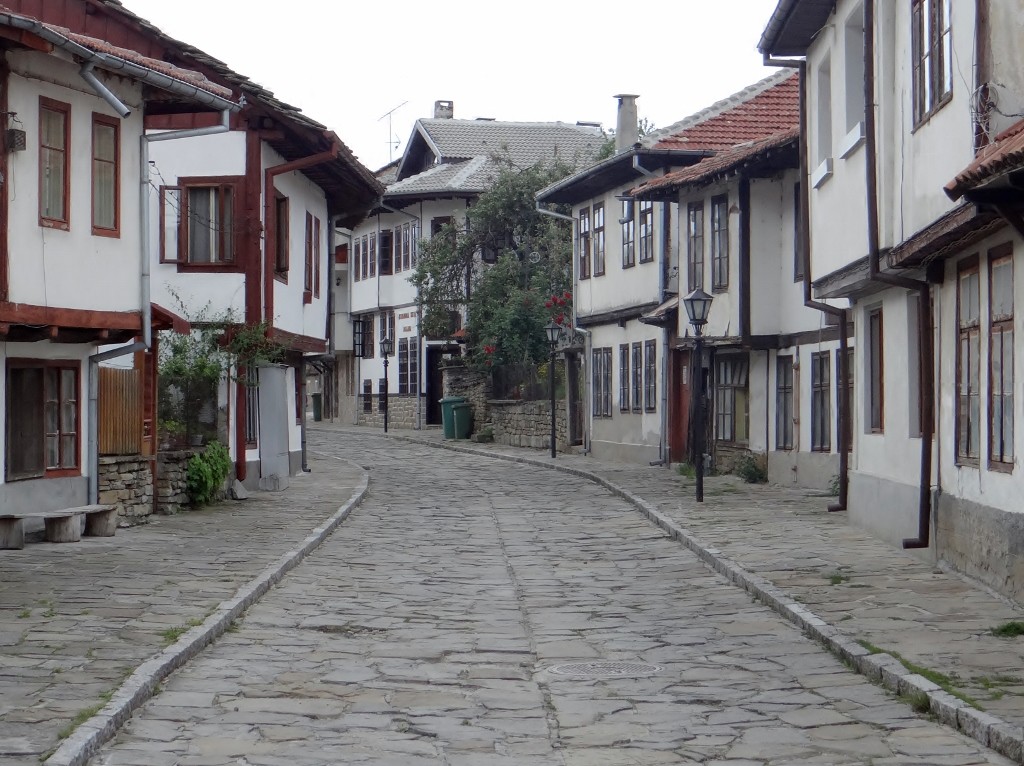 We spied out a place to eat tonight and stopped off for a couple of drinks (and a pancake for me as I was feeling better) in a beer garden. We sheltered under a huge beer umbrella from a few spots of rain as deafening thunder cracked the sky above us. Charlie, now feeling much better, whined the whole time as he could smell food of some sort coming from over the beer garden wall. So after a couple of pints we retreated back to Dave. The air cooled slightly by the non-storm.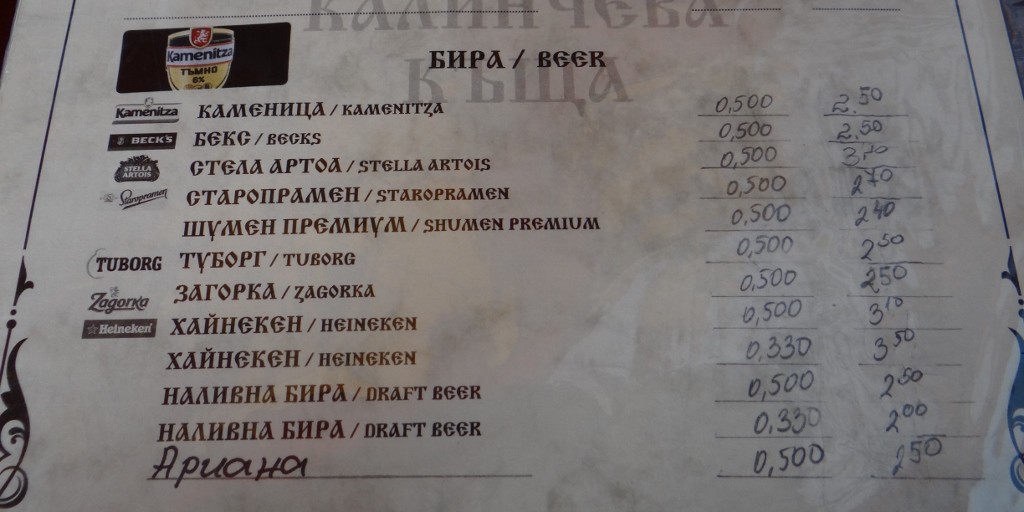 I went back to the tourist office, the tourist info lady was back from her lunch. We've decided to stop where we are despite the potential noise. To our left is a little park with people riding four wheeled bikes around it, and storks nesting on the chimney of the African arts museum – watching them and the people going by will keep us entertained until it's time for dinner.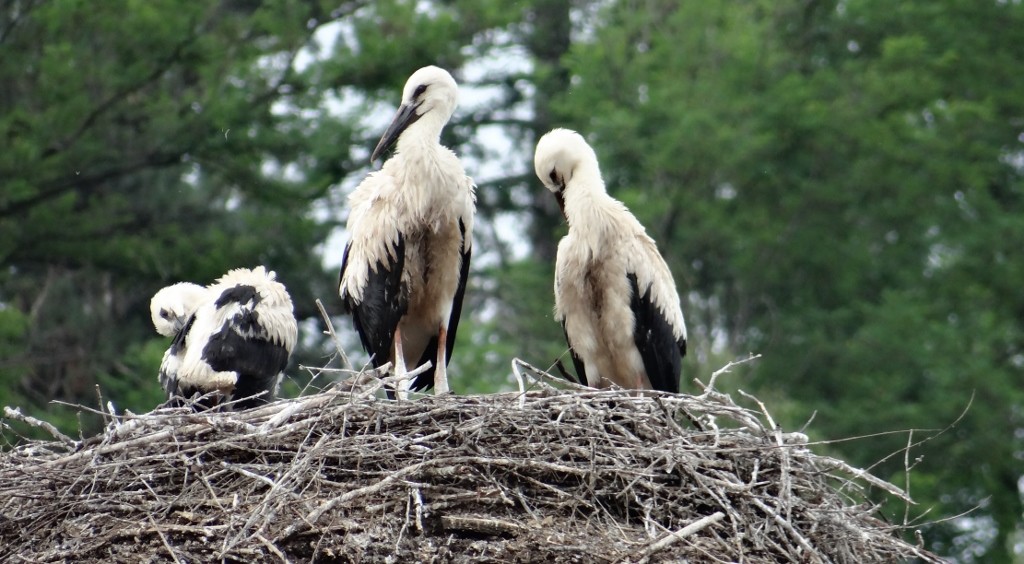 Ju x