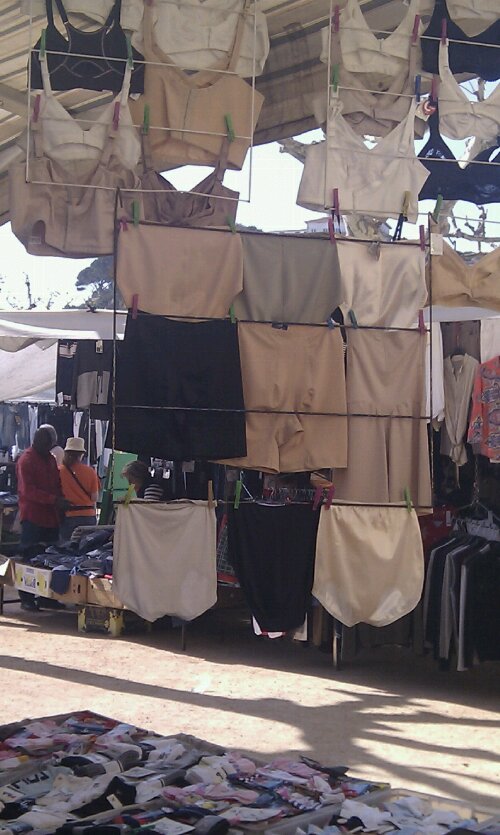 We're still here: N41.78015 E3.02290.
The weather is : lovely and sunny
Yep we've still not moved – well we are on the other row in the aire after driving over to use the services.  We nipped into an empty space with the hope of better wifi – it seems to have worked. So now, for your Sunday night viewing pleasure, I can now bring you J and Charlie acting out the spaghetti scene from Lady and the tramp.
This morning we woke up late again, we just can't seem to align to the clocks changing. But then I guess it doesn't really matter. J's Mum rang to say they were snowed in at Skegness, but she didn't catch us out this year – we had made a point of noting the date as today approached. Nice try though!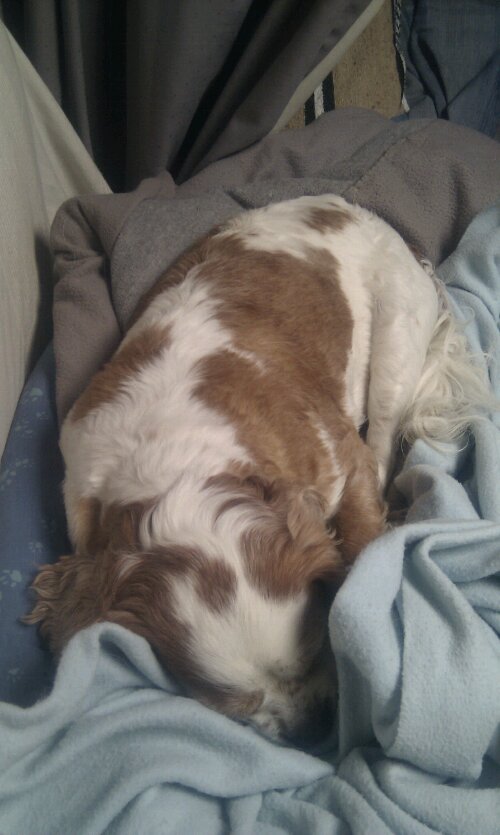 I spent a while tidying Dave, it's amazing how cluttered he gets when we stop somewhere for a few days. We figure we're not moving so things don't get put away. Before we know it the benches are both covered in clothes, the table in books and maps and Charlie hasn't been seen for days! Only kidding about Charlie, he just sprawls on top of everything. Still tidying Dave is a much quicker job than tidying up our house was – so won't grumble.
We set off this morning to follow the walk around the headland to the south of Sant Feliu de Guixols, but when we stuck our noses out of Dave it was quite clear something was happening in town. Where there had previously been no cars and hardly any people, now cars were parked all over the place and families were making their way to the monastery armed with decorations made of palms and bunches of leaves. I wracked my brains to try and remember what we were taught in school (I went to a Church of England primary school, but it was a long time ago) and palm Sunday sprung to mind – which wikipedia kindly confirmed.
Loud speakers had been placed outside the church in the monastery so the mass at midday could be heard by all. Except us, as it turned out that palm Sunday is also market day here, and I was so busy snapping photos of the obligatory big beige pants stall that I lost track of time.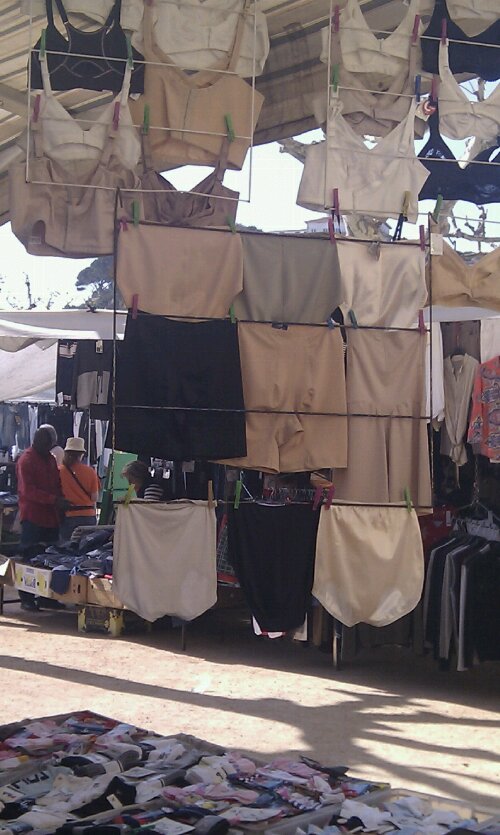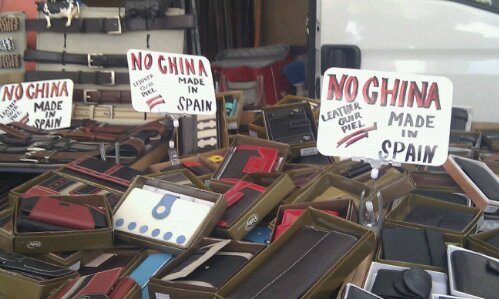 Mass was only about 10mins long, so must have been taking place while I haggled with the man on the sunglasses stall – I finally have some new sunnies and will try my best not to scratch these ones as they're expensive to replace at €4!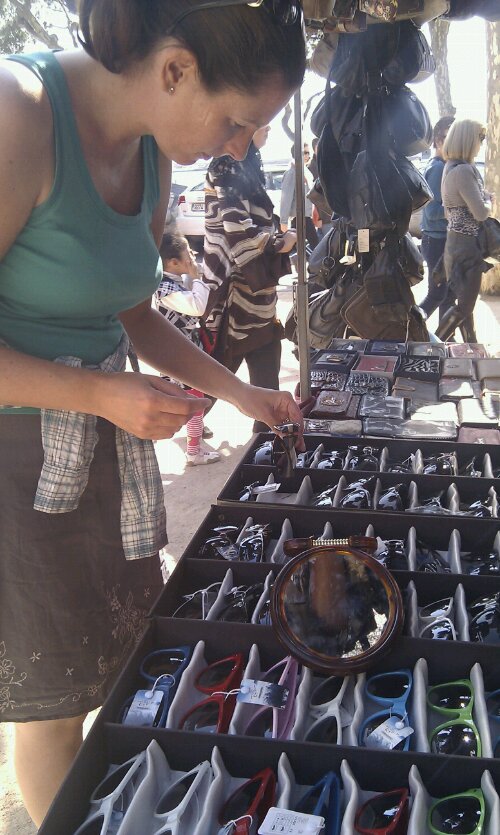 Finally we set off to walk around the headland only to find the path wasn't as well maintained as the one yesterday (part of the wall had collapsed into the sea at one point).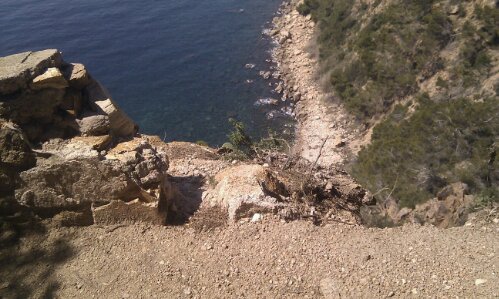 So we wandered around the streets looking at all the flash houses. Infinity pools and balconies overlooking the sea were the norm. What did surprise me was that a few we passed had foreign registered cars outside them, but I guess we're not that far from the rest of Europe here. We surmised that they were the holiday homes of rich bankers after having seen in the estate agents windows how much property is around here. Good job we bring our home with us!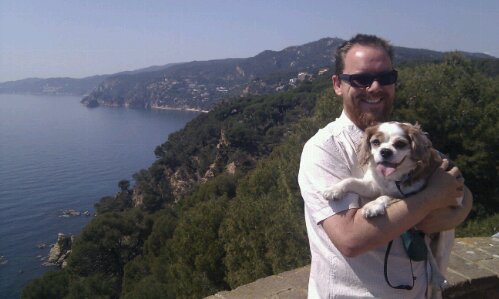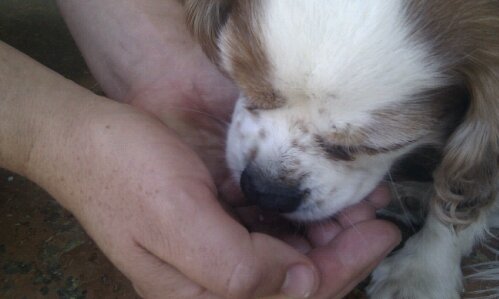 This afternoon we've tried a fix on the clonking suspension. Wooden skewers have been inserted between the leaves to see if they stop them rubbing together. If they do we may look for a more permanent solution, or we might just forget about it until the skewers rot and it comes back!
Tomorrow we're finally going to leave Sant Feliu de Guixols. We've loved our little 'holiday' here, but there's still so much more to see out there, so time to move on.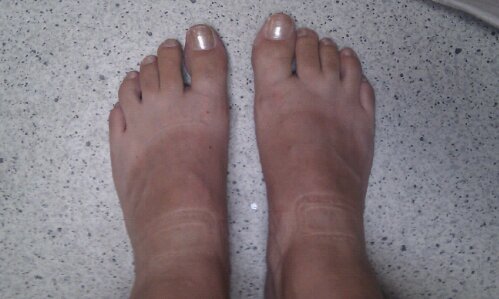 Before we go I've found a bomboneria selling easter gifts, just not sure which one to get for J!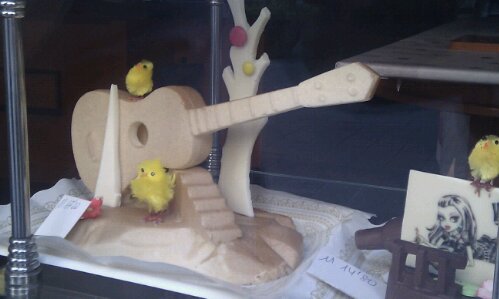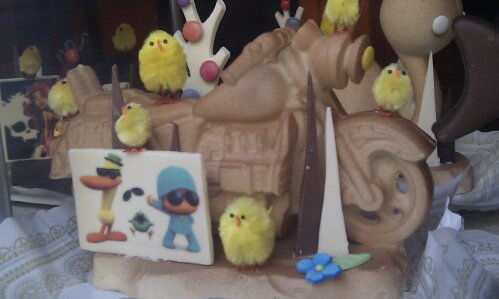 Have a great week.
Ju x