Dave the motorhome is perched in a car sized parking space between the road and river in Namur, Belgium (N50.46571 E4.85546).
Last night Charlie's grumbling stomach kept us all awake (that and a mosquito that had managed to creep into Dave). I don't think it was rumbling through hunger, although he is currently on a diet, but in the early hours of this morning he needed out to eat some grass. As it was my turn on pooch watch and J has got a cold – my cold apparently – Charlie and I went on a early morning moonlit stroll. The one good thing about going out in the middle of the night is the night sky, and last night was no exception. The bright moon gave me chance to test our new camera.
'Big Panorama', as our old camera was known, was sold on eBay when we got back to the UK, it was a great camera but being a digital SLR it meant lugging around two lenses to get a good range of focal lengths, and inevitably we often didn't have the big lens when we needed it. Sure we could have bought a new lens to replace the two we had, but I felt it was time to embrace the future. We opted for a 'Bridge' camera, part way between DSLR and Compact, with a massive zoom and we love it. We'll write a full review when we've worked out how to use all it's features, but in the meantime here's my snap of the moon from last night – uncropped!!
This morning was a slow one. Jay is full of cold, Charlie and I were tired from our early morning stroll, so it was gone 10am by the time we finally surfaced. The mosquito was probably the only happy camper in the van having dined on my forehead in the night – grrrr.
Today is our fifth wedding anniversary so I cooked us up scrambled eggs with smoked salmon and toast (so glad we worked out how to make toast in the pan!), by the time we'd done all the pots it was gone midday and we were the only motorhomes left in the car park – oh well we're here for a marathon not a sprint!
We spent ages looking for somewhere to head for. We'd been contacted by a couple from Brussels who are planning their own adventure and wanted to hook up for a coffee, but going through our database and books only proved to us that some capital cities just aren't geared up for motorhomes. We'll just have to hope we bump into them on the road. We went for one of the few options in the vague direction we were heading – Bouffioulx just south east of Charleroi. As we drove along the motorway Jay spotted a sign for a boat lift, having read that the biggest one in the world (said in Jeremy Clarkson Top Gear voice) was in the area, we felt we had to pop by.
Set in a 'tellytubby' style landscaped ground it towered above us. As we walked towards it a small crowd gathered on a bridge to watch one of the lifts go up. It works on a funicular system, like those trains you see on mountain sides, so as the lift section goes up, huge blocks of concrete (that you can see on the pic below just under the brown glass part housing the mechanics) are lowered down, and vice versa.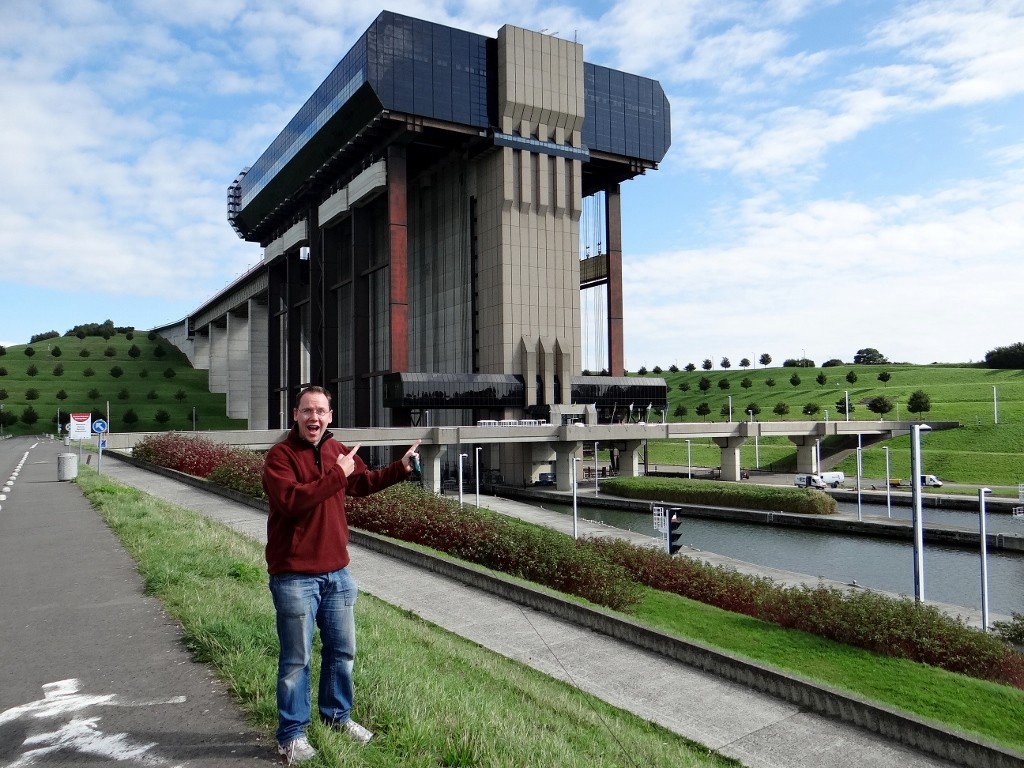 It was amazing to see. Huge long barges full of scrap metal, coal and other goods glide into the watery dock. A massive metal gate is lowered to seal them off from the rest of the canal, the boat ties itself to the side and then off it goes. Boat, water and lock all lifts up to the upper level over 70 meters.  I could have sat there all day watching it, it's one impressive feat of engineering.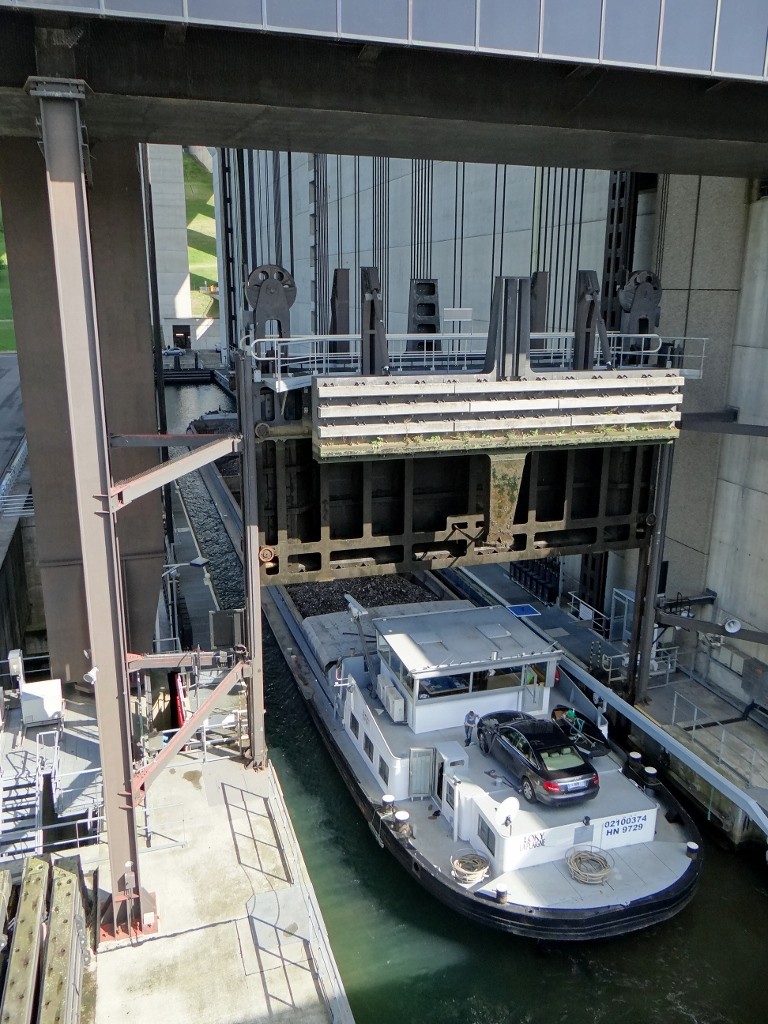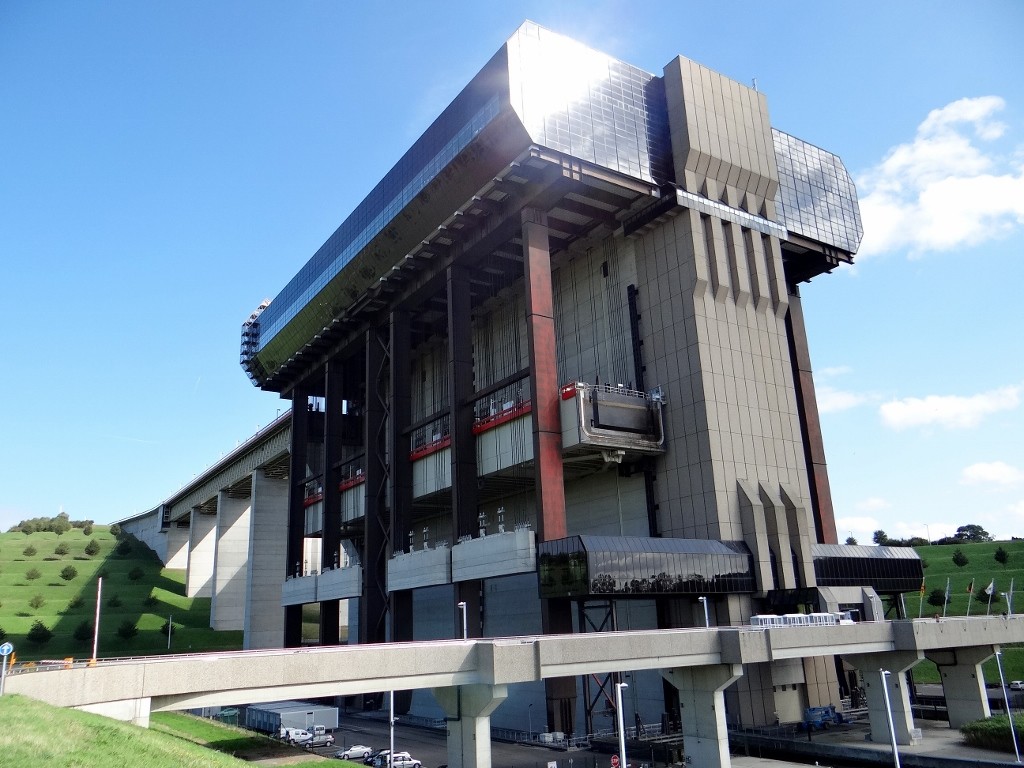 Jay nipped into the information office to ask how much it cost to use the lift. It would have cost us around €14 to watch and audio visual presentation and then take a ride on a little train to get on a boat going on the lift, but to take your boat up or down costs nothing – zip – nadda!! They want to encourage people to use the canal. We were tempted to see how Dave's water wings were, but decided we'd better not.
We finally made it to Bouffioulx where the only other people at the aire were an English couple who had just arrived too. They were on their way back from a month touring Europe and gave us loads of tips and maps for places we have coming up.  We all agreed that Belgium leaves a bit to be desired. I've tried to like it, I really have, but it's making it hard for me. The roads are getting worse, the towns are tired and often uninviting and the motorhome facilities rare, perhaps we've been spoiled in France, Germany and Austria. Back in Bouffioulx the other couple left as we went for a stroll around the town, here we found an ever growing number of men sitting next to the train track supping cans of beer. A few too many cars were using the aire car park to 'turn around' in, tunes blasting out of the windows as they drove slowly past Dave, and the town itself looked run down with nothing there appealing to us – the new camera never even came out of it's bag! So, being free to do what we want…. we left.
We joined a huge queue of traffic crawling through roadworks on the motorway, fingers crossed the make the new part of the road much smoother and less potholey than the bit we were on, after 30 minutes a sign told us there was another 11km to go. The one saving grace of Belgium is that motorhome parking is tolerated pretty much everywhere, so we found the nearest decent sized town and turned off. Driving into Namur we sat in traffic as the police dealt with a minor 'fender bender' at a junction. They smiled as those involved exchanged documents, while a scooter undertook us right next to them, but it riding down the pavement so that was probably OK! A 100 meters away a drunk stood blocking the road yelling abuse at cars, buses and anything that wanted past – thank goodness we needed the other lane. So, while the part of Namur we're perched in is riverside flanked by autumnal horsechestnut trees and generally very pretty, we daren't leave Dave alone. Our romantic anniversary meal out will have to wait until tomorrow night.