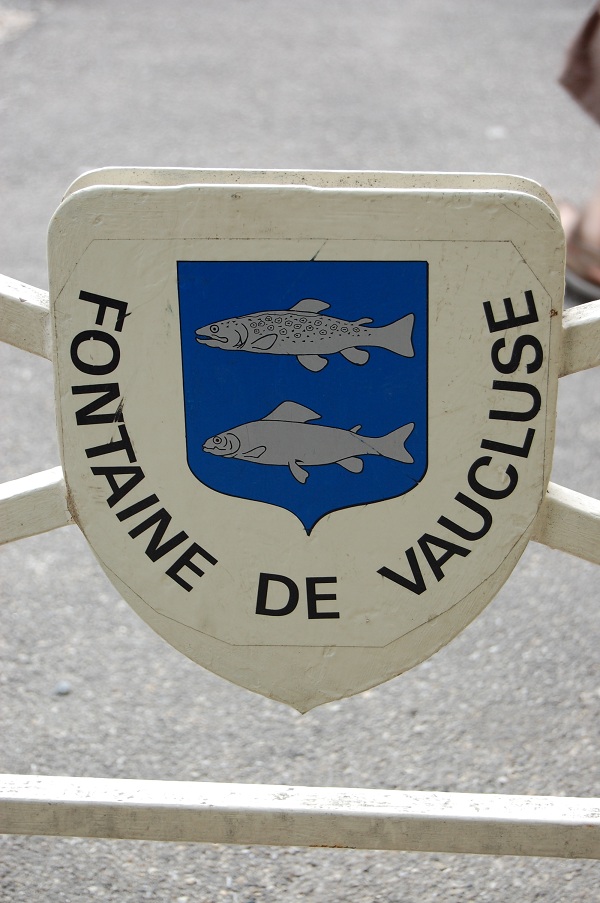 We're here: N43.92062 E5.12074. It's a motorhome aire in Fontaine-De-Vaucluse, and is setting us back a whole €3.50 a night (if you come on a Saturday in late April, come early, it's got space for maybe 30 motorhomes and is totally rammed full).
The weather is: The skies are clear and the Mistral is here, a wind so strong it's said to drive men crazy. It's just snapped one of Dave's door hinges clean in two as we went to get in the van, so I'll vouch for it making at least one man a bit edgy. It's currently trying to rip off Dave's skylights off, intermittently blowing bits of tree onto the roof, and it's roasting in here: 27 degrees C at 9pm.
As we waited for our wood fire pizza last night, we walked around Sault. "Vingt minutes" they told us the pizza would take, and the town was just about big enough for us to kill said 20 minutes, reading plaques on the walls referring to wolves (the animals, not the football club). As we drifted off to sleep, Ju asked me to listen. "Huh? What? I can't hear anything" grunted I, ready for kip as I was. Then the low moan of a dog howling in the distance drifted into the van. It's comforting being in a motorhome, hard for animals to get in here (it's also hard for us to get in now the Mistral's eaten the door).
4am arrives, and Charlie makes a decision. He's waited long enough, time to go for a walk. Ju honourably takes the first shift, but eventually has to concede defeat as wolf fear takes its toll. She was half expecting to turn round and see a wolf on the end of Charlie's lead, having scoffed him. Not as crazy as it sounds, there are wolves in France, and not far from where we are. I took the next shift, 4:30am to 5am. How do you guys with young nippers do it? I had to pull over the van today and have a kip.
Our research, such as it was, had revealed that Peter Mayle, author of A Year in Provence, lived at Menerbes, about an hour south of us, and the town also had a France Passion snail farm we could stay at. Tourist hats firmly on, we bounced along on some shockingly patched roads, via the town of Apt. Our old, and less-than-politicly-correct Rough Guide, had pretty much said the town's only redeeming feature was a Saturday market which was frequented by freaks. Apt, here we come, we like a bit of freak. Sadly, although the market had a vague hippy feel, the freaks had all been displaced by well-heeled foreigners in 4 x 4s. The closest we could get was an elderly American lady with a Cavalier King Charles much fatter than Charlie. She planned to tackle the obesity by breeding her to get a smaller puppy? Not very freakish but it'll have to do.
So, what is Menerbes like? We dunno. The snail farm showed no sign of still being part of France Passion any more, and had nowhere for us to park Dave, so we drove round the corner into a lay bye for my wolf recovery snooze. Next stop: Fontaine-De-Vaucluse. If you've ever been to Matlock Bath in Derbyshire, it's like that, but different. The town's famous for what is officially termed a 'spring'; although I'd called it a river from nowhere. You walk up through the small town, past numerous tat shops and maybe into the odd ice cream joint, with a full-on river flowing past you. Another few hundred meters and the river disappears at the foot of a cliff. It's quite some sight.
Back at Dave, with the door hinge bodged back together, we're sat here waiting for next huge wedge of angry air to whack into us. The weather forecast says rain tomorrow, so either that'll kill the wind, or we'll drown if we go outside.
Cheers! Jay