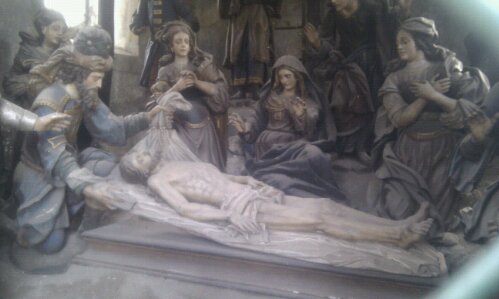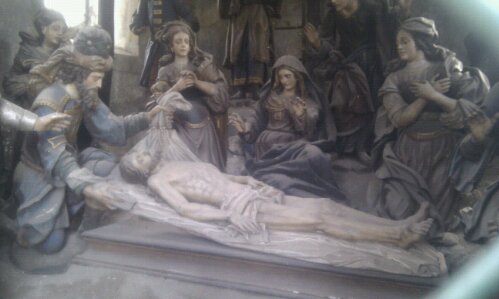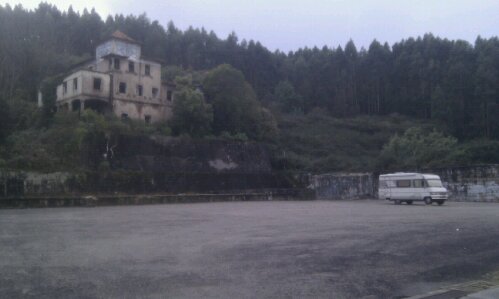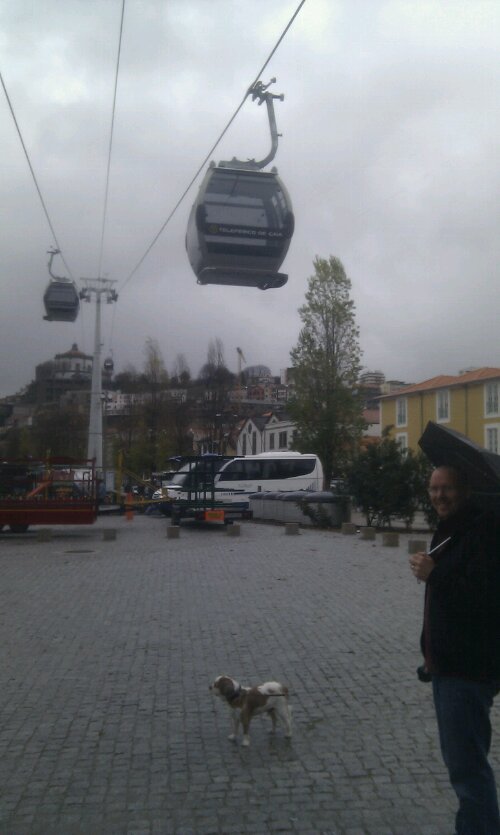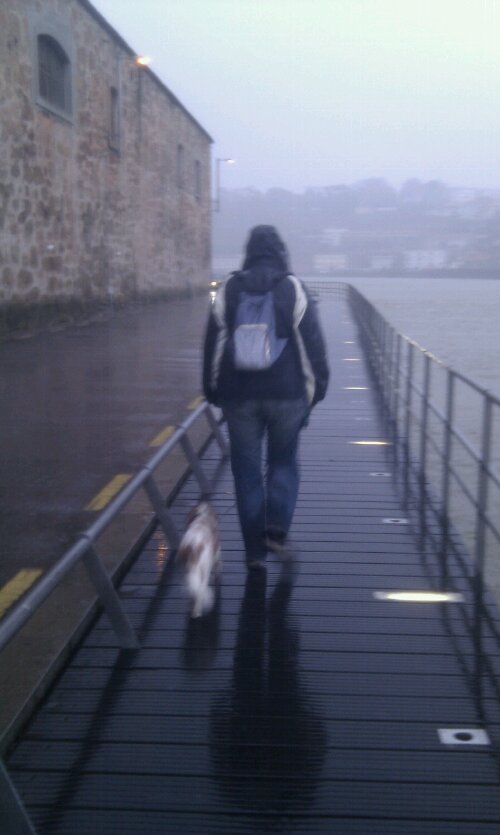 We're here N41.14337 W8.63236
Weather – lashing, in-your-face, straight through your umbrella, persistent rain. Followed by more rain.
After last night's frightening driving, I quaffed all 4 of my 33cl beer stash. Plus some Baileys type liquor Marc brought. And some wine. I've just about gotten over it now.
Last night the rain started. It lashed and lashed it down, being halted about 50cm above our heads with a thud by Dave's roof. We popped in the earplugs and slept, nice and dry. Only in the morning did Jacqui tell us they'd been woken at 3am by a bunch of guys singing Silent Night in the downpour. Huh? Well I guess we were in the car park of a religious iconic location…
Portugal has a dearth of 'proper' motorhome aires, especially in the north. Our loo cassette was brimming full though, so we needed an emptying location. Therefore, our wander around the Bom Jesus church and monument was dominated by a furtive search for a public loo. We gave up after a while and actually looked a little closer at the place.
It's a church at the top of a steep hill (there's a funicular, which gives you some idea). It's fronted by a series of tiers, which have steps either side. Pilgrims climb these on their knees, apparently, we only saw people walking. Each tier has a fountain on the wall, fashioned from stone carved into various characters. The bottom 3 had the water emanating from their ears, eyes and mouth respectively; somewhat disquieting those fellas. We couldn't help but notice the place needed a lick of paint too. Rains alot here judging by all the lichen and moss!
Decamping Dave, the loo search turned out to be a short one and I emptied the cassette in a thankfully very empty car park loo. Note of warning: don't buy loo chemicals from Mr Bricolage in France. They don't work, making the loo emptying experience very unpleasant shall we say.
We're now in Porto, parked on the south side of the river. I'd like to say we have a great view of the lights coming on in the city across the water. We should have, but the rain's so hard we can hardly see the road going past our parking. The same rain caught us out as we practically ran past all the attractive looking Port houses in search of a car park recommended by tourist information. Turned out to be in a rougher area than we already are so we stayed put. I suspect all the robbers are hiding at home anyway in this weather.
One last word: huge congratulations to Claire and Mark on the birth of Isobel, we're really sorry not to be there to see her.
Cheers, Jay