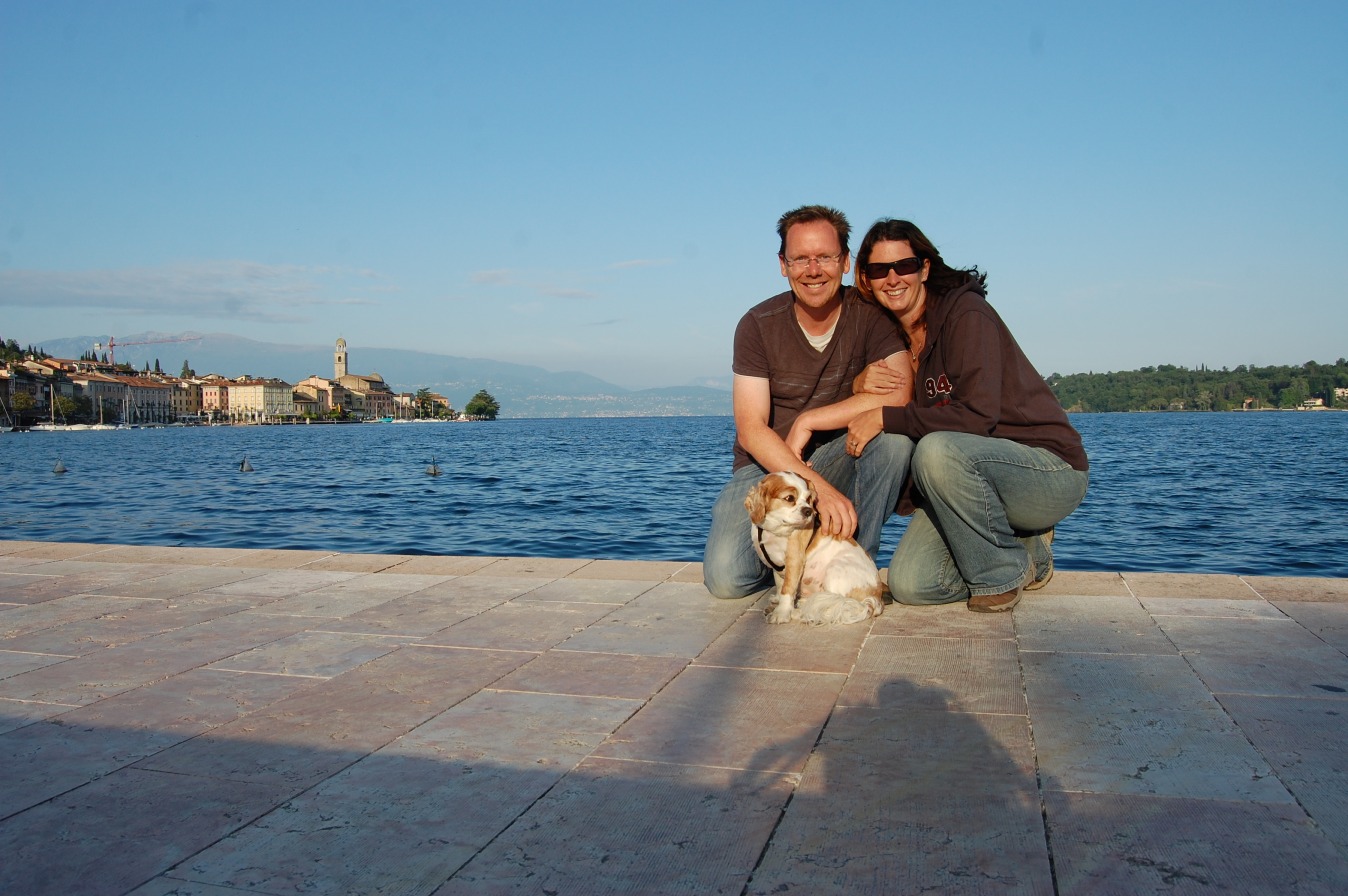 We're here: N45.60154 E10.51436. It's a car park about 400m from the small lakeside town of Salo, which has a big 'no motorhomes' sign at the entrance and has about 15 other motorhomes in it. The official free motorhome parking is being used for a market from 6am tomorrow, and none of us motorhomers seem to want to be up at that time.
The weather is: the high cloud has cleared during the day, the sky's now clear and we've caught the last of the rays over the waterside.
We woke this morning to find our scrap of land being rapidly filled up with cars, buses and the odd other motorhome. Market time! Something interesting we've spotted about the smaller Italian towns we've stayed in: there's a sort of invisible line where you stop having to pay for parking. Our bit of land, which was about as smooth as the surface of the moon, but was just into the free zone and hence rather popular.
I'm not really interested in shopping, as I am a man. Unless that's shopping for tools, knives, gadgets, anything dog related, books, building materials, beer… Ah well, you get the idea. Although we've seen one or two Italian markets, I was in a bad mood both times (as I don't like shopping) so missed the chance to do some people watching. I made up for it this morning, discretely eye-balling the locals as they greeted each other. Many a ciao and buongiorno (but very little face kissing) some old chaps seeing off a 10am beer snifter (no doubt they don't like shopping either), and a general chicness of dress, even in a market.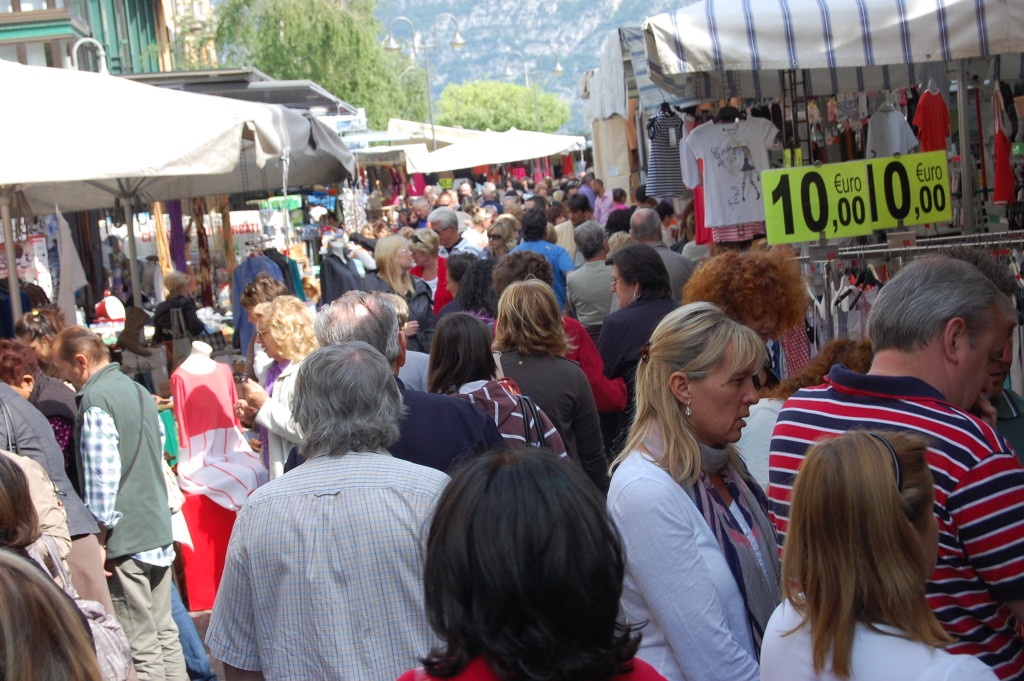 Last night we looked at the map. Venice calls, but so does the Giro d'Italia, which takes place in the north of the country. We'd also had some emails and comments prompting us not to skip Garda, like we'd skipped Como (sorry Marco – our planning is pretty poor). So, change of plan, we're going to head up the west coast of Garda (Italy's largest lake) and cheer on Mark Cavendish before turning south. I'm so excited; Judith's Union flag bunting will be getting some serious waving.
Our map reading also revealed a yellow route twisting across the hills from Lake Iseo to Garda. Our sat nav however refused to accept it existed, coming up with some comical huge deviations as we tried to get it to see sense. We set off anyway, but it soon became apparent that my map-reader wing woman wife was not firing on all cylinders (she's a bit crook), and we changed course for the dull but easy to follow red routes. The roads were packed and some were disintegrating; how the couple of squashed-flat Ferraris who growled their way past us at one point managed on their harsh suspension is anyone's guess. The views were generally of industrial estates; it seems you don't stray too far from the hills up here before the scenery disappears under a mountain of prefab buildings and advertising signs.
Arriving in Salo, we headed for our GPS co-ordinates of the free parking to find it closed down. Sinking feeling. This being such a touristy place, surely our chances of finding a free spot are zero. We drive around a bit and spot a 'motorhome parking' sign. Hooray! When we arrive we spot the 'Saturday market, no parking from 6am' sign. Boo! We headed off to a nearby campsite which takes camping cheques, squeezing down some narrow roads to find it no longer takes them (flipping camping cheques! they're useless!). We'd seen a €15 per 24 hour sosta near the lakeside too, but we're just too far into the 'free zone' now, we can't bring ourselves to pay up. Cutting a long story short, we've followed the Italian motorhomer's example and parked up here, although strictly speaking it's illegal.
Wandering Salo we discover:
After Mussolini was kicked out of power by Italy in 1943, he was arrested and imprisoned, but was rescued by the Nazis and put in control over the Northern part of Italy which remained in Axis hands. The puppet state he set up had it's head quarters here and it was informally known as the Salo State.

Old leech breeding stone tubs are being used as flower pots:


Leech breeding pot. Ju needs a few of 'em, she's crook.

 

The inventor of the violin, it's claimed, was born and lived here.


The first violin being made in Salo, about 400 years ago. Allegedly.

 

It has a lakeside promenade, elegantly constructed from stone, wood and steel and backed by restaurants and cafes.


The three amigos on Lake Garda. Some Italian and German tourists kindly stood and waited for this.

It has a pet shop which sells dog harnesses. We've long wondered about getting one to stop poor old Charlie's neck being pulled about, so €8 later he's now got a full 'working at height' harness wrapped around this furry body.


Charlie's getting used to his new 'come here' device.

 

Terrapins live in the lake. At least that's what I think they were?

It's now 9pm, I'm on my second 'Aplen Birra' and it feels much earlier, as it's still not yet dark. Also, we're using out 3G dongle to listen to BBC Radio 1, and the UK's an hour behind. There's talk of the Olympic flame arriving on UK shores. We're missing all the Olympics build up, and from where we're sat out in Europe, it's almost like they're not happening.
Cheers and happy weekend folks! Jay x