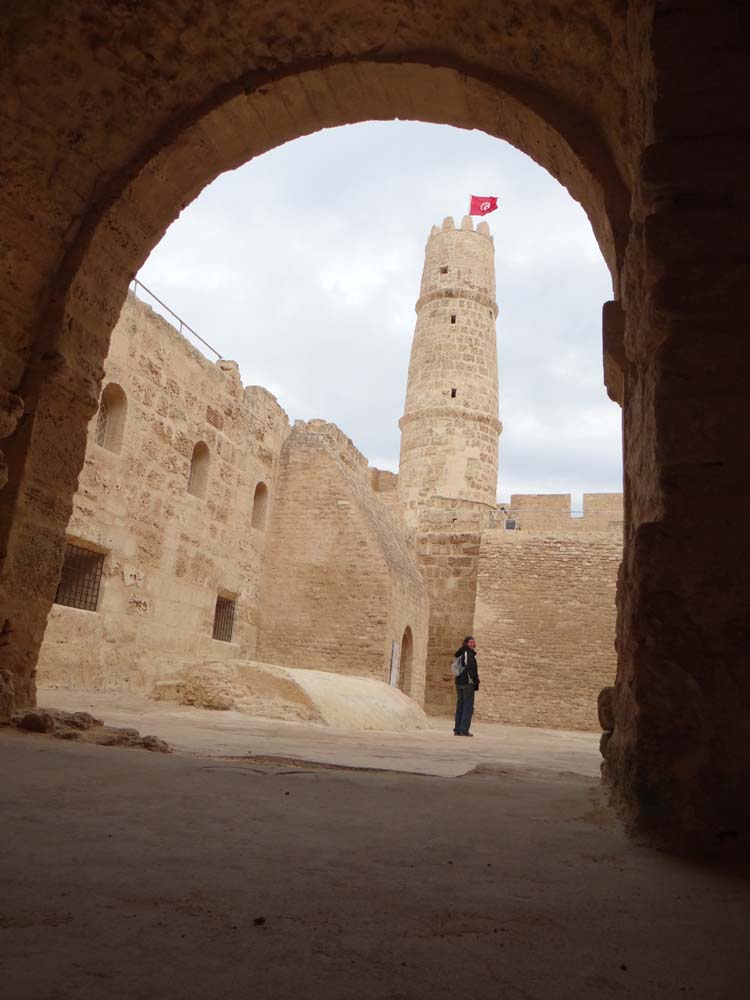 Dave the motorhome's remained firmly planted in position next to maybe £50m worth of luxury yachts, patrolled by guards, in the Port de Plaisance, Monastir. We decided to stay another day, despite what happened last night (see below) as it has to be among the highest security body per buck ratios we've ever had, with 3 overnight guards costing us about £2 per night. Also, I woke at about 5am and failed to regain sleep, leaving me in a more-than-usual befuddled state and not fancying tackling the manic driving conditions we've found in this busy bit of the country.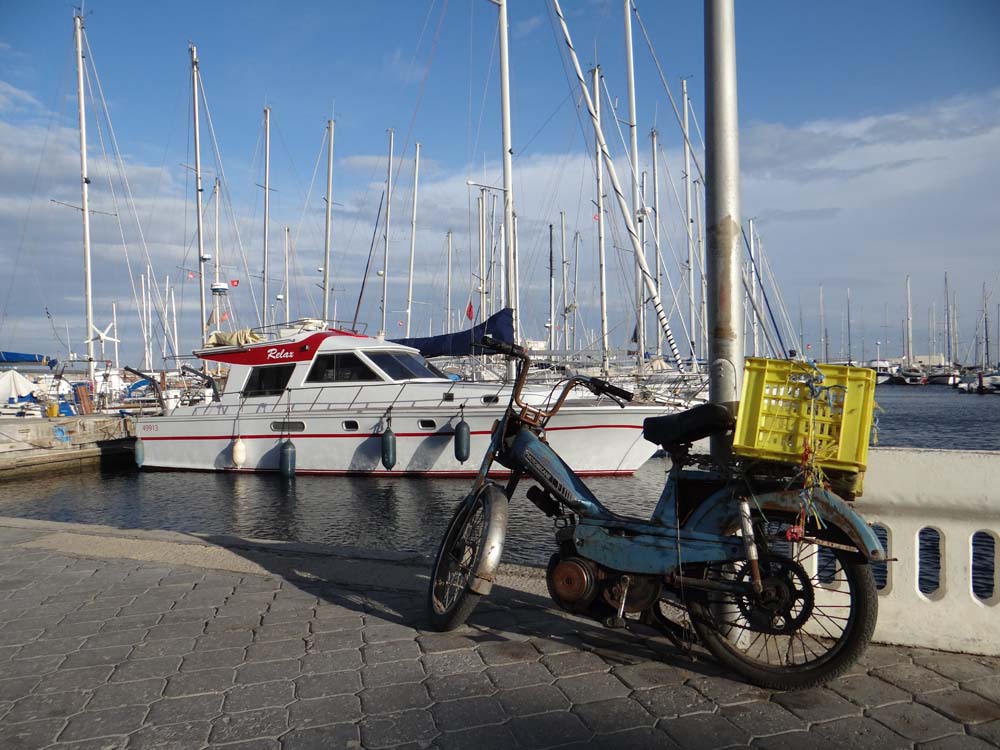 Dave has a spare room. Kind of. When you're sat up front in the passenger seat, it almost feels like being in a different area to the rest of the van, which gives us the bit of breathing space we need sometimes, living in a box. As I sat with my feet on the dash yesterday, I pretended not to watch the blokes sat 50m away alongside their rusting mopeds. One of the six chaps had strode off past us earlier, carrying one of the red-topped cans of beer we see empty and strewn everywhere in Tunisia. I wondered if the rest were drinking as the shouting grew louder. One of the great joys of being in an Islamic country is the lack of beered-up louts, seeing this out-in-the-open afternoon drinking made me nervous.
Rightly so, just for this once. After an hour or two one of the blokes got up and punched another guy in the head. A sort of slow motion tussle ensued, with more sickening head punches, plenty thrown from behind as two guys overwhelmed the chap throwing the first blow and hammered into him. The other locals stood and watched, ambling around, one calmly smoking a cigarette. I looked for the security guard but he'd gone. Looking back, the two guys now had the other one pinned over a fishing boat. One assailant picked up something and started to hit with it, as he dropped it I realised with relief it was a plastic bottle. He rummaged in the boat, not happy with the last weapon he picked up an empty glass bottle and smashed it, as far as I could see over the trapped man's head. As well as feeling physically sick, I started to panic and told Ju to pack up, we were leaving. As the bloke appeared to start using the smashed bottle neck as a knife, I got up, pulled the curtains closed and packed everything up, fully believing we were witnessing a murder.
I'll cut the rest out, it wasn't as bad as it looked. Ju stayed calm and saw the three of them continue to punch each other and eventually they made their way off separately on their daft-small-for-a-thug bikes. Later, when the coast was clear, I used walking Charlie as an excuse to check the area for blood, but there was none, just smashed glass. My feeling is this incident's nothing to do with where we are, Tunisia's not falling apart, at least not yet, and this kind of violence is routine on the streets of UK cities every Friday and Saturday night. It didn't keep me awake, Ju slept like a log.
Already feeling sick, the job of preparing the octopus we'd picked up suddenly seemed a far more tasteful affair. It's tentacles and rubberish body (the bit which appears to be the head) were easy to handle and to slice apart. A bigger surprise came through Charlie who managed a single tentacle end before turning his nose up at what I guessed would have been a salty treat. Freezing most of it, we slow-cooked a few pieces for an hour and a half, popping them into some rice, rather tasty.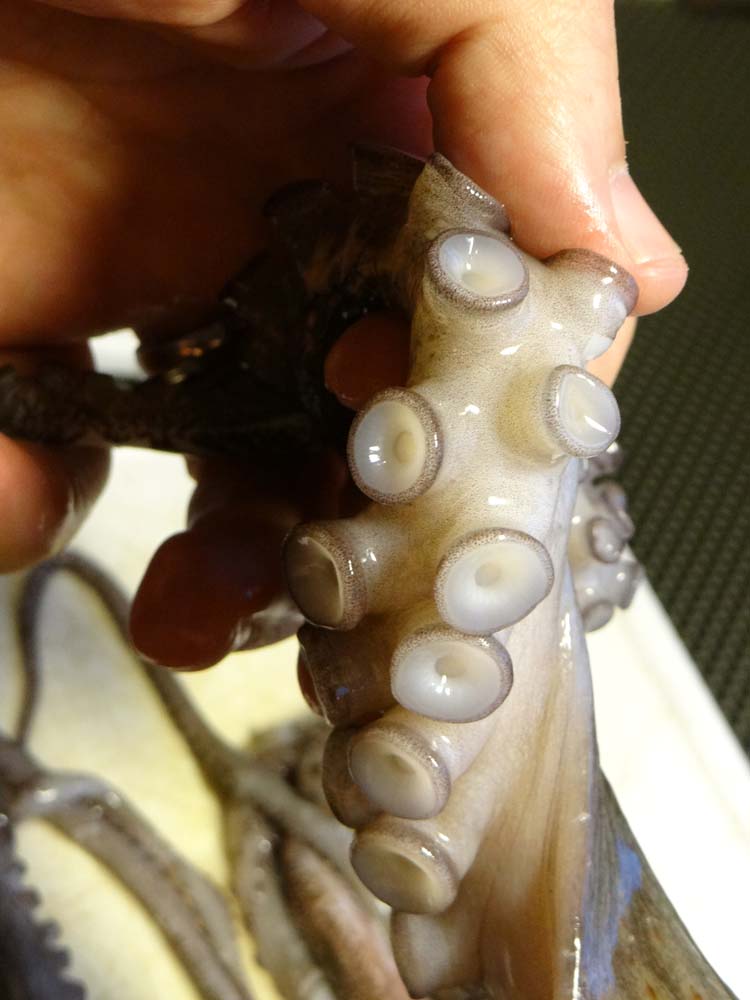 After a groggy start this morning, and a quick pooch walk, we abandoned the mutt and headed for the ONA, a sort of official Tunisia tourist shop with fixed prices. Shopping for anything in Tunisia is usually a bit of a nerve-wracking challenge, as in normality nothing's priced. Some stuff you should haggle over (clothes, carpets, blankets etc) and some stuff not (food usually), you just have to know which things fall into which category. Once you know, you then need some idea what you're happy to pay, and have to ask the price. Food shops should display prices but only the larger ones do. In the medina, anything goes, you either need to be happy to pay anything, or to have some idea what something's worth, at least to you. Hence places like the ONA are handy, as you can gauge the market price of stuff before going for a wee haggle. Only the ONA here is shut, as it was yesterday.
Next best thing, we headed to a kind of 'Are You Being Served' department store outside the medina. Packed from floor to ceiling with a whole range of tourist stuff, the wandering shopper could, under the bored, dead gaze of an implausible number of blue-clad female shop assistants, get a feel for what things are worth. I hated the place as my feet hit the tiled floor. As I turned over one of the gaudy plates we'd been eyeing up to see the price (they ranged from 8TD to about 40TD), one of the return-of-the-dead assistant's feet appeared next to me. I looked up and said 'Bonjour, Salaam'. The eyes stared right through me, no response. Christ I thought, I'd rather be out there with the hard sell merchants than in here with you lot, the shop had maybe 40 hovering staff and 5 or 6 punters.
I left Ju to it, squatting outside in the air I got to test my theory as a door-darkening knock-off trainer flogger tried to get me in his shop, 'Wie gehts'? he tried. 'Ich bin Englander' I smiled back. Ah, come inside, nice shop, very nice, good price, blah, blah de blah. Yes! (my voice perhaps a little louder than it should be) you have a LOVELY shop, and I gave him a manic stare, two thumbs held aloft. He stepped backwards into the shop, either detecting the irony or suspecting me of substance abuse. Looking to my right, the next door-blocker decided better of it and looked away, picking on a young woman walking out of the tat emporium behind me, who I was pleased to see tell him to get stuffed, although rather more politely than me.
The medina here's not that bad, I was tired and in a foul mood. Monastir's a pleasant enough place, in the sense it has supermarkets, a marina full of luxury yachts, nice enough beaches and a massive development of hotels. On the other hand, it feels distorted, out of place. A bit like finding yourself driving across Iraq and finding someone's tried to build a copy of Birmingham in the middle of it.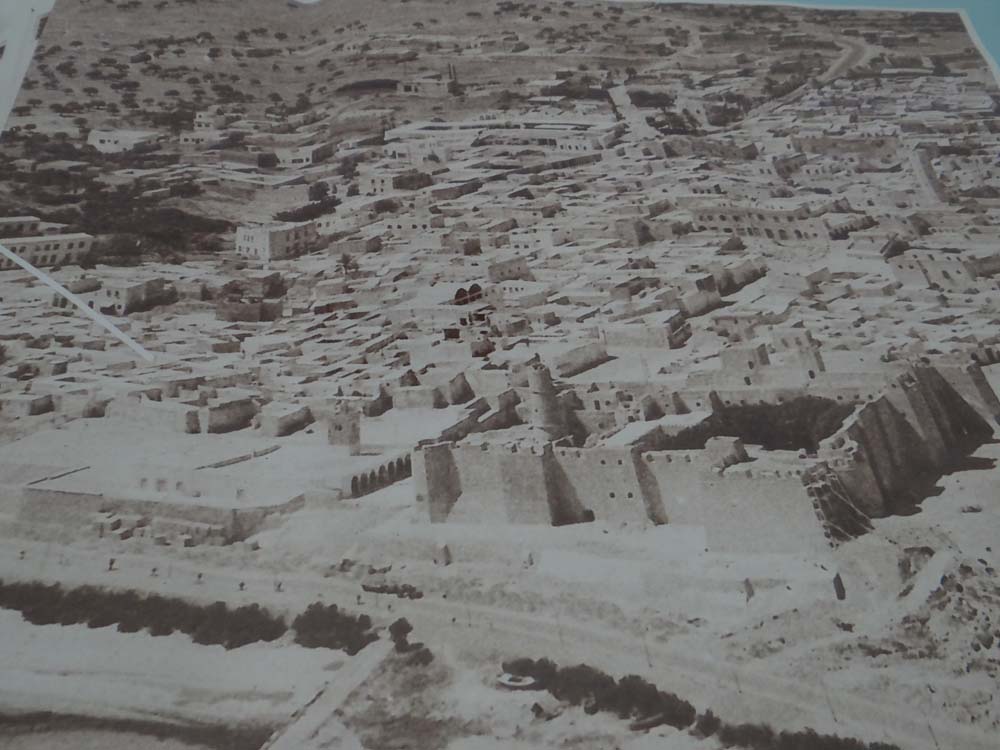 To cheer me up, Ju took me for a wander over to see the tacky-beyond belief golden statue of the schoolboy Bourguiba, celebrating his formative years here before he went on to become a dictator (generally perceived as a benign one, whatever that is), and finally having his school demolished to make way for this daft statue.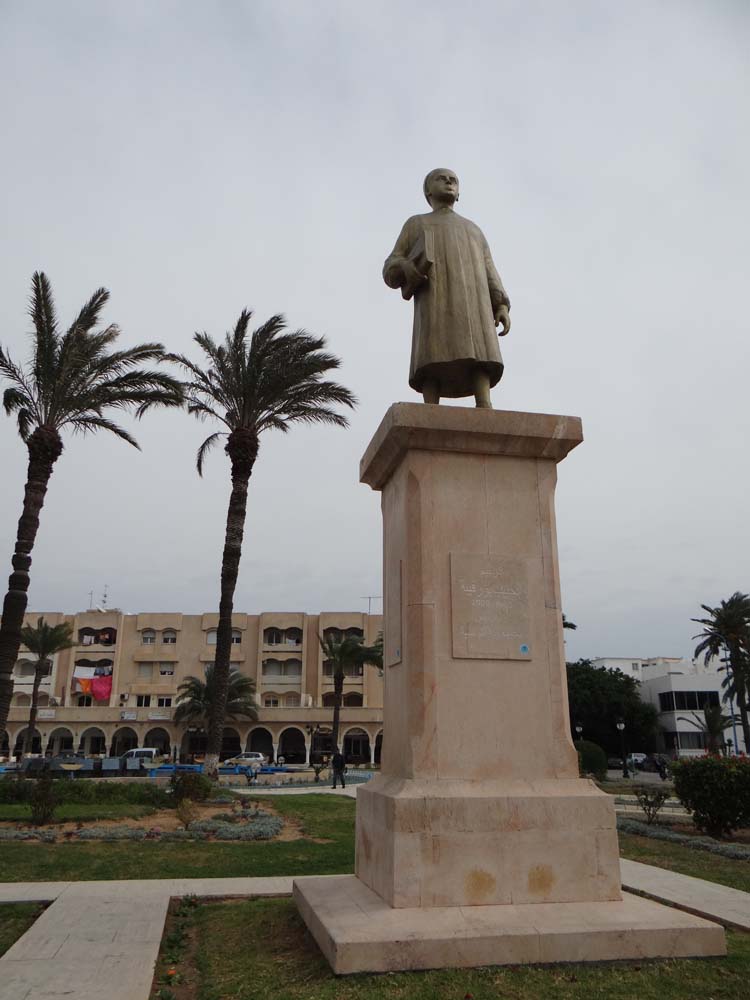 More cheering up: the inside of the Ribat. The Islamic equivalent of the Knights Templar, fighting monk type folks would live here, studying their religion, popping out to slaughter infidels and back into more study. The 'Romans Go Home' hilarious grammar lesson from Life of Brian was filmed here, and I hopped about the place like a kid. It's a beautiful castle, much more so on the inside than the out, has a nice little museum and no-one hassling you for the dinar, a lovely place.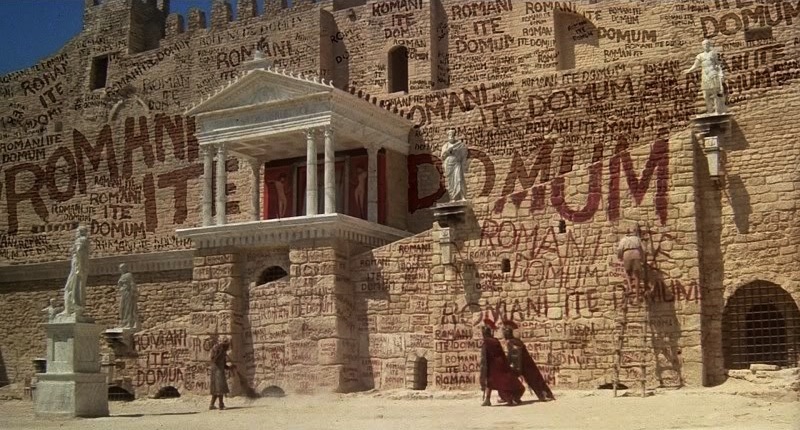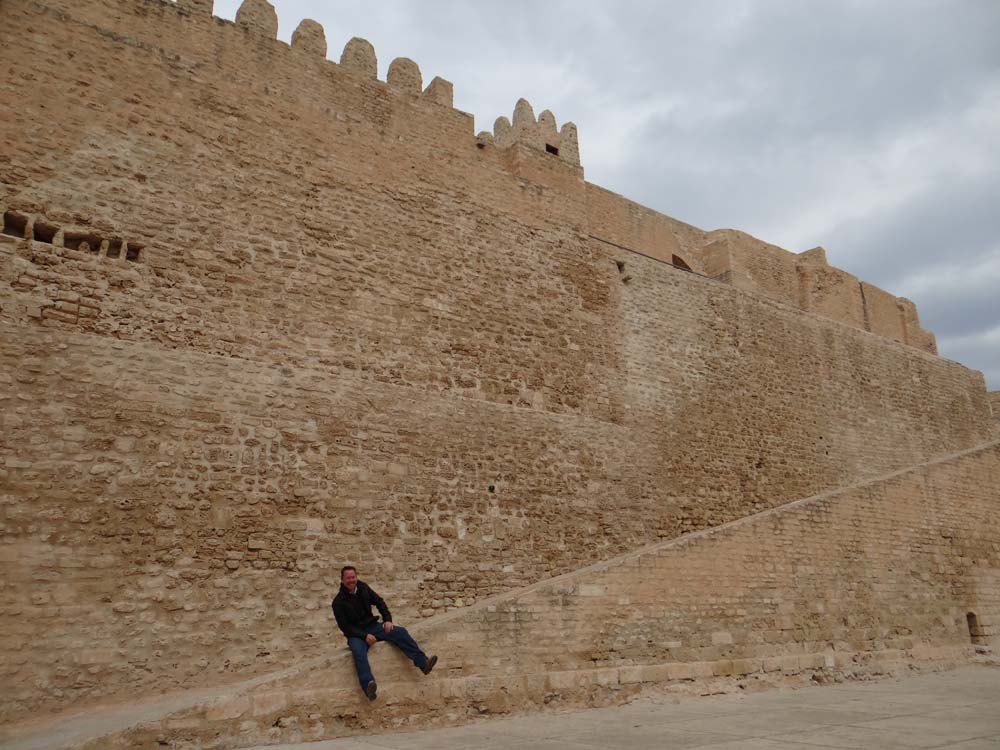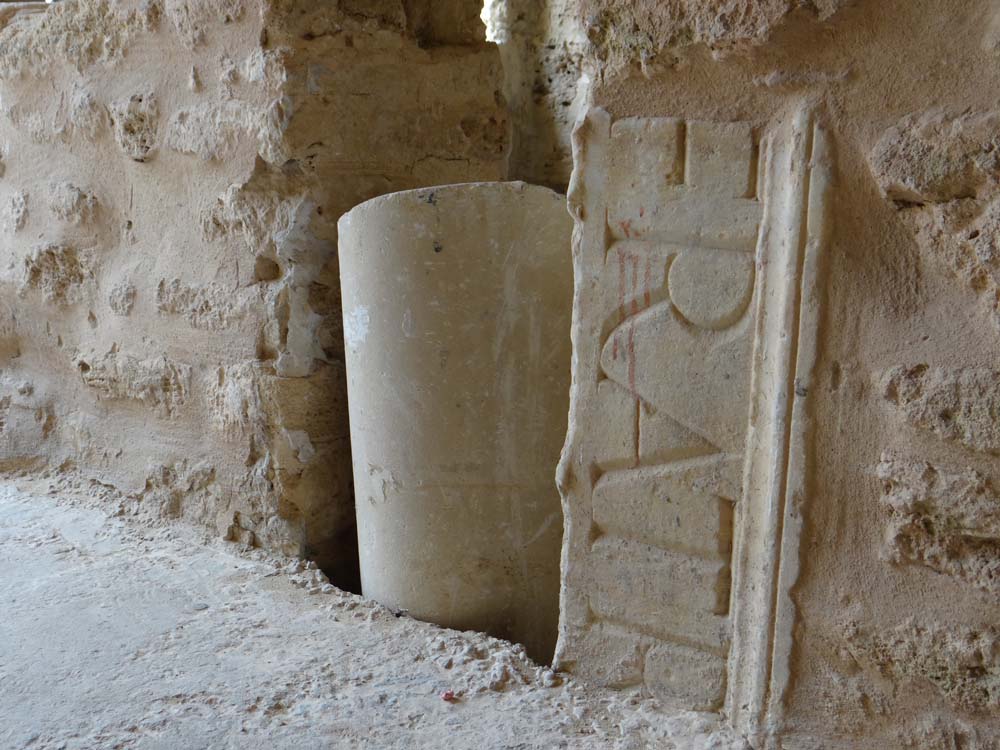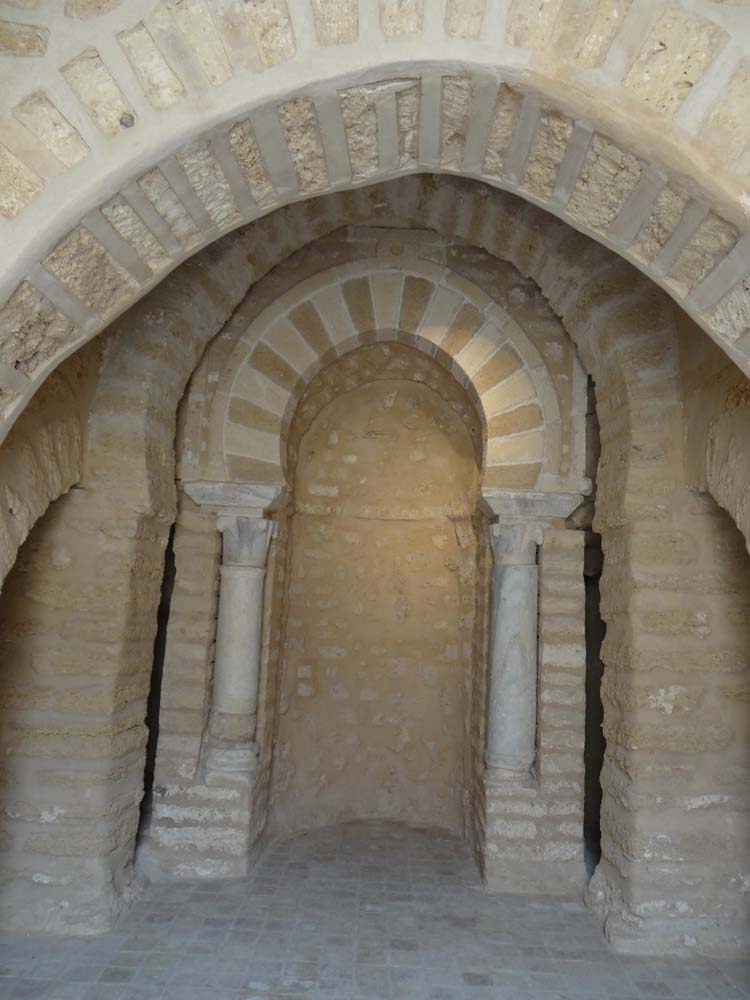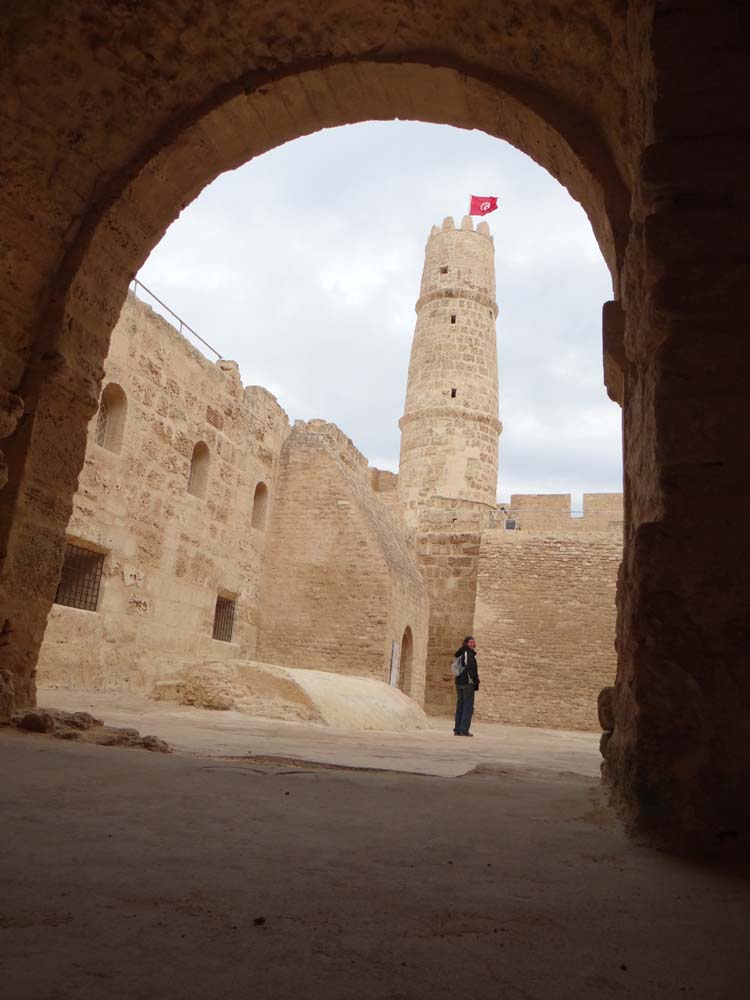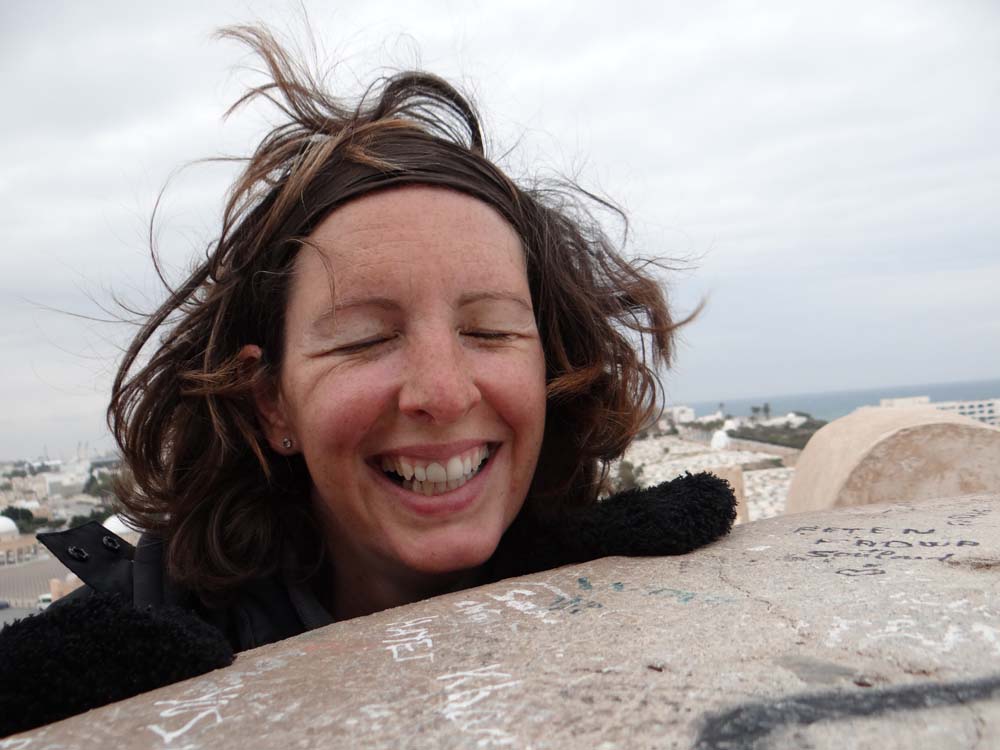 On the way back to Dave we asked the security guard (he reappeared about 2 minutes after the mob pottered off yesterday, genuinely appearing blissfully unaware of the trouble) if there was a laverie, somewhere to wash our clothes. With a bit of nodding and miming, our best gear has gone off in a bag somewhere, with a promise it'll be back late tomorrow morning.
Lunch munched, some work finished off, we walked the beach with Charlie, flinging stuff about to stretch his legs, mainly plastic flip-flops. We imagine it's a different place here in season, the sunshine giving the place a gleam, polishing off the dullness of it all. The hotels looked shabby or abandoned, the litter and sand blew around, cars beeped creepily at two women walking together ahead of us, Tunisians but dressed as Westerners. We've seen a few more English and other European folks wandering about, they seem pretty happy with the place, perhaps it's a great introduction to North Africa, rather than the 'in with both feet' approach we took a few weeks back?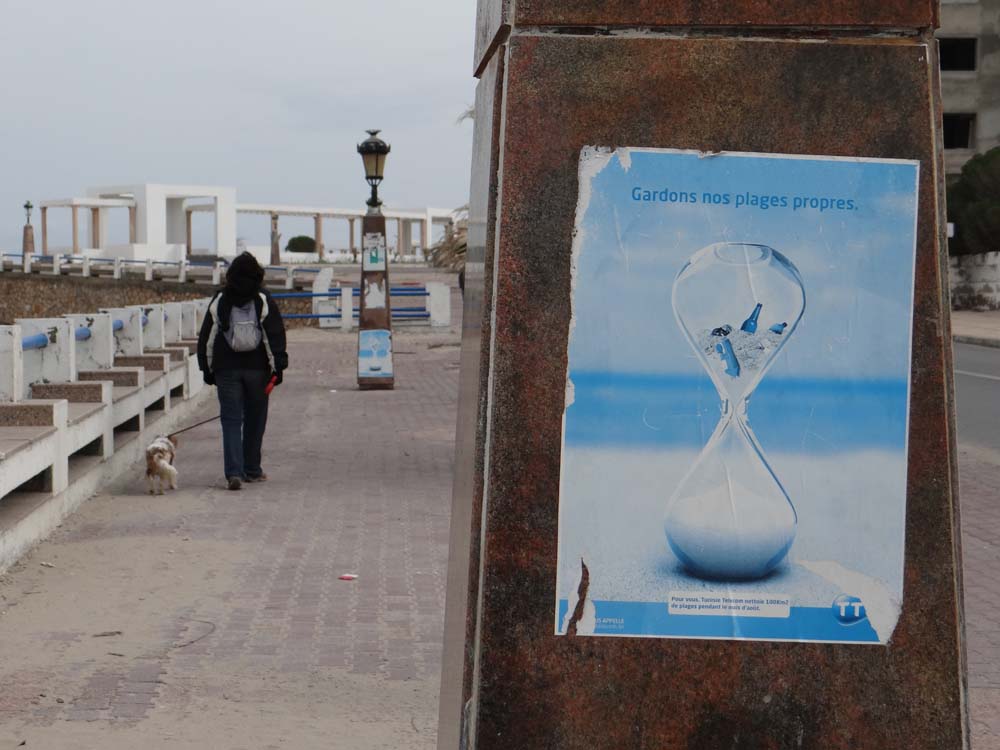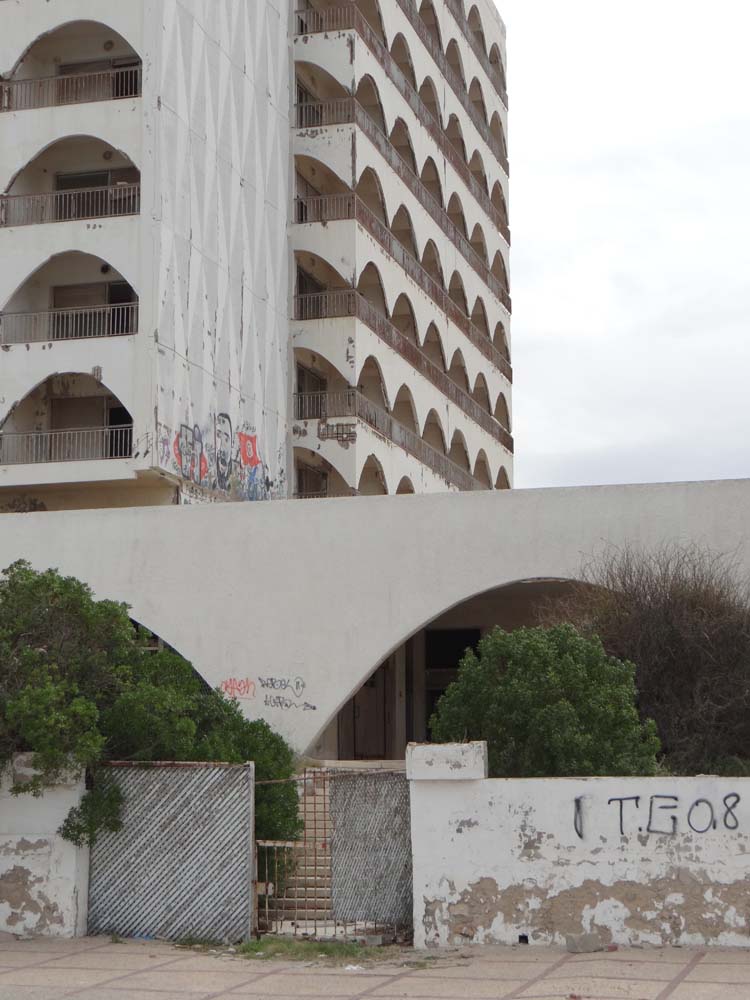 Tomorrow, hopefully with washing in hand, we're off. More Tunisia awaits, hopefully a bit less tacky!
Cheers, Jay