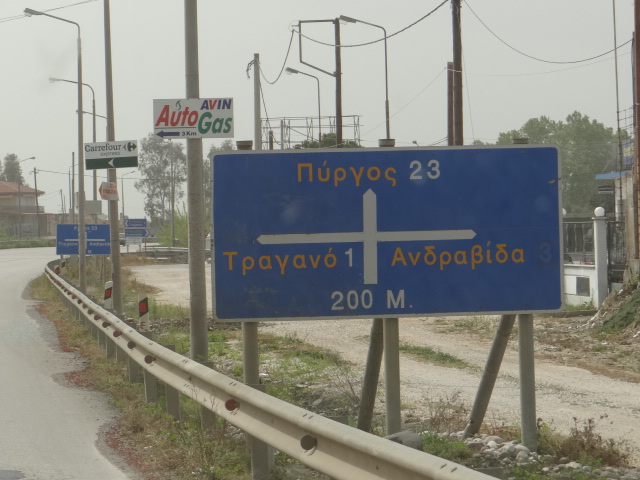 Dave the motorhome has the shrill whine of an angle grinder in his left ear, as a bloke who looks like he was born at sea strips his boat of paint and rust. In a power cut he could do the job with his beard. We're on the quayside of the marina at Katakolo, a curious little place where traditional fishermen and cruise ship tourism collide. Perhaps fortunately for us, only the prior are present, the town's half asleep. We're here: N37.64765 E21.31770.

IKEA could have knocked out a fair few posters of the view of the beach from Dave's door yesterday, at least until the wind picked up and blasted away all footprints of life. We sat in here and went a tiny bit stir crazy, cracking open some Italian Lidl wine at 5pm and having a few attempts at the Greek alphabet. How hard can it be? A – alpha. Easy peasy. B – beta, come on! Err, hang on, vita? Greek B's aren't pronounced B, but 'V'? Right-o. What's next, there's no C, must be D for delta? ERRR ERRRGH. Gamma next: Γ, or γ in lower case. And on it goes. H in Greek is pronounced I. The latin L is written Λ in Greek, and ν in Greek is pronounced 'n'. After a few days of working through the letters, I think we've just about got the sounds right and worked out the upper and lower case symbols. Some letters sound differently if they're placed together, so a wee challenge there, plus, obviously, we actually need to suss out what the words mean once we've worked out what they sound like. Greek's hard, but at least it's written left to right, unlike that pesky Arabic.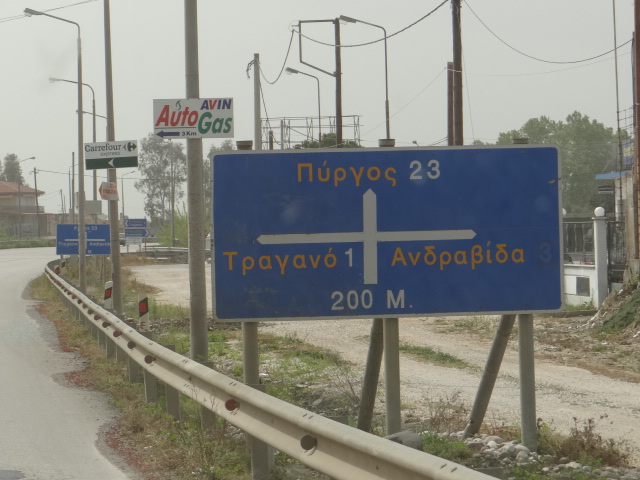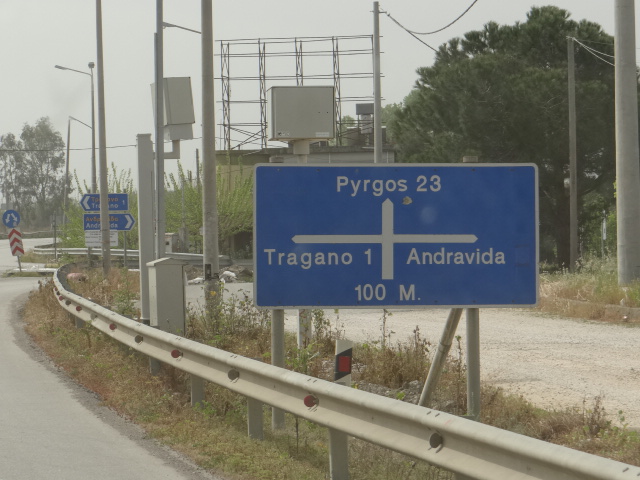 As you might guess from the photos above we hit the road again today. The sight of the retired couple parked in front of us stripping starkers on the beach didn't have much to do with it, they're German and, as we've discovered in Croatia, some Germans are far, far less prudish about their birthday suits than us. Ju had read something in the Rough Guide about maps yesterday which, abbreviated, said that Greek maps are all rubbish. Every map maker translates between Greek and Latin names in a different way, so place names are spelled in a few different ways depending on which book/map/website you're looking at. Also, the actual roads themselves seem too slippery to be drawn on a map. The Italian one we have is 1:700,000, which we've quickly found out means that as soon as you're off the main road you're relying on the sun, moon and stars to find your way around. Ju's stressed out. I think we've gotten over-reliant on the she-devil satnav.
Part way along the national road the fuel light came on. Although we'd seen diesel as cheap as €1:30 a litre, and all the stations along the road hovered around the €1:40 mark, we still dived into one. Hey, €1:40's a lot better than the €1.60 to €1.70 of Italy – something to be said for coming here from there.
The fuel filling experience proved a fun one. The pumps only provided petrol OR diesel, so we found the right one as three dogs righted themselves from their chosen sunny spots and launched into a barkathon. All bedraggled, one poor bitch looked like it's been through a few rounds with Mike Tyson. A woman wanders over to serve us, waiting for me to get out and unlock the cap, which has taken to only opening under selected conditions, in cahoots with the water filler cap lock. I tried a 'yia sas' (hello) in my quietest voice, thus ensuring she didn't hear it or respond. Ju had more luck, perhaps helped by being audible. Proferring a €50 note, she asked something back. Arrh? Ah! Yes, all €50 please. As she filled up, another couple of generations came over, granny with a toddler in her arms. Spotting Charlie, the toddler wander a closer look so Ju held him up for them to stroke and ask questions in Greek. As usual Ju guessed them all and answered, as the granny grinned and sort of whistled at the station dogs, who'd now shut up and were cautiously after a stroke or sniff of us. Once the pump hit the stop, and we'd asked if we could fill up with water, they all wandered off, filler lady coming back a few minutes later proudly holding a fluttering bit of paper aloft – a receipt. We took on a load of water through a comically sprinkler-like hose and left, feeling warm.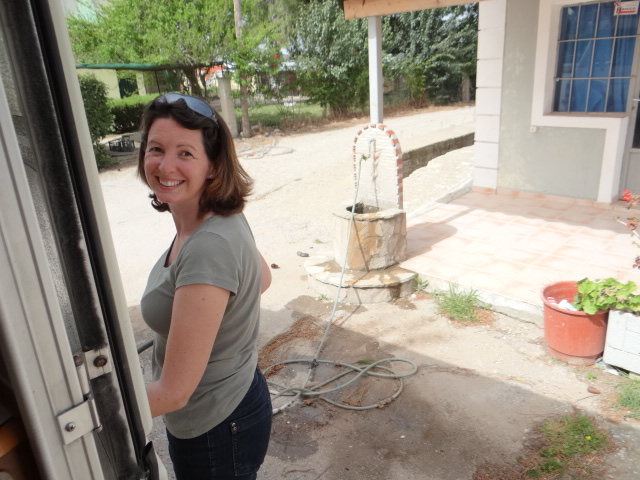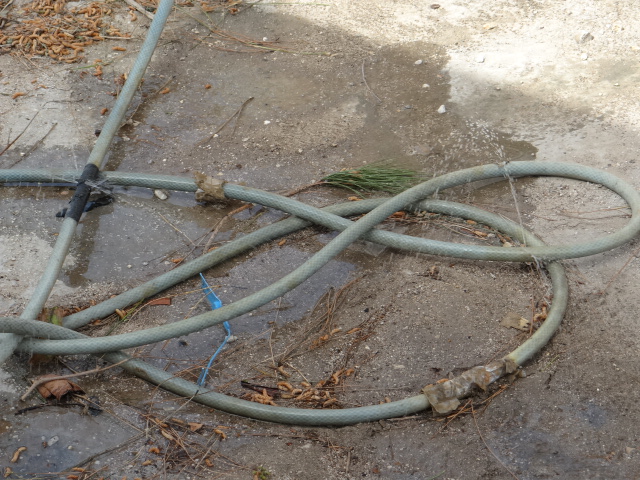 Soon enough after this we were lost. Off the main roads the signs are a little sporadic. Our best helper was a local chap on a moped who spotted us turning at a junction and gave a sort of 'what the hell are you going down there for' look at Ju. We turned around after a while and headed the other way. This part of Greece very much reminds us of southern Italy, the lumpy roads, olive and vines, hard-shoulder driving, mix of orderly villas and dishevelled farms, and general worn-out and tired feel. The bikers have to be an exception though, in Italy they generally wore a lid, while here they don't, not even the guys on bigger bikes.   People wave to us too, not just folks in campers, but locals will wave back from their cars, pretty much unheard of in Italy.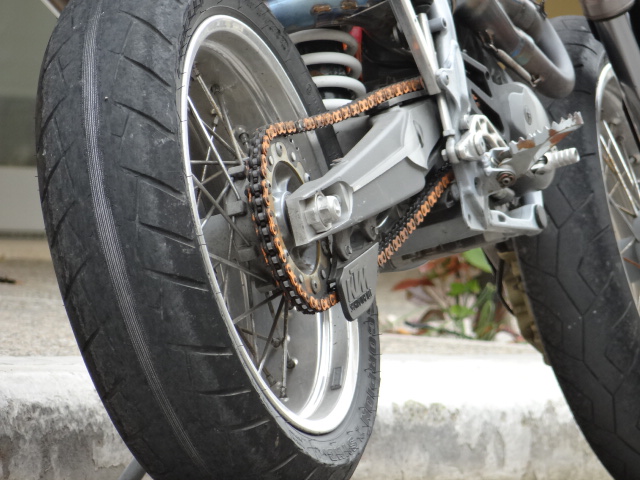 A mixture of luck and judgement found us in Katakolo, although a complete lack of other camper vans had us triple checking we were in the right spot. We were, and we've taken a couple of walks about the place. It's an enormous harbour for such a small town, one side of it deep enough to cater for cruise ships. Behind us a small army of coaches wait, presumably to ferry cruise folks off up to nearby Olympia, a route we'll take ourselves but in good old Dave. Many of the boats are hauled up onto the quayside, propped up with bits of wood, old barrels, even the odd 'proper-looking' tripod thingy. Here and there folks hammer, rub and paint their craft.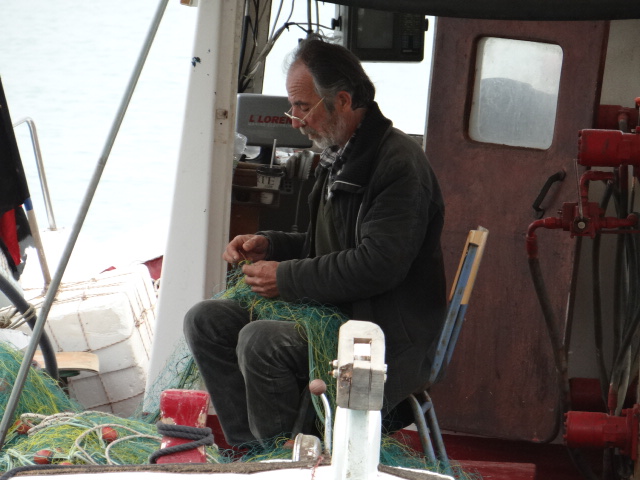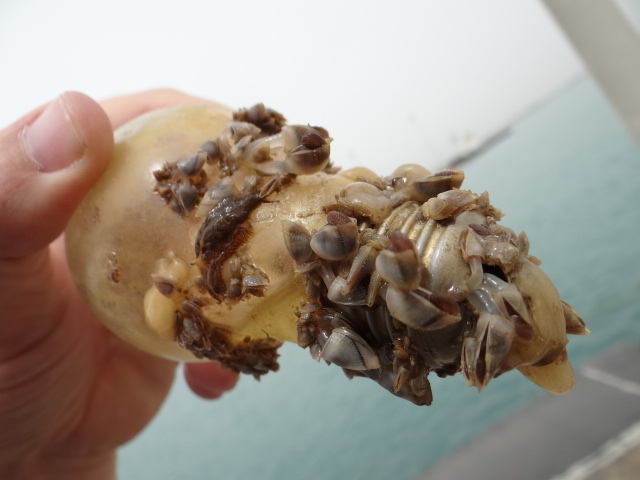 A row of old warehouses to our right have been transformed into tavernas, ranks of ordered seats outside under awnings, generally empty. Hopefully a few folks will arrive later on, it being our first Saturday night in Greece we're off to spoil ourselves. Also, our WiFi antenna's finally coming into its own. Although our EuropaSIM works here, it would cost us €2.50 per day for 100MB, while Adam's magic booster antenna's picked up a whole raft of freebie open networks (In Germany and Italy we gave up looking, they were all locked down for legal reasons).
Cheers, Jay