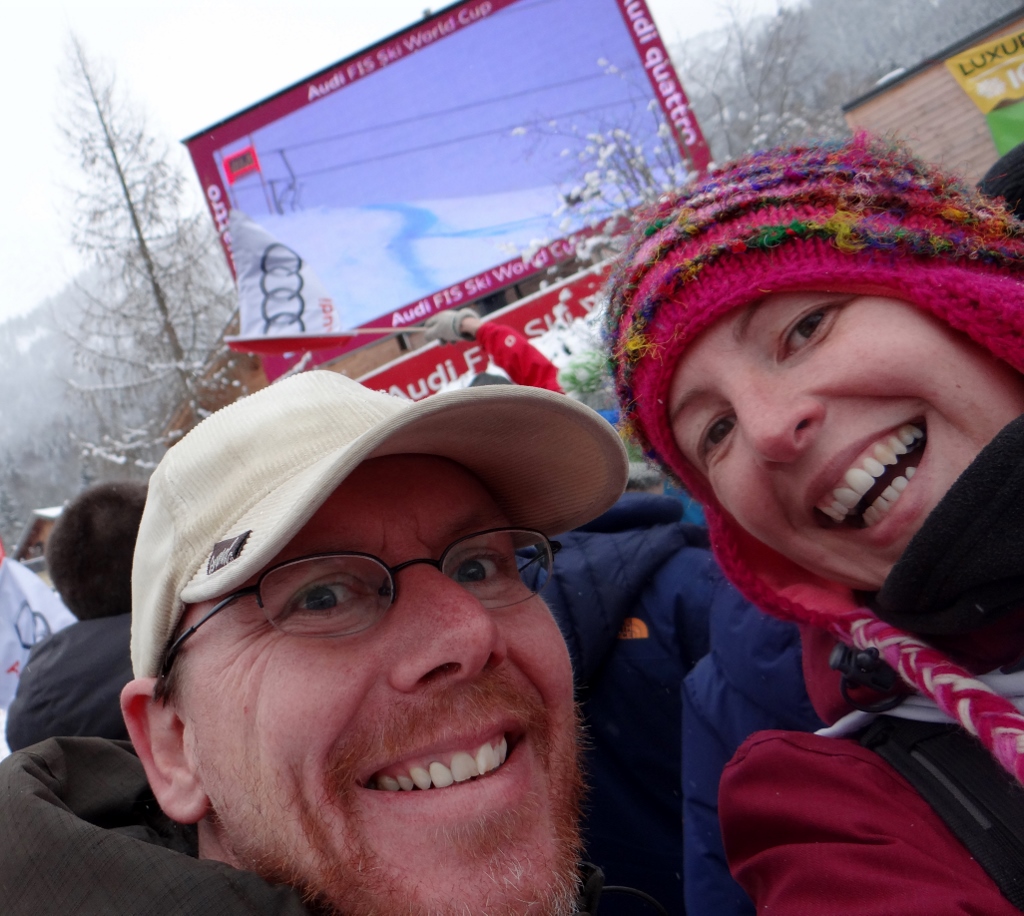 Finally today was the day we've been waiting for The Kandahar – The Men's Downhill World Cup Race.
Last night we had pizza from the little shack across the road. The chef was a bit shirty when we ordered, pointing out we couldn't take them now, we would have to wait for at least an hour. Not a problem we replied, pointing to Zagan on the other side of the road. Just over 90 minutes later we were both stuffed with half a pizza left for lunch tomorrow.
Jay opted for earplugs to drown out the sound of traffic, I opted for a couple of glasses of wine which seemed to work well too. The forecast had temperatures plummeting overnight, so to keep Zagan as toasty as possible we've put his cab into stasis – think the L.E.M. module in Apollo 13 – by keeping the bed dropped down and our space duvet cover hung from the bottom of the bed to the floor. While the temperature only dropped to -9°c the plan worked well as this morning we woke to 14°c while the cab area was at 6°c. The traffic was noticeably lighter on the road beside our parking place in Chamonix (N45.92827, E6.87674) reminding us that it's Saturday and the weekend has begun.
Charlie was taken for a quick walk as he doesn't like morning exercise – his painkillers having not yet reached his arthritic limbs – before being wrapped up like a baby and left to sleep for a few more hours (which he was more than happy to do compared with where we were going).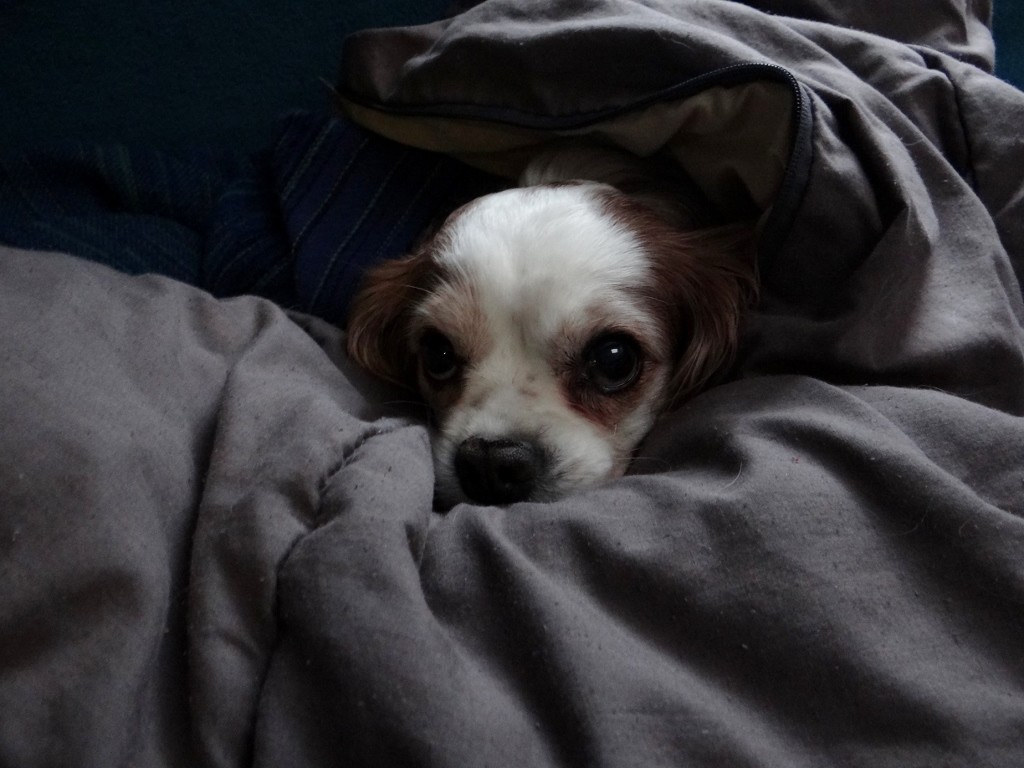 The bus from Chamonix to Les Houches (where the race is run) was full after the second stop, so the driver headed off down the motorway instead of the usual route through the villages. Cones separated us on our side of the dual-carriageway from drivers going in the other direction, the other two lanes were being used for parking and shuttle buses for those that had driven here to see the race – already we could tell it was going to be much busier than yesterday.
The bus reached Les Houches and the bell to stop was ignored until we reached the Bellevue stop which was closest to the finish line, this left a few very disgruntled passengers with quite a walk back. Having already got the lay of the land yesterday we headed straight to the finish area. Our bags were searched, the woman searching mine was threatening to confiscate peoples packed lunches as she was hungry, seeing cough sweets in my bag she starts laughing and shouting 'drugs, drugs', luckily I didn't have to hand them, or my cold pizza, over.
We picked up a couple of the Audi-branded flags and donned our St George cross flags, even though there were no Brits taking part. With over an hour to go the arena was already busy, so we headed towards the big screen to bags ourselves a good viewing spot.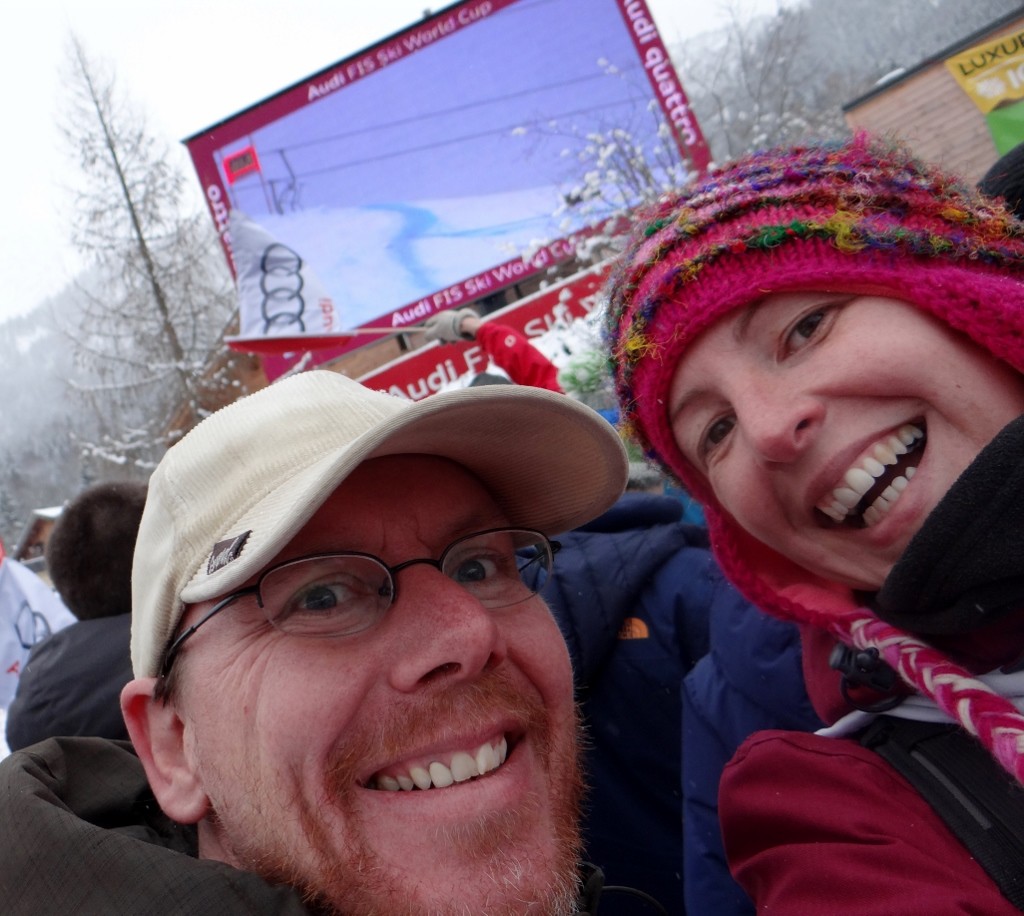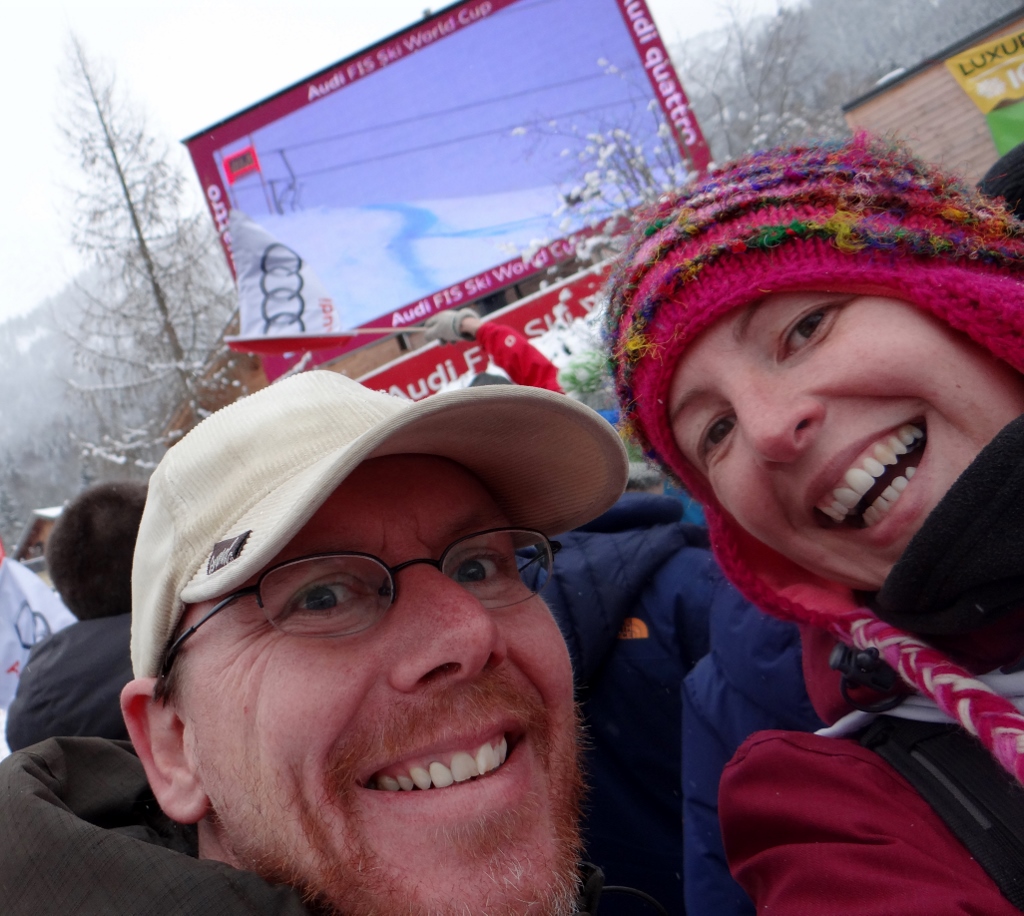 Out came another free gift from Audi, my Quattro Spikes, which fitted like a treat on my boots and helped me up the ice while others slid around. The excitement built, the flags were waved, the music played, cow bells rang, the arena got busier (until you had no chance of falling over) and we had a fantastic time.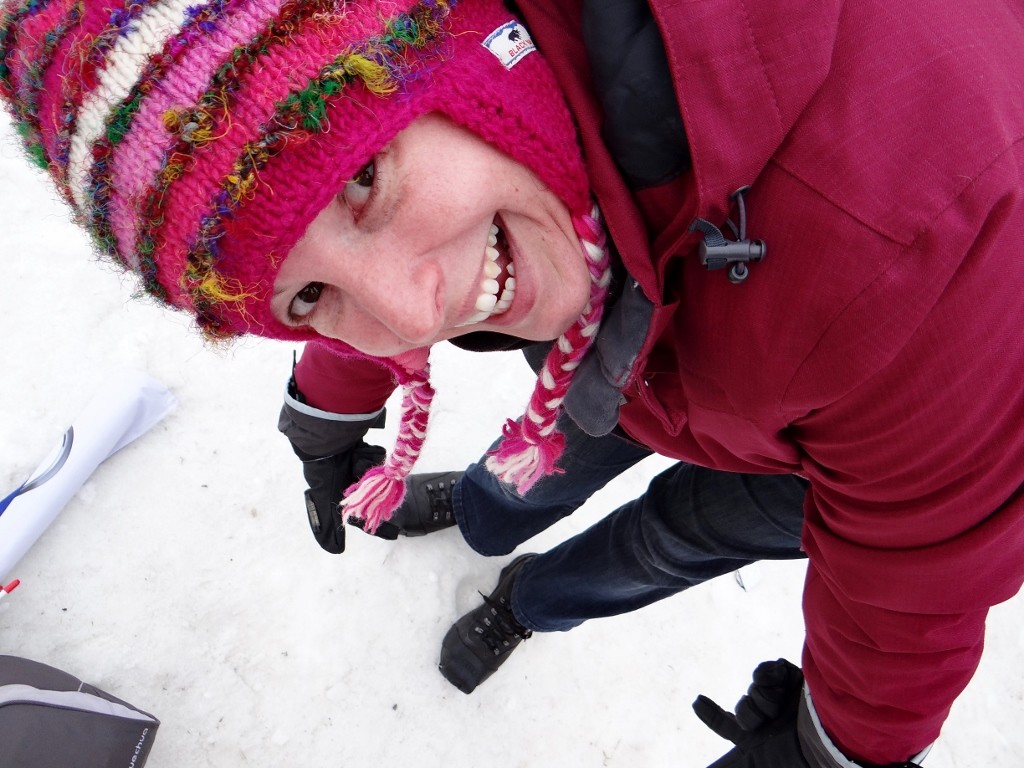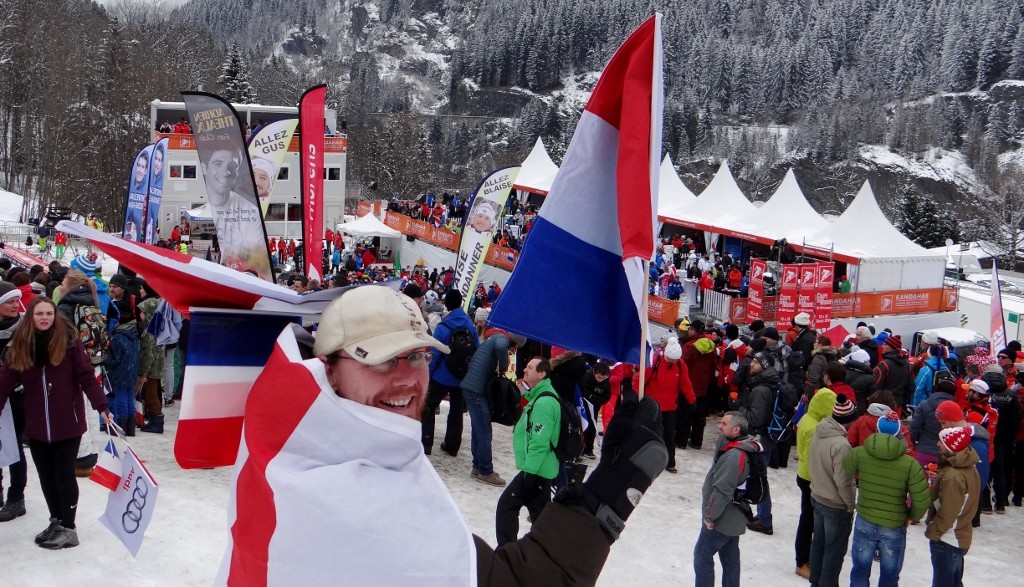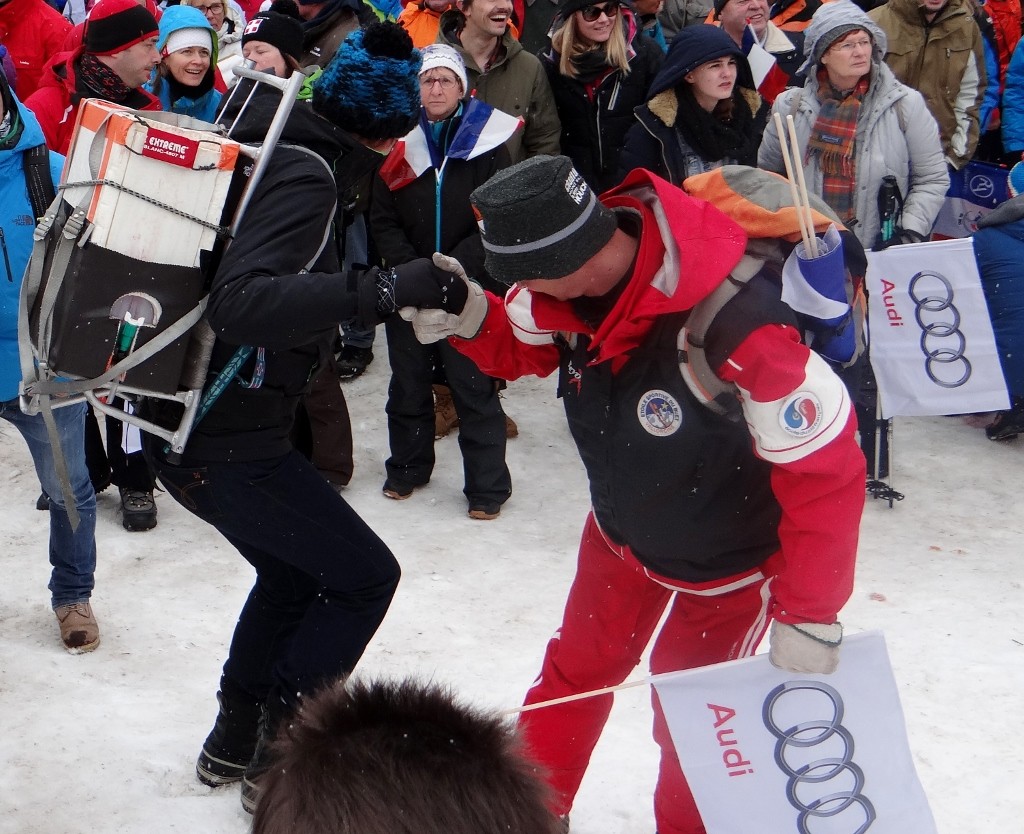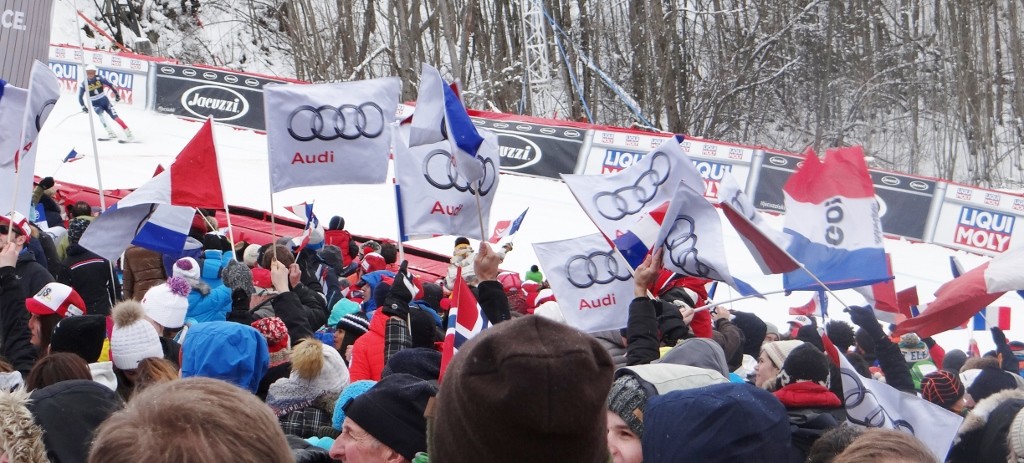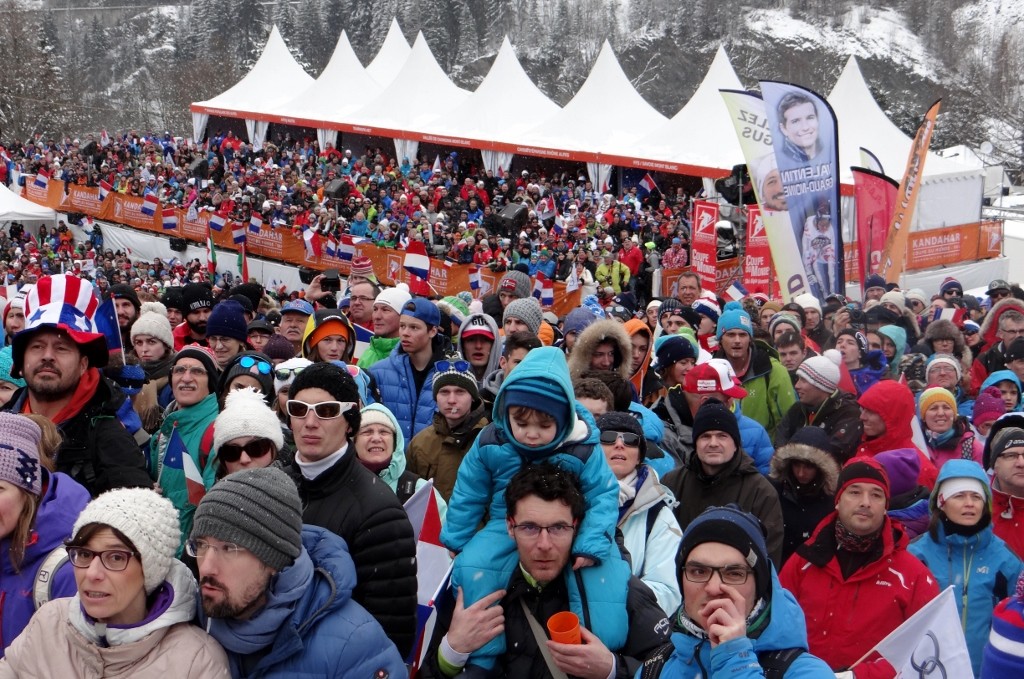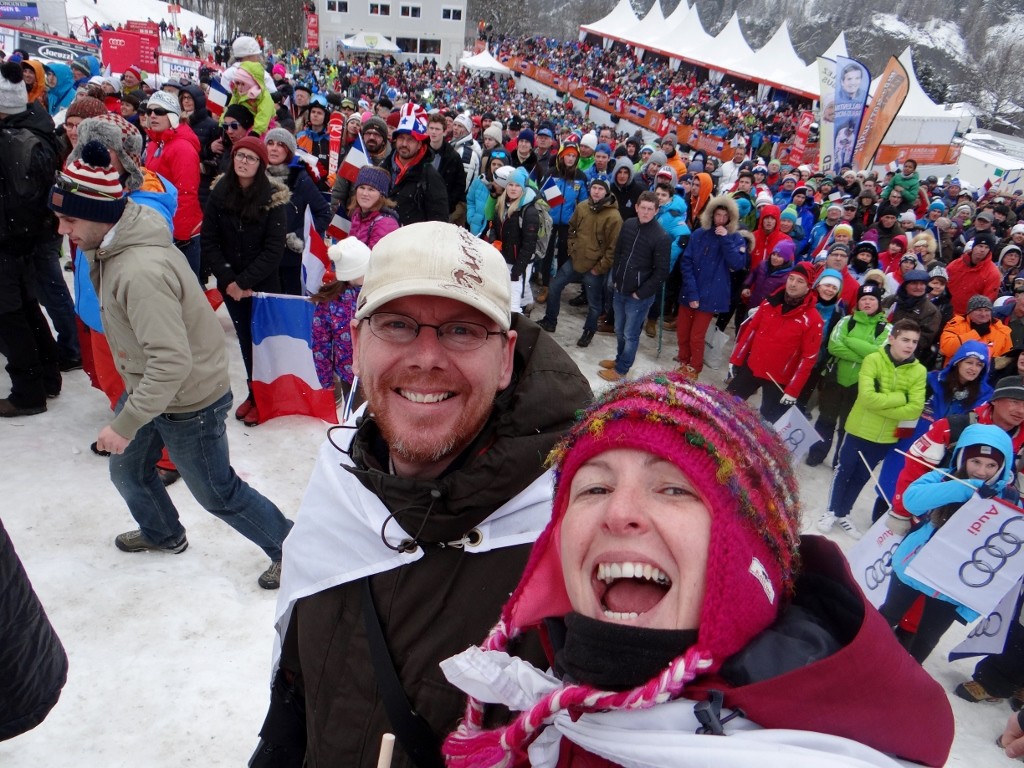 We snuck off with still half the racers still to go as the commentator had said earlier that the big contenders were starting numbers 8-22. It turned out that we saw the top finishers and managed to 'bus push' onto the first bus that arrived to take us back – if we had left when it finished, we might still be there now waiting!
Charlie was, as always, pleased to see us and went for another little walk when we got back. After all that fresh air and excitement I needed a nap, so Jay headed out for another walk around the park behind us. Tonight we're catching up with Mandy and Todd for a few beers. We stopped on their drive last time we were here, but that was summer and now the road to theirs is a bit too steep and icy for Zagan, but it'll be great to see them both again and catch up on what they've been up to.
Ju x