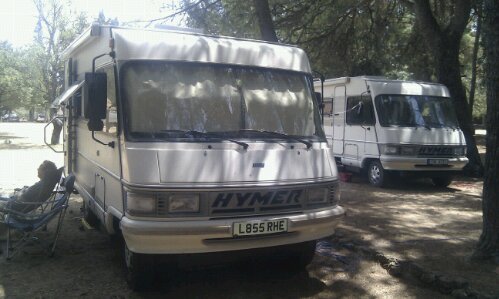 Jay's powers of persuasion are good and Dave the motorhome gets another day of rest in Stari Grad on Hvar Island.
Yesterday the number of motorhomes on our little campsite doubled with the arrival of another Dave. A year newer and 40cm longer than Dave, this Hymer spends most of his days in storage in the Czech Republic.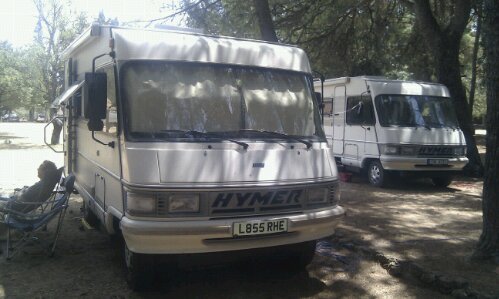 Pavel, Marie and their daughter Anna live in California, but return to the Czech Republic to visit family. When they do the Hymer is dusted down and a trip taken around part of Europe.
After we returned from uploading videos yesterday we got chatting to them. Wine flowed, Czech beer was drunk and the hours slipped by deep in conversion about motorhoming adventures past and those to come. As the evening turned to night we were absorbed by the fascinating story of their lives. Pavel and Marie fled communist Czechoslovakia in 1978 by way of a holiday to Yugoslavia. Without being able to tell their families or visit them for many years after they walked for ten hours down a mountain to freedom. Several months in a refugee camp followed before they were finally accepted and offered a choice of a new life in Australia, Canada or the USA. When asked how they felt, Pavel likened it to jumping into a fast river with steep sides – once you do it, you have to go along with it. The temperature started to drop a little around 1am, so we all bid goodnight, but the night left my head whirling. I could never imagine people having to go through what they did, yet many still do even today.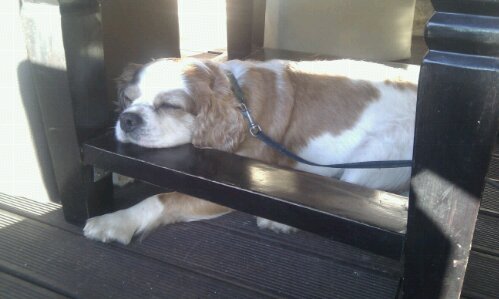 This morning, having agreed to stop another day after two glasses of wine and a promise of eating out tonight, we headed for the local beach. Beaches here tend to be stoney, large rocks or man made crazy paved areas. We found ourselves resting on the latter, joined by our fellow Hymer travellers. Jay snorkeled, Charlie dozed and I watched the world go by along the busy little estuary.
As the sun moved around our oasis of shade diminished until Charlie was panting again. Time to move. Walking back along the waterfront an old woman made cooing noises at Charlie then asked me something in Croatian. When I explained we were English she seamlessly switched over. She tells us how she loves dogs, so we ask if she has one. 'I used to', she replied 'before the war'.
Her fascinating tale captivated us as we walked along with her, so much so that we walked past the turning for the campsite. She lived in Sarajevo and kept birds, but where she lived was shelled. Unable to carry all the bird cages she set them free then fled for cover. When she returned her home was destroyed. She then had to spend years moving from friends and relatives houses, shelters and hotels before she could finally go back to Sarajevo and sell the ruins of her home to buy a small flat there. She told the story as if she was telling us about a trip to the local shop – to us it was fascinating, to her it was just her past.
This afternoon Charlie and I went for a stroll around the old town to find a wine merchant Pavel discovered yesterday. One litre of wine in your own bottle for 10kn (about £1), served in someone's house – it sounds like our kind of place.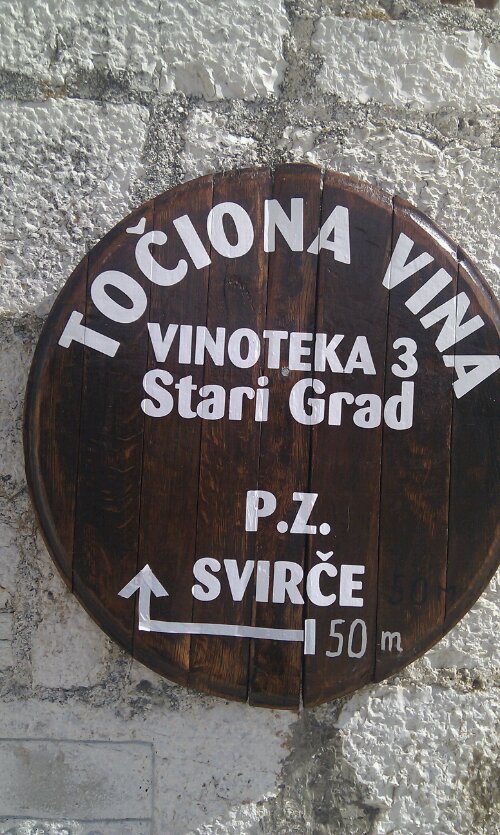 Jay struggled to catch a local crabbalie with his line, seems they just aren't interested in the local ham – although the fish (and Charlie) both are.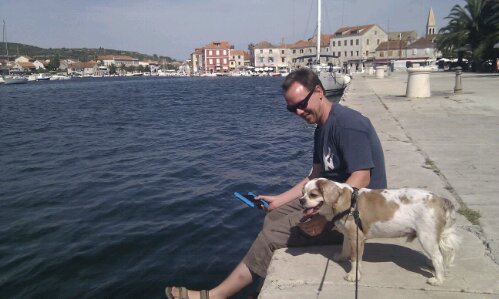 The number of motorhomes on the campsite has doubled again today. If it carries on like this it'll be packed in two days. We've got the map out to see where to go to next, we can't leave Hvar just yet. One more stop…. or two!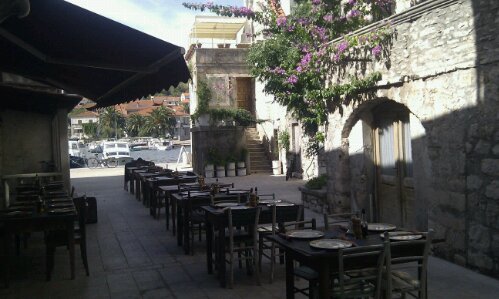 Ju x