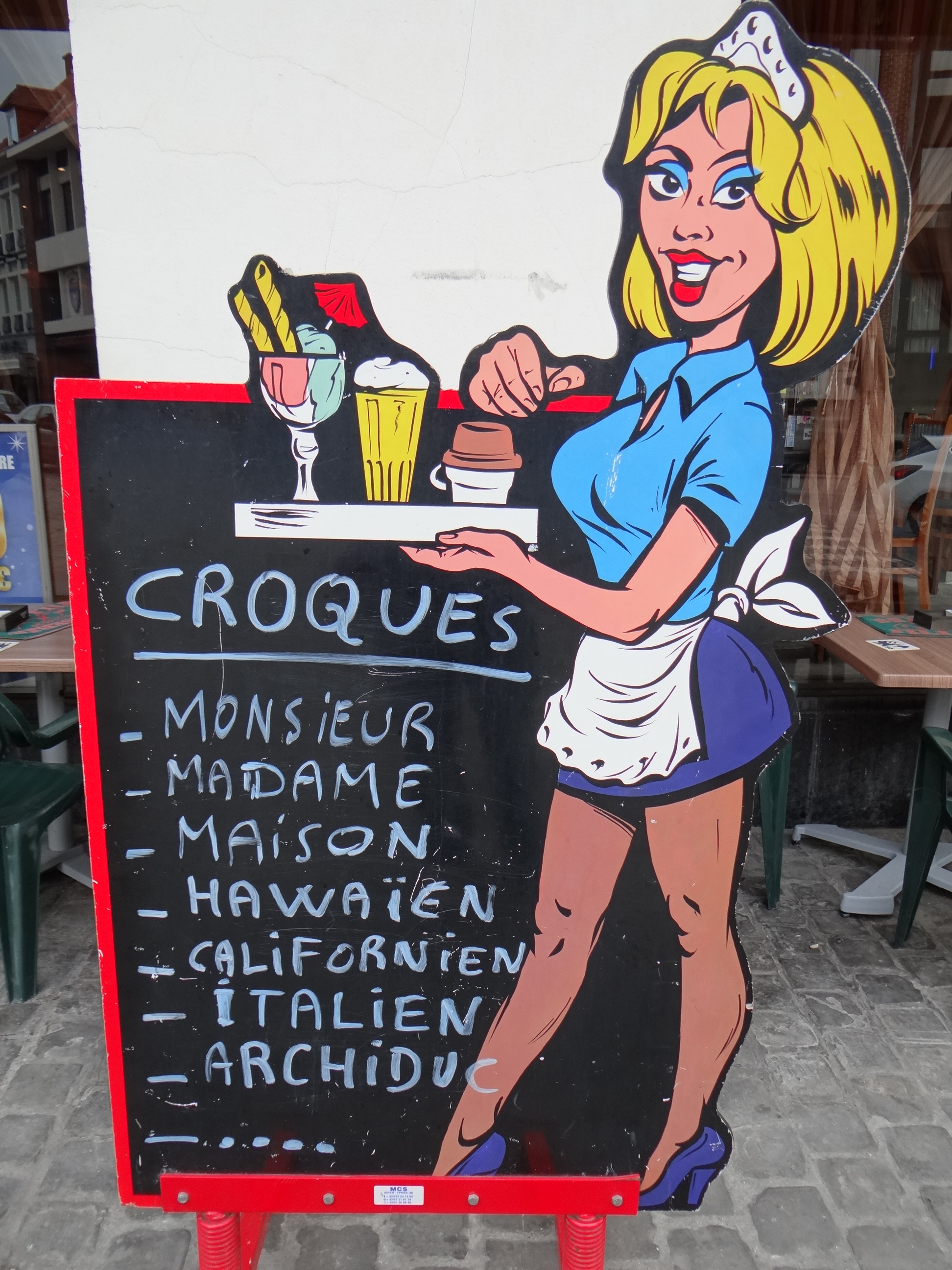 Dave the motorhome has been urged into a corner of a Belgian sports centre car park in Tournai (N50.60482 E3.37708), away from the official aire which is being occupied by a legion of fair rides.
Like Britain, Belgium has a north-south divide. Unlike Britain, this one is marked on a map, a horizontal line which slices the country into two roughly-equal halves. The north, the Flemish Region, speaks Dutch. The south, Wallonia, speak French. Brussels is an officially bilingual island in the Flemish north, and to top it off, a bit of land to the east is German speaking.
I've only ever been to the Flemish region. At least I thought I had until Ju pointed out we've been to Dinant on a previous trip. Anyhow, I wanted to come back into this region to see if, well, I'd find it any more appealing than the Belgian north which generally doesn't float my boat, light my candle or tickle my fancy. As the light faded last night we boiled up a concoction of our map, an aires database and wikipedia and came up with Tournai.
Kent, the God of English Thunder, didn't appear enamoured with this decision, as a great eruption of crashing about and flinging of plates against walls came from the direction of England half the night. Come the morning he'd chilled out, although he'd spitefully been on the phone to the Belgian meter police who appeared in a small van and changed all the meters from 'Free!' to '€5 Please'. We took a last wander on the massive expanse of beach, watching the hockey-playing school nippers, and legged it before the Enforcers could arrive and demand euros.
Being back on European roads is a relief. They're almost empty of traffic, and the Belgian road surfaces which are decried in some publications as death-traps, seem at least as good as the British ones we used a week back. Satnav chose her usual tortuous route through countryside to the motorway, brushing us past ripe corn, still-green trees, the odd canal and ploughed up fields. On the outskirts of Tournai we checked the ground for signs and caught the tracks of a Lidl shopper, following her at a distance to the shop, and stacking up Dave with fresh veg. We needed veg. Writing this after eating Ju's veggie stew I feel zinging, despite the Man Flu which racks my body.
Tournai likes motorhomes, so we like Tournai. The town fair is parked over the normal place for most of Sept it seems, but little blue and white signs directed us into the car parka round the corner. We're sharing the place with a few other Dutch and Belgian vans, a couple of whom we directed over here after they tried to take on the fair folk and were beaten back by acres of plumbed-in, washing-machine-running caravans.
On our second attempt, we made it into town, wimping out first time with a few drops of rain. There's a fair of sorts going on in the main square, a petting farm (I stroked a chicken), some actors and puppets yelping away in the rain, pooping nipper-carrying donkeys and a bubbling bouncy castle. It's a damp squib. Perhaps down to lack of the essential beer tent? The massive cathedral has a sign up inside along the lines of 'Although this place may be wounded, it's still a place of worship', which translates to 'mind the scaffolding and ugly iron which is holding the ailing stone together'. The rest of the town is an enigma; posh boutiques nestle shoulder to shoulder with weed-wearing, depressed and clapped out purposeless buildings. All-in-all, it's a nice place and we're glad we came; don't book a mini-break though.
With a bit of free time we edited the audio recordings we made just before we came back to the UK a couple of weeks ago. They're included below. It was fun making them, we may do some more, let us know what you think?
Audio clip: Adobe Flash Player (version 9 or above) is required to play this audio clip. Download the latest version here. You also need to have JavaScript enabled in your browser.
 1. Introduction (above)
Audio clip: Adobe Flash Player (version 9 or above) is required to play this audio clip. Download the latest version here. You also need to have JavaScript enabled in your browser.
 2. What have we been doing (above)?
Audio clip: Adobe Flash Player (version 9 or above) is required to play this audio clip. Download the latest version here. You also need to have JavaScript enabled in your browser.
 3. Why did we do this (above)?
Audio clip: Adobe Flash Player (version 9 or above) is required to play this audio clip. Download the latest version here. You also need to have JavaScript enabled in your browser.
 4. What kind of places have we stayed (above)?
Audio clip: Adobe Flash Player (version 9 or above) is required to play this audio clip. Download the latest version here. You also need to have JavaScript enabled in your browser.
 5. Living on a budget (above)
Audio clip: Adobe Flash Player (version 9 or above) is required to play this audio clip. Download the latest version here. You also need to have JavaScript enabled in your browser.
 6. Living in a small space (above)
Audio clip: Adobe Flash Player (version 9 or above) is required to play this audio clip. Download the latest version here. You also need to have JavaScript enabled in your browser.
 7. How do we feel about going back to the UK (above)?
Audio clip: Adobe Flash Player (version 9 or above) is required to play this audio clip. Download the latest version here. You also need to have JavaScript enabled in your browser.
 8. Visiting cities via motorhome (above)
Audio clip: Adobe Flash Player (version 9 or above) is required to play this audio clip. Download the latest version here. You also need to have JavaScript enabled in your browser.
 9. The people we met (above)
Audio clip: Adobe Flash Player (version 9 or above) is required to play this audio clip. Download the latest version here. You also need to have JavaScript enabled in your browser.
 10. Dealing with mishaps (above)
Audio clip: Adobe Flash Player (version 9 or above) is required to play this audio clip. Download the latest version here. You also need to have JavaScript enabled in your browser.
 11. The language barrier (above)
Audio clip: Adobe Flash Player (version 9 or above) is required to play this audio clip. Download the latest version here. You also need to have JavaScript enabled in your browser.
 12. Travelling with a dog (above)
Audio clip: Adobe Flash Player (version 9 or above) is required to play this audio clip. Download the latest version here. You also need to have JavaScript enabled in your browser.
 13. Dealing with fear (above)
Audio clip: Adobe Flash Player (version 9 or above) is required to play this audio clip. Download the latest version here. You also need to have JavaScript enabled in your browser.
 14. Any regrets (above)?
Audio clip: Adobe Flash Player (version 9 or above) is required to play this audio clip. Download the latest version here. You also need to have JavaScript enabled in your browser.
 15. Updating a travel blog (above)
Audio clip: Adobe Flash Player (version 9 or above) is required to play this audio clip. Download the latest version here. You also need to have JavaScript enabled in your browser.
 16. Final thoughts (above)
Cheers, Jay