We're in! The extension to our house has been completed and we've shifted ourselves in, a 'house move' of about 15 meters. We've dubbed this new space 'The Cooler' in honour of those who break the rules in The Great Escape (plus it used to hold two industrial cold rooms when it was a butchers).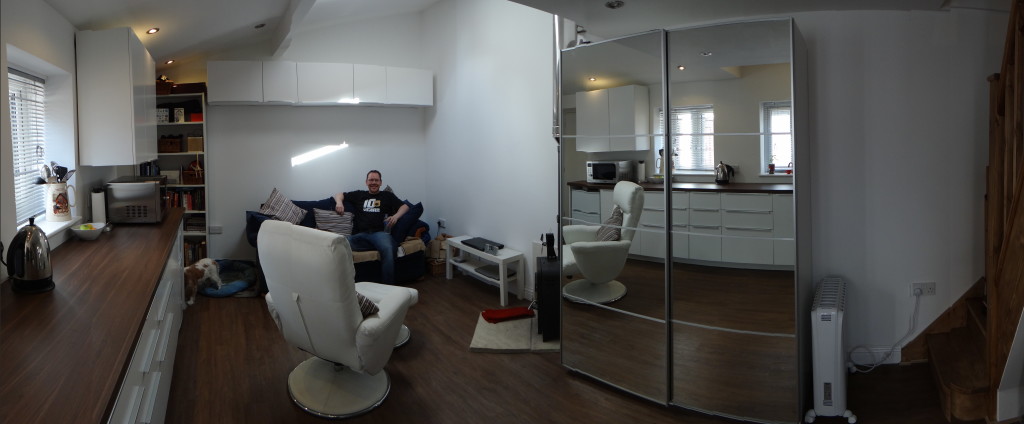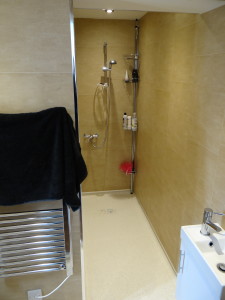 The great getridofstuffathon continues, but we're there really, just one final push to clear the house ready for renting the rooms. How we get on with sharing the house remains to be seen, but we expect to be just fine. After all, it didn't do Forrest Gump any harm! A local letting agent we already use is popping down next week to see if they can manage it for us (they're very good, and will quickly get issues sorted for tenants if we're off in Greece or wherever). Once we have tenants, we've hit the magical balance point. We'll be financially free at 43 – although we both expect to do paid work of some sort or other in the coming years.
The Cooler is physically attatched to the house but has its own front door, so we're feeling safe and secure in here. The windows face the courtyard at 90 degrees to the main house windows, which means we'll not be peering at each other either of an evening. The limited space in here has simply not been an issue, apart from the fact we need to offload more stuff to avoid adding yet another array of IKEA cabinets!
Our biggest problem we've had so far is being too hot in here… The building is sunk into the hill on two sides, so is naturally The Cooler by nature as well as by name. Also, as the windows face north, it doesn't see much sun. However, with walls, floor and ceilings now packed with insulation, any heat we create is going nowhere. It gets to 10pm, after which we shortly retire to bed, but I can't help myself but to add more wood to the burner and we roast! When we don't want to run the fire, a back-up 2.5kW Delonghi Dragon oil-filled radiator heats the place in minutes, it's an animal of a thing and has a timer so we can set it to come on in the early mornings and to run on 'frost mode' while we travel to keep the chill off the place.
Our clothes now all fit into a sliding door IKEA wardrobe – half for Ju and half for me. Slide out wire trays and drawers help make it easier to get at the stuff at the back. I've opted not to have a hanging rail, as once this contract's finished at work, I'm not intending to be wearing office gear for a while.
Oh, also, our pooch Charlie's managed the move in here just fine, although he does of course keep legging it into the main house to sniff the kitchen. He's only a small fella so hardly takes up any room; his bed sits between the sofa and the bookshelf and he's in it snoring as I type.
Right, enough bloggin', time to get that fire going!
Cheers, Jay