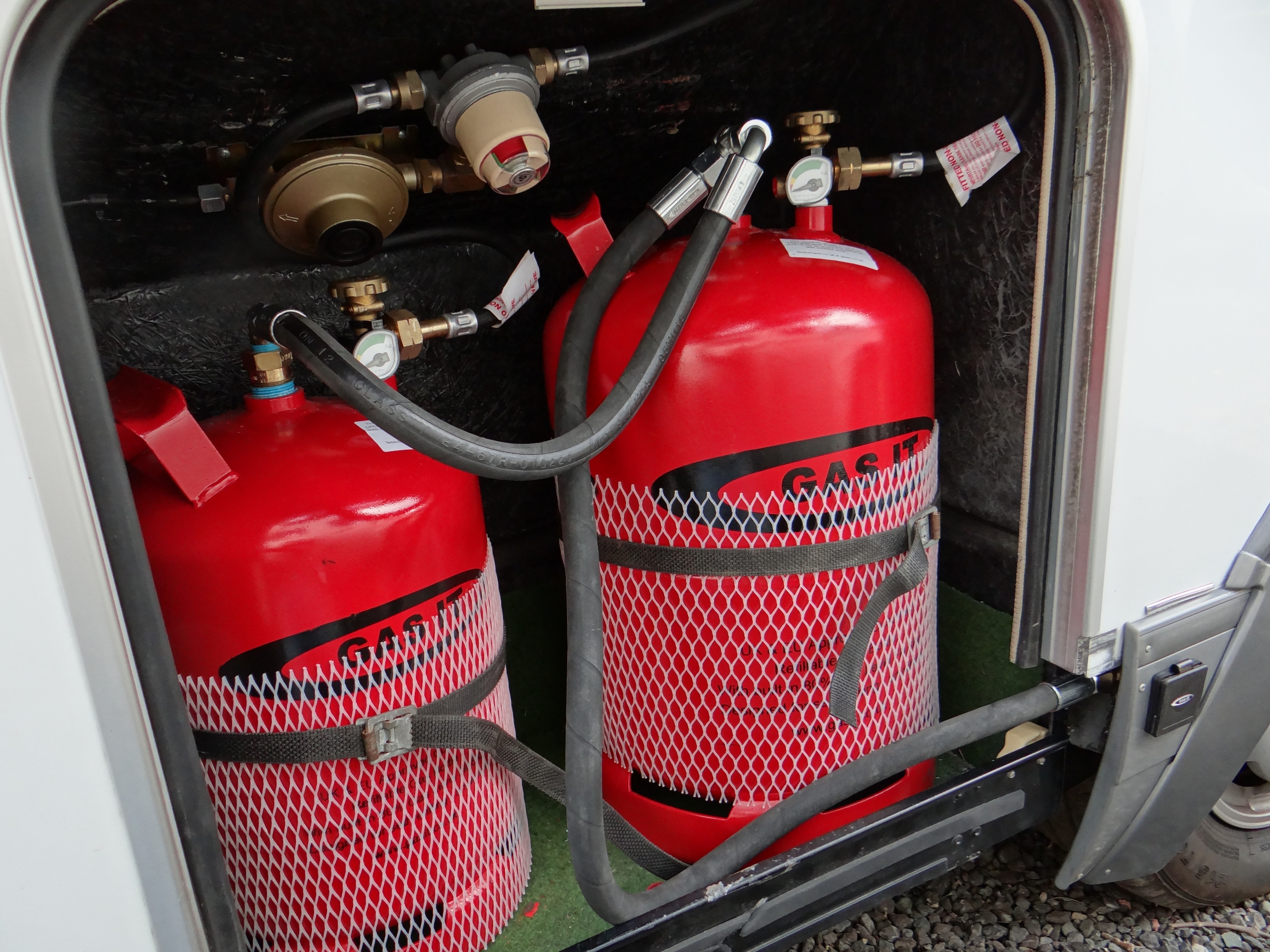 Zagan the motorhome now sports a GasIT self-refillable LPG system. With it we can replenish his habitation gas system from filling stations which sell LPG/Autogas across Europe (there are quite a few of them). Dave, our previous Hymer B544, had such a system installed, albeit a pretty old contraption compared to the system we just installed. It worked flawlessly and we filled it in a fair few countries, including Tunisia, with no problems (other than being muppets with the pump sometimes…). The only country we couldn't fill up was Morocco, as they don't have LPG fill stations. Not an issue over there as the tank held 30 litres of gas, which was plenty, since we were on campsites almost of the time with 230v(ish) hook-up.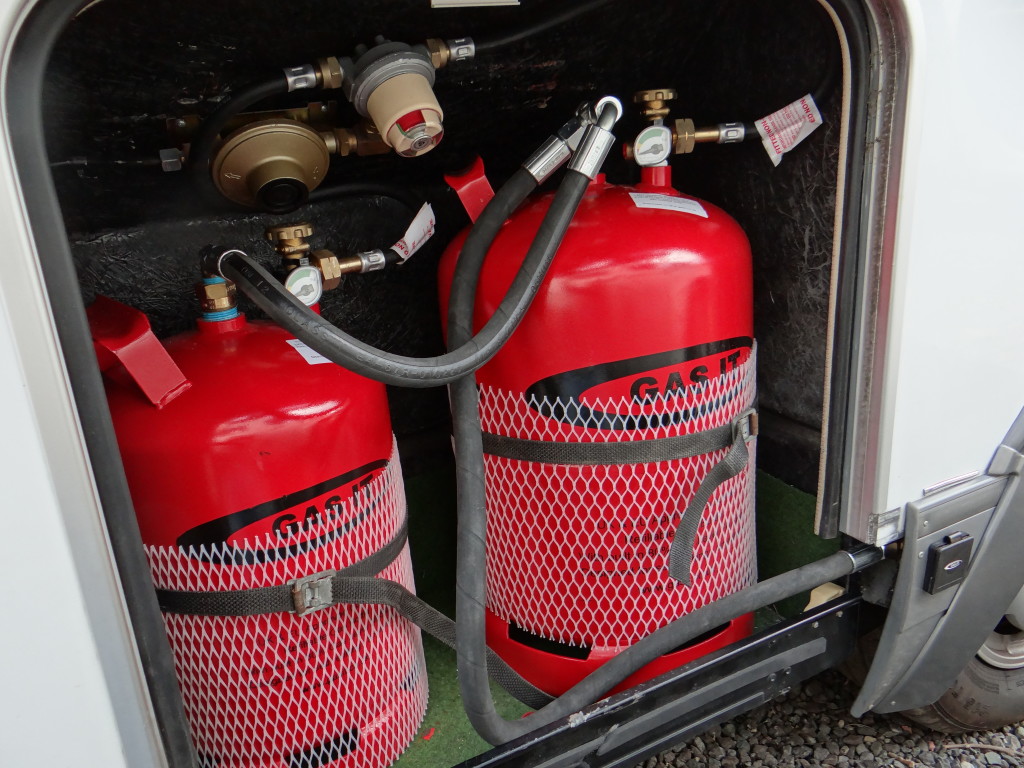 I installed the GasIT system myself. I'm not a gas professional, or certified in gas installation in any way, but I do consider myself to be a competent DIY installer. I spent a few weeks thinking about/researching how to get a self-refillable LPG system on Zagan, checking out the main players: GasIT, Alugas and Gaslow. I pondered:
Whether to get an underslung tank and decided against it (floor too low, and we already have a locker we can use),
Whether to get an in-locker tank or two bottles (a single tank would have been simpler, but wouldn't physically fit),
How best to fit the filler (in-locker, external in the door or external in the van skirt),
Whether two 11Kg bottles would fit (I emailed photos to GasIT of the locker with a tape measure across it; they advised one 11Kg and one 6Kg).
I read through the Gaslow install instructions and in the end we went for this set-up:
A GasIT 11Kg and 6Kg twin bottle with Gaslow auto changeover valve (which we already had). We chose GasIT as the quality of the kit looked the same across the board, but GasIT were cheaper.
A JIC Square angled fill valve, which we needed to keep the area of the external filler down to a minimum.
A set of three European fill adaptors, for laid-back filling in exotic foreign petrol stations.
Including the high pressure hoses and delivery (but excluding the changeover valve), the kit cost £341.80. I filmed the install (below). Once again pls note that I'm no pro! As far as I know the only 'problem' with the install below is the fact the bottles are only strapped once, when they should be strapped at both top and bottom. The installation was straightforward. I took my time trying different bottle orientations, triple checking everything, filming bits and bobs, and the end-to-end install took about 3 hours.
The next job is to fill the system and leak test it each of the joints using the spray GasIT supplied. Once we've done that, and used it a few times, I'll pop an update on this post to say how we're getting on with it.
Update 18 Aug: just popped to the local BP garage and nervously popped 10 litres in, with both bottles already off at the off take valves. No massive hissing of escaping gas. Phew! Drove to a lay bye, opened the valves, still no hissing of gas. Sprayed all my joints and those made by GasIT with the leak detection liquid they supply. No bubbles. Spray them all again, still no bubbles. Turn on and light the cooker. All good. Only thing we've spotted is the gauges have both remained on red, but maybe the tanks need more gas? Plan now to use the van at a Britstop in Skegness this weekend, and leak test it again while we're there, then do a full test and make sure the 80% cut off valves work.
Update 20 Aug: Wayhey! Our fabulous friend Matt, a Gas Safe Engineer, who owns Kimberley Fires and Stoves (the place where we got our wood burner from) has loaned Ju a gas detector. Just sniffed out Zagan's system with it and not a single teeny weeny leak detected!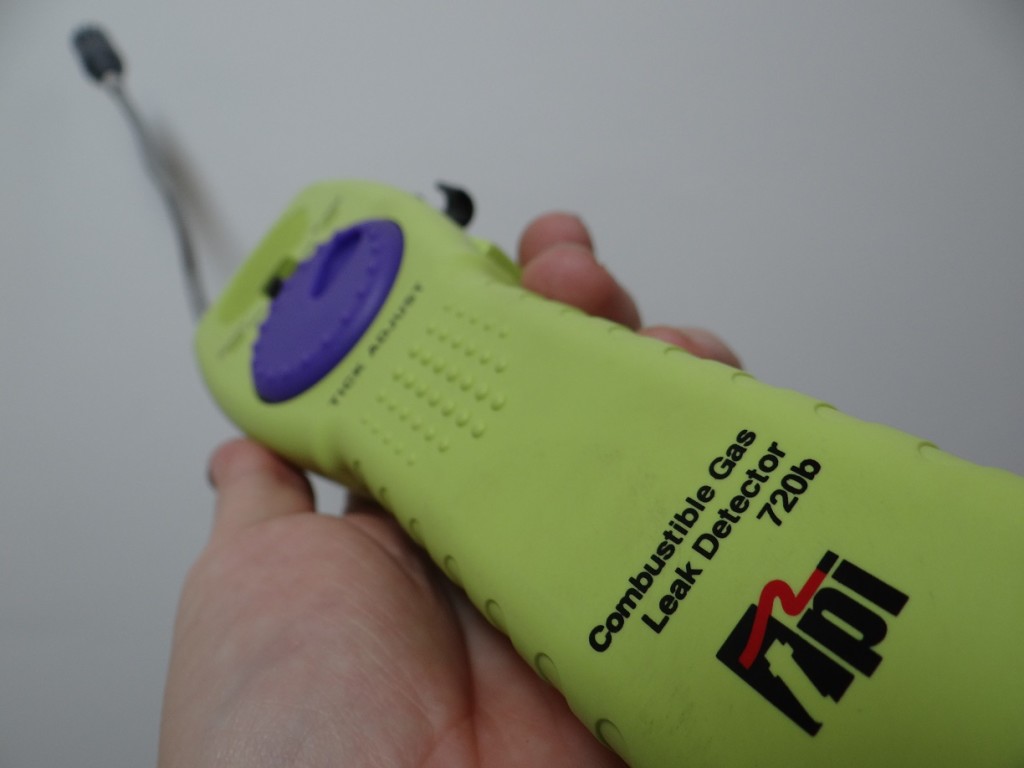 Cheers, Jay