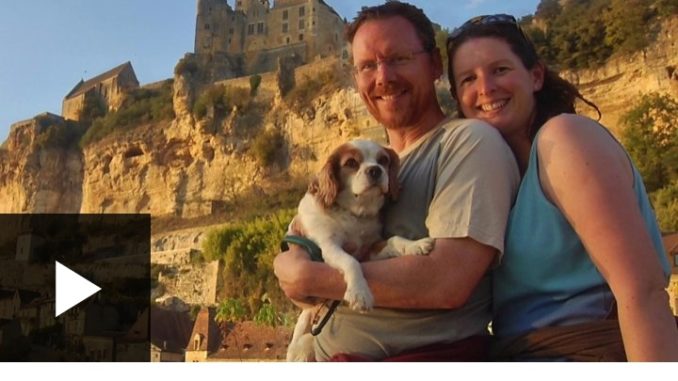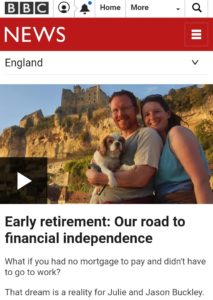 A few months back we were contacted by a nice chap called Tom from the BBC. He wanted to make a short film telling the story of how we became financially free and offering tips and advice to others who want to do something similar. This happened soon after we'd appeared in the Daily Mail and on the 'How to retire at 40' on Channel 4, and as they really didn't provide much help for people wanting to retire early, we were a tad dubious.
We expressed our concerns to Tom and he talked through his vision and in the end we decided we would go for it. As one of our goals is to help people discover that there are different ways to live life, we hoped this would be a good medium to do just that.
Tom met us towards the end of September and we all went for a spin in Zagan to a quiet location near his storage space. Here Tom interviewed us on camera and from his questions we knew that he 'got it' and we'd made the right decision.
Fast-forward to New Year's Day 2018 and the video went live on the BBC website and Facebook page (they held off releasing it to a time when people are setting their New Year Resolutions). It was a surreal start to the New Year as we spent most of the day as the 'Most Watched' video on the BBC News site – which was amazing considering we were competing with the New Year Fireworks!
While things changed a bit from the original plan, we love the film Tom has made. It's an inspirational piece with few details or tips in it, this is because he knew we covered all of these off in our free ebook Funding Freedom (which has seen a huge spike in downloads since the video went live on the BBC).
Sadly we came in for a lot of criticism on the BBC Facebook page, some of it quite nasty and personal from people who don't know us or the facts about what we have done. There were lots of incorrect assumptions made and name calling but in truth we expected it as it also happened when we were featured in the Daily Mail. Fortunately among all the noxious comments there were also some really nice remarks from people who are on a similar journey or want to embark on one, which made it all worthwhile.
Anyway, enough gabbing on about it, here is 'Our 30 Year Retirement' – we hope you enjoy it as much as we do.
As of now as I write this (5pm on 2 January 2018) the film has been viewed on Facebook over 810 thousand times, and we're still in the top five most watched videos on the BBC News website, so I guess we could say we hit our goal of getting the word out about a different way of life!
Have an amazing 2018 wherever you plan to be.
Ju x