I'll never make a carpenter…
We're planning to leave some of our belongings in the loft of the house when we rent it out. Our friends Sue and Jon did the same thing when they travelled for a couple of years and it worked out OK for them. Well, they left belongings in their loft, not ours. Anyway, there'll be nothing of any value in there but just to remove temptation I've fitted a lock (job #1 on Ju's list!). It took me three hours and I've not tidied up yet – I think our friend and pro chippy Scott Wilson would have completed it in about 15 minutes, whilst blindfold, using only a spoon. I don't see me having a career as a carpenter, although I am pleased with the finished article.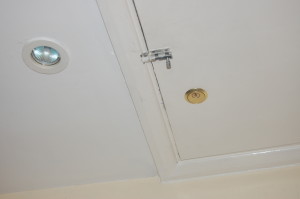 I suppose I should be doing the jobs in order from the list rather than just picking the ones I fancy doing (Solar PV panel fitting anyone?). Right, what's job #2? Change Bathroom Blind. Hmmmm. Job #3, Paint Bathroom. OK, I think I'll just take the dog out for a walk.
Cheers
Jason
Share this post: