Dave the motorhome has waves gently lapping beside him as he sits on a quiet one way street looking across to the harbour at Porticello (N38.08411 E13.53790). We've driven half way across Sicily today and then round a huge bay. It wasn't what we originally planned, but then our plans are generally somewhat 'fluid'!
Last night neither of us slept well. We'd moved from our roadside location to the local football stadium car park (the Sunday match had long since finished) so Dave no longer rocked as cars blasted past, but it wasn't that keeping us awake. For Jay it was most likely to be caffeine related as he brewed himself a strong pot of coffee not long before bedtime, but for me it was all about Tunisia – mental lists were being written of things we need to do before we go, just like the sleepless nights that I often had at home thinking about work stuff. Eventually I remembered that we got Charlie in February, so his annual jabs will be due while we are away – a quick check this morning confirmed my nagging brain was right – a trip to the vets is needed for him this week.

We did both finally doze off around 4am, only to be woken at 8am by a roadsweeper going round and round Dave – a strange thing here, bins are overflowing but roads are swept very frequently! After some breakfast and another gawp at the amazing view we were parked besides we set off down the hill towards the valley and the autostrada which would whisk us across the country for free – we do like a free motorway when we're not expecting it!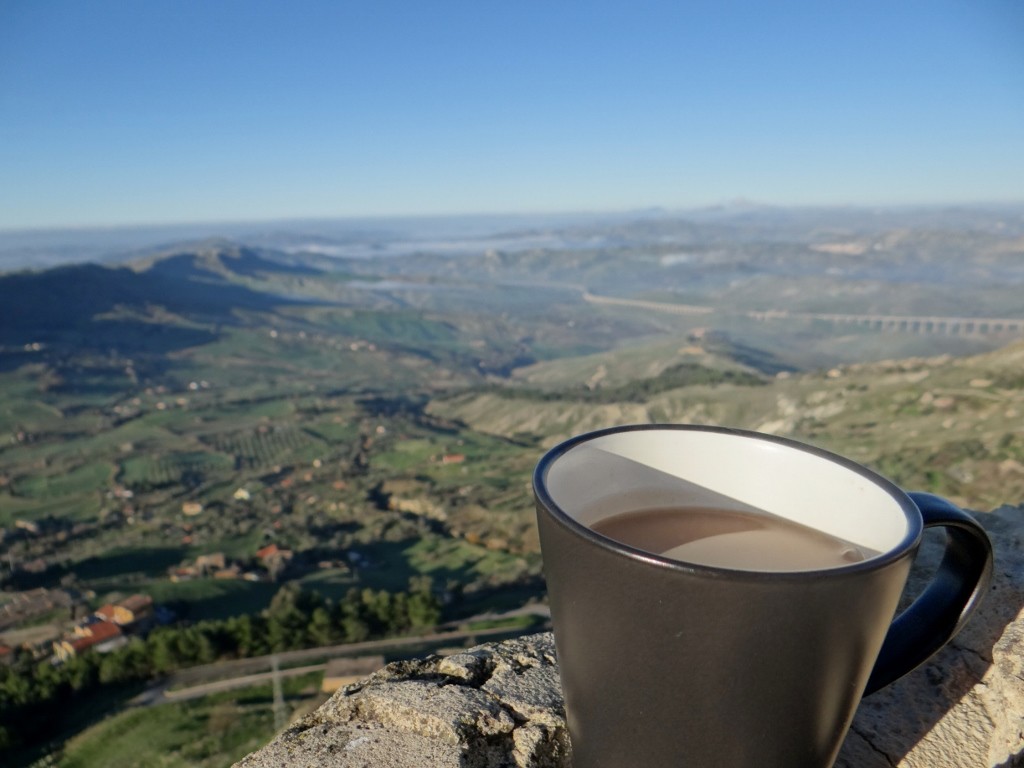 The needle on Dave's fuel gauge was lower than we'd like but the petrol station precariously perched on a ledge up near the town of Enna was eye-wateringly expensive, its only customers were probably those afraid of venturing off their rock, so we carried on. The next station was among roadworks so it was difficult to see its entrance, a lorry bearing down on us soon caused us to move along. Jay laughed at the prices at the next petrol station as we flew past it and before we knew it we were on the autostrada where diesel would undoubtedly be much more expensive. As I searched the map I couldn't see a motorway services icon anywhere and my fears were confirmed as we passed a sign saying that the next one was around 90 kilometres away. Jay consoled me by pointing out that we would be going downhill most of the way and because we were already on a slight slope the needle was back up to a quarter of a tank.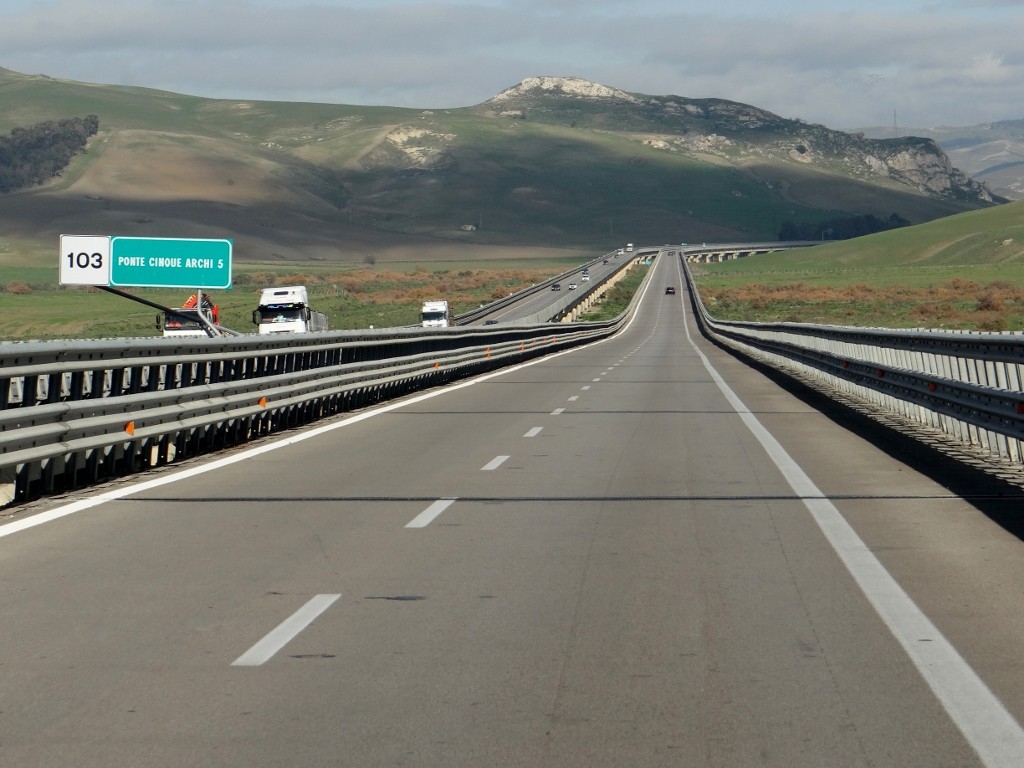 For the next hour we wound our way along the valley, ducking through tunnels and looking out from our raised autostrada viewing platform. The scenery was beautiful, rolling green hills transformed into crumpled paper shapes as they bowed down into our valley, where people worked the land spraying and harvesting crops, but a lot of the time my eye was on Dave's fuel light. I counted down the kilometres to each junction, but still the light didn't come on. It only started to glow when we were within 5 kilometres of our exit by the coast – good old Dave!
We made our way to our planned stop for the night only to find access to it cut off by roadworks which looked like they will be in place for the next few years – a huge stretch of road with only six men working on it, sorry that should be one man working on it, the other five were chatting and smoking! We finally gave in to Dave's orange glowing fuel light and popped in €20 worth of diesel, Jay has become a dab hand with the self service machines at petrol stations now – he has had a lot of practice. Dave's air suspension was pumped up and off we went to Termini Imerese, another stop from our book and the location of the post office that we have had Jay's freebie glasses sent to.


We were somewhat surprised by the location of the parking, in our book it showed a beach, and if looked closely there was a bit of sand there, but that was dwarfed by the ferries in the port next to it. Undeterred we set off into town to find the post office. A lot of climbing and swearing at Google Maps later (will we ever learn) it became evident that there never was a post office high up in the narrow medieval alleys we were being guided around. A kindly local took pity on us and walked with us until we were back in sight of the harbour and its nearby post office!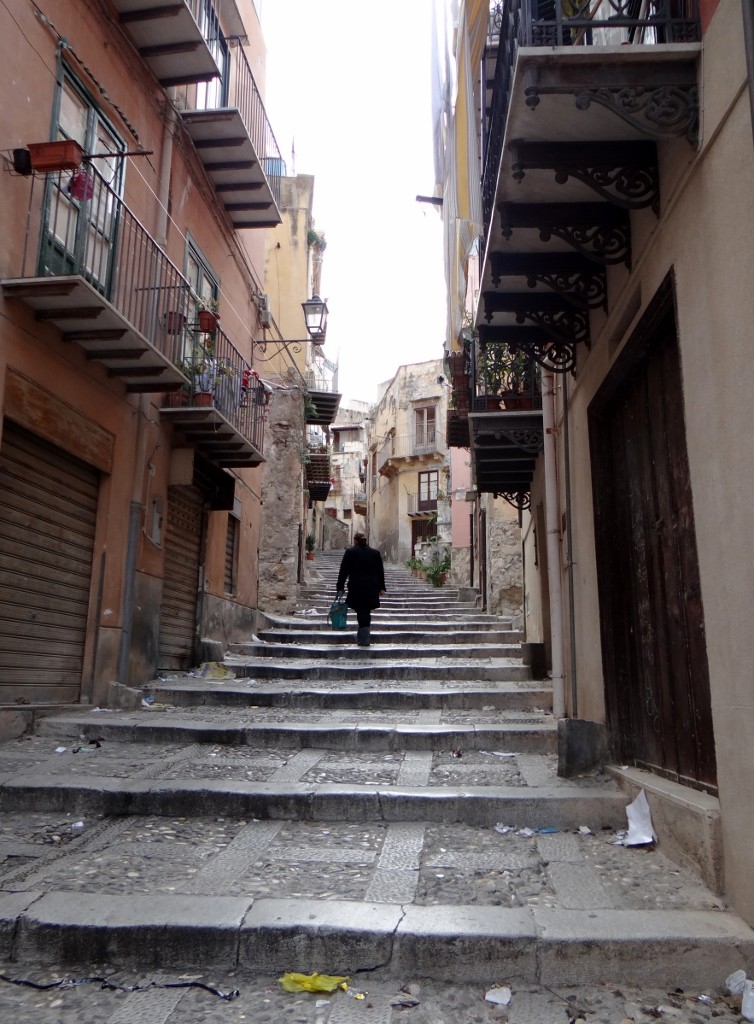 Excitement mounted as Jay took a ticket and waited, and waited, and waited – things don't move fast here. Charlie and I had to wait outside but could clearly see the man behind the counter shaking his head and five minutes later Jay emerged without a parcel. There was a bit of a language barrier as the man was trying to explain the charges to Jay, showing him money and shaking his head. Looking up Fermoposta on the internet I found the page explaining what we were after and went in armed with my phrase book. The man behind the counter obviously knew what was coming as I waited, and waited, and waited.
Eventually another counter assistant spoke to me and when I showed him my waiting ticket he pointed to the man Jay had spoken to – looks like he was parcel man! Waving our phone with the internet page and my phrasebook I managed to get him to ask someone else about the service, but no luck. Jay appeared at the door holding Charlie and all paperwork was dropped as the man behind the counter let out an 'Oooooooooh, piccolo piccolo' and rushed over to pet Charlie. Playing the pooch card worked well and he was now making more of an effort to help us, eventually drawing a map to a secret door where parcels are collected from as this posh part of the post office was only for people paying to send stuff!
Armed with a scrap of paper we set off only to find the map lead us to the back door of the same building. Here we were greeted with more head shakes, no they don't do Fermoposta here. More showing of the Posta Italia website which clearly states that you can send stuff to any post office and he asks us to follow him outside (not in a threatening way though). More people were asked, more heads shaken. Eventually an old fella was buzzed on the intercom, he'd obviously worked here all his life so he was bound to know about the service and be able to track down our parcel.
'Fermoposta? No, no exist' was all he would say, repeated several time – even after showing him the internet site.  If he had gone away and rooted around and said he couldn't find our package we'd have insisted he look again, but after over an hour there and every single person we met insisted that they didn't offer that service – there wasn't anything else we could do but leave empty-handed. Sorry folks but we'll never know if Jay's freebie specs were any good or not, although a Posta Italia worker somewhere out there might know!
A tad downhearted we headed back to Dave. Feeling brave after conversing badly in mime and Italian for the last hour I rang the delivery company who had called us the other day. I'd ordered a copy of our new book A monkey ate my breakfast (get your copy now!) in paperback from Amazon Italy, so we could see the fruits of all of those months of work, but we put the delivery address as the post office we had just left and unsurprisingly the delivery man wouldn't leave it there. Fortunately they found someone in the office who spoke English and was able to give us an address to go and collect the book from – its close to where we're getting the ferry from so a job for another day. Putting the phone down it dawned on me that Amazon didn't use the local post service, if only we'd known this before we tried to!
We nipped into a motorhome emptying point we'd spotted on our walking tour of the town and then climbed our way out of Termini Imerese up a multitude of switchback turns. Our guidebook gave gps co-ordinates for a place to get water from just a few kilometres down the road, the book is all in German so we didn't know what to expect. Arriving we pulled in next to a water tap in the main meeting point of the town. Surrounded by un-bothered locals we only put a few litres in Dave's fresh water tank before we got going, we were feeling a tad British and sorry to impose.

The day had been one of many gps co-ordinates and our final set brought us to Porticello. We headed straight out for a walk around as the day was getting old and we were getting tired. The port in front of us is a proper fishing port, no day trip boats moored up here, they're all battered old fishing vessels. On the quayside fish were being sold from the back of the boats which caught them earlier in the day, groups of men gathered around but no one seemed to be buying.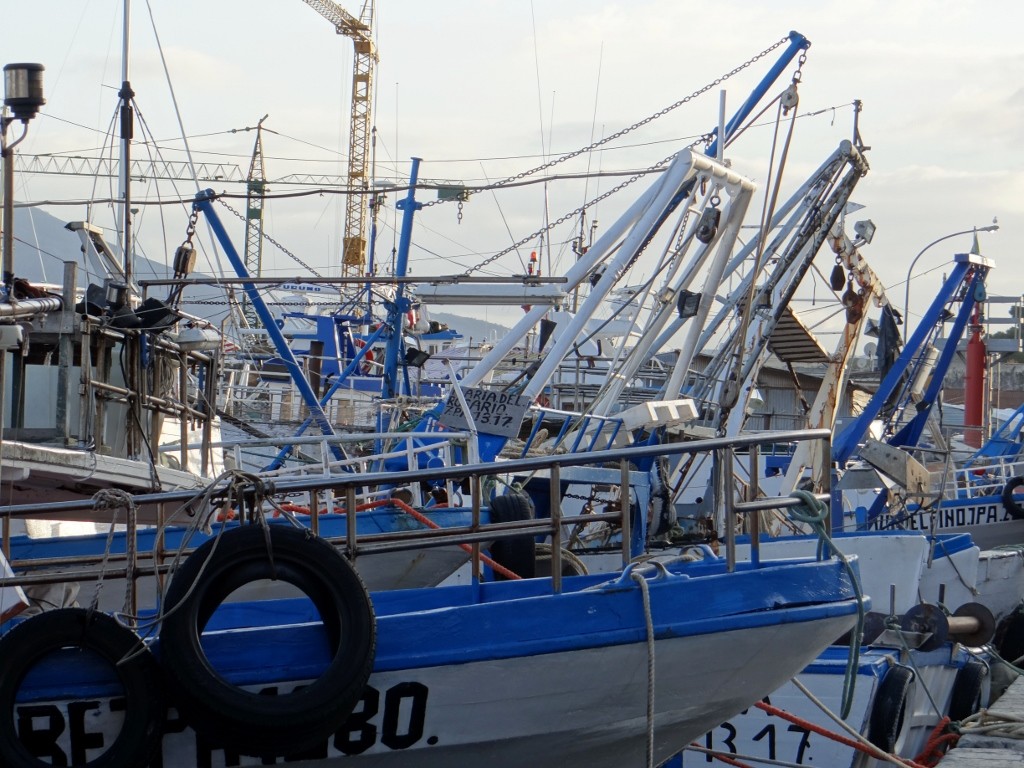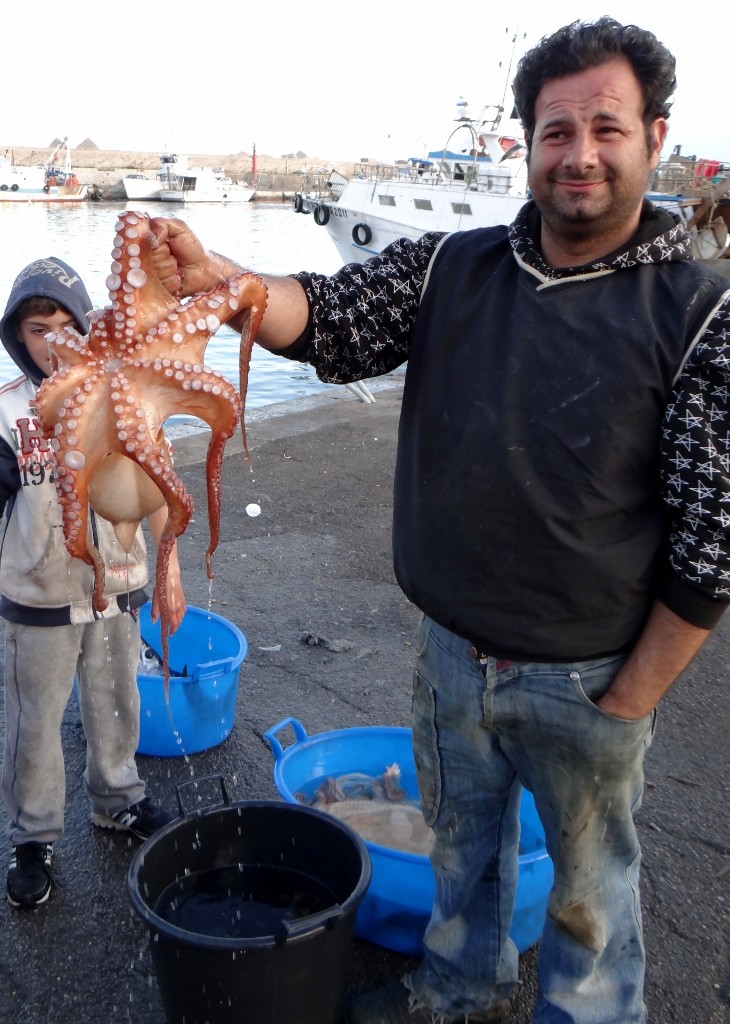 Jay peered into a bucket and came face to face with a massive octopus, the fisherman pulled it out of the water for a photo – proud of his catch. In the main town square groups of men played some sort of a game of boules while others sat around playing cards (for money). It's taken me a long time to see beyond the rough, dirty, disorganised, corrupt and edginess of Sicily, but finally I can say that the people here are warm and friendly and you'd never see such a social bunch back home, we hardly ever spoke to our neighbours let alone sat and played games with them, it's tricky to know who has the better life!
Ju x