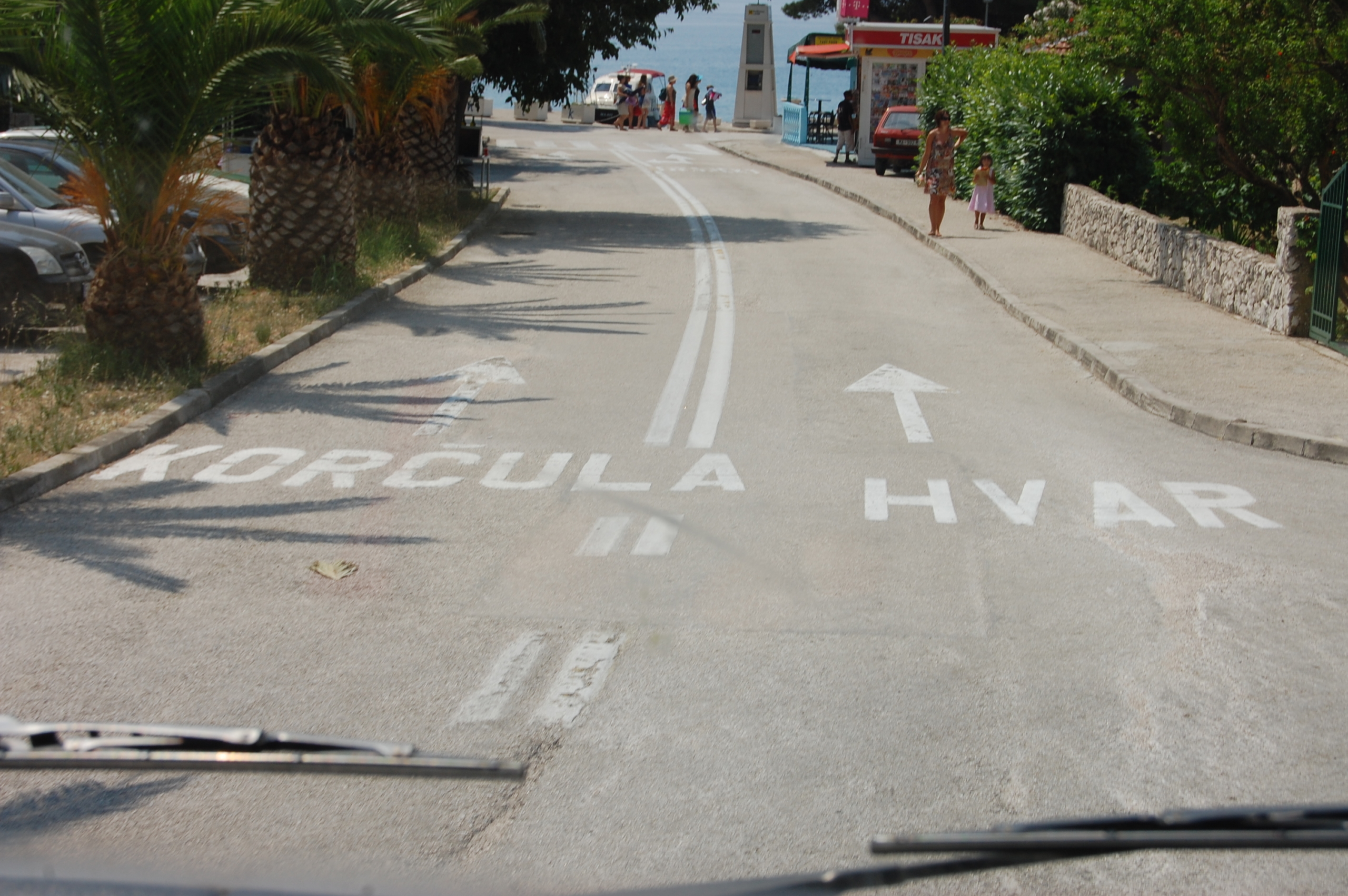 Dave the motorhome is sheltering under the shade of pine trees at Hvar Island, Croatia (N43.19087 E16.43060).
We rounded off our day of doing nothing yesterday with a slow stroll around the nearby harbour. As the sun set children were still playing on the narrow beach, adults were promenading and many an ice cream was being eaten. The temperature didn't cool that much, and after a full day of lazing I couldn't face the kitchen, so we opted for takeaway. If you're ever around Croatia (and Slovenia too), when ordering a hamburger be prepared for it to rival your head in size. Jay chose five small kebabs wrapped up in a bun and with a side order of chips between us we ate heartily then rolled ourselves back to the campsite. Jay tried his Orange beer that I bought him for his birthday, which had been chilling in the fridge all day. He hid his disappointment well when he found out it was shandy made with orangeaid – at least it was cold.
This morning it was 28c by 9am and set for another scorcher, we packed up camp and set off early before the sun got too high in the sky. For Jay's 40th (in addition to the orange beer and chilli chocolate I got as surprises) he'd asked for a ferry to one of the islands. We looked at the prices from Split and they were around £80 one way, so we drove south to the small port of Drvenik for a shorter crossing. The road hugged the hilly coastline which plunged into the clear turquoise sea. As it was Sunday every inch of beach was occupied with a body or two and every car park and patch of land close to the sea was full of cars – we'd chosen a good day to drive.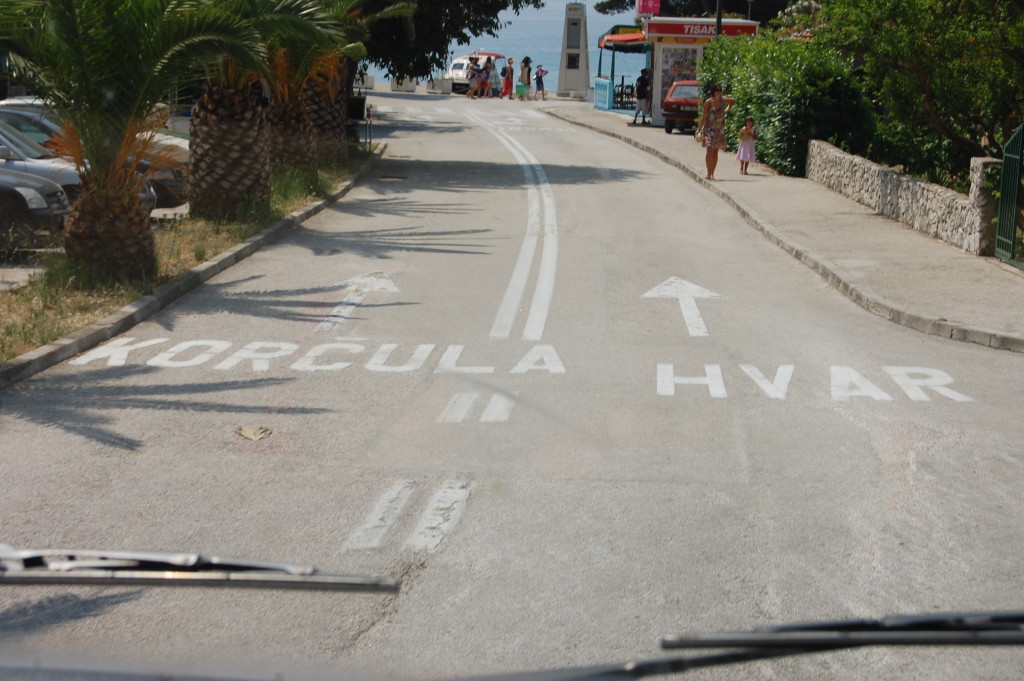 Drvenik port was laid back, we followed the signs for Hvar and reached a small ticket booth. Expecting a haggling session over the price – was a return cheapest? would it be cheaper to go in the evening? – we were greeted by the fixed priced on an old photocopied bit of paper taped up outside the booth (along with numerous other faded pieces of paper). No returns, no haggling, one price. Handing over 266kn seemed like a lot of money, but for a crossing of 35 minutes it was a bargain at around £28. Following the signs we drove past a queue of parked cars and caravans which snaked back round a turning circle and ended in front of us.
Before Jay had chance to put on the handbrake a man jumped up and squirted water onto Dave's windscreen then started to clean it – badly. Maybe he'd been abroad and see it being done at traffic lights, either way we were reluctant to pay up so Jay started to quiz him instead. All along our journey through Croatia we've seen graffiti saying 1950 but didn't know what it meant. Windscreen man explained it was the year the Hajduk Split supporters club – Torcida – was formed. Showing Jay the clubs crest tattooed on his arm he went on to tell us we must go to a match, then for some reason gave Jay a Nazi style salute so he would know where it came from??!!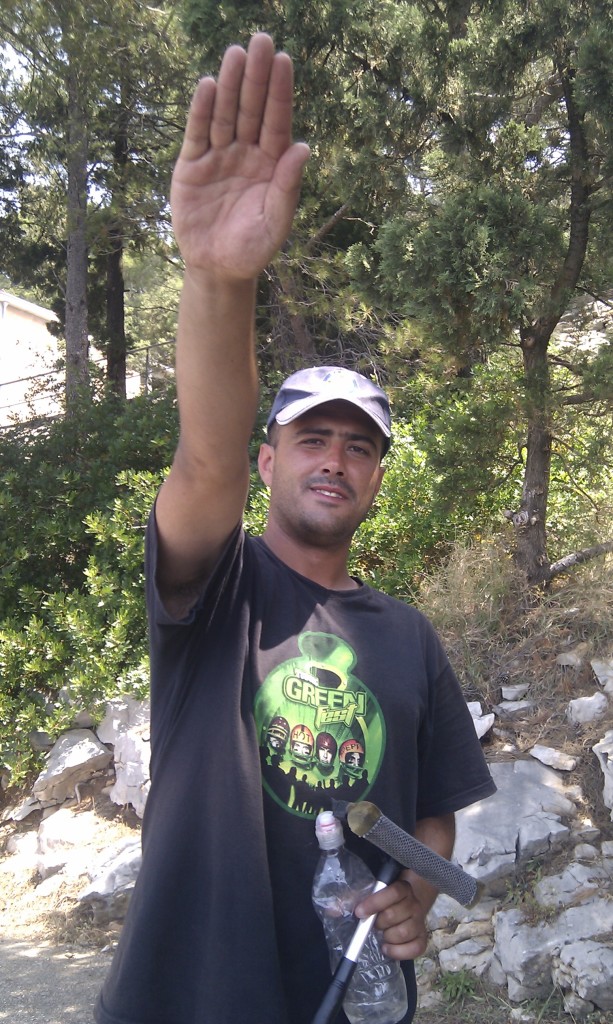 Eager to get away Jay took Charlie for a walk to count up the queue of cars. The ferry holds 28 so we'd never make it onto the next one, which was performing an impressive handbrake turn very, very close to the locals on the beach. Dave dutifully shuffled forward as the snaking queue made its way onto the ferry, our only hope was that we would end up parked somewhere in the shade as it was now noon and the next ferry wasn't due until 1.45.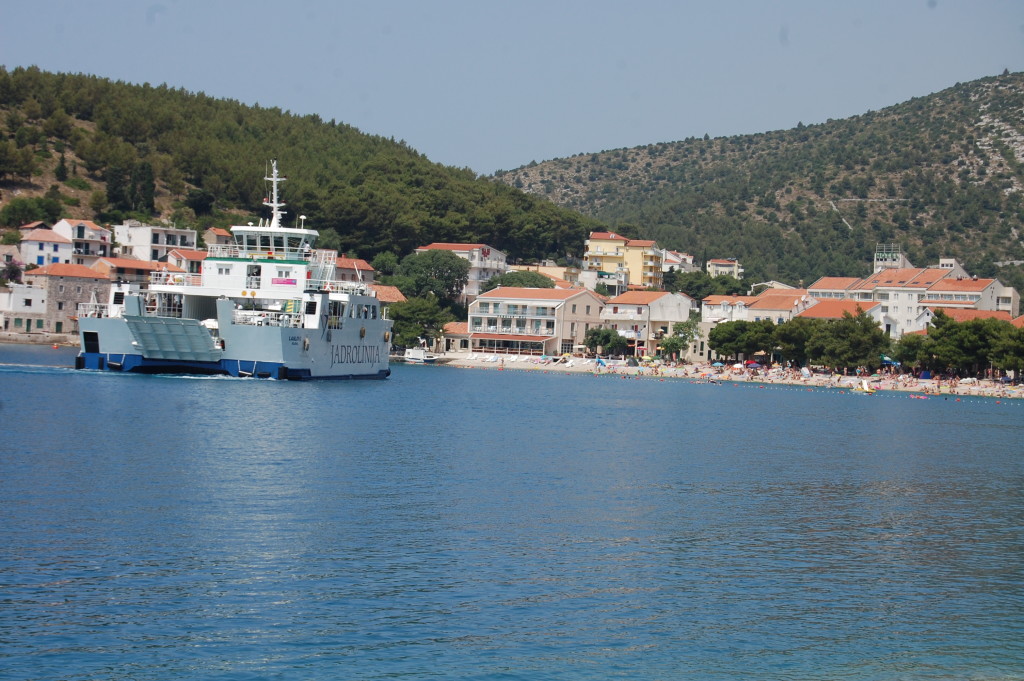 Seizing the opportunity for a quick snorkel Jay donned his fins and headed off into the sea only to be closely passed by another ferry docking less than ten minutes later. Fortunately curiosity got the better of him and he wandered back to Dave and got in the shower just as the queue started to wind its way onto the new ferry. A panicked frenzy of window shutting and vent closing ended with half-naked Jay (top half!) driving us on board. Sunscreen was applied, water grabbed and we were climbing the steps onto the deck just as we set sail.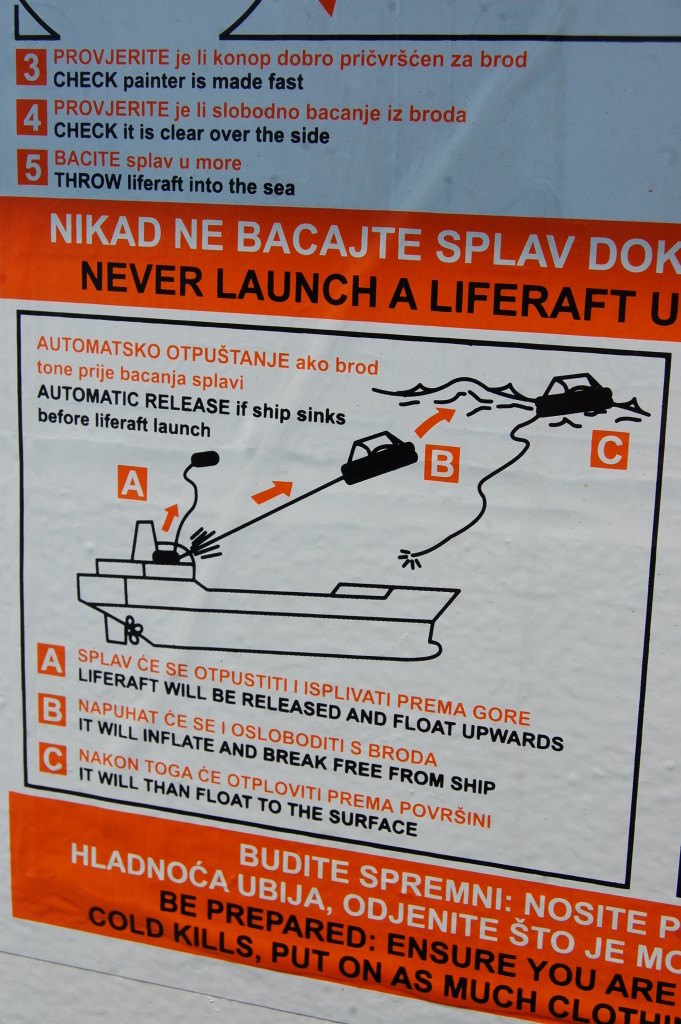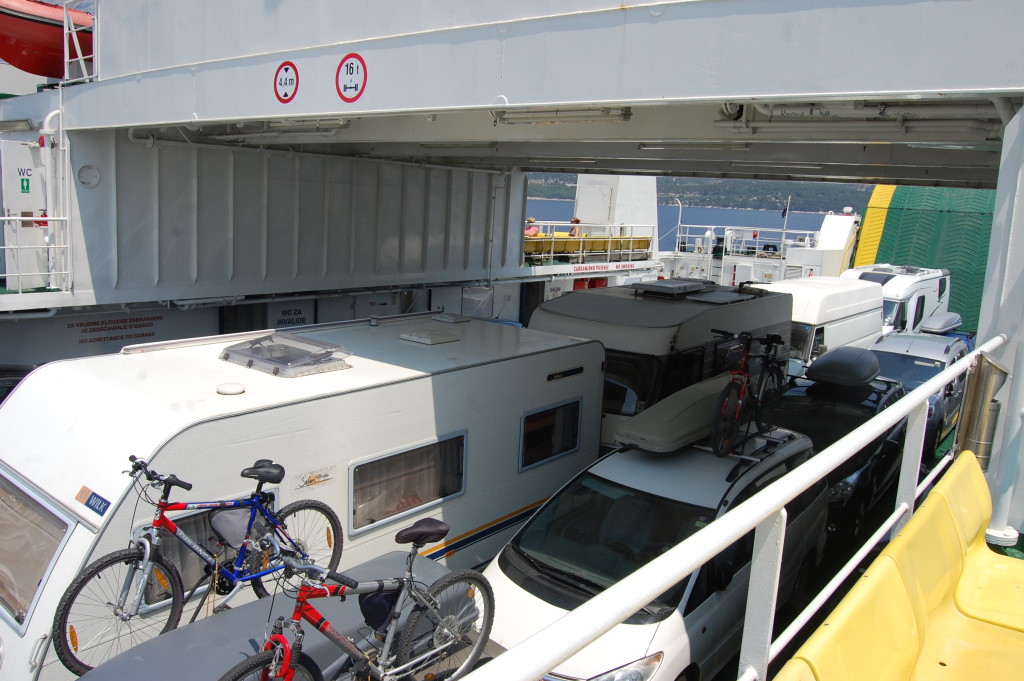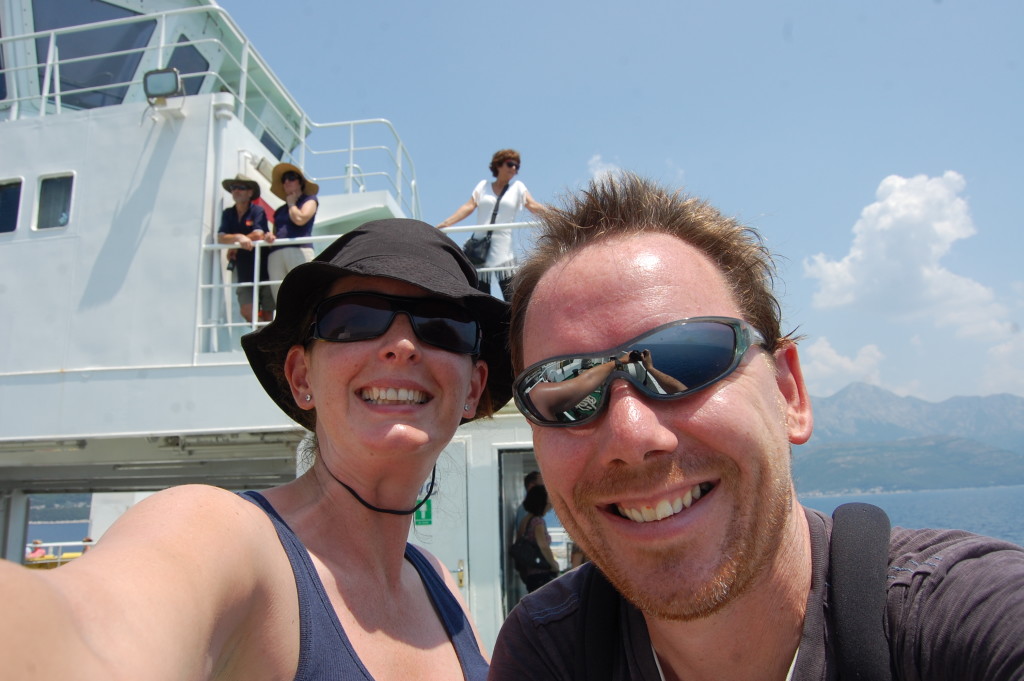 The coastline surrounding us was shrouded in mist as the sun beat down on us. As we approached the island the ramp started to lower and people were getting into their cars, we'd been loaded on behind a caravan which had blocked all the other cars, so we'd need to be second off. Another dash of sunroof shutting before we were spurted out of the ferry as it seemed to still be docking.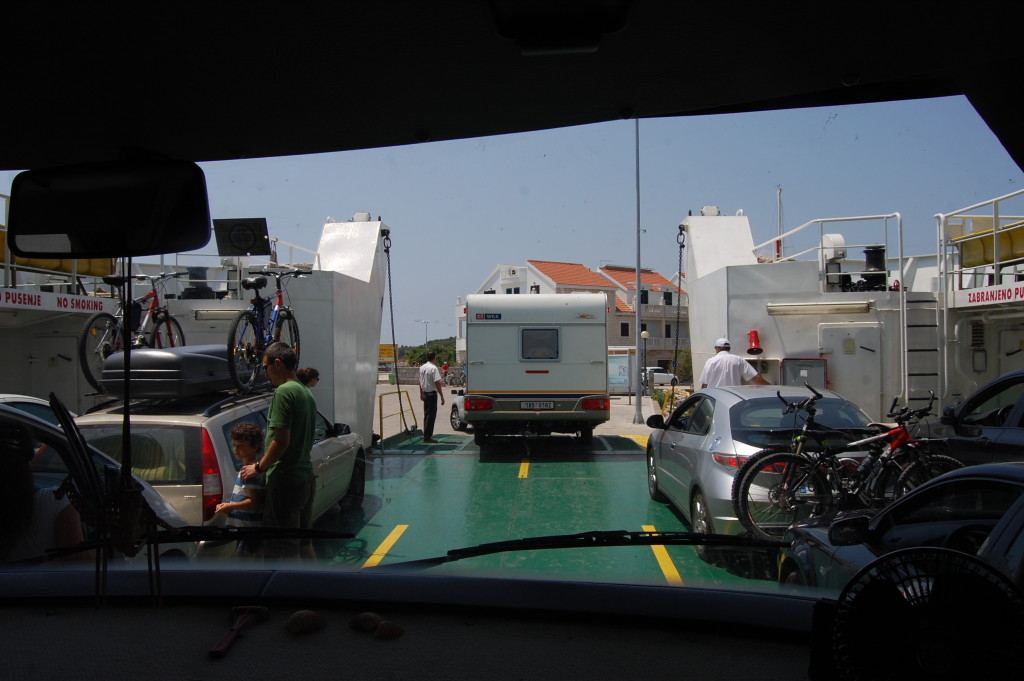 Hvar has one road running across it, so why satnav was insistent that we 'turn around where possible' I'll never know. The twisty, bumpy road rose up and worked its way across the backbone of the island – and at points it felt like we were driving along a backbone as Dave creaked and cupboard contents rattled.
We crawled our way along past lavender fields surrounded by old crumbling walls, olive trees and the odd vineyard. We passed the odd building, included a church where someone had hacked away the inscription above its door. After about 50km we reached 'civilisation' – a road wide enough for Dave to keep to his side, smooth tarmac and some houses.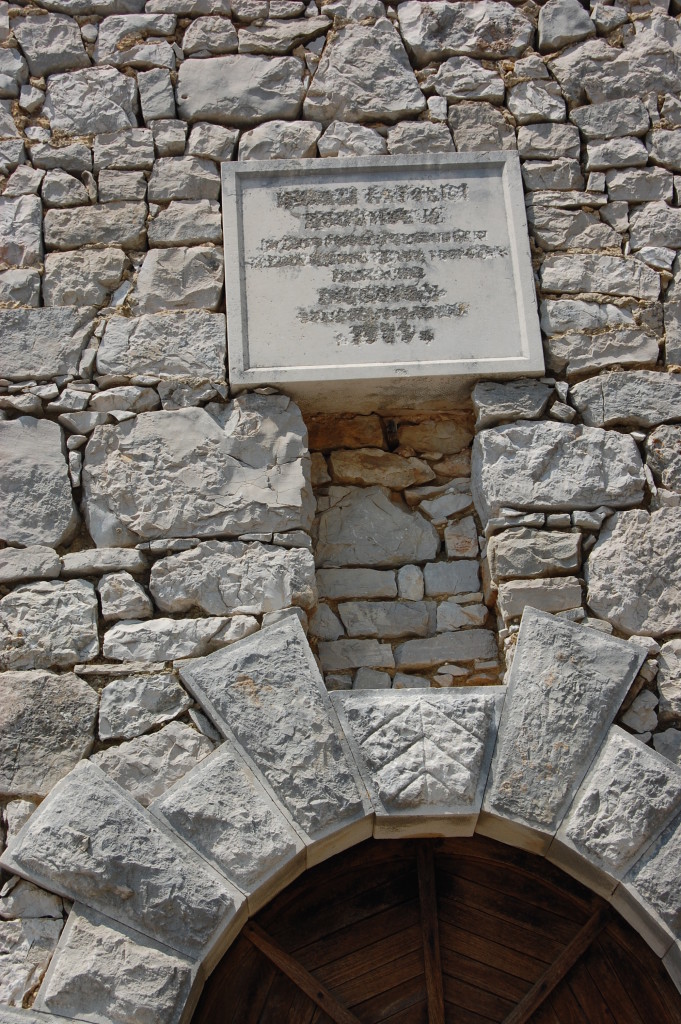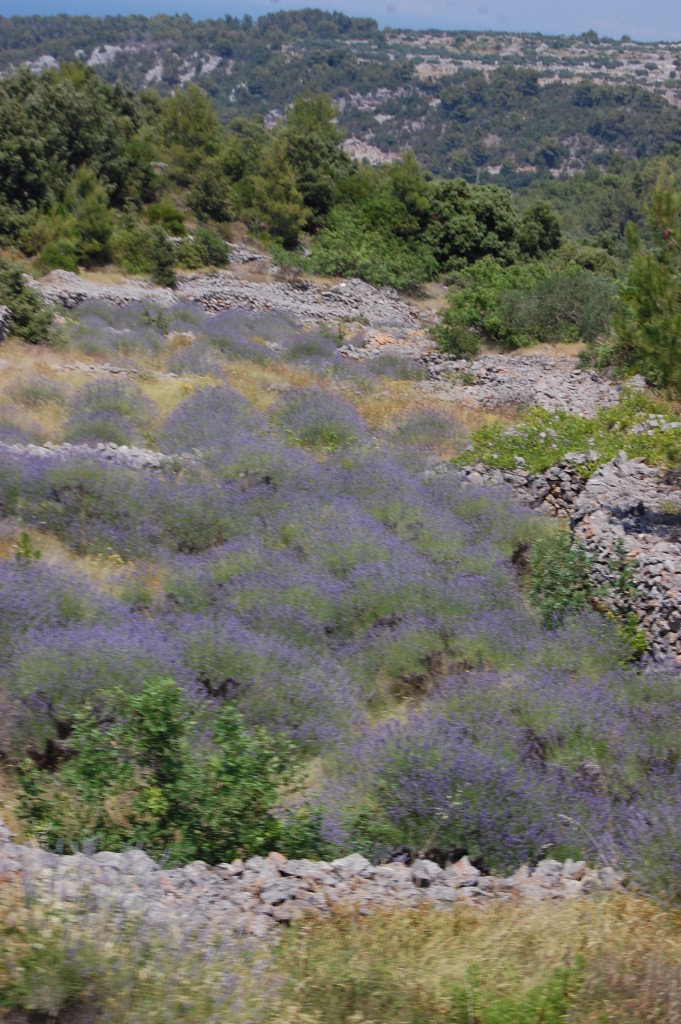 We got a glimpse of Hvar town – the new Ibiza! – its castle and walls standing proud on the hill high above the port, before turning inland a little and making our way the last 4km to Vira – home of camp Vira. On arrival Igor took us for a spin in his electric buggy to find a suitable spot for Dave, we settled on pitch 39 which offered good shade from pine trees and a view of the ocean in two directions!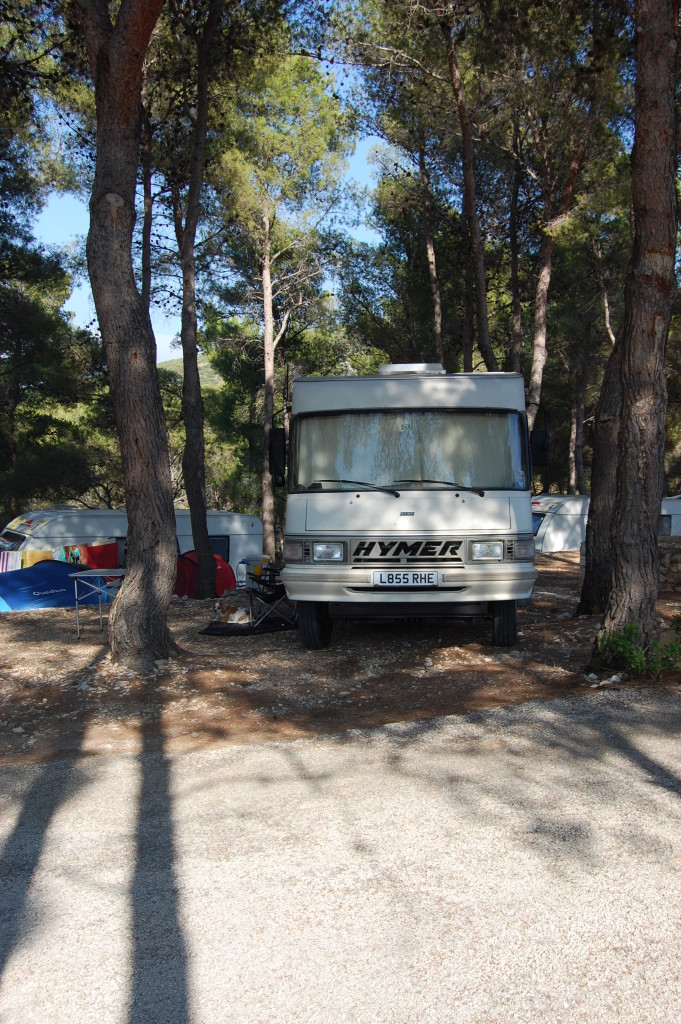 To be fair every pitch had a stunning view, and Jay's already approved the snorkelability – I think we'll be here for a couple of days.
Charlie has been for a walk and some stick chasing at the end of the promontory the campsite is sat on, so now it's time for me to join Jay at the campsite bar – seems there's some football on!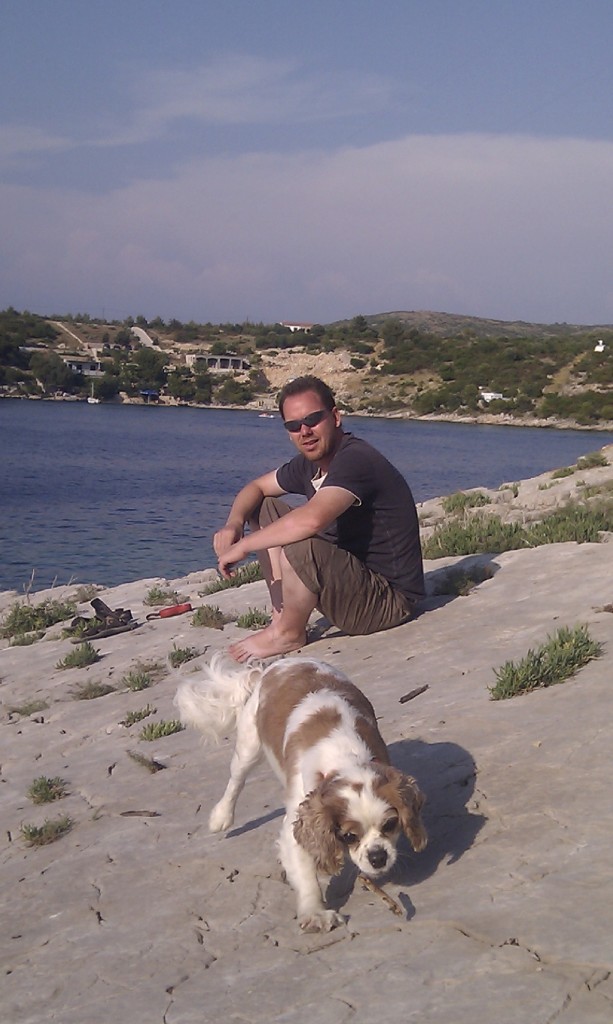 Ju x