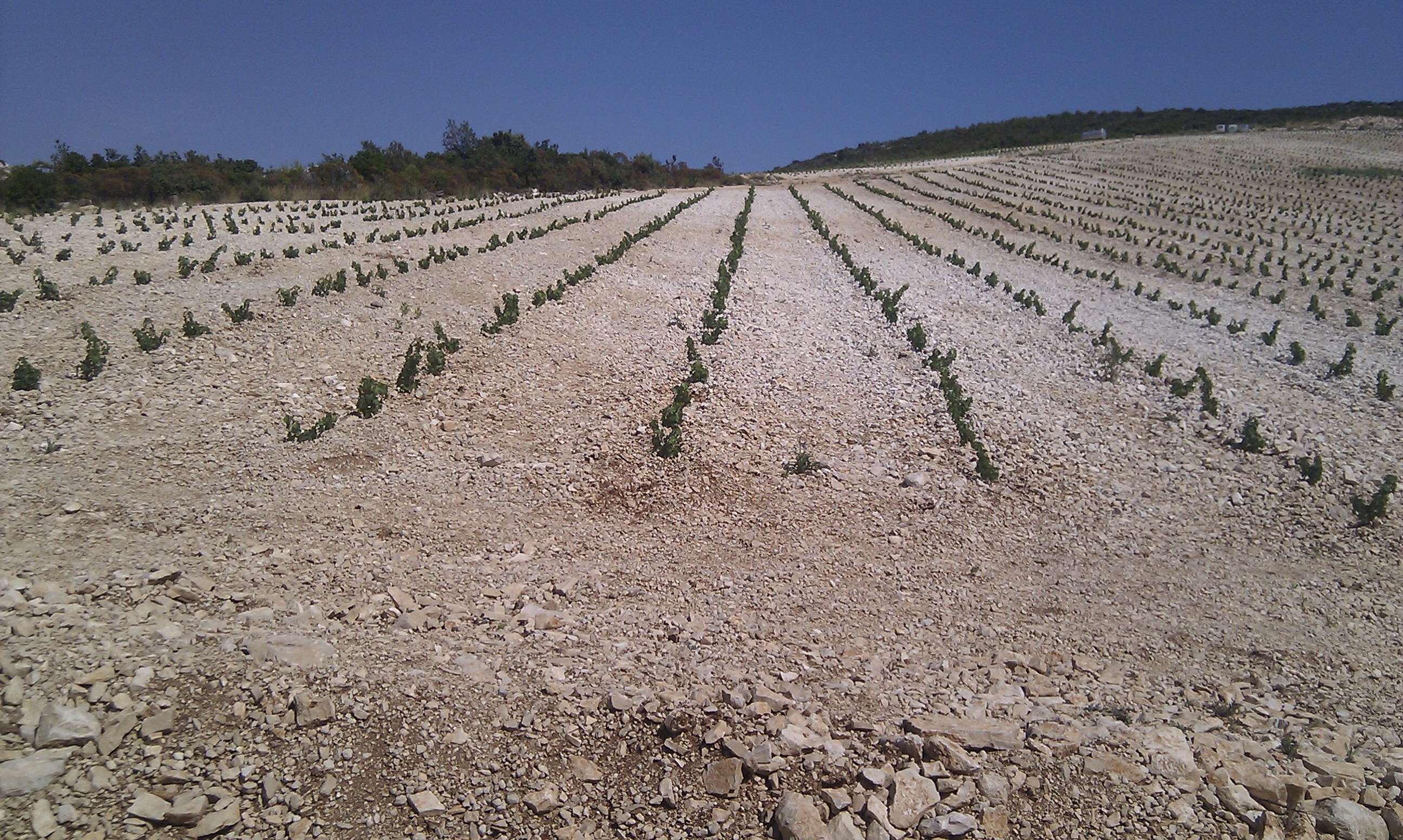 Dave the motorhome is anchored in a pool of shadow, beneath close-set pines at Camping Vira on Hvar Island, Croatia (N43.19087 E16.43060).
If you're British, and fancy cutting loose a little, head for a Croatian FKK campsite. FKK, short for Freikörperkultur, basically means naturist which, not to be confused with naturalist, means you'll be going about your day to day tasks in the buff. Being British, we're prudes, so have steered well clear of the FKK, in favour of 'textile' sites. Not that you'd know it. Today's morning pooch drag was interrupted by the sight of, well, something grim folks. The leathery old fella had chosen to hide his old fella from the world with the use of a scrap of cloth much smaller than a fig leaf. I had to admit his butt cheeks were still pert, but these too resembled tanned cow hide and the bisecting rope had me in mind of a cheese slicer. Last night's romantic gaze across the sea was interrupted by a naked snorkeller splashing past, head down, butt out. A young lady has my reluctant (ahem) eyes on stalks as she parades in a 'why bother' bikini.
It's all too much, I needed a beer last night. Football provides a good excuse, better than using it as focus of Nazi ambitions as our unskilled window cleaner acquaintance had done yesterday. 20 kuna gets me a 50cl cold lager, importantly in a heavy glass, with a handle. Once I'd found the right telly, the one with more than a crowd of one, the only obvious indication of national allegiance was our chosen thirst quencher. Lager on half the tables, espresso and cappuccino on the other half; it's England versus Italy. It seems it's not just me that goes into auto-pilot at national sports events abroad.
Fortunately for England, Italy's mohican gladiator striker is misfiring. Shots fly in all directions like a burning fireworks factory. Eventually, and probably, a balls hits the back of the England net. Coffee bean fuelled hysteria is short lived as the offside rule staves off the 1-0 scoreline. Extra time (extra lager) and more England goal peppering, still 0-0. Penalties, the bane of English footy, continue to be the undoing of us, and we slink off, after having another beer.
I've done two things today: snorkelled and read. Second things first, this wandering Europe malarkey has finally made me curious. Remember those TV adverts which tried in vain to get Brits interested in politics, where a bloke in the pub claims to have no interest until his mate points out the price of beer, tax on his car, whether straight bananas are legal is all of political interest? No? No matter, they were directed at me and probably not you anyway. I've no idea what being in the EU means, what the Schengen agreement is, or whether the Euro really is a doomed calamity. At least I didn't have, I'm being suckered in, and Wikipedia is obliging my newfound interest. Ju's in need of more TV adverts, if we ever get a TV again that is.
As we drove through Croatia the other day, marvelling at the lack of development after the coast of Spain, France and Italy, I spotted some graffiti on a bus shelter: '100% White'. Yup, that sums up Croatia. Everyone is white (if you include leather-butt man). The dustbin men, cleaners, taxi drivers, bus drivers, fast food floggers. All Croatian whites, and if Nazi-man (I didn't ask his name) gets his way, it will stay that way. I don't think he will though. With EU membership in July 2013, comes a whole raft of employment law, which I suspect is going to upset the nationalists a little. A return trip in 2014 is needed to re-evaluate the situation!
In between reading up, I've been breathing through a tube. Snorkelling here is a wonderful experience, just a minute's walk from the van and hot showers. The seabed looks desolate, with a few fish being the only immediate animation upon immersion. Hanging onto a rock for a while, the scene reveals itself. Every one of a thousand shells is being deftly dragged around by miniature hermit crab. Red-spined urchins cling to the rock, keeping me wary of confined space. Crabs, aquatic armoured tanks, poke a fat claw from a crevice, revealing their furry bodies and legs. Clumps of anemone waft like Medusa's hair. Spiked, fat starfish and sea cucumbers are spread over the sea floor. It all keeps me going for hours. Fortunately for you, dear reader, I have no underwater camera.
Time to leave tomorrow. Once again we could remain here for months, but there's much to see, and the weather has cooled slightly so our energy levels are climbing. A Bosnian caravan has pulled onto the pitch in front of us, we're not far from the border here but I'm unsure how it made it. A screwdriver came out earlier on to re-affix one of the decrepit panels, he's making Dave look showroom. Bosnia should be an interesting experience I think.
Cheers, Jay