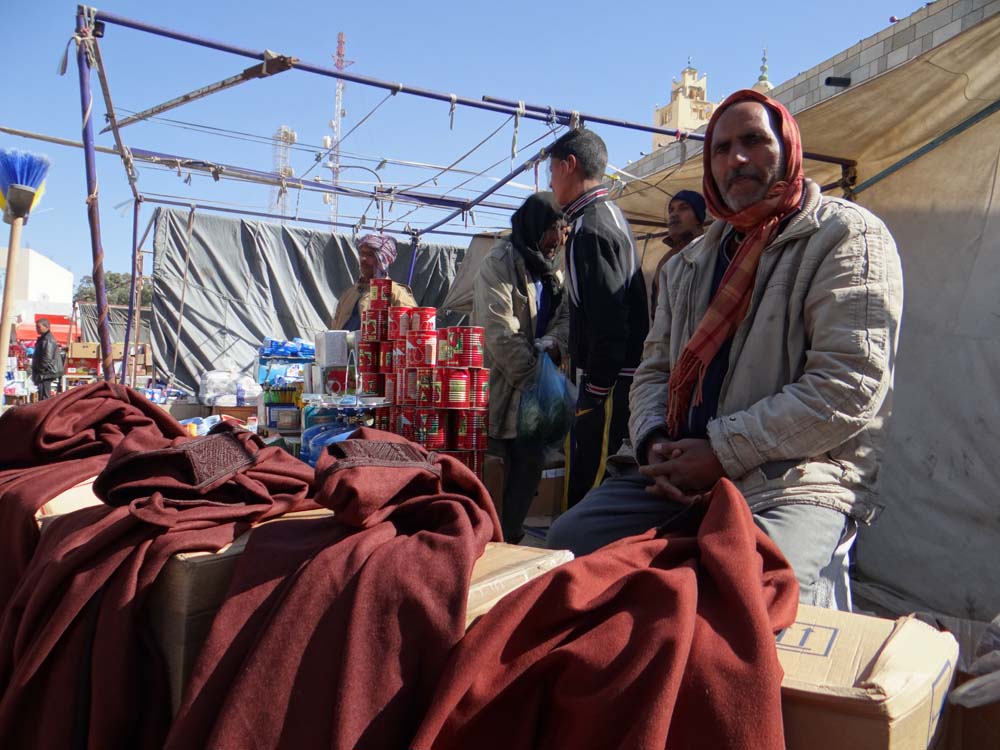 Dave the motorhome has one flippin' lovely spot overlooking a palm-shaded white sand beach at Centre des Stages et Vacances, Aghir, on the Isle of Jerba, Tunisia (N33.75751 E11.01483). For a while we had the place to ourselves, but are now being entertained by a small storm of nippers legging it around on a treasure hunt. Charlie popped his head out of the door earlier as they all pegged it in our direction, maybe thinking there's some treasure in here, sending them scattering in fear. It feels great to be here, an oasis of calm and only 16TD a night (about €8). We lost count of the police road blocks we passed today. Maybe seven, none were stopping anyone.

I woke up at 7:30 this morning, eyes wide open at the thought of heading towards Libya. Sam and Clare, the round-the-world-bikers we met (www.chasinghorizons.co.uk) had headed this way a couple of weeks ago, straight across the border, over to Tripoli and out the other side of Libya. It all sounded frightening to me, my sense of adventure ended at Ben Guerdane, the last Tunisian town before the border about 20 miles away. Accounts of bullet-fuelled fights between black market traders also had both our nerves jumping, but we were close, we had to go have a look.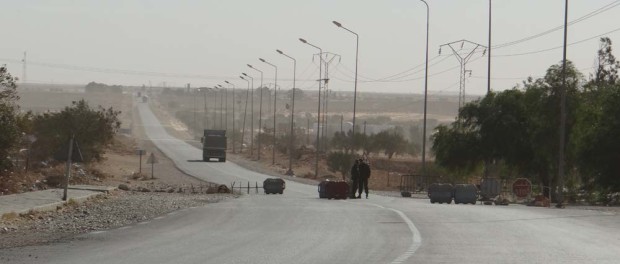 The journey there took us down the main road between these two North African countries, a single carriageway A-road basically, with good tarmac and eyes-wide-crazy drivers. Overtaking like adolescent Italians, four by fours, trucks and louage (minibus) taxis nailed it past around blind corners, dodging between us and whatever truck we were stuck behind. At one point a pair of grinning eyes in the ubiquitous beige pick-up seemed to deliberately swerve into our path, having me wishing I'd invested in some of the adult nappies Ju's spotted about in abundance. People pointed at us or up the road, asking for a lift, but we were far too nervous to take any passengers.
I'd built Ben Guerdane up in my mind to be a lawless border town, a frontier before war-torn Libya which in some sense was no longer fully Tunisian. As we drove along, concentration dialled up the max, more and more impromptu fuel stations filled the sand and dust areas along the road. A few men leapt up to wave thick wads of Libyan currency at us. A four by four passed us which had clearly been crashed, sheared like a pack of cards. A few km later we'd spot it again, the owner's head under a popped bonnet, pouring water. Revived, it would then over-take us again, at breakneck speed. In between all this the desert drifted back and forth between stony nothing and regimented arrays of olive trees reaching up for air from small dunes drifting around their feet.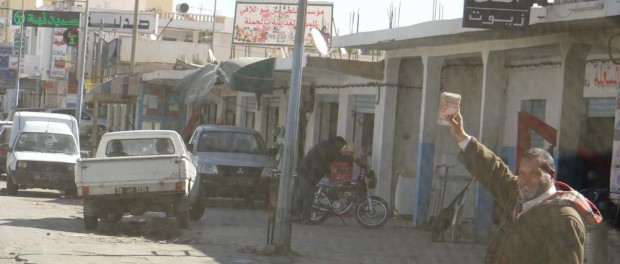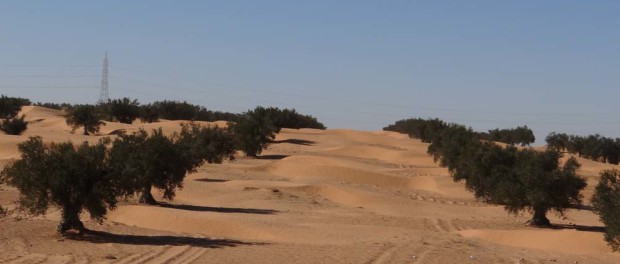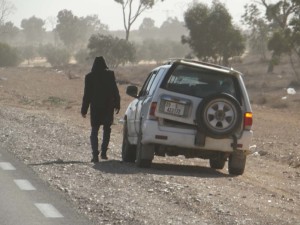 Saturday is souk day in Ben Guerdane, so we expected some degree of chaos. The town sprawls out for miles, large, decorated and arched villas at the outer edge with their own walled plots of dust, giving way to the usual thick array of blocky white buildings. A junction in the road with no apparent way through the jostling vehicles marked the edge of the souk. I closed my eyes, selected first gear and turned left. Everyone got out the way. A little way up the road we pulled over, some kids on a wall nearby staring straight at us, unnerving us as we walked off back towards the souk.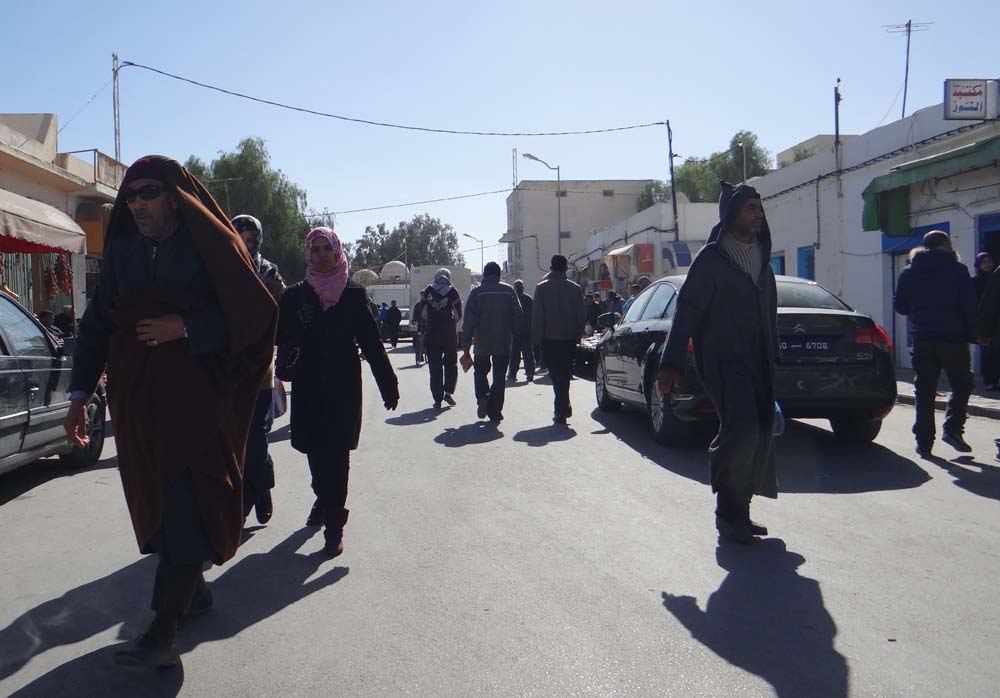 The market turned out to be much like any other we've been to, huge stacks of vegetables, Chinese plastic stuff, bundles of second hand clothes. A couple of stalls were selling Berber robes, but Ju's decided it was Tataouine or nowhere to buy one, and we moved on. As usual, Charlie drew a pretty much steady stream of interest, ranging from a 'I'm getting no closer' stare to several serious offers to buy him – how much for Rex? I guess we were in a market, and we were very careful not to name any numbers, just in case we accidentally flogged our wee beasty. A nipper in a red top latched on to us, or more accurately to our mutt, and wouldn't leave.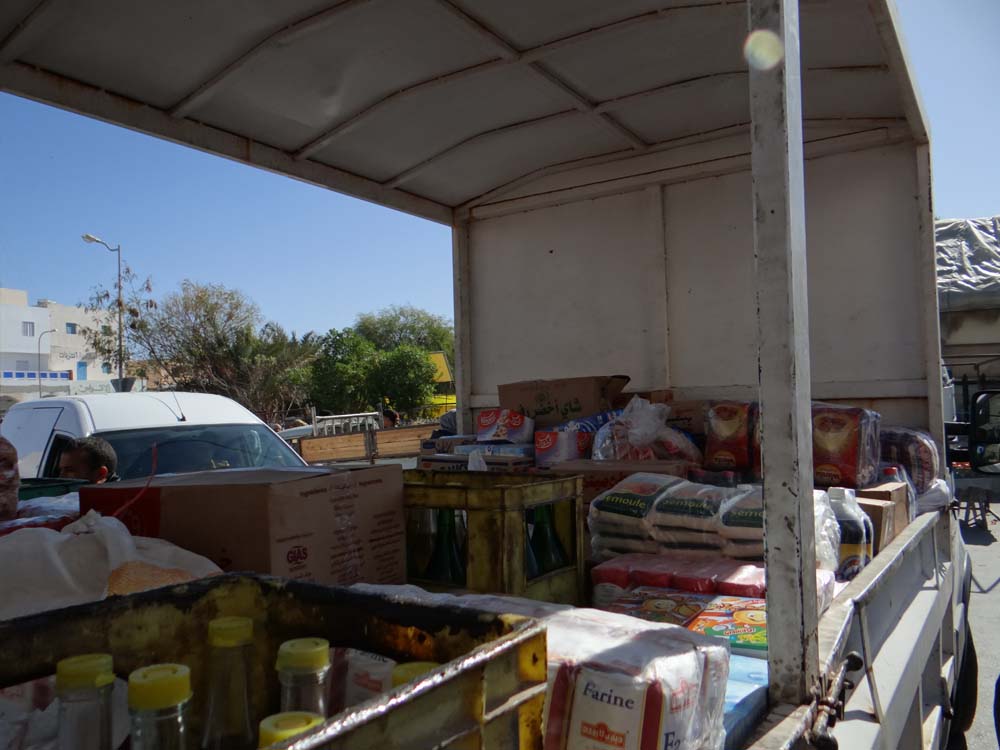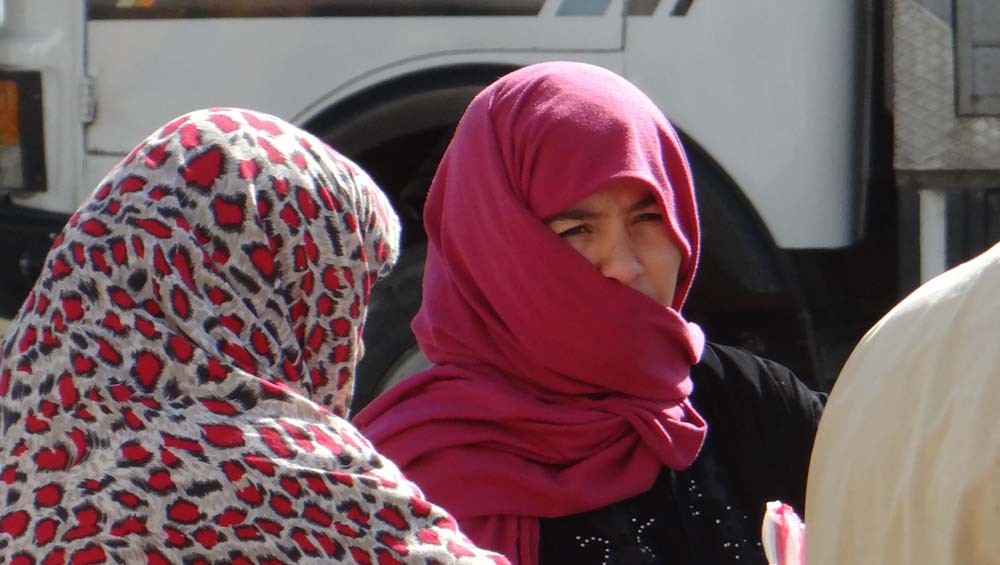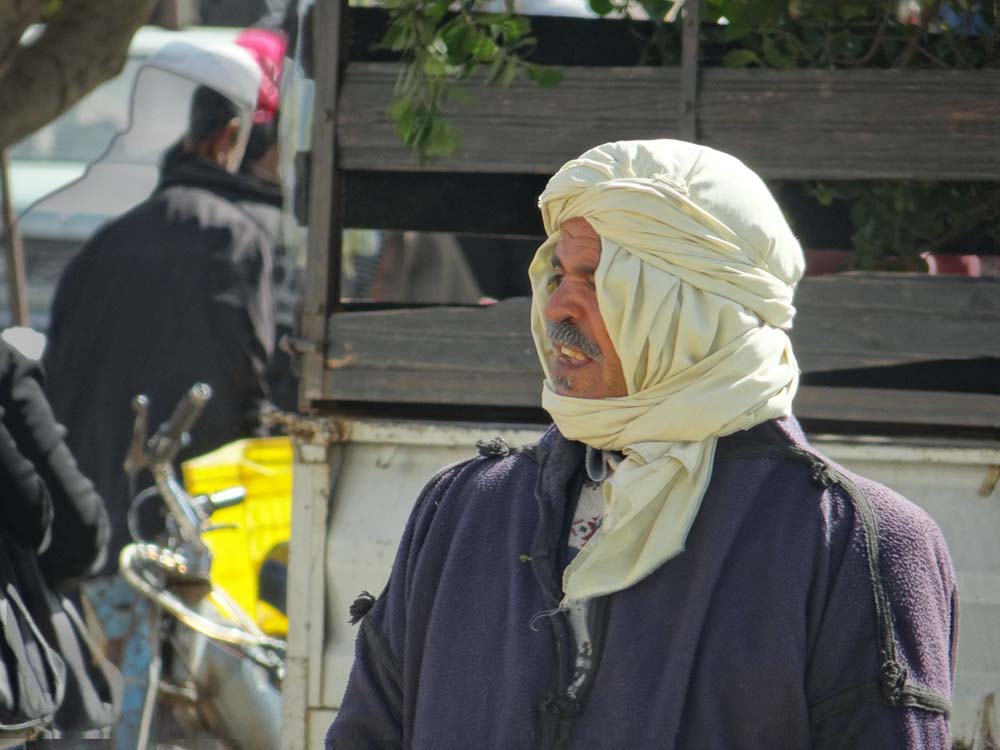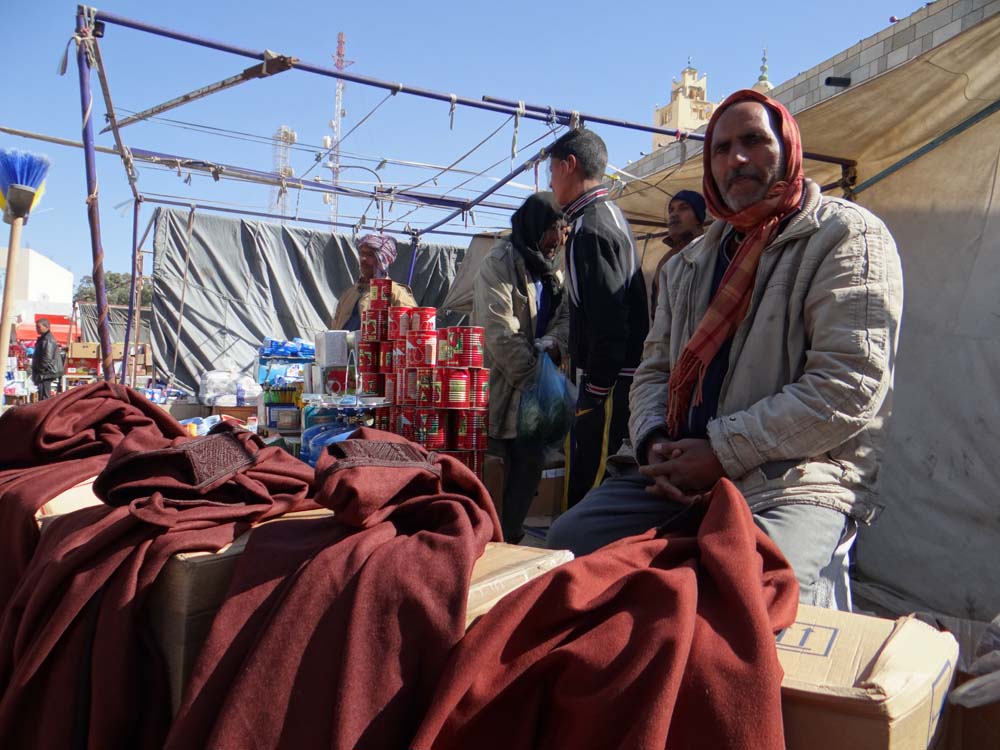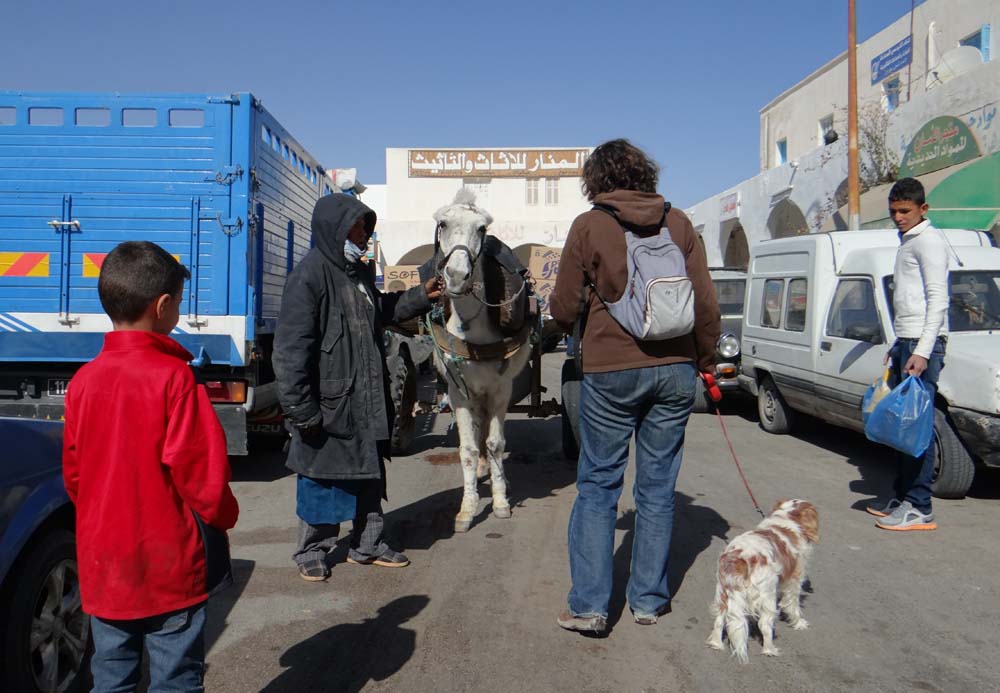 Picking out a few bulbs of garlic from one of two wheelbarrows (the boxes underneath revealing that they were in fact from China!), the chap looked a bit perplexed when it came to a price, everyone else was buying a kilogram at a time. With our tiny purchase came a tiny bit of relaxation, furthered by heading into an Internet cafe to get some printing done by a really helpful bloke who took long enough that Charlie's red-topped little friend finally got bored and left.
About half an hour. That it would seem is our limit this close to Libya. The state of the cars here, somehow still serving the owners after maybe a million miles, the holed roads, the guys shouting who knows what in Arabic at us as they passed, all enough to keep us on edge. At Dave the usual rather pessimistic 'has anyone broken in check' was (amazingly) negative for about the 700th time.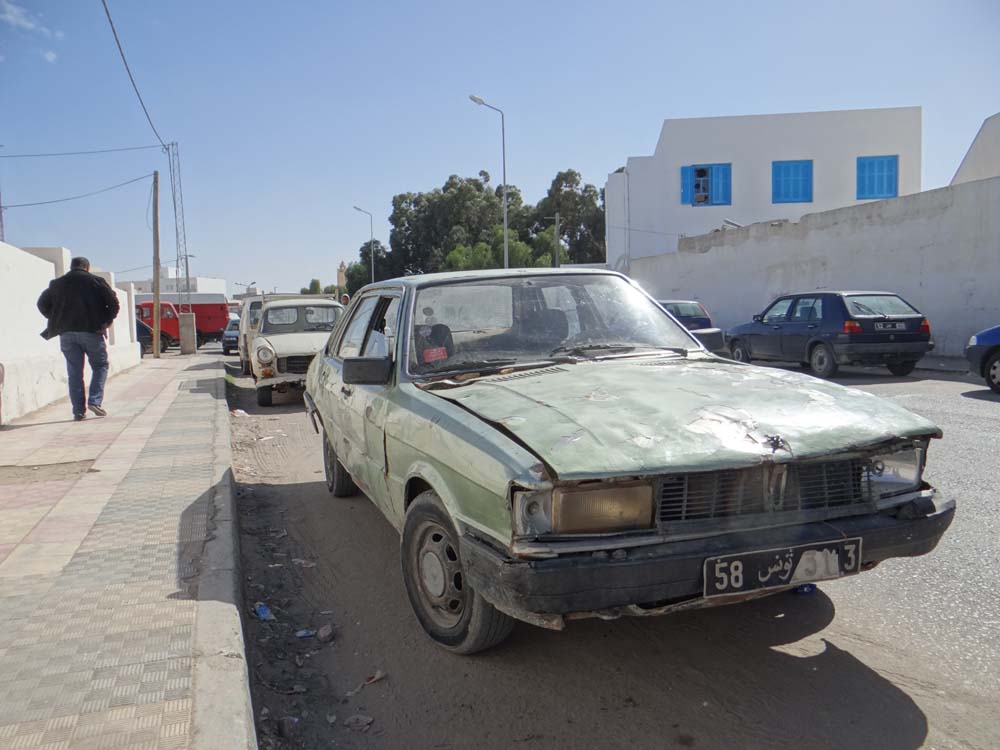 Our list of campsites says there is one at El Marsa, a few clicks from Ben Guerdane. With no road signs pointing the way we got lost, so we set up the laptop/phone GPS system and got back on the right track. Arriving at the co-ordinates, where a dirty-looking salt flat dips into the shallow and welcoming blue Med, just a couple of closed and forlorn looking whitewashed buildings signalled no campsite. After lunch and a fool about in the sea with Charlie, El Marsa was abandoned and we headed north.
Into Zarzis, the town looked for all the world like a scattering of white bone dice from a distance, and I was getting tired and grumpy. There were hotels here, the Rough Guide said, and we fancied one might let us stay. As we drove along the sight of a few soldiers on the streets and the uninteresting look of the place urged us onwards and upwards to the Isle of Jerba.

It's not really an island any more. In fact, it's not really been one for a good while, as the Romans built a causeway to it. Although saying that, in 1551 a pirate fleet trapped by the Spanish made a cheeky escape by digging through said causeway, and it was only repaired in 1953! The road over the water bounced us about, our drop-down bed nearly breaking free of its restraints and clobbering our noggins. Two-men fishing boats bobbed about, we breathed in the sea air, refreshing and cool after the weeks in the desert.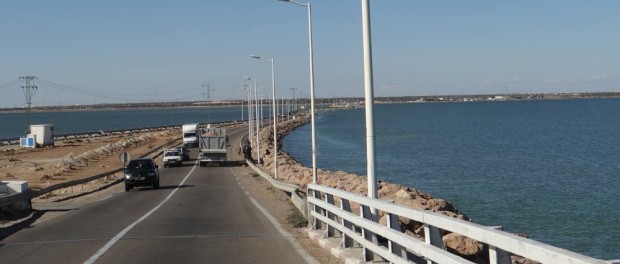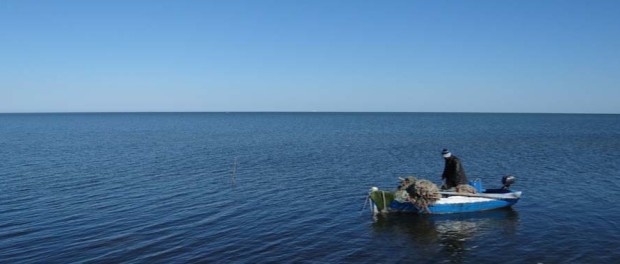 Onto Jerba, the road gave up pretty much immediately, the surface partly then entirely removed in some kind of over-optimistic we'll-upgrade-all-the-roads-at-once programme of money spending. A crew of four or five guys worked on the repair job, a hopeless task, especially when they were having to break up rocks by hand. A machine-printed sign advertised KITE SURFING, in bold white English, standing stark after an almost entirely Arabic Ben Guerdane. A huge SUPERMARKET sign over a tiny shop had us laughing, or it would have if I wasn't so grumpy.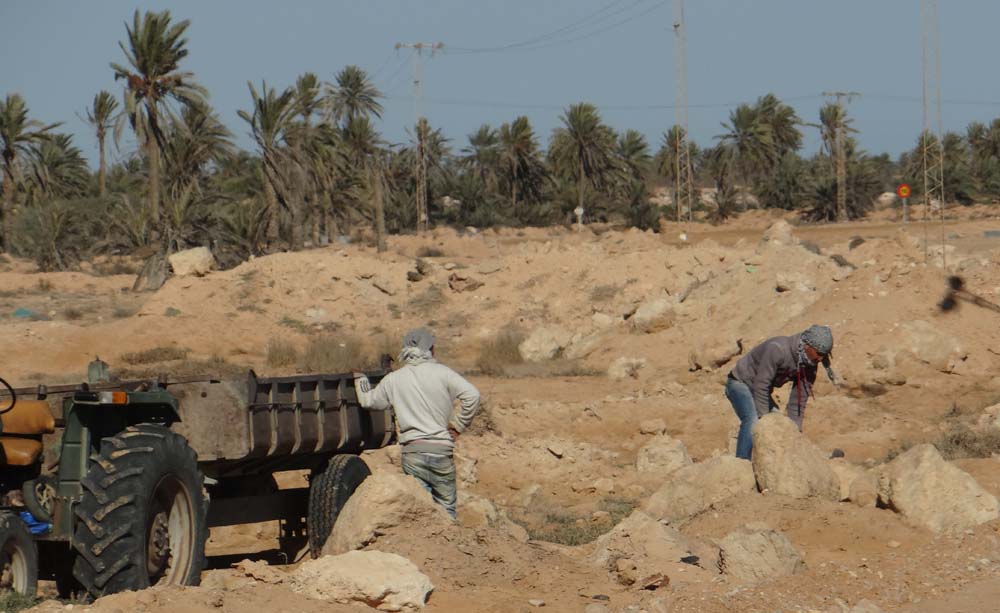 Pulling into this place was a relief. Cheap, calm, welcoming (the chap spoke his best English to Ju), and with a magnificent view over the sea, it's a perfect place to take it easy for a couple of days, do some work, read up on our trip north and use as a base to look around us. Our wine reserves are dwindling fast, but that's not going to stop us from seeing some off tonight!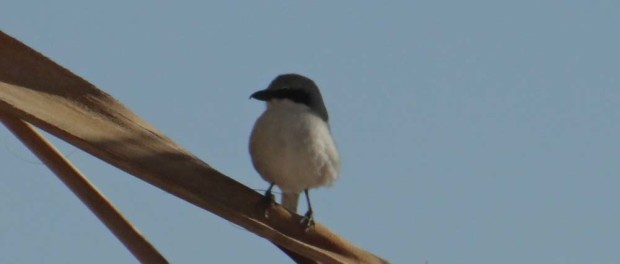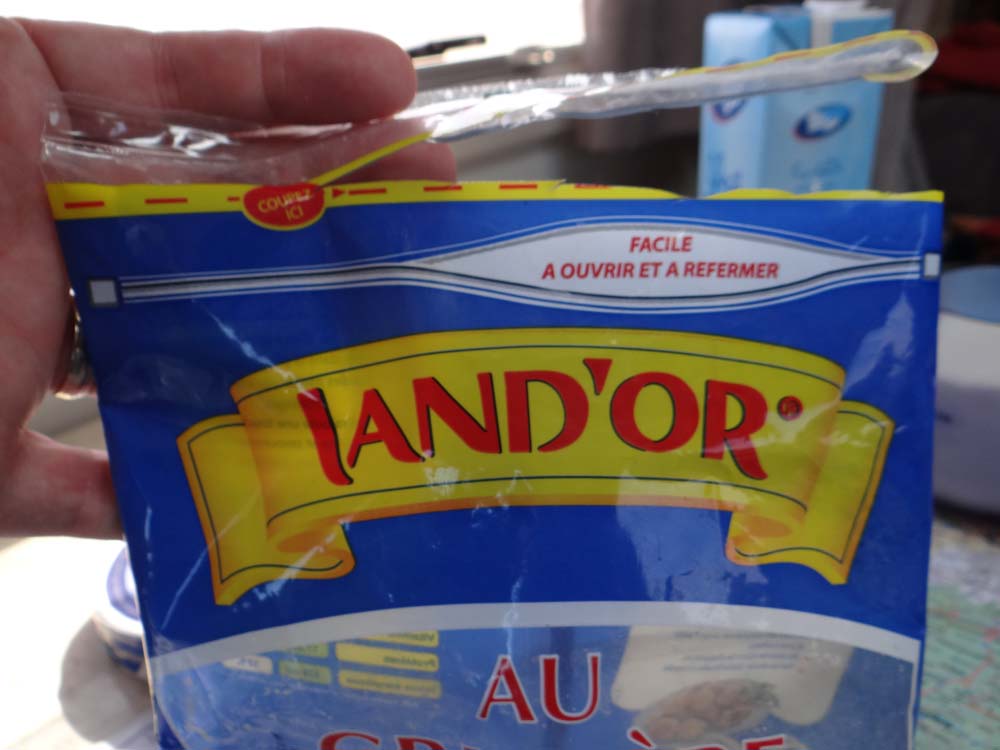 Cheers! Jay