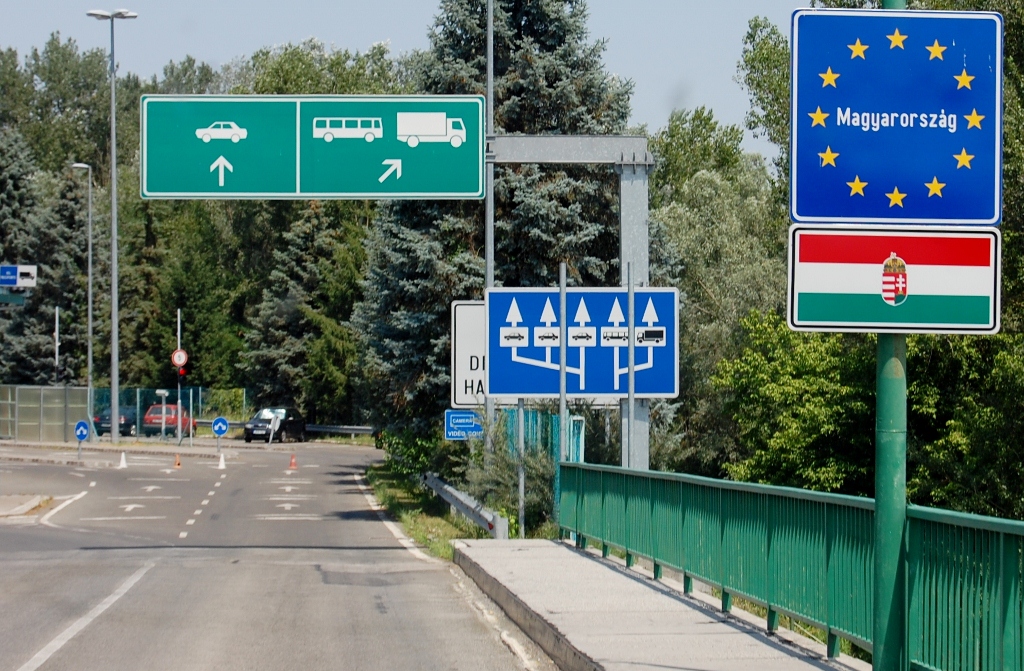 Dave the motorhome is getting too used to campsites these days, he's once again making full advantage of shade from the tall trees at Termal Kemping in Harkany, Hungary (N45.85616 E18.23896).
Little did we know that we were parked at party central last night. As the last of the daytime bathers left the outdoor pool, sports and bbq areas we had the place to ourselves … for about half an hour. As soon as it got dark cars and motorbikes revved their engines heralding the arrival of the party goers, whooping and shouting to each other. Around 11pm music began to play. There was a big party taking place somewhere on the other side of the pool.
We've gone soft during our time on campsites in Croatia and aren't used to wild camping any more, we'd left ourselves exposed. Dave was parked facing a tree, to get maximum shade, and as the cars parked up behind us I feared we were blocked in – a wild camping no, no. I knew I'd struggle to sleep with the windows open, not just the party noise but, remembering what British people find funny when drunk, I was pretty sure someone might want to pop their head in and say hello. It never happened. We weren't even blocked in – when Jay popped out to try and find a signal to send yesterday's blog post (there wasn't one), he saw that the drivers had left a space for us to get out if we wanted to. People over here just don't seem to bother you, they're more curious than anything. But with the noise and the heat I still didn't sleep well and woke this morning feeling rough.
We set course for Nasice with a plan to stop if we saw anything good along the way, other than a few storks on top of telegraph poles there wasn't anything. For mile after mile we had driven through a flat landscape of agriculture – a seemingly endless field of sunflowers, corn and wheat stripes with no divider. Where there was a village it lined the main road in one long string of houses. Many of the houses were new, and a recent renumbering exercise had awarded blue numbers to the buildings in villages, including the abandoned and blasted ones. Some were no more than a pile of bricks with corners, but they still had a shiny new number adorning whatever was left standing. When we reached Nasice it was a bit of a nothing place.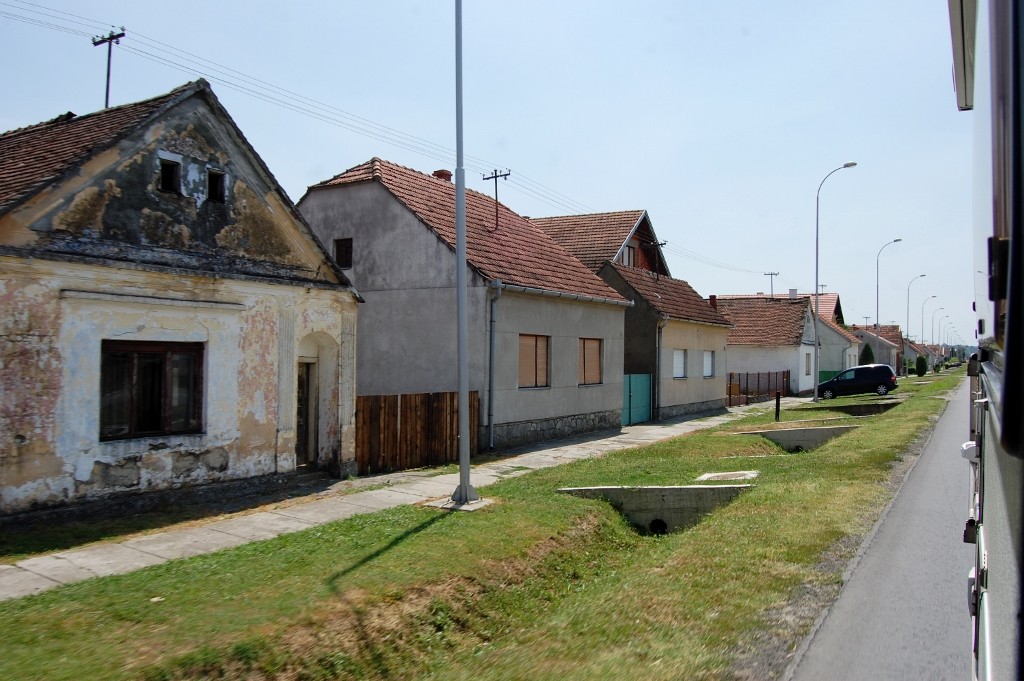 Decision time once again. Looking at our guide books and maps it's dawned on us, we've chosen a route through Croatia's inland that goes through real Croatia, there was nothing touristy, no campsites, not really any places to stay other than possibly in the odd restaurant car park. Sunday morning gatherings taking place outside village shops and cafes, stare curiously as we drive past – we are after all off the beaten track a little. Nasice is a bit of a crossroads. We could stop; turn left and head towards Zagreb, the capital; turn right towards the increasingly war torn towns and villages along Serbia's border or carry straight on and get back into the EU – the guide book for Hungary looks inviting.
Decision made, an hour later we reached the border. Charlie, who seems to know when we're approaching a border, manoeuvres into the space between our seats and lies down. He has no need to hide, but I think he likes to pretend to he's being smuggled somewhere. There was no need at this border, it was as if we were the only people going through today. All the booths in our direction were closed off with cones, confused we were waved through a channel for people driving into Croatia, to what seemed to be the only person working there today. He looked at our passports and waves us off. Good-bye Croatia, we loved your coast, but your inland just didn't captivate us.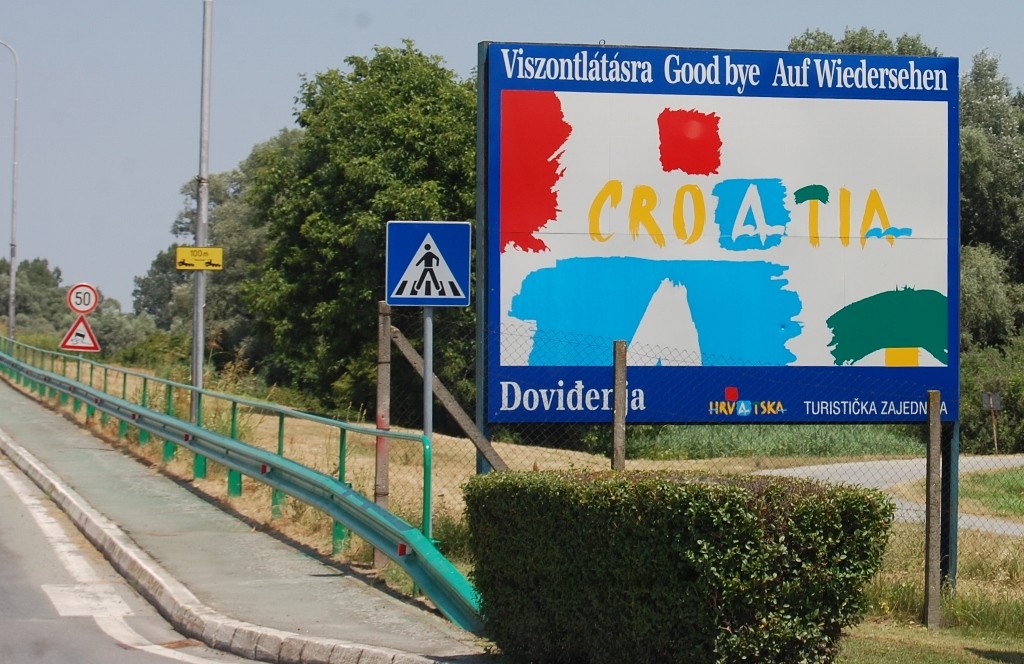 Arriving at the Hungarian / EU border on the other side of the river we pulled up at the booth saying 'EU passports'. A woman stepped out of the 'All passports' booth and stared at us as we tried to see if anyone is in the booth on our side – they like to keep the blinds down low, and being high up in Dave you can't see in – there wasn't. After further odd looks from a gathering of white shirted officials standing next to the empty booth Dave is reversed back and moved over to the 'All passports' booth – we may have just failed the intelligence test to get back in.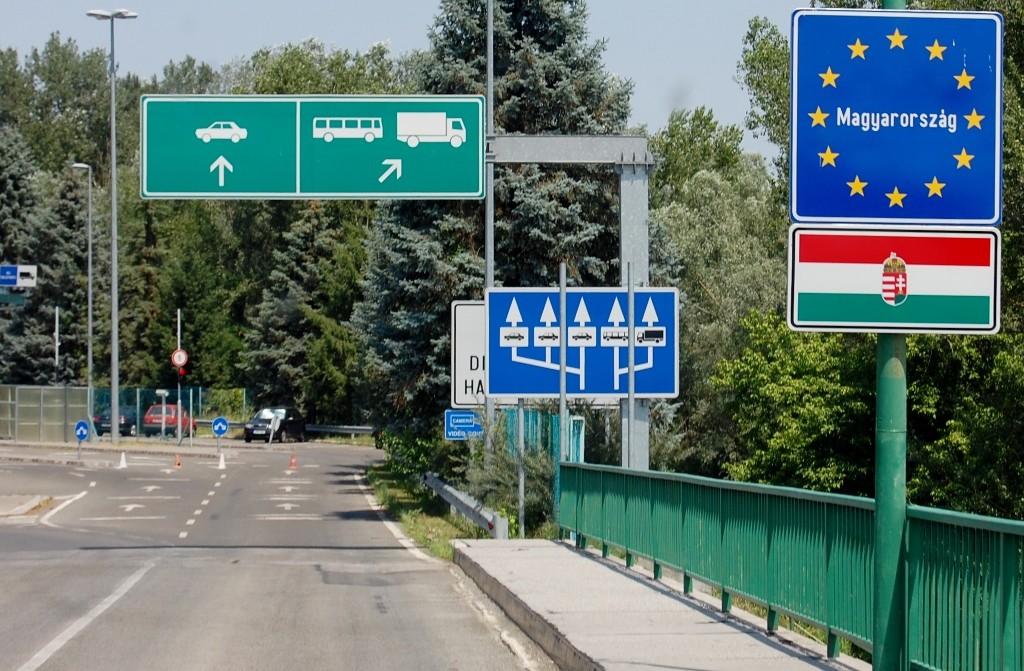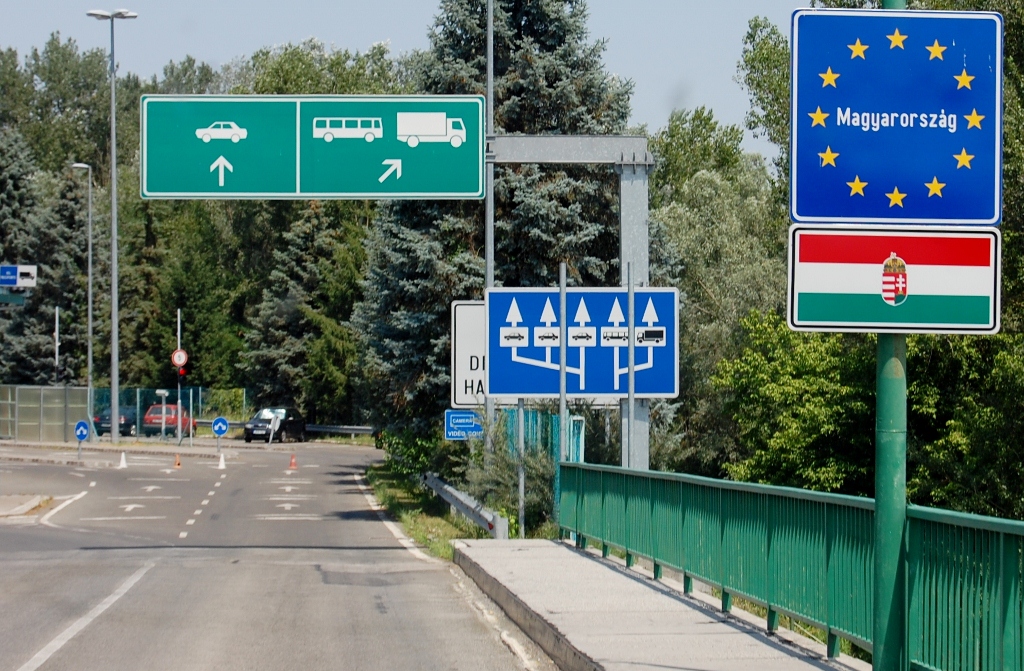 It's here that I realise I don't know a word of Hungarian and it's too late to grab the phrasebook. In Croatia and Bosnia we'd managed to get by with 'Hello' and 'Thank you' along with the art of mime and pointing. I smile as I hand over our passports, the woman standing outside the booth walks towards the back of Dave and says 'open'. As always when the back door is opened Charlie wants to see what's going on and right on cue makes and appearance. The border guard stares at him and looks at me, they want his passport too – this is a first in all the borders we've been across (including those to and from Morocco!). I go and fetch it as one of the white shirted men walks across to take over the 'search' of Dave. He flicks through Charlie's passport, pausing and smiling at the page with his photo on (well he is pulling a stupid face on it), he flicks through a couple of other pages and hands it back. The photo will do, no need to check his chip, jabs, treatments etc.
He motions for me to lower the step so he can get in, I think he expected an electric one, I jumped down and kick our manual one to release it so the handle works – I smile and say it's old. He climbs into Dave and says to Jay 'alcohol? cigarettes?', Jay opens the drinks cabinet – aka our wardrobe – and waves half a bottle of Amaretto at him, it's a good job he didn't wave the plastic barrel of wine or the bloke would really start to feel sorry for us. 'We don't smoke' replies Jay, so the guard motions for him to open the overhead lockers – he's lucky we're running low on snacks otherwise the biccies would have rained down on him. A cursory glance at Jay's pants cupboard was enough to send him on his way and we were waved back into the EU.
We drive to the little town of Harkany, famous for it's Thermal Spa. An old man sitting in a chair outside the bus station waves some keys at us as we drive past, we take this as a sign that we have to pay for parking and having no local currency we might struggle with that. Spotting a sign up a side road for Geldweschel, I vaguely recall seeing that word before at a currency exchange office, so we turn up the street. I jump out of Dave armed with our remaining Croatian Kunas (or Kahunas as we've been calling them) and swap them over for Hungarian Forints. In return I get a 10,000 forint note – I suddenly feel very rich.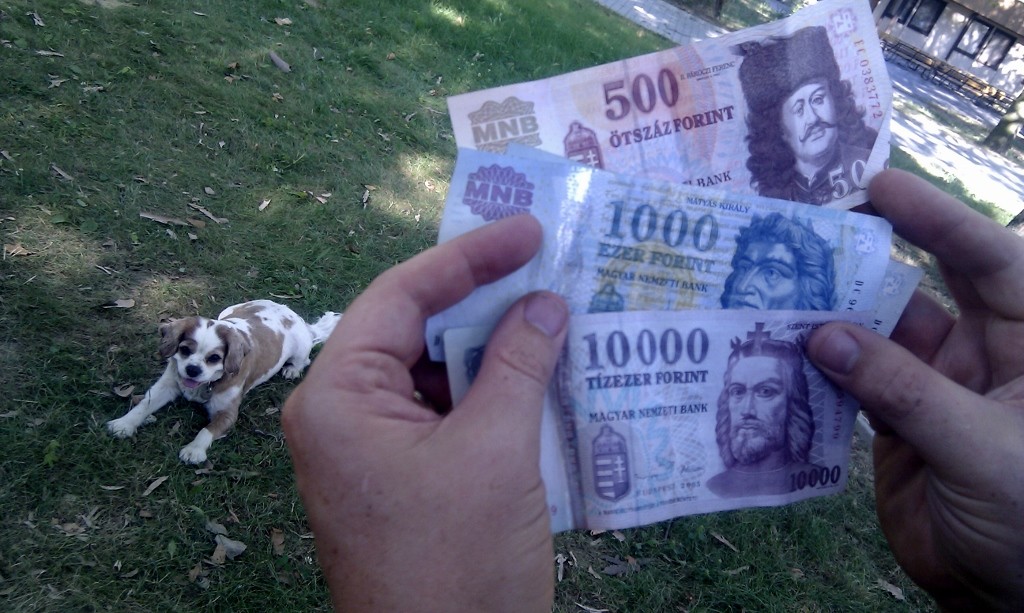 A woman approaches us and asks 'apartment?', we reply not, and realise that is what the key waving man was doing too – offering a room to rent. We're tempted to pay and park outside the Thermal spa, it's about £4 a day and free overnight, but I'm still feeling a bit rough, so I suggest we head for the nearby campsite – 300m past the cheap parking. The campsite receptionist only spoke Hungarian or German, so it was back to my schoolgirl dodgy German. I got us in, and the key for the wifi, so it sort of worked. The place was refurbished last year. The showers and loos are state of the art and modern (as long as you go to the new block and not the two old crumbling ones!), there's a kitchen, laundry and outdoor chairs, tables and benches you can use. Dragging a bench over to our pitch I sleep on it, while Jay watches some of the F1 and then the tennis final (maybe next year hey Murray?) using the campsite wifi – thank you expatshield!.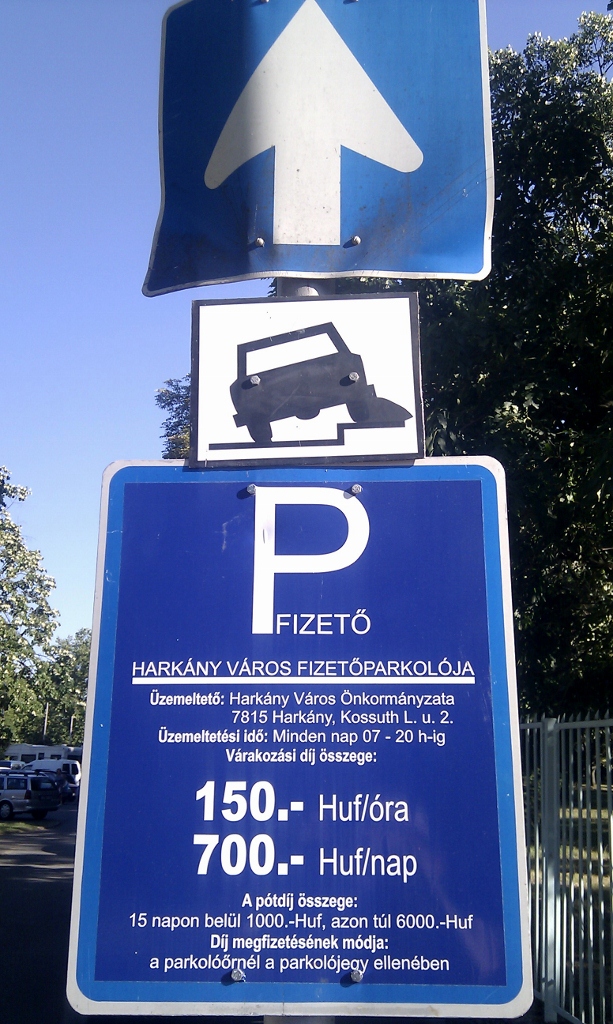 Feeling revived we go for a walk around the town. There's not really much here other than the thermal baths, a few souvenir shops, accommodation, a Spar supermarket and closed outdoor market (the best kind points out Jay – just wait until tomorrow, it might be open). People wander around in their swimwear and flip flops with towels and small, brightly coloured plastic capsules a string around their necks to keep their 10,000 forint notes dry – they bring back memories of Spain in the 1980's.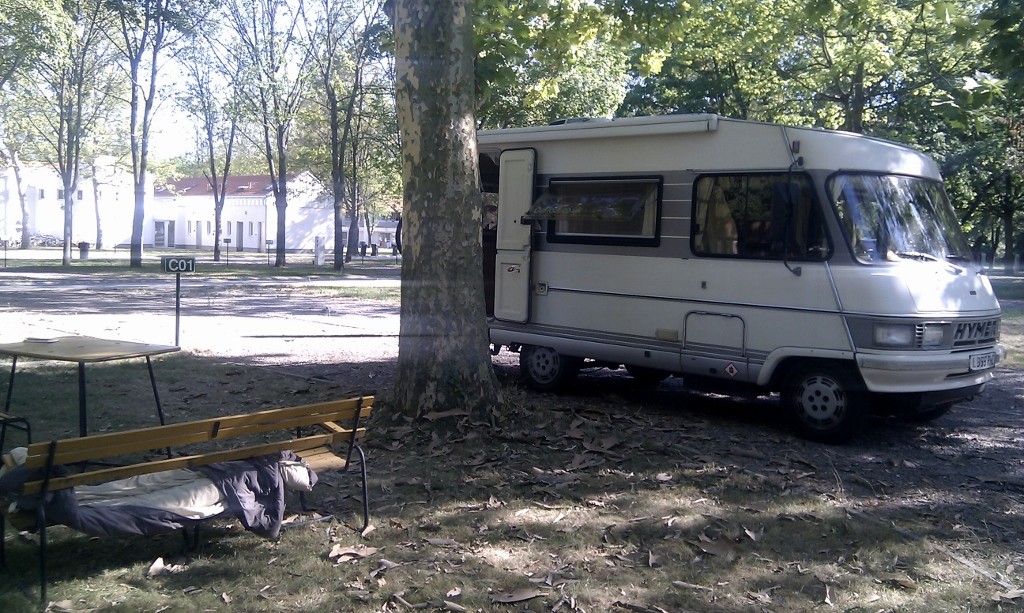 A little train runs around the town, it's two carriages surprisingly full. We wonder what sights it goes until we spot it doing a loop around the supermarket car park – there aren't any. The place is a sleepy back water that's tried it's best to be a resort – it reminds me of tired UK seaside resorts. Paint is peeling on the front of the thermal baths, and a sign informs customers that the nudist sundeck on the roof is out of bounds due to technical reasons! Still it's been a great place to recuperate and enjoy a little piece of back home time watching the tennis. Tonight we need to sort out some sort of route across Europe – or just see where we fancy going tomorrow!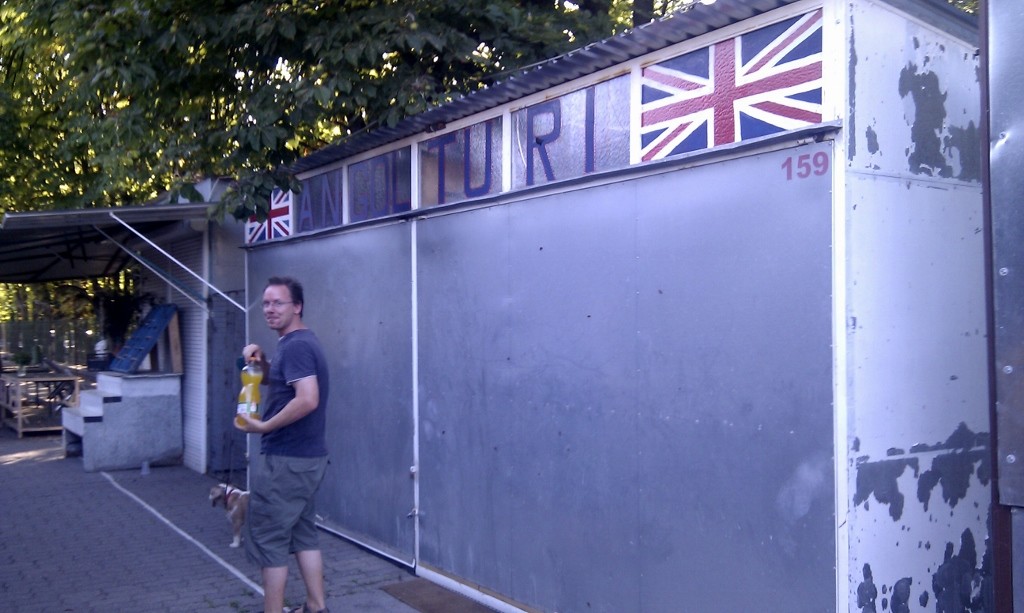 Ju x