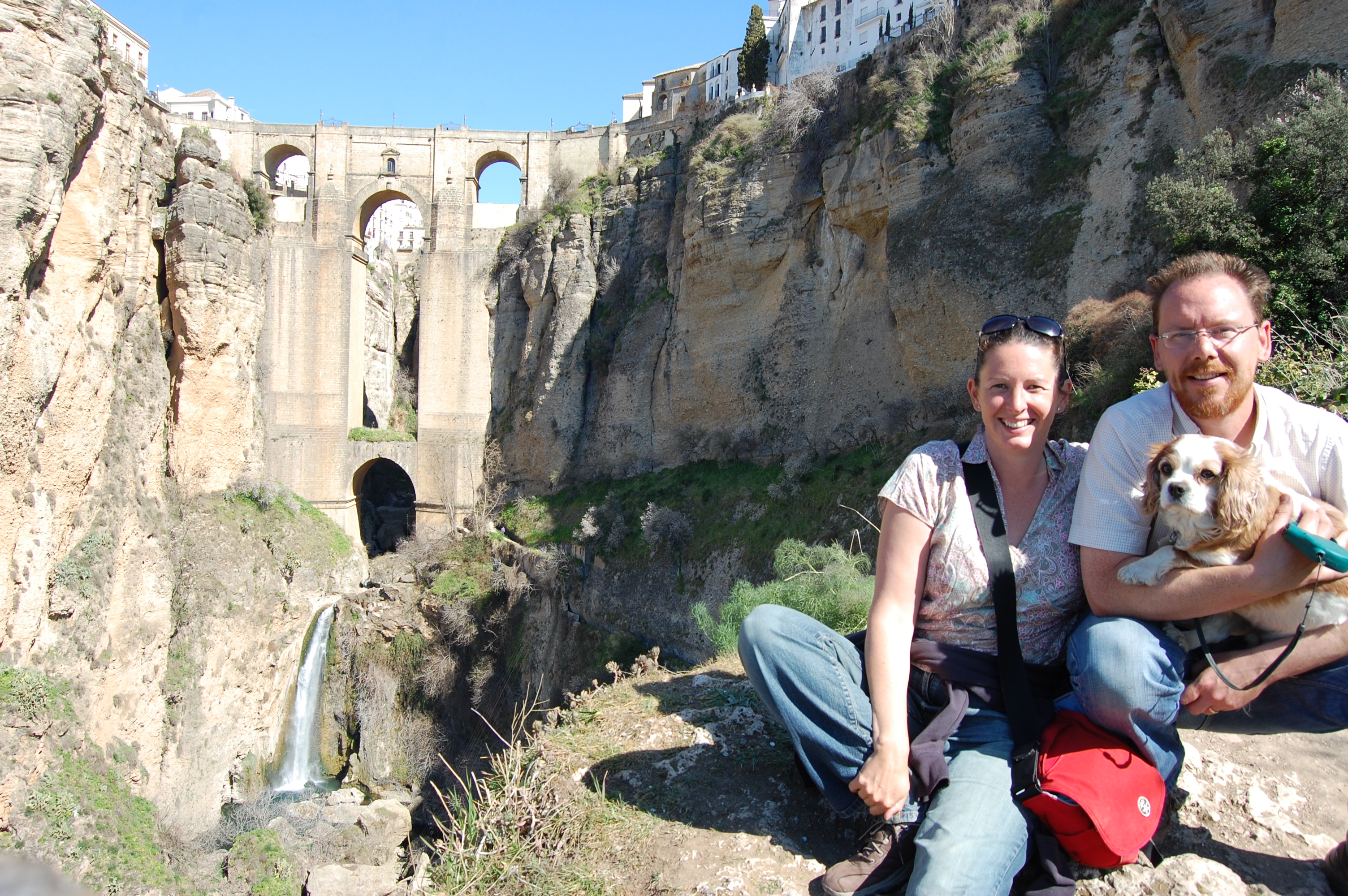 We're here: N36.72134 W5.17186
Weather – lovely and sunny and hot
We slept so well at the Mirador last night, it was so quiet with no one else around. We need to get used to wild camping again and not rushing around from place to place like we did in Morocco because we had a limited amount of time there. When we sat eating our breakfast we were reminded of one of the joys of wild camping – a folk of around 10 birds of prey started soaring above our little car park. We popped Charlie out as bait, but they weren't having any of it, they simply flew over and headed off over the next ridge, but for around 10 minutes we were treated to a great show.
We reluctantly left our Mirador as we were sure the birds would be back, but it was time to make our way to the campsite at Ronda. We had a stack of laundry and some stuff we needed to do on wifi. The views along the road were amazing, mountains and valleys stretching down to the sea – in some places you could still see Gibraltar. As we arrived at the campsite, we were impressed by the number of signs to welcome us – or rather restrict us. No TV, No Radio, No Music, Silence between 10pm and 8am. Still as we haven't watched TV in a few months, have bartered our wind up radio, and are generally asleep between 10 and 8 it's only J's Uke playing, Charlie's snoring and our harmonica kettle we might get kicked out for. Still the site is only about 1km from the town centre and the showers are very hot, clean and modern – such a change from Morocco where many were a pipe without a showerhead!
We wandered into town and had a look around, it was quite busy especially around the churches (and there are a lot of them here), we then remembered it's Sunday! So not only will there be church goers about, but also local Spanish tourists too. We soon found ourselves by the famous bridge, so went for the obligatory walk over and peer over the sides. Charlie isn't a big fan of heights, and didn't really enjoy this or the view point J took him on – you might be able to tell from his face.
As we were overlooking the bridge we spotted a path going down to some ruins halfway down the valley. So a quick stop at tourist information, then the supermacardo and we were set up for the best picnic spot you could hope for. As we sat and ate we had an uninterrupted view of the bridge from a much better angle than any of the restaurants high above us. I say the view was uninterrupted, I'm lying slightly as at one point a head with a helmet on appeared over the edge of the cliff in front of us – I think he was as shocked as we were, but we each said Hola and slowly he and his two climbing buddies made their way onto the flat with us.
After lunch we wandered slowly back to the campsite in the heat of the sun. We might stop here for a couple of days to get all the washing done and chill out, but we'll see how we feel tomorrow – that's the beauty of not planning stuff. Tonight J's conjuring up sausage and mash and I think a drop of Carrefour's best box of wine is in order too.
Have a great week.
Ju x