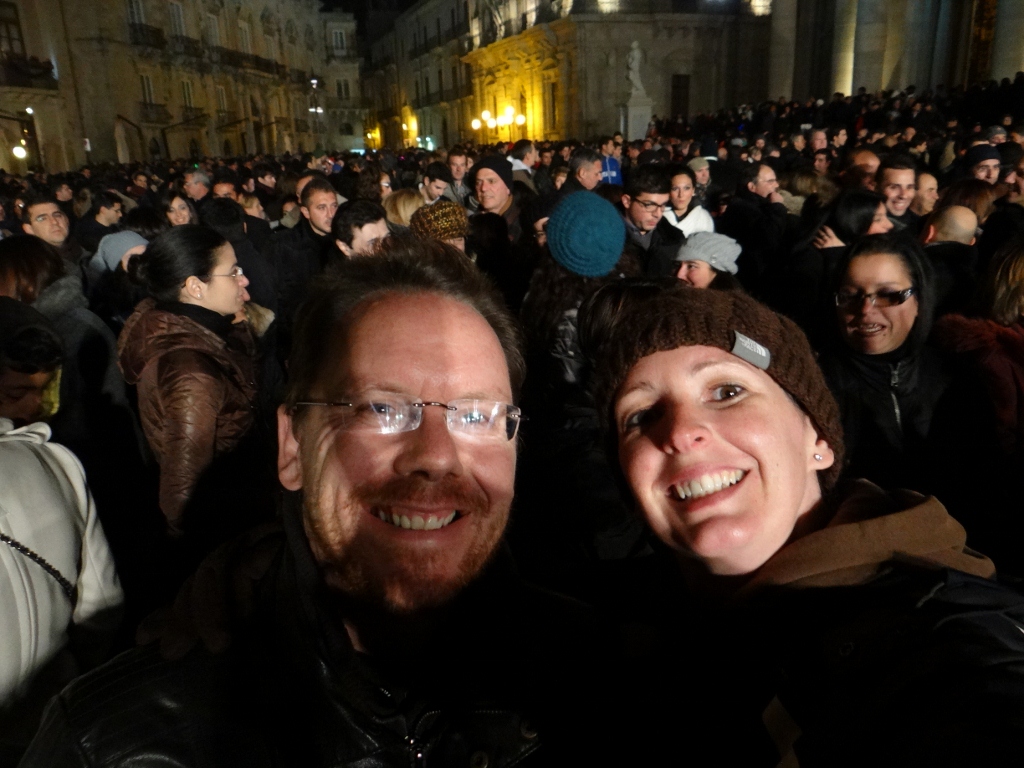 HAPPY NEW YEAR!! Dave the motorhome is chilling out by the beach in Lido di Noto (N36.85329 E15.11190), taking a day to recover from one big party last night.
Yesterday Jay got in a quick go at crabbing around the Grand Port, but with no luck – the water was crystal clear, so I suspect any crabs would have seen us coming and legged it. Still Charlie was happy as he got to eat the remaining ham. We met a couple visiting Sicily from Malta – she was South African, he was English and as we stood around chatting about how the Maltese love the all things English their daughter gave Charlie one major fuss – he was so happy.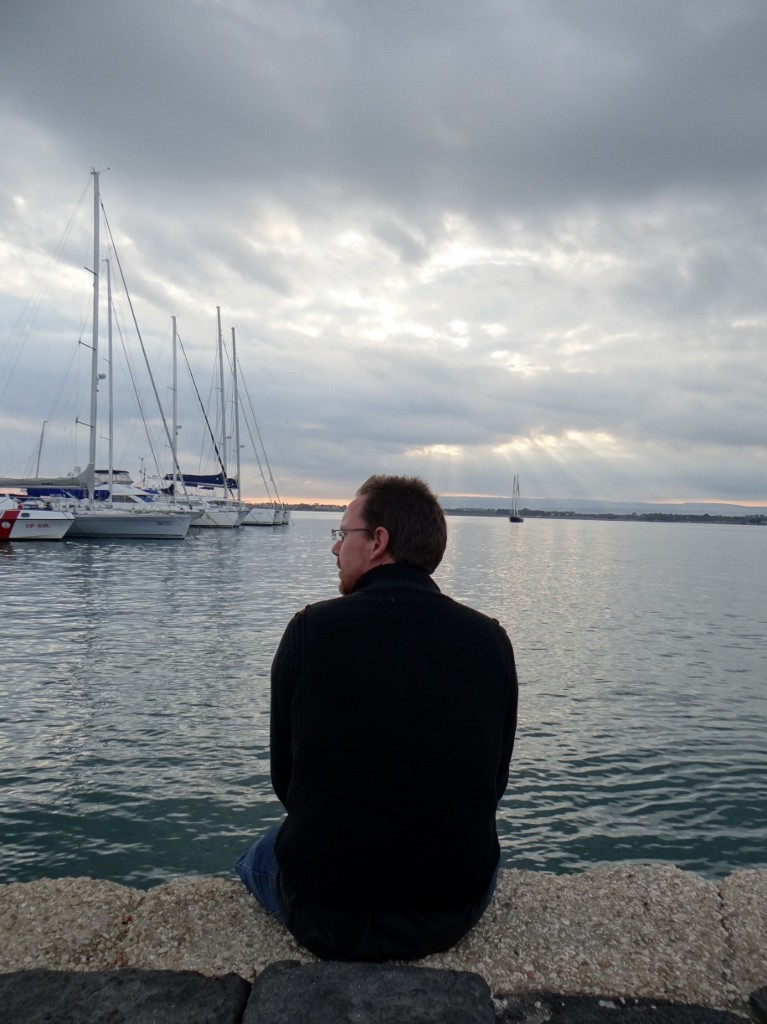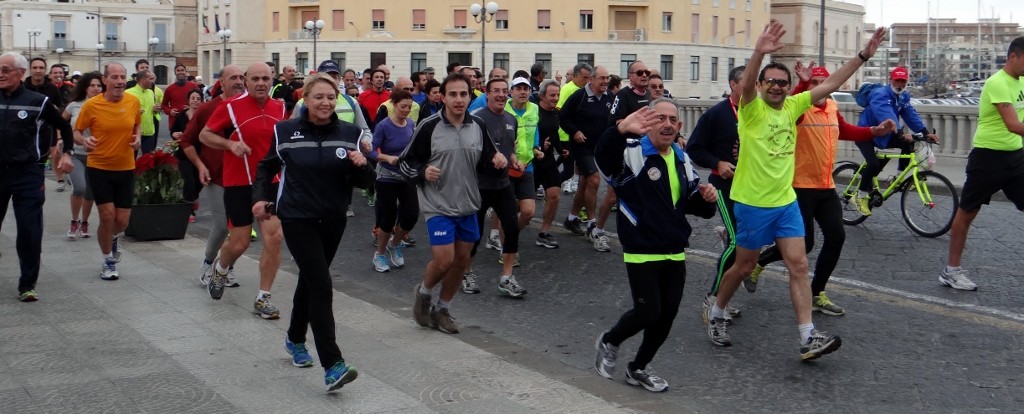 As the sun set we returned to Dave to begin the New Year waiting game. It's a strange thing really, normally back home we'd have a fancy dress party which would start around 8pm, so I'd be getting stuff ready all day, then getting costumes on and cooking pizzas and sausage rolls etc. Here we had little to distract us, so we waited. Slowly time passed and the car park around us began to fill up with the help of a bloke guiding cars into spaces for a small donation.

At 9.30pm, warmed with mulled wine, we ventured out for a walk around the town. The streets were quiet and the restaurants packed. One restaurant had put on outside karaoke, a huge screen showing the words as three women warbled something we didn't recognise – although if we knew the song it might have been a good Italian lesson. Reaching Duomo Piazza the stage was all set for the night, disco lights lit the surrounding buildings, but the music coming from the sound system was easy listening – the party was yet to start!
We headed back to Dave for a warm up and the last of our fake Baileys. Around 10.20 we tried again, the car park around us was now packed, but cars were still driving around looking for spaces. Throngs of people were making their way up the main shopping street and the Karaoke, having improved slightly, now had an audience! Reaching the square this time the steps we had sat on earlier were now full and a small crowd gathered by the stage – 45 minutes to go.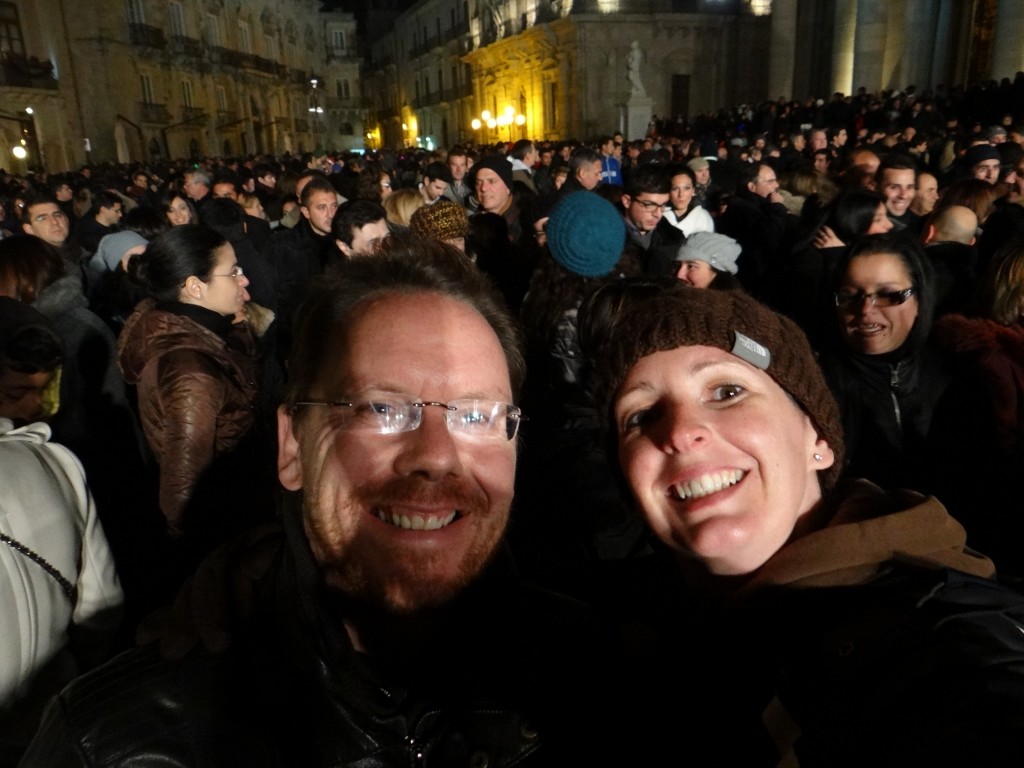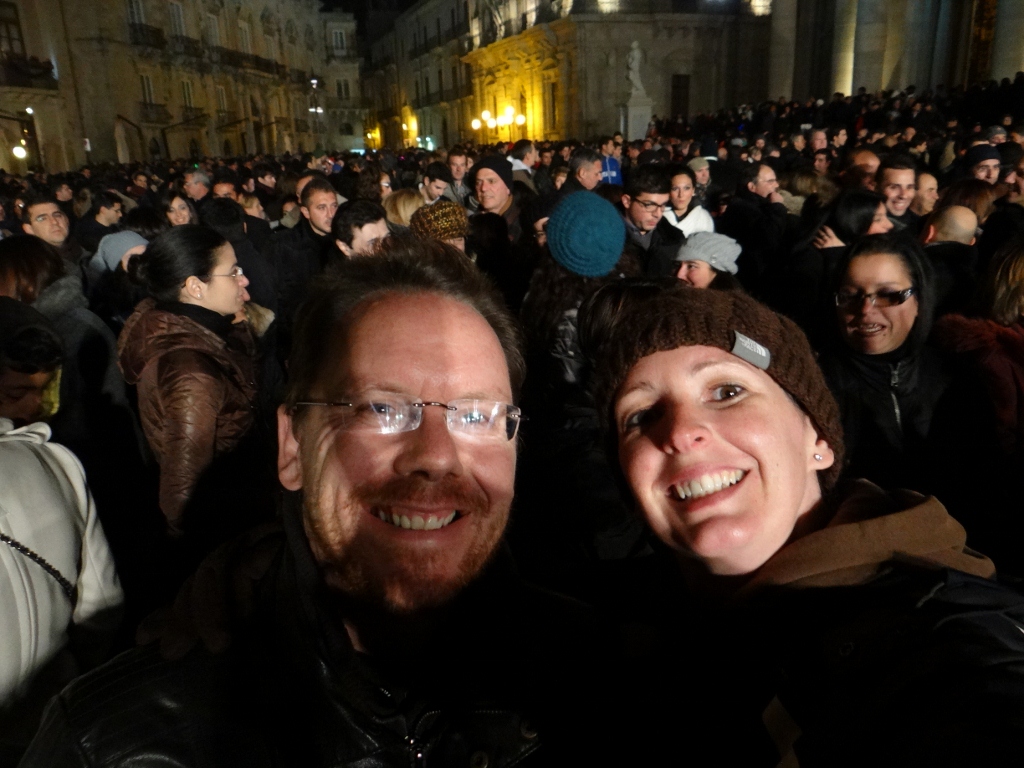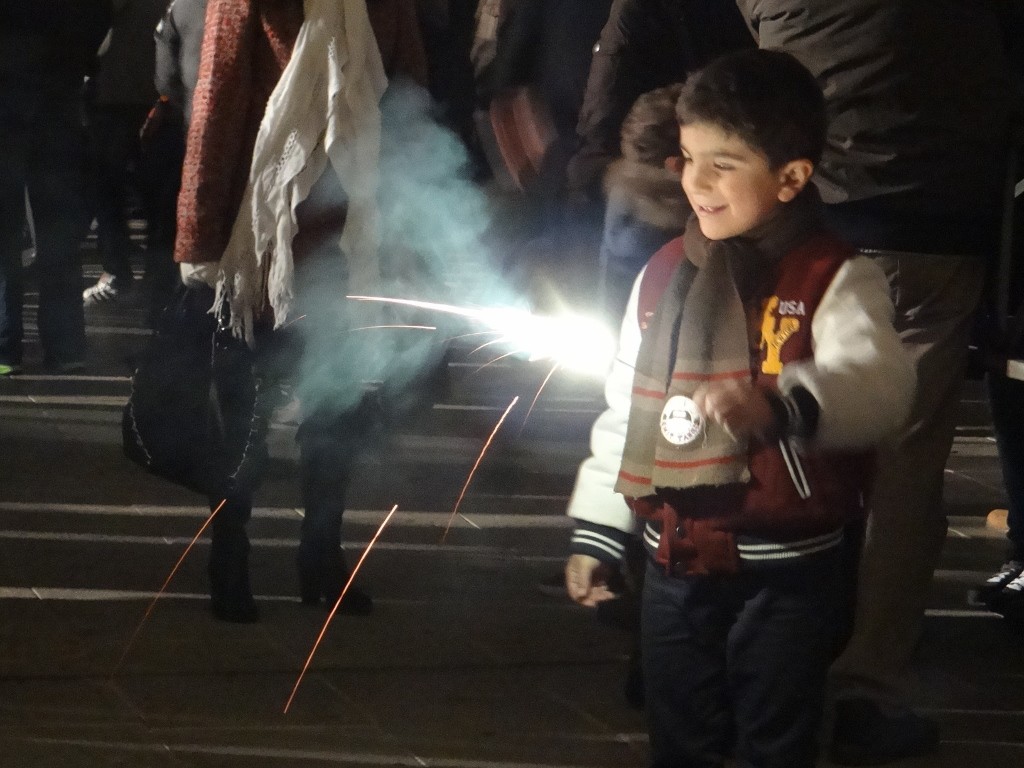 Radio Italia hosted the evening, although we didn't have a clue what was going on, the presenters were more occupied chatting to each other and listeners at home than their physical audience. Fortunately to keep up entertained a camera on a boom swung out over the crowd every couple of minutes causing cheers and bottles to be waved (Spumante was changing hands for €10 a bottle in the bars).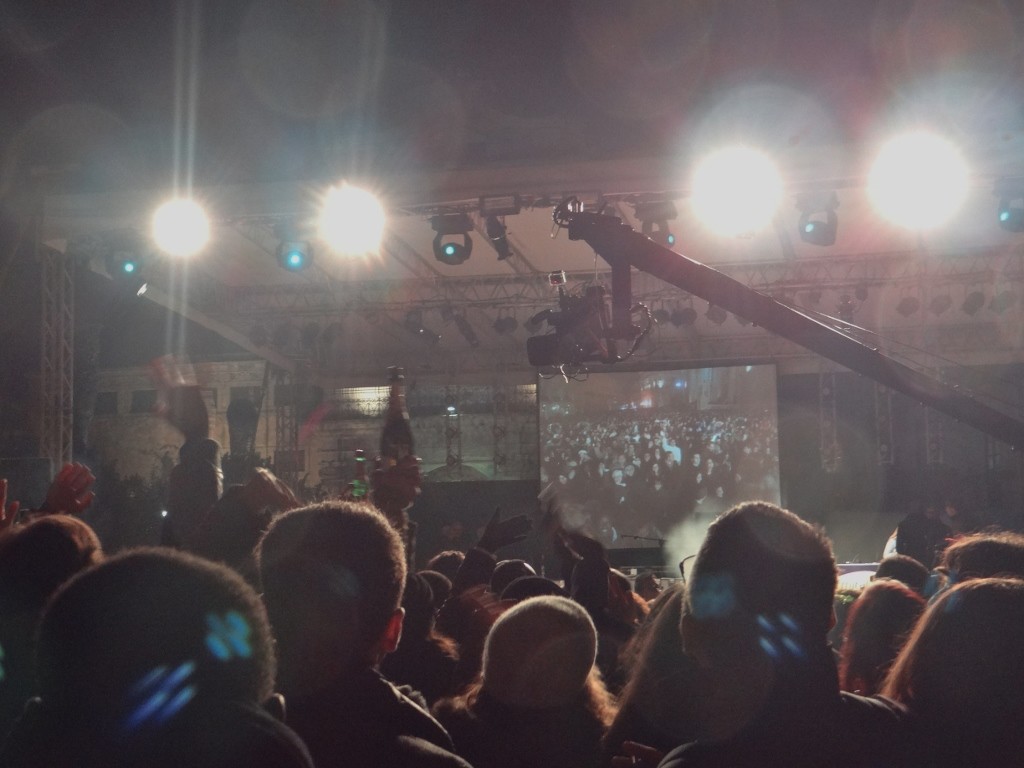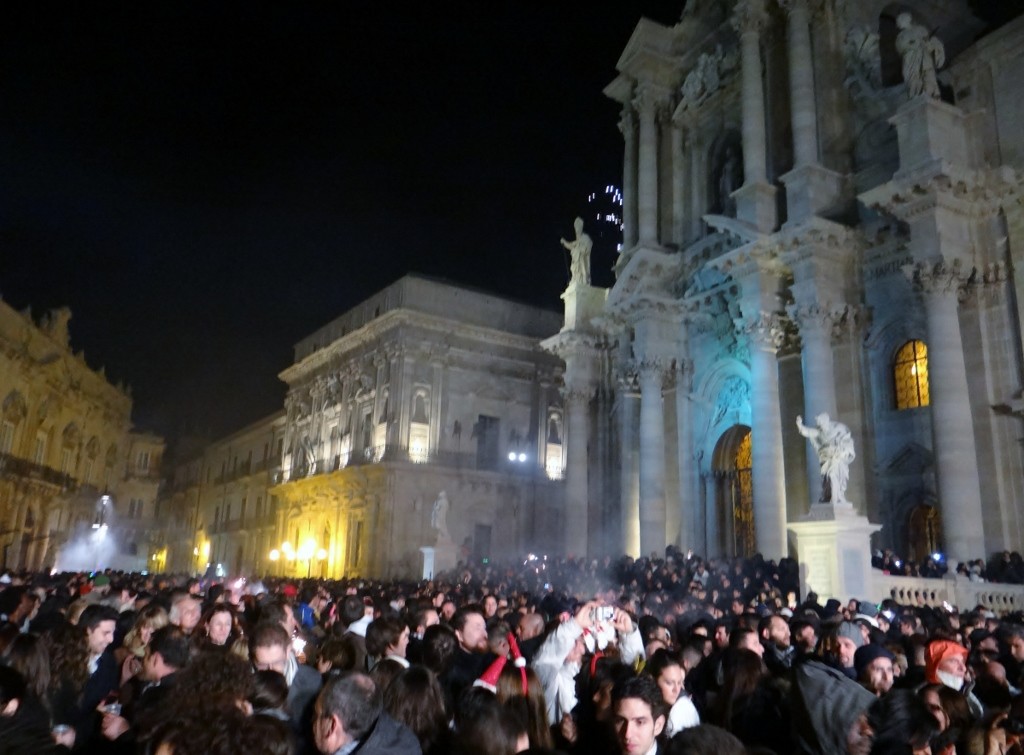 Finally with 10 minutes to go someone started to speak to the crowd, then came the big countdown. Being unable to count forwards in Italian; let along backwards, we opted for English and as we reached Midnight a shower of Spumante rained down on us and the fireworks began.
Then it all became clear, midnight wasn't the climax of the party like at home, it was the start. A DJ kicked into life on the stage and the tunes were accompanied by a chorus of firecrackers of varying levels of loudness (some sounded like a building had collapsed somewhere nearby and made me jump out of my skin every time). A couple of tunes in, having managed to avoid the majority of the Spumante and flares, we feared for our poor noise hating pooch.We slowly made our way through the, now packed-in, crowd to the side of the stage, where we found a few policemen having a New Year tipple from plastic cups. It dawned on me that I'd hardly seen any police, or drunk people – not your typical New Year!
Walking down the narrow streets people spilled out of the restaurants and bars, smoking and drinking. Children armed with bags of firecrackers and miniature bombs set them off in the street – often encouraged by smiling fathers (possibly looking for any excuse to relive their childhood). Don't get me wrong, we love setting off fireworks, and of course the louder the better. But back home they tend to come with colourful pretty lights to ooooh and aaah at, here they just bang – loudly. Your only warning it's coming is a small flash on the ground and if you don't see that it's the noise followed by the shock wave – some of these things really rattle the windows.
We eventually got back to Dave to find Charlie had retreated to the den we'd made for him by draping a sleeping bag between the bench cushions under the table. His nose peeked out for a moment as Jay snacked on a Pot Noodle, but then retreated again as the bangs continued. We watched a few pretty fireworks going off across the bay and fire engines trying to pick their way through the hap-hazardly abandoned cars on the road beside the car park, before heading for bed around 1am. The cars parked either side of us were reunited with their (loud speaking, but hopefully not too tipsy) owners around 5am, then just before 6am Dave was rocked by two massive explosions which echoed around the bay. As Charlie retreated as far back as he could in his den we figured these marked the end of the celebration.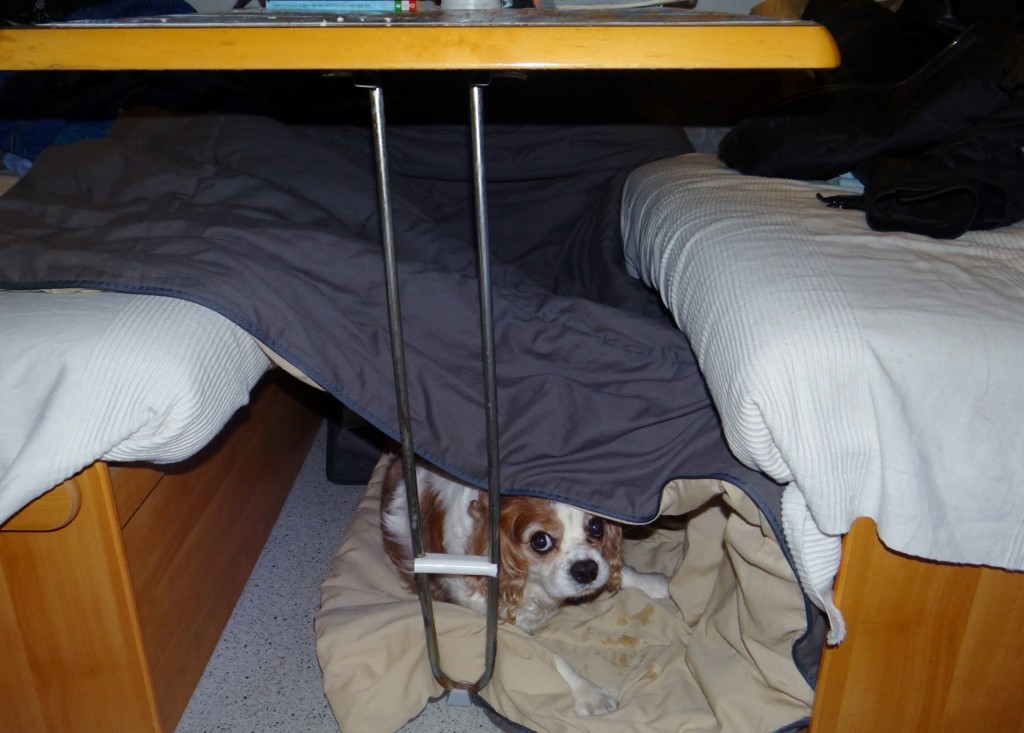 We were woken at 9.30 by the road sweeper driving around us removing the evidence of a million-and-one bangers and fireworks. We'd loved our couple of days in Syracuse, but it was time to move on. We headed south along the auto strada to Noto, only to find the main road into town dug up and the diversion going under a bridge too low for Dave – only one thing for it, we turned and headed to the coast. Arriving at Lido di Noto we found loads of free parking right next to the beach and a great little space on the beach.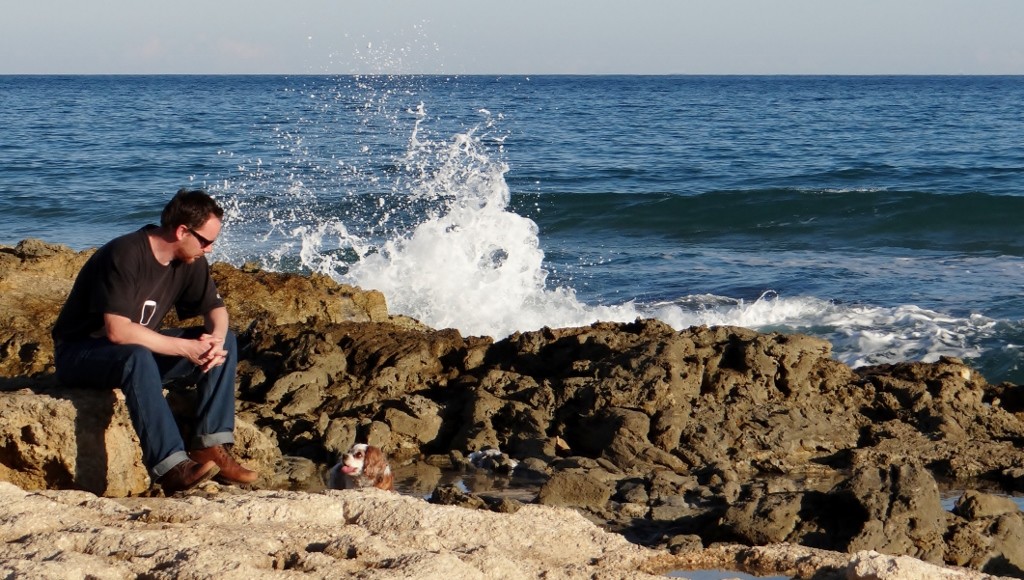 We've spent the day watching the world go by (or more exactly two Italian motorhomes who pulled in by us, then drove off, then drove past the other way before returning to park up next to us – saves us from looking around to see if there is anywhere better nearby, there obviously isn't). Charlie has enjoyed his first day of 2013 with some beach walks and stick chasing – he's hoping every day this year will be like this. We've been doing some planning for our trip over to Tunisia – getting the map and guidebook out at the same time and are forming a vague route, and we've also recorded a little New Year message for you in the winter sunshine – hope it doesn't make you too jealous! Enjoy!
Ju x