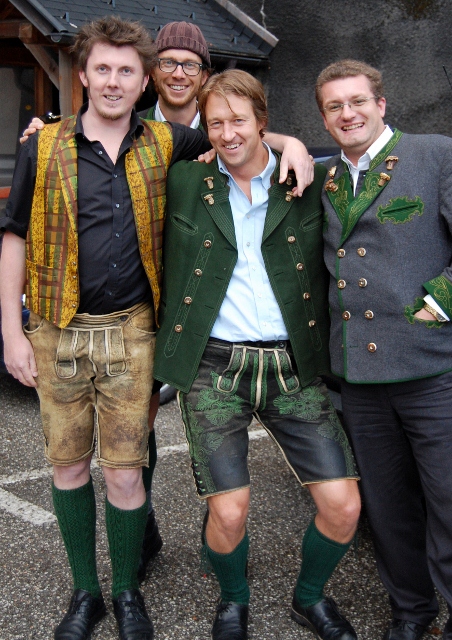 Dave the motorhome is firmly plonked on neat short cropped grass at Camping Hallstatt at, well, Hallstatt (N47.55322 E13.64704). €27 a night, the most expensive campsite we've used, but it's a great place. The near vertical, modern funicular to the salt mine is framed by the front window, the steep cliffs which shepherd the lake fill our windows to the left.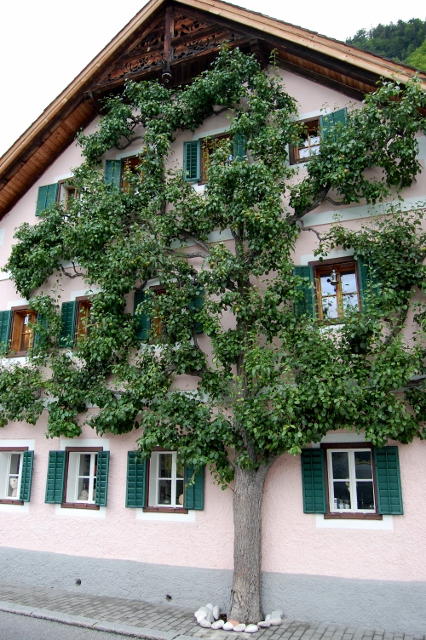 Heinrich Harrer, the fella who escaped the British by trekking into Tibet, and later wrote Seven Years in Tibet, has got me thinking. Sure, yes, I would like to go to Tibet, and Nepal for that matter. I'm thinking of something a little closer to home though. Within a few weeks we will be back in the UK, EU law requiring us to present Dave to the Ministry of Transport for a clean bill of health. Another less prosaic need is, of course, to embrace our loved and missed ones.
Heinrich stayed in Tibet for seven years after fleeing the British in wartime India. Why he stayed I don't know, only leaving when the Chinese invaded and annexed the place. Similarly, we need to work out why we'll skip the UK again within days of getting home, rather than taking the logical step of settling back into things, avoiding the pain of goodbye, and starting the process of refilling our depleted war chest. We think the answer is simply that we're not yet done, the levers which propelled us from comfort and security remain. Until we overcome them, run out of money, or find another way to scratch the itch, we have to keep going. Also, we can't be doing with the British weather!
Austria is an itinerant's dream. Last night we slept well again, lawfully parked in plain sight, in spite of the relentless hammering rain amplified by Dave's roof until we think it's bound to break through. A truck pulling into the lay bye this morning was just one of the army of Austrian public servants emptying the bin. Once he'd gone I took Charlie out, and noticed there's even a sign showing it's 3.5Km North to the nearest disabled loo.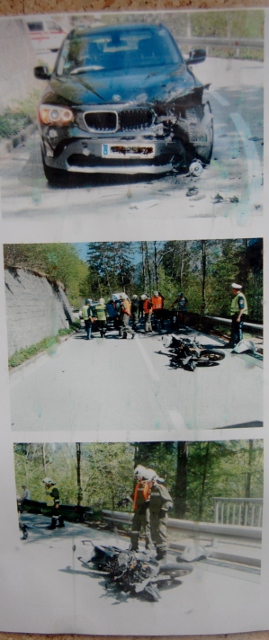 Luxury called today though. Hallstatt has been circled on our map since we met Pavel, the friendliest of Czechs who'd defected to the West, scaling the Iron Curtain with his wife. Not just friendly, a wise fella too, Hallstatt's an impressive place. The slab of rock which faces us, is shot through with tunnels and caverns, hacked out over history, the oldest salt mine in the world. At one time, the contemporary chip-enhancer was seriously sought after stuff, White Gold, making it worthwhile living in a place only accessible by donkey or boat. Neighbours not wanting to take to the water here, would visit each other through a path which passed through their attics.
That's all done now of course, a road was blasted through in the 19th century, partly tottering on stakes driven into the lake. Nowadays your average camper vanning fool barrels into the place via a lengthy, narrow tunnel, popping into the open for a gasp of light before plunging back into the darkness for part two of trying to guess where the walls are, elbows tucked in, teeth sucked and breath held.

Ying and yang, the past weeks of scorched earth have flipped to flipping soaking. Japanese, Austrian, German, American and British tourists alike get soaked. Plastic ponchos are all the craze, camera lenses inevitably dotted with water, you have to keep your wits close as spike-ended brollies swing your way. A Willy Wonka chocolate waterfall thunders above the town; it's been tamed, no houses disappear, the muddy waters inking the lake where they've been neatly channeled. The three of us, having started off laughing it off, soon get soaked, and I get grumpy as my kebab buying is interspersed with cold water pouring down my back, exposed by hood removal in order to communicate with the similarly grumpy purveyor of Turkish grub.
Retreating to Dave, I'm immensely cheered by the misfortunate folks attempting to tent it around us, their shelters covered with a second layer of tarpaulin and their sodden clothes strewn out in the shower block. I never claimed to be noble! Dave fends off the weather for an hour or two and all of a sudden blue sky appears, twisted rocks which had been rubbed white by the cloud take form and colour again. We venture out for a second run at it, idling about, bumping into a crew of four cheeky green lederhosen clad musicians squeezing a double base into a Toyota, off home after hours in a hotel. I joked they should have bought a ukulele. No one laughed.
Saturday night and we're back in Dave, delicious duck fat chips produced by Ju as I tap this out, and eaten in a tenth of the time taken to lovingly fashion them. Charlie's dried out and softly snoring. The laptop, gorging on mains power, is playing some uplifting tunes. I've a cool beer and Ju's supping one of the Strongbows Anne and Jon brought to us at Lake Bled. Time to suss out where we go tomorrow, Saltburg's close.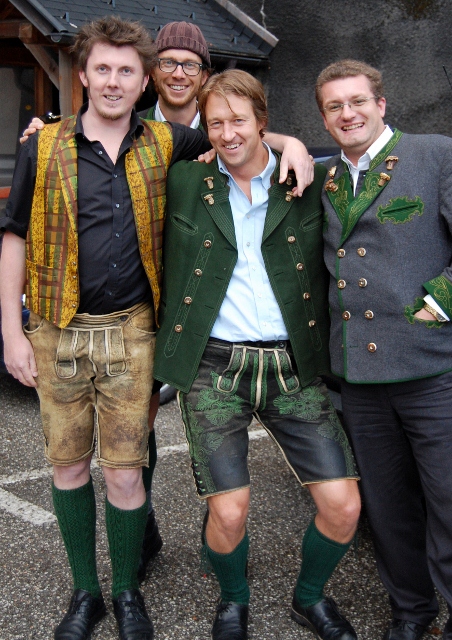 Cheers, Jay