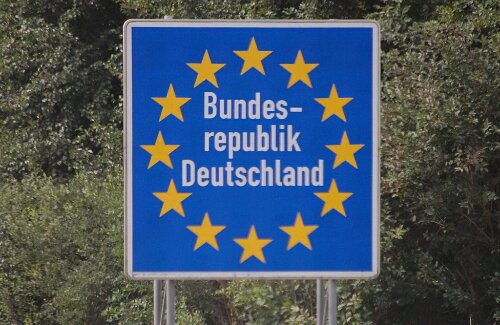 Dave the motorhome is on his first German Stellplatz in the town of Moosbach (N49.59131 E12.41334).
The vast car park was a good stopping place last night, tucked up behind the fence and with our own security guard by the gate Jay felt at ease and quaffed his entire German beer collection – a black beer, a white beer, a pilsner and a larger. Only my radler (shandy) remains. We watched the Seven Years in Tibet, the film about Heinrich Harrer whose museum we visited in Austria. It was a good film even though we knew what would happen, but I have to say Heinrich's character didn't come across very well in it. Perhaps if I'd seen the movie beforehand I might not have bothered to go to the museum, strange how you have a certain view of someone from one source and a totally different one from another.
Having slept like logs we woke this morning to find a driving school taking place in front of Dave, strange as it may sound it's not the first time. A nervous teenager, hands at ten to two, smoothly weaved her way between a line of cones before swapping over with another teen from the group huddled in the back seat. By the time we were ready to go they'd packed up and left so no chance to put Dave through his paces and test out his turning circle.
We didn't move far. First stop was the local petrol station to top up on LPG. The pump was in its own corner of the forecourt, a huge white line and the word STOP painted on the ground in front of it. An attendant has to do the honours for you, they've obviously heard how scarey I find the process, especially when the gas hisses out once you've decoupled the pipe from the van – for those of you no au fait with filling up LPG, it's not supposed to hiss, but sometimes it does. Gassed up we head across the road to Lidl. The plan originally was to just use up our Czech Krowns, but we figured Germany would be more expensive than Czech Republic, so we did a big shop. The trolley rattled and chinked with copious bottles of Czech beer, the woman at the checkout must have thought we had a problem, buying this much beer before 11am, but our minds were put at rest when we saw the bottle recycling machine – it had a slot for crates to go in! If that doesn't say heavy drinking, I don't know what does.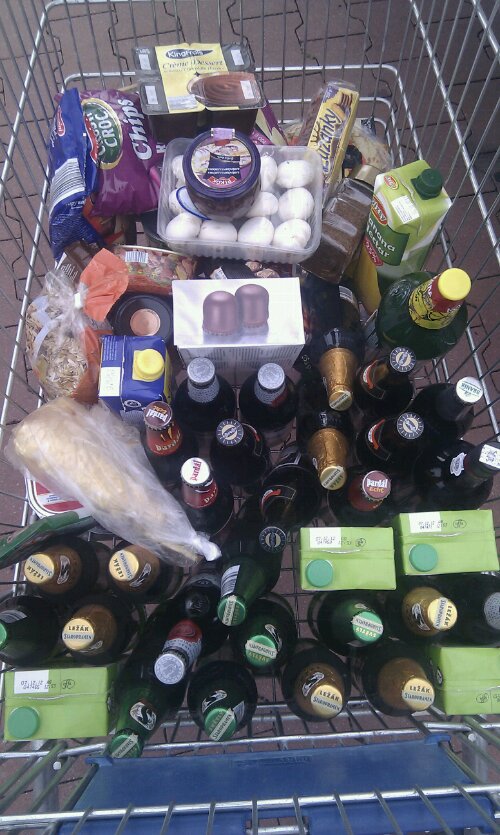 As we hadn't spent our Krowns I left Jay stashing the beers in Dave and nipped next door to Tesco where their own brand beans were only 12sk, about 30p – I'm sure that's cheaper than in the UK – but as I only had a bit of change left I couldn't start up my own black market import business.
Fuelled, beered and baked beaned up we got onto the motorway and within 10 minutes we reached the German border. Empty buildings lined the side of the road, no passport checking here. Thanks to the Schengen agreement we didn't even need to slow down as we glided into our thirteenth country – fingers crossed it's not unlucky.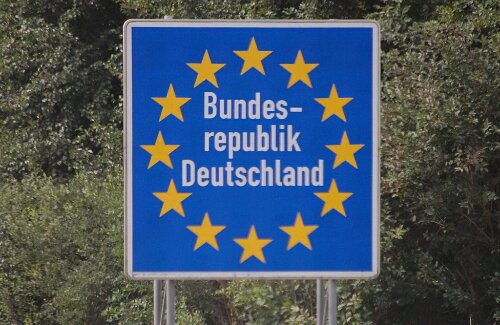 We made for a Stellplatz (motorhome parking area with services to empty waste water and fill up with fresh) but when we arrived the signage was a tad confusing, it pointed to a farm and a field next to it, we looked around but decided better of it. As we drove away Jay pointed out that they need to make the signage more obvious, something like a cardboard or inflatable motorhome parked up so you can clearly see where to go. Another Stellplatz listed as being in the same town was a good few kilometres away from it, so we popped in the details of the name we both liked Moosbach.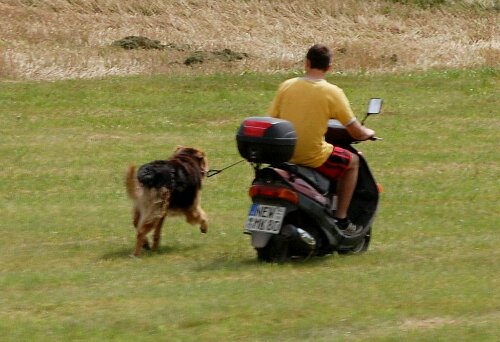 Satnav guided us along tiny lanes nestling between fields in mid harvest, combined harvesters all around us kicking up dust, and through narrow little villages of a few houses before declaring that we had reached our destination. All we could see was fields of potatoes and a church, then we spotted a motorhome parked in a clearing behind some trees. It wasn't cardboard or inflatable, but it worked just as well.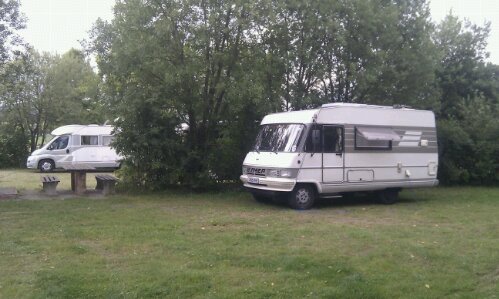 Dave reversed into place we set about finding who we needed to pay. A notice board told us it's €5 for the night, and looking at the services confirms that includes electricity. That's about all we can decipher from the sign, next to which is a map of the town with an arrow indicating that we'd find more information at the Rathaus (Town Hall – and one of my favourite German words).
A short stroll into the town finds that we're half an hour too late for tourist information which is only open in the morning, and a day too late to celebrate 125 years of something. Still we're two weeks too early for a wine festival so it looks like we're here at just the wrong time. Next door to the Rathaus a tall grey building emits a familiar hoppy aroma, the Moosbach largerhaus with stacks of multicoloured crates looking like lego. The hoppy aroma fades and a less pleasant one takes over, next door and still in the centre of town is a huge barn full of cows, a sign outside promotes fair price milk at 40c a litre.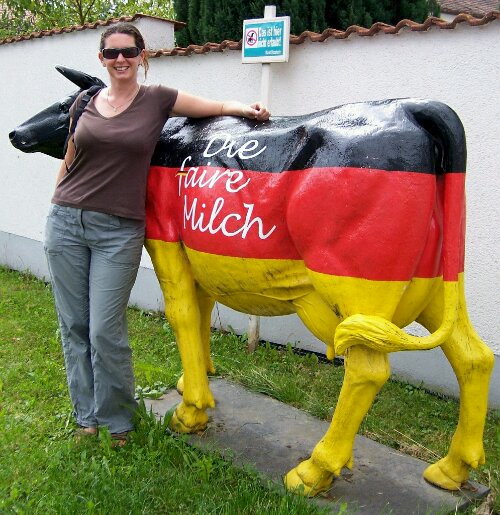 Walking further we find another barn in the middle of town, a small garage next to it contains milking machinery. A field full of potatoes has a sign telling you what they will become, we could live here very happily and cheaply with the freshest milk, beer and potatoes.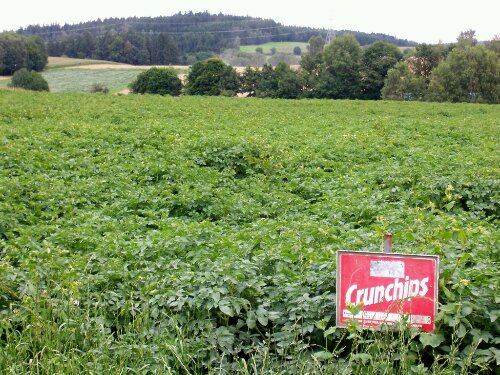 We walk a kilometre to the next town's Schloss (castle) which will host the wine fest in a couple of weeks. Everyone we pass within 5 metres of smiles and says Hallo or Gross Gott. The landscape looks agricultural yet manicured, as it did in Austria. It's amazing what a difference not being behind the Iron Curtain has made to places, even 20 or so years after it's fallen.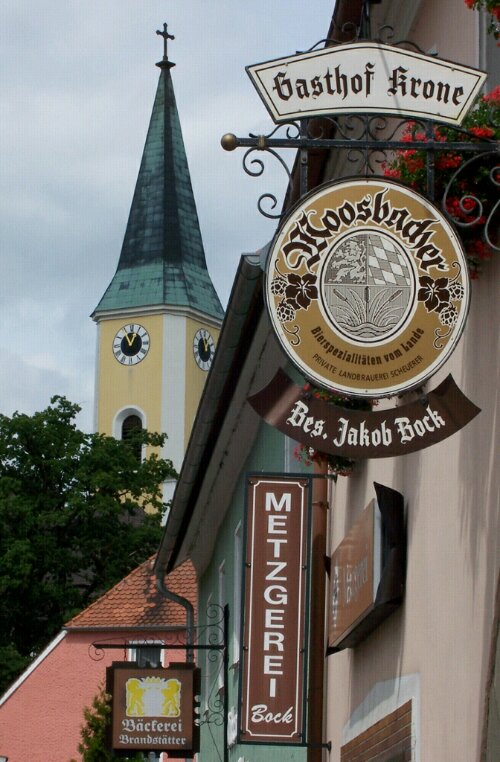 Our pace quickened on the way back as dark storm clouds gathered, but the sky managed to hold on to it's water and by the time we got back to Dave it had brightened up again.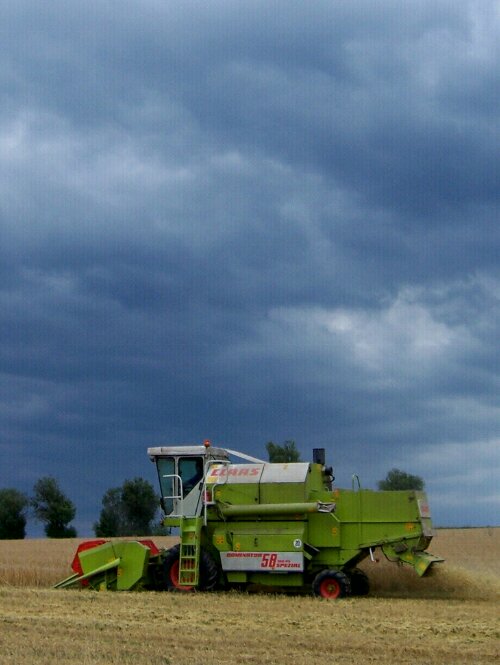 We'll be in Germany for at least three weeks, so plenty of time to brush up our German and maybe buy a 3G SIM card so we can Skype people again. But that's a job for tomorrow (along with paying for our overnight parking), tonight it's time to test out my Radler and see what other goodies we threw into the trolley.
Ju x
Bonus pic