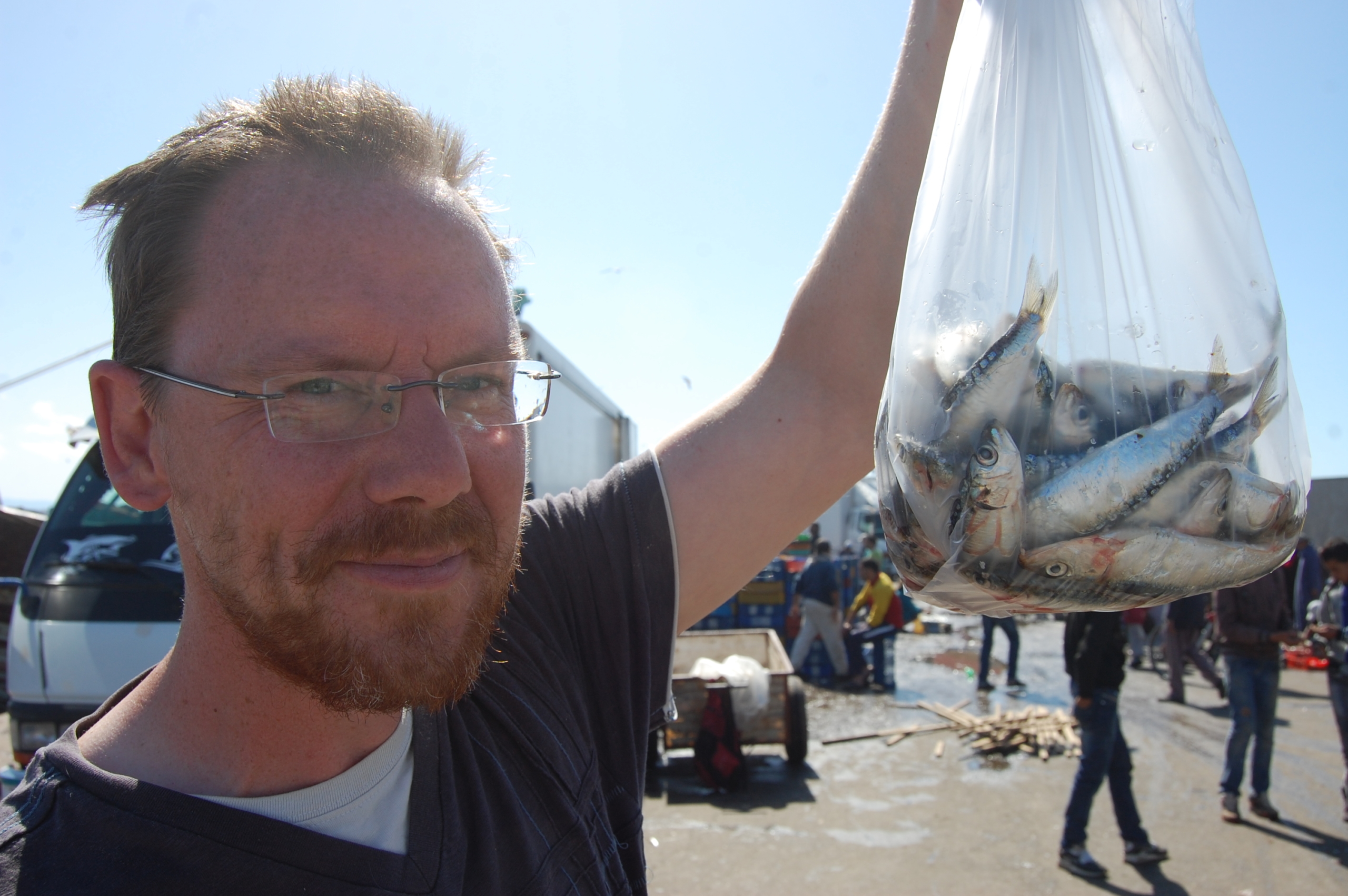 We're stationery. Essaouira is proving to be a pretty laid back place. The camel/horse riding/quad biking touts are lack-lustre. The looky-looky men are easily put off. The beggers are easily ignored. The shops are interesting, the port and fish market is something to behold and the beach is clean and huge. The local dogs are generally benign, although the campsite cats are less so! It's an easy going place, and a huge contrast to the intense tourist milking in Marrakech. We're all liking it here and as the days on our insurance tick away, we're struggling to get back on the road. Apologies for the HUGE number of photos, but I just love this place and want to share it with anyone who'll look.
We had a quick Skype session with Sue and Jon and their son and daughter Joseph and Annabelle this morning. Great to see and hear them, less great to see the dank weather which reminded us of Britain, which at some point we're going to have to return to. But not yet. Once we'd signed off, we found ourselves haggling for fish from an enterprising fella who'd come into the campsite (all Moroccans seem to have their own mini business). 100Dh later (£8.30) we had four good sized red fish (Red Snappers?) in the fridge for later. I watched the fella gut them as I'd never done it before.
All six of us (the two couples plus our pooches) then headed off up the beach today with Chris' power kite in tow. After yesterday's bluster, we found that Morocco's wind capital had turned into full on calm, hardly a fluttering flag to be seen. We didn't fancy a repeat of our 'daft Brits do the wind dance' in Erg Chebbi, this time in front of a crowd of hundreds, so the kite stayed packed away and we headed into town.
More wandering around the port. No tourist tartery here; it's a full-on fishing port with stinking bits of rotting fish driving Charlie nuts, and gnarl-handed blokes tying up hook lines and pulling in nets. Lots of shouting accompanies the noise of hammering and welding on the boats being overhauled on the dry dock. Over the other side of the port is the fish market, with local folks flogging, well, fish. Even without my Berber coat (which I now refer to as 'The Mask' as I go a tiny bit native when I wear it) I was into the idea of blagging a few sardines. 10Dh later and we have a decent sized bag of sardines, covered with ice fallen, literally, off the back of a lorry.
More wandering about town, haggling over dodgy Rolex watches (100Dh start price, only dropped to 95Dh so we walked away), eating grub and drinking OJ. You can see why the French retirees are parked up in their motorhomes in droves. It's cheap, chilled and warm. A couple of local guys point at my bag of sardines and say something. I assume they're after something and ignore them. The second one comes over and pokes a hole in the bottom of the bag. Having melted ice in with the fish is bad it appears. I thank him. De rien (you're welcome) comes the reply, no begging or hussling. Warm feeling. The man selling conches had also given water to Loli and Charlie, from a conch no less, again no hussle. I like Essaouira, even if I can't pronounce it.
Back at base, Chris and I gutted our sardines. I love doing things I've never done before, and gutting fish at a sink on a campsite in Morocco, feeding the guts to small crowds of cats around us, was certainly on the 'nope, not done that' list. Tina prepared the big red fish with lemon, bay leaves, butter and garlic. Out comes the BBQ and off we go. An hour later and success is confirmed. We're stuffed full of fish, as are the dogs and one of the campsite kittens, which had proved itself tougher than Charlie in a scrabble for dropped bits.
Another awesome day on our little trip. Even after our hundred and summut days on the road I'm bewildered by our luck at being able to do this. The thought that Spain, France, Italy, Greece, maybe even Turkey, and who knows where else lies ahead of us is simply staggering. We're going to make the most of it and squeeze in as many new things as we dare. Bring it on.
Cheers, Jay