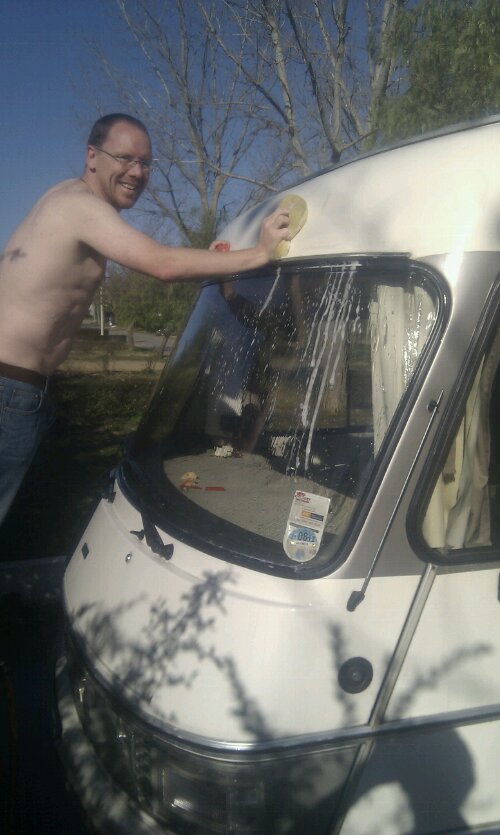 As is traditional at this time of year, we're looking back. Our lives have changed beyond recognition in 12 months. We had so much more stuff! And yet having shed much of it, we're so much happier. It seems well paid full time jobs, 6 computers, a hot tub, 2 more bedrooms than we needed, a new car, 4 bikes, a big plasma telly, games console, DVD player (you get the picture) doesn't equal happiness after all. At least not for us.
We now find ourselves living in a camper van. And we love it. We have some luxuries with us, like a laptop, but find much of the time we don't use them. The TV has been turned on once, to see if it worked. We don't watch the news, read the papers, browse the Internet for hours or listen to the radio. And somehow we don't miss any of it. 2011 has been a real eye opener. For me personally (hi, it's Jay here), these past weeks on the road have reminded me what I'm passionate about, and awakened new passions. If the trip had a single goal for me, that would have been it.
Looking forward to 2012, we have an awesome prospect ahead of us. Nine to 11 months (we decide) of freedom to travel the continent, probably visiting Spain, France, Italy, Greece, Bulgaria and a few as yet undecided countries. We've already met inspirational people, young and old, and we hope to meet more.
We do of course miss one thing: our friends and families. This blog has proved a fun and fulfilling way for us to stay in touch and we're so grateful to you for reading and sending your comments. Sorry about the maths puzzles, the spam was driving us both nuts!
So, Dave's got lucky today and had a wash and tidy out ready for a few thousand more miles, sorry, kilometres. Ju's sussed a potential party spot for tonight beneath the town walls, Charlie's kipping after chasing a bloke parachuting and I've got a stew on.
Have a great evening everyone, and we hope 2012 brings you whatever you desire.
Love, Jay and Ju (and Charlie)