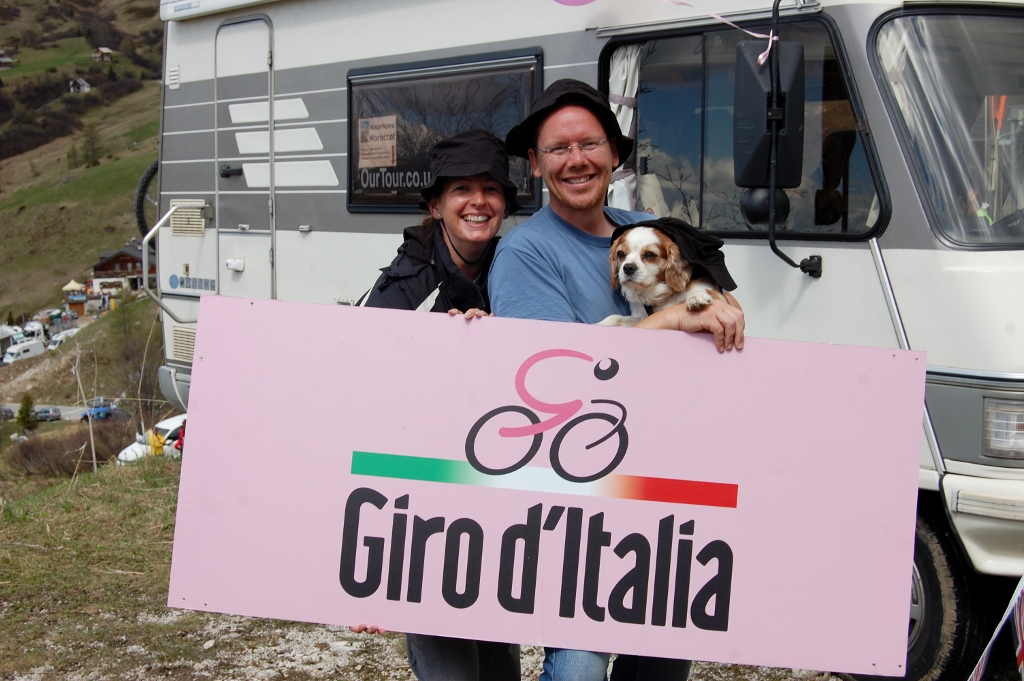 We're still on the side of the mountain at turn 23 of the Passo Giau.
Weather: rain was predicted, but it turned out warm and sunny : )
Ryan and Verena came round yesterday afternoon and with over 24 hours before the Giro d'Italia reached us we chilled out and drank some wine – well actually I drank a lot of wine. So after a night sleeping on a big wonk I woke up feeling less than happy at 6am as cars were filling in the gaps around us.
I laid in bed as long as I could, but felt it best to get up and face the pain. Jay headed off for a walk up to the summit and by about 9am I managed to eat a couple of oat cakes and get in the shower. At 9.30 a large van arrived in front of Dave – we were at the 20km to go mark and they needed to put up an arch. The minibus full of Italian men next to us helped while I took photos for them. A reward of Italian style pork scratching was just what I needed to lift the hangover.
We got 'talking' to them and they were a great laugh. They gave us hats to keep the sun off, a polo shirt from a company one of them owned, salami and bread sticks – I declined the offer of some Grappa. We couldn't have picked a better bunch to be next to.
The hours passed watching the men working setting up the barriers in front of Dave. We watched a people walked up and down he mountain, many said 'hey uk' as they passed the suitably attired Dave.
Ryan and Verena joined us with a few hours to go, and the wine came out again. Lucky for us Ryan knows his cycling, so he kept us up to date with reports on the race progress – 'There's a race going on too?' we joked. It was a long lazy afternoon people watching, around 3.30pm a few cars with sponsors stuff on them went past – the caravan. No freebies being thrown out though, it's not the Tour de France!
Not long after 4pm we started to hear the buzz of the helicopters. We watched as the pilot skillfully danced his way up the valley following the hairpin bends while avoiding the powerlines and chairlifts. Then they were here.
We waved our flags at the helicopters and cameras, hopefully we might make the telly. When the Ialians around us realised that Basso was near the front they all went mad shouting and waving. About 8 riders went past, then nothing – was that it, a smaller field than normal? No they were just all very, very strung out. Single riders made their way up the 29 bends, many of them hardly looking puffed. People helped out pushing the riders along, one even managed to hold onto the back of the police bike for a helping hand. Several more groups went past with noticably more cheering for the Italian riders.
The men who put up the arch started to done their gloves. The race was over, Rodreguez won. 'Is that it?' I asked, no more? 'No more' they told me. Err, but Cavendish hasn't come past yet. 'No Cavendish' they said. People started walking and cycling down the road, was that it all over so soon? Confused I looked down the hill there were still a few more riders on their way. Then a group came towards us, Ryan shouted across, and there he was Cav, the Manx Missle, along with his team mate Bernie making his way up the hill. Not sure if he noticed our Go Cav Go written on the road, he looked like he was struggling a bit, but then hills aren't what he was built for.
A few riders later and it was all over. The packing up began and it's now quarter past six and we're pretty much the only van left on the mountain side. Ryan and Verena have gone to get their van and will park up next to us tonight, a bit too much wine had been drunk to drive back down, but then all the others leaving were surely drinking too – oh well maybe we're being too British.
It's been a fab day, the race was good but the best part was all the great and kind people we met.
Ju x