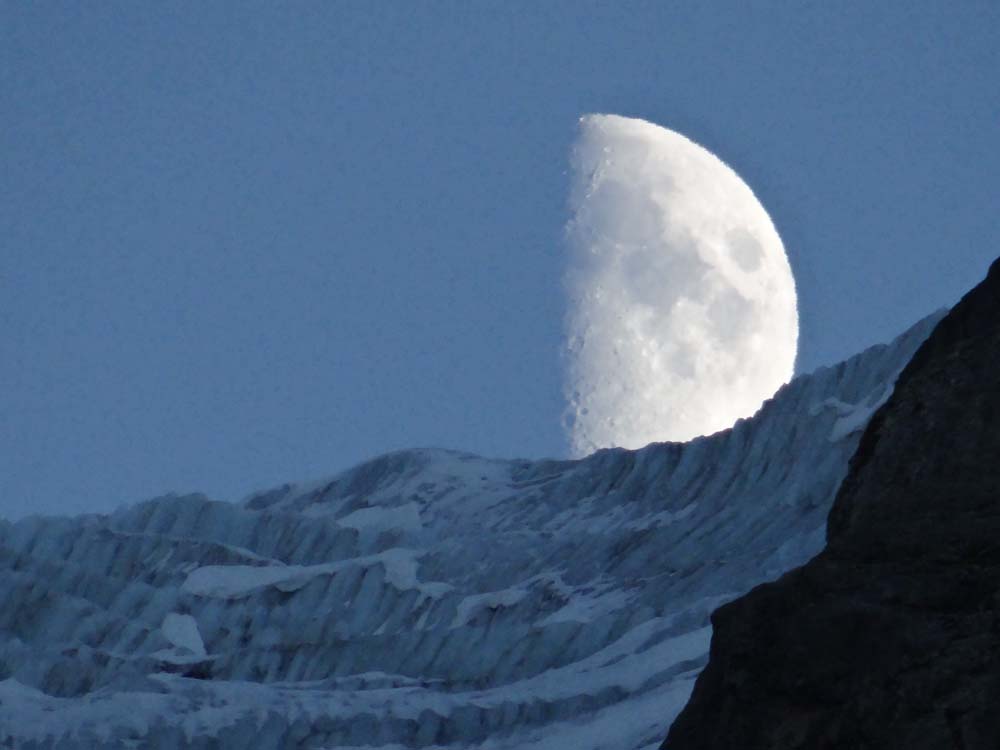 Dave the motorhome is taking a well-earned rest between the goats and the bell-ringing cows at Camping Breithorn, Switzerland, in the Lauterbrunnen valley (N46.56808 E7.90922). At €22 a night without hook-up, it's not cheap, but is beautiful and has a much-needed washing machine. The Eiger is close, but we can't see it as there are hulking great slabs of steep stone running along each side of us. We need to get higher up to have a look. There is a train, but the track's being repaired, so Ju's checking out the cable cars to Mürren, a village above us.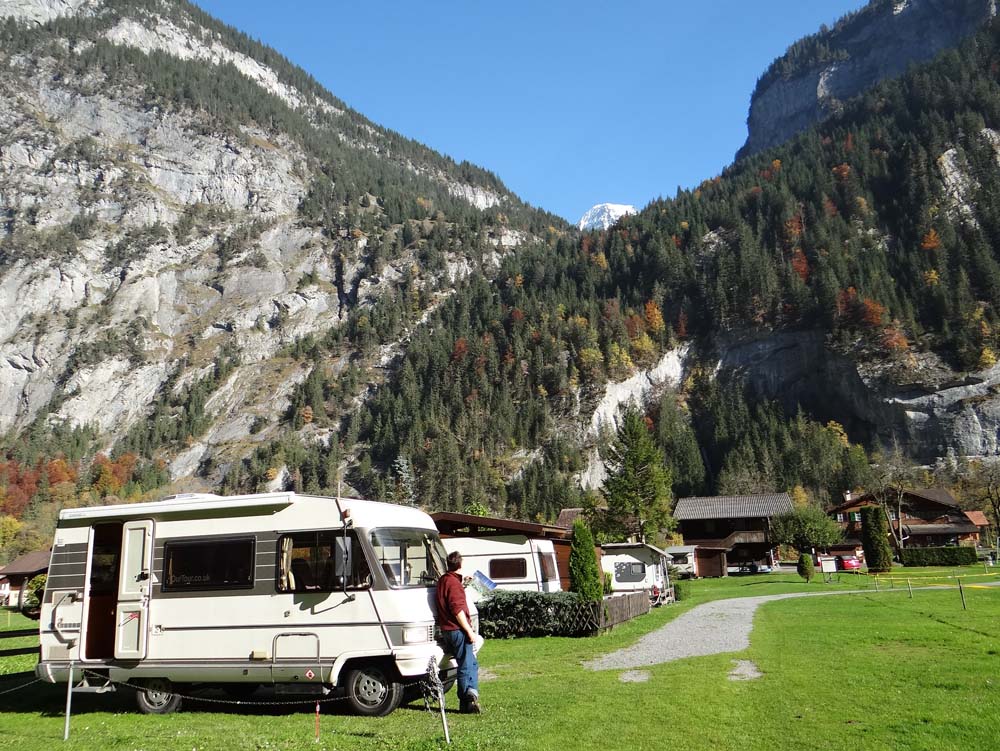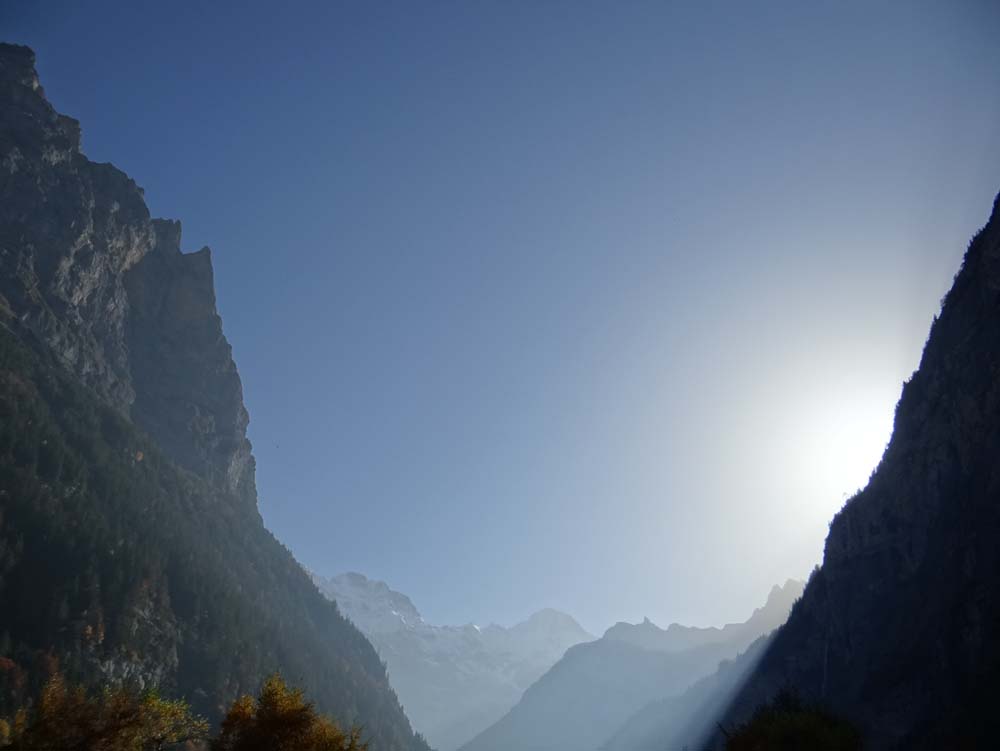 Travelling can, on occasion, be a tiny bit monotonous. Not like the life-sapping monotony of an existence where a fire alarm test at work causes a wave of hysterical chatter, or the what-on-earth-am-I-doing feeling of being sat in hours of traffic working a 60 hour week for, well, you know. Nah, more like a mild 'ah, another castle' kind of thing.
The past few days have been quite the opposite, a literal and figurative roller-coaster of fascination, fear and plain-old staring in wonder. We had a small problem with Switzerland, aside from its fierce reputation for being over-priced. We were jointly afraid of the weather, and our 3.1 tonne, 180,000 Km, 20 year old motorhome's ability to cope with it and the mountain passes. My own driving ability was of course a questionable parameter in this whole equation. Meeting Joseph was a revelation, a Swiss who (a) had the appearance of a rugged adventurer and (b) was a rugged adventurer. I could have listened to his stories of working as an Arctic and Antarctic guide for weeks. Of course, his view of how tough the Swiss passes are to drive was a little different to my own! I'm manning up though, slowly. One day I may even buy snow chains…
The sun set early last night, dipping behind the glacier in such a way that walking back and forth a few meters provided the experience of a many sunrises and sunsets in a few minutes. A slight chilled gripped us, stood outside, but our temperature gauge stayed calm, only getting down to 6 degrees C late in the evening. With Dave parked up alone, his broad windscreen pointing down the valley, we sat with our feet on his weirdly-carpeted dashboard and watched the shadow creep along towards the pass road. The expected zig-zagging of car headlights into the night didn't materialise, reminding us of the 'pass closed at night' sign we spotted on the way up. Neither did the half-expected arrival of an official to turf us out of there materialise. Even after all these months, our deeply-bred English desire to stick to the rules, no matter how pointless, hasn't been displaced, just submerged a little.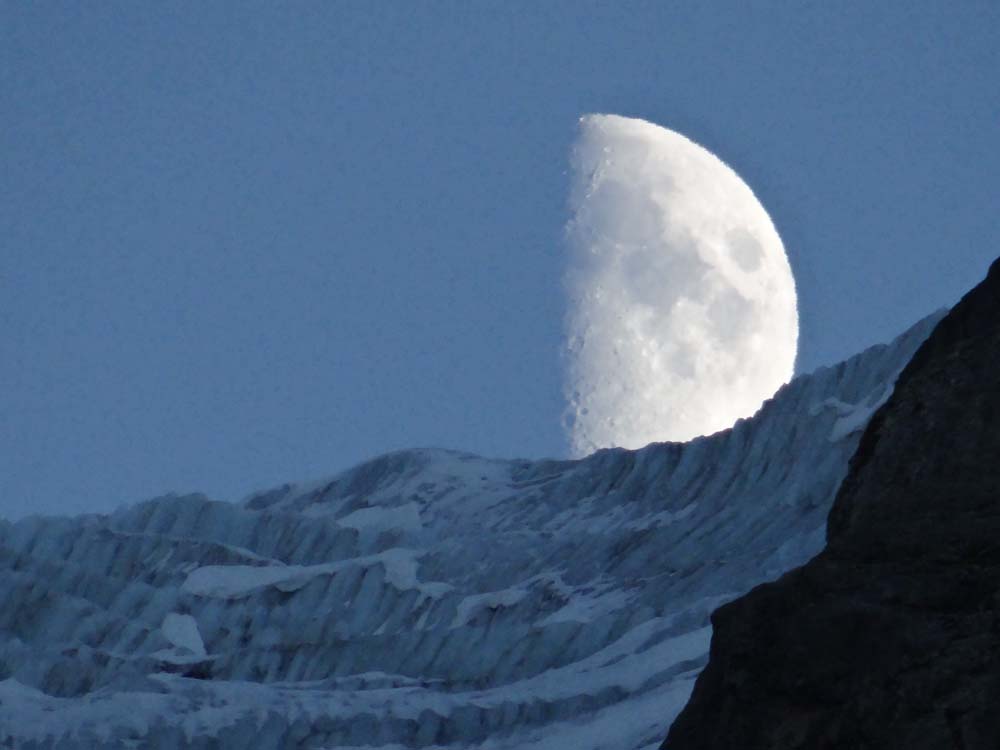 TV no longer features in our lives, but that's a bit of a lie. Our huge hard drive is choc-a-bloc with films and TV programs and we watch them on our laptop when the night rolls in, unless we're lucky enough to meet someone to chat with. Last night's features: a couple of episodes of The Inbetweeners and a full length cheesy 1970's feature film about K2. As the climbers woodenly stumbled about in the snow and ice, we fretted some more. Should by some freak of nature it snow while we were up here, we were trapped. The single track road back to the pass was a few km long, first-gear steep in places and not cleared it if snowed.
Cracking the door open before heading to bed, the scene we sat in was magical. A half moon shone its blue light in the bowl of mountains and onto the glacier above. We couldn't pick out the usual constellations as they were swamped in the light of lesser stars which usually shrank in the background. Unfortunately our skill with the camera isn't anything like good enough to capture what we saw, you own eyes need to be there, but we had a go anyway!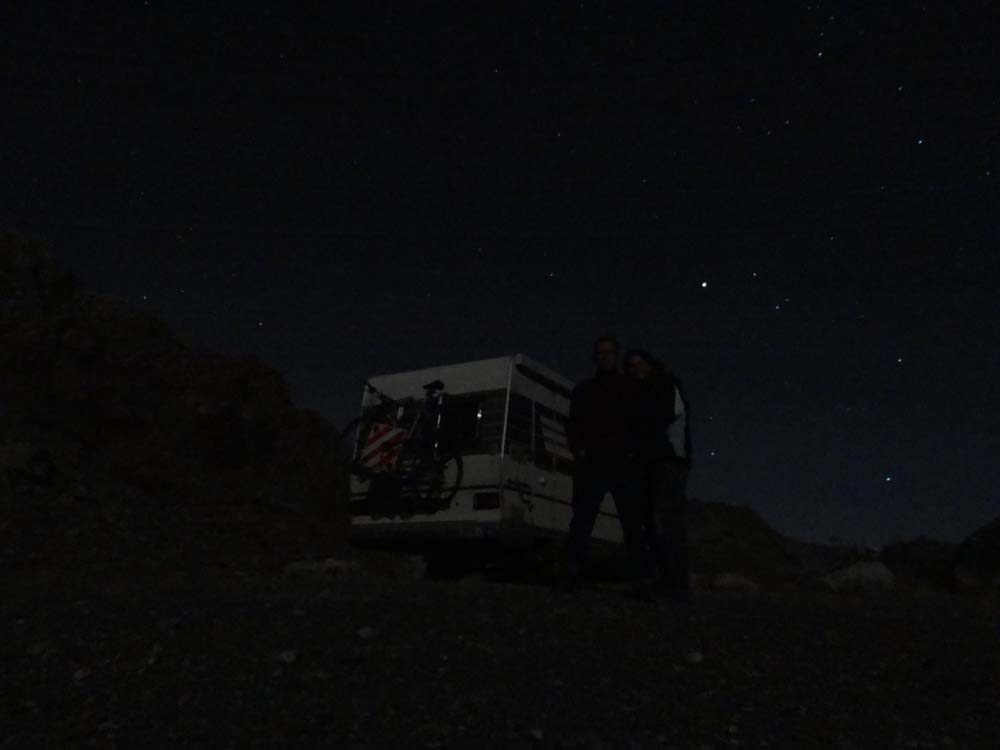 This morning the dreaded white stuff hadn't arrived, the ribbon of tarmac to the freedom of the pass road remained blissfully clear. A Swiss chap oddly parking right next to us had us again twitching the curtains to see if we were about to be fined, but he grabbed his gear and headed off up a stony path straight up the mountain. Once we'd eaten a quick breakfast we were out, trying to absorb as much of the atmosphere around us as we could. Once again we failed. Some places in the world are just too dramatic to be able to take in.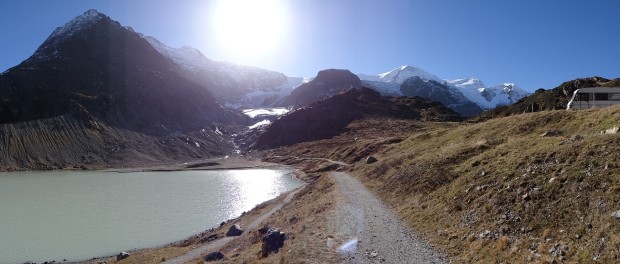 For the next few hours we gradually made our way down the valley, pulling in and walking up the mountain paths and along the edge of milky Alpine lakes, struggling to tear ourselves away. At one point we spotted some odd-looking plastic shapes in wood and metal edged holes. Picking one up, we realised it was torso-shaped and splattered with bullet holes. The Swiss Army, it would seem, like to come here too.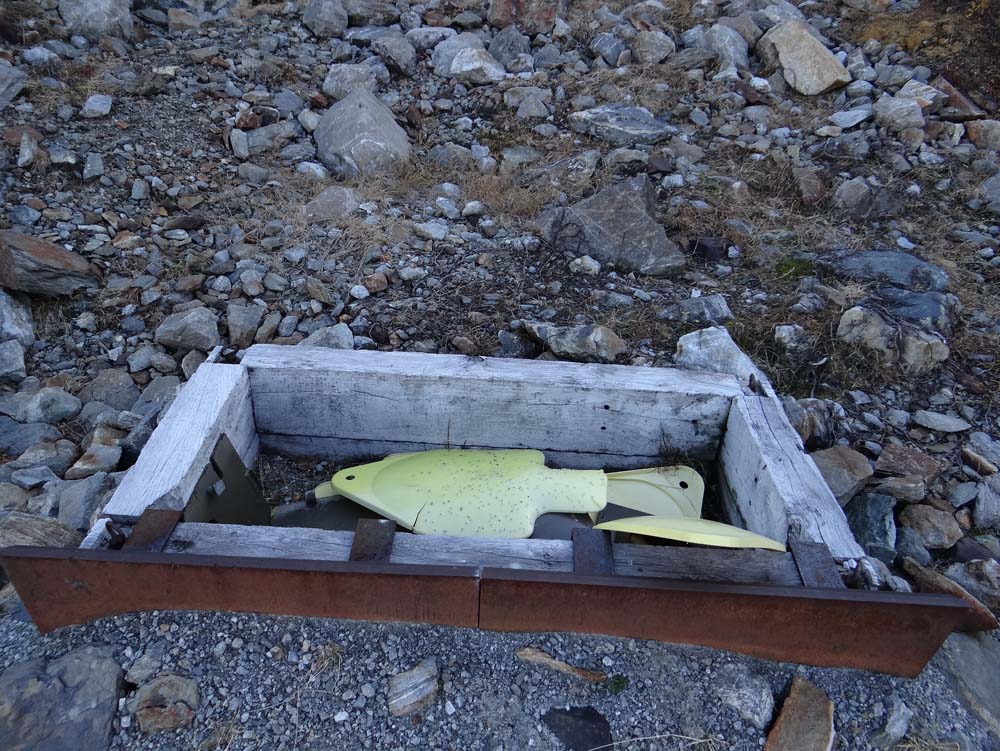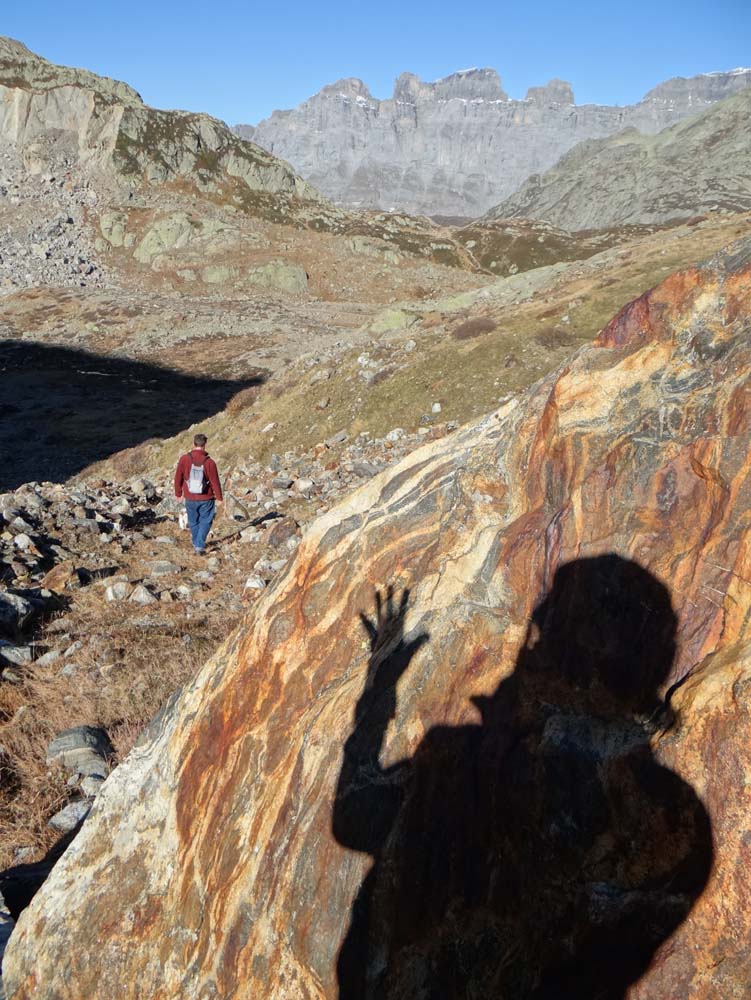 Once we'd finally escaped the clutches of the Stein, we headed along the track and back onto the main pass road, spotting the fact the 5CHF ticket machine at the entrance was no longer there! Being pretty much still at the top of the 2264m Susten Pass, we had a way to go to get down. Dave's 3rd gear took the brunt of it again, engine braking us through miles of gorges, rough-hewn stone tunnels and switch backs. His brakes failed to belch out smoke as they did on a far lesser drag in Austria; we think they must have just been very tired by that point in the trip!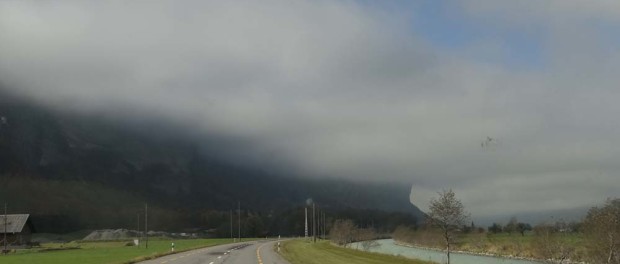 As you can see above, low cloud bubbled up from the lakes as we found Interlaken, hiding the hoped-for dramatic high mountain views. We made up for them by taking our first Swiss supermarket shop; exciting stuff as we headed in Aldi Suisse. Petra had suggested Denner as an alternative low cost shopping chain but we just happened to be passing Aldi. The shop looked the same as the other's we've seen across Europe, but the numbers attached to things seemed that much higher; maybe as my brain now works in Euros and I've not managed to get the hang of the Swiss Franc to Euro exchange rate yet.
Stocked up we pointed Dave at Interlaken, where we stayed just long enough to get some info on campsites to the south, higher up and above the clouds. Interlaken looked a pleasant enough spot, full of life even in October, but it wasn't for us. Expensive hotels, horse-drawn carriages, rent a limo, that type of stuff, which we can't currently afford. A small army of far-East folks wandered the place, photographing what appeared the banal in the same way we frantically clicked away at the glacier.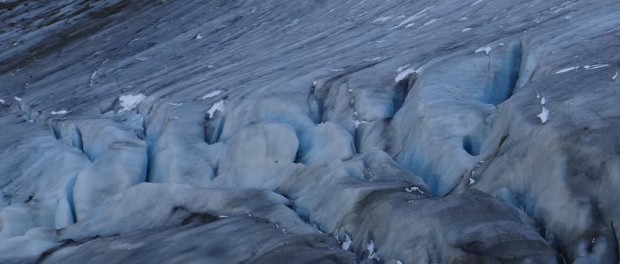 Half an hour later we arrived up here and Ju's currently doing battle with the campsite washing and drying machines. Chances are Dave's about to fill up with half damp clothing again, better stop typing this and help out.
Cheers! Jay