While we were out on the road, we watched a film, A Map for Saturday. It's an independent film, put together by a young fella-me-lad on his gap year, hostelling it around the World, filming the folks he bumped into and chilled out with on the way (as well as the film, he blogged as he went). It was a far cry from our 40-something campervan wanderings, but closely matched our experience of days blending: every day is a Saturday when you're travelling long term. There's no 'thank god' Friday Feeling, and no 'oh shit' Sunday Night Feeling either. Most of the time we had no idea what day it was, nor did we care. The sun rose, we drove, we felt the warmth of freedom and didn't care a hoot for anything much but staying alive and safe, and finding filthy cheap beer.
Today is Friday, and I left the offices of my old, and new employer. I'm on a temporary (3 months) contract with a multi-national energy provider. It is Corporate in there, as Corporate as it gets. As I left this evening, driving out of the car park in our Smart Car and annoying the hell out of everyone creeping over the speed bumps from the business estate, I felt the old sensation of relaxation creeping over me. That Friday Feeling.
Being back at the company I worked at for 8 years before we left on our tour, I know a few folks. Seeing them again is great. Some have moved on, one chap's managing people in Algeria, Norway and Moscow, wow. Other guys have stayed put, doing the same job they did years ago, sat in the same desks. They all seem pretty relaxed, pretty comfortable and happy with their lots, all in all. Most ask what time was like on the road. It's a difficult question to answer, I could talk about it for hours, but really most folks want a snippet, so I tell them 'it was awesome'. Some ask what the highlight was. This is again a tough one. Meeting new friends? Driving into the desert for the first time? Parked high on Vesuvius or Etna overlooking the lights of tiny cities below? Bouncing from pristine beach to beach in Greece? Finding a safe and welcoming place to sleep in Ukraine? The list just goes on and on, there are literally hundreds of things I could mention, but for me the highlight was simply the sensation of freedom, of doing what the hell we pleased when we pleased, of answering to no-one, of being able to create and solve our own problems. I'm not sure how many people get this though, or would prefer not to get it, so I just pick one of the simpler-to-describe moments.
In case you're wondering about taking a mid-life break from the old rat race, you might be wondering what it'll be like going from this: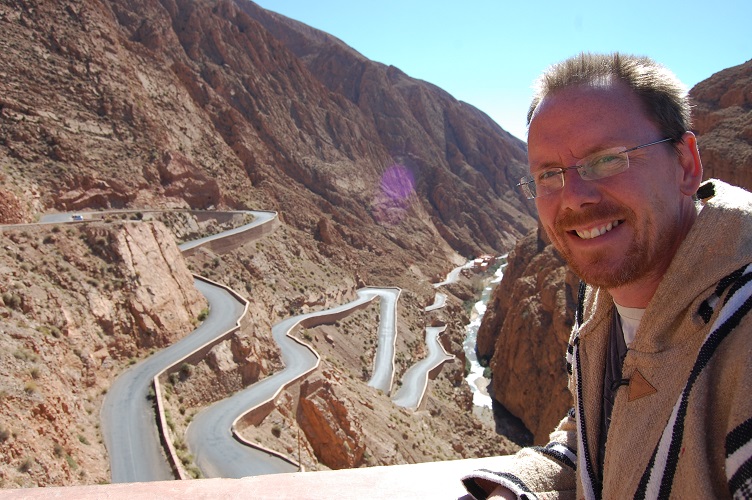 to this…
I have to tell you it isn't easy, not for me anyway. For one thing I had to buy new shoes, and my trousers are that bit tighter. On a deeper note, once you've sussed that you can cut the cords which keep you bound to a particular life, to a particular place and way of living, the feeling's there in the back of your mind whispering: you could do it again, what's out there? what possibilities? Life's short, do I really want to spend it working for years trying to get a decent pension together, or do I just say stuff it and cut loose in a year or so, as soon as I've got the money again? Of course it's not 'I' for us, but 'we'. Ju's got her own views on the World, and we've our families back here too. It's tough coming back, but that's no reason not to leave in the first place.
Enough of me. Ju's been busy this week punting in job applications, chasing job applications, eBaying more of the stuff we don't need, looking after Charlie, cooking me dinner, cleaning, sorting through thousands of photos and printing off pictures of our adventures, sorting out a few snags with our rental house and making my sarnies for the next day. She's getting up at 7am with me, which I think she's a bit mad to be doing but she wants to, and putting up with me going to bed at 9:30pm (I'm finding it a bit hard to sleep when I know I've got a deadline to be up at the next day!). She's taking my random suggestions such as selling up and moving to Bulgaria in her stride, and generally doing a wonderful job of putting up with me. She's lonely in the house all day on her own. Our parents pop in to see her while I'm out grafting (ahem), but we've been together 24/7/365 for two years, and it's a big change to be apart again.
So, life's pootling on. Brook Silva-Braga (who created A Map for Saturday) seems to have slotted back into life in the USA anyhow (read about him here)!
Cheers, Jay
P.S. Kiri and Steve are keeping us entertained on their blog as they gear up to leave the UK. They've had some significant van challenges to handle too, have a look at their fab video here: