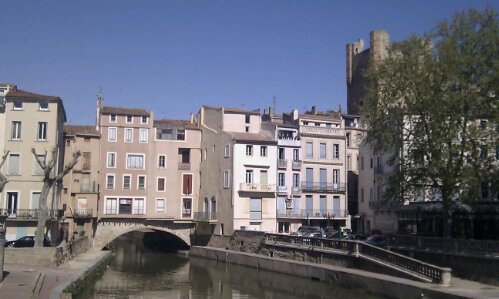 We're still here (for now!): N43.18025 E3.02371
We're now in our free camping spot, under some trees next to a huge barriered car park with barrier currently open. GPS coordinates for reference: N43.17941, E3.01629
The weather is: clear blue skies this morning and a few 'Simpsons' clouds this afternoon (like the ones on the opening credits!)
As we'd paid for 24 hours in the parking, we're using it. So we're still in it at the moment, but have scouted out a side road to move to later on – saving us a further €9 which can go towards Dave repairs.
Anyway, back to today. I love being back in France as breakfast contains wonderful buttery products from the patisserie – or as in our case, a multi pack of pain au chocolate and croissants from Carrefour! Yum.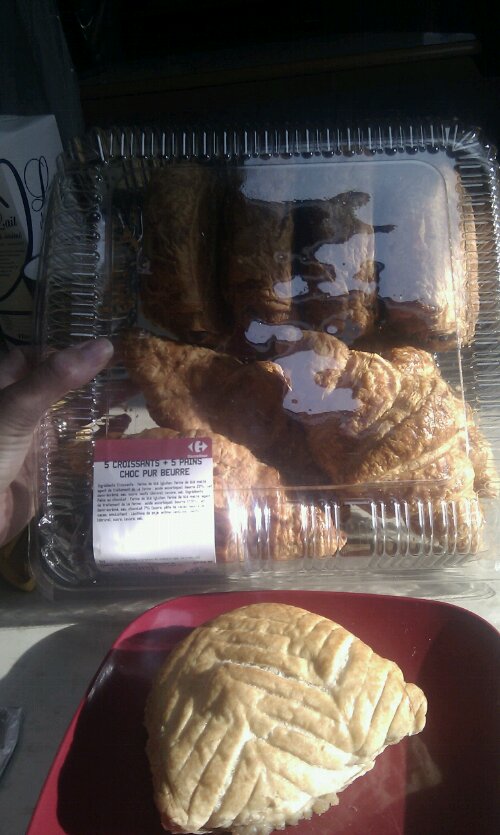 Fueled up we opted to walk into Narbonne rather than catch the free bus from the aire as Charlie fancied a leg stretch instead of some more time in a bag. The city centre was only a couple of kilometres away and the route took us along the canal de la Robin which runs through the town.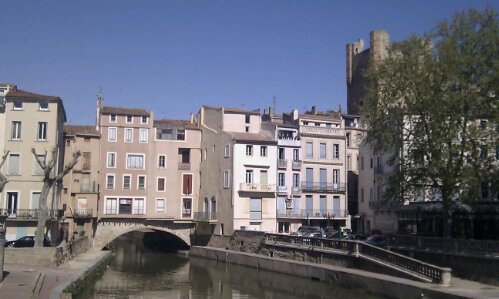 Our first stop was at the Market Hall where we took it in turns to wander around the stalls brimming with mouthwatering food. Big pans cooked up numerous dishes that all smelt fantastic. J got to try a free sample as there was some sort of ceremony taking place in the middle of the market. People were gathered around trying to get an autograph, but as it wasn't Sarkozy, Vanessa Paradis, Gerard Depardieu or Asterisk the cartoon character (the only French people I'd recognise) I can't claim to have a clue what was going on.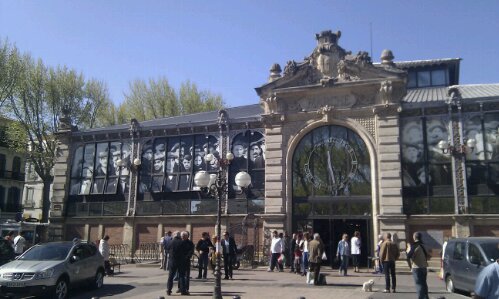 We left hoping to pop back for some lunch, but our hopes were dashed when I was stood at the tourist information counter and the lady pointed out the market on the map, looked at the clock and said 'oh, but it's now closed'. In fact most stuff shut up between 12 and 2 apart from cafes of course! Can you imagine your local high street shutting for lunch for 2 hours on a Saturday? And all the tourist attractions too? Still it meant everywhere was quiet as we wandered around looking at the buildings.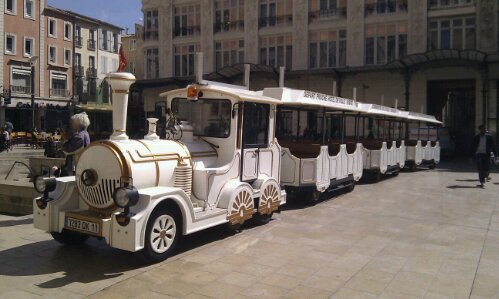 Like so many other cities around the area, Narbonne claims to have been a vital Roman settlement. In fact in the town square there's a section of the Via Domitia which was discovered in 1997 – the roman road connecting Italy to Spain. Although the leaflet claims it's been restored and enhanced, so not really sure what we were looking at, but it does make a nice features.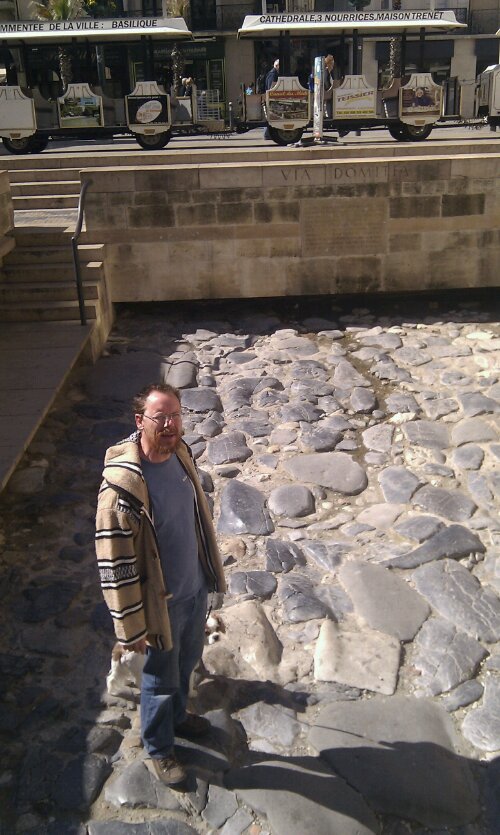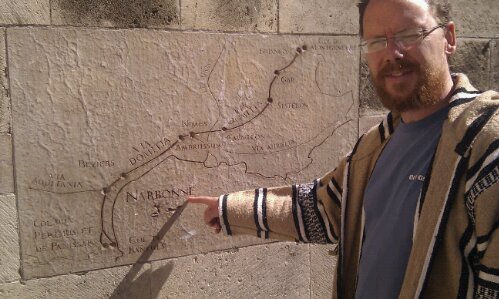 The cathedral boasts the highest gothic choir in the south of France, but the most interesting thing about it for me was that it was unfinished. Work stopped in the 14th Century and despite being started up again a couple of hundred years later, it stopped again for good. So you can stand in what would have been part of it, surrounded by the towering walls, but no end wall or roof!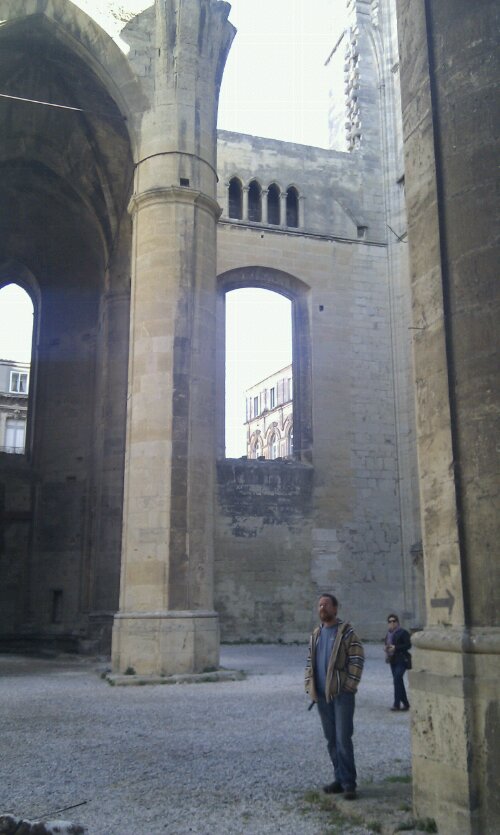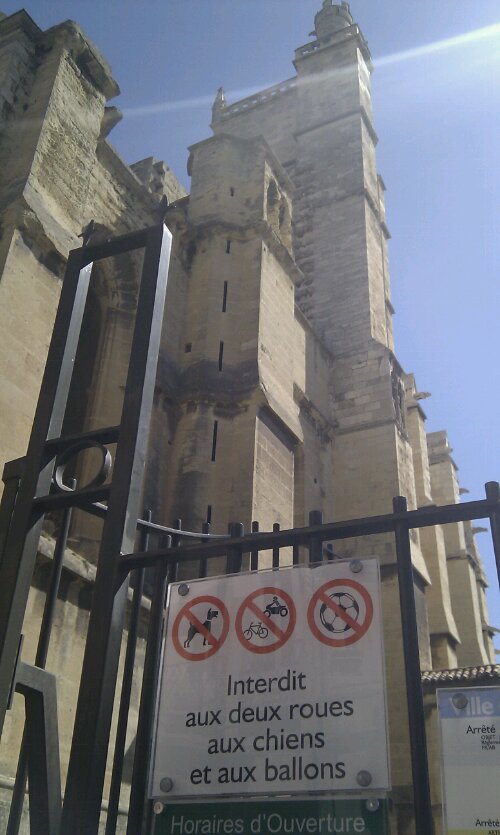 The restaurants were in full swing, pumping out seriously good cooking aromas, so we headed back along the canal to Dave and devoured some of our huge food stash. The cupboards are full to bursting with tasty treats we snapped up yesterday evening. Spanish food was good, especially the tapas, but French food just seems to be in a class of its own.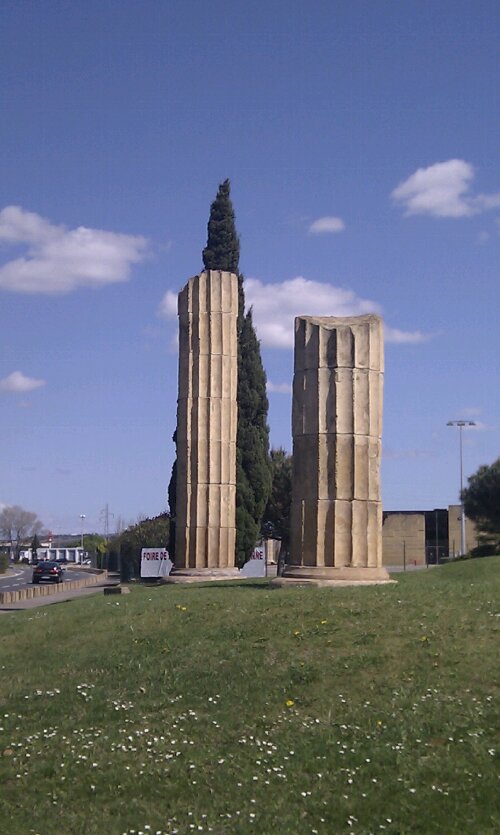 This afternoon J set to work on Dave's air suspension. It's never worked, even for the previous owners, but we hope it might help reduce his clonk a bit. He's fixed the air leak so we can pump it up, just need to find some brackets now to bolt some bits of it together. A trip over to the retail park across the road had what we needed, but not the right size. So, we'll continue our quest over the next few days – any excuse to pop into some shops, even if it is a Mr Bricolage!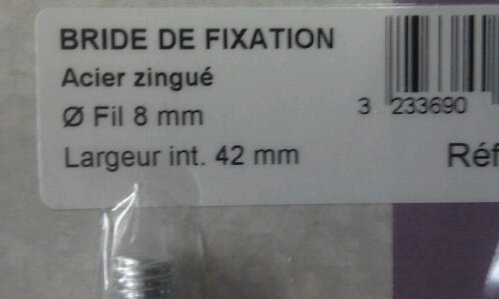 Everything in Dave is charged up, so we'll decamp shortly to the free space we found. Fingers crossed with it being Easter we can either hang out there or by the beach for a couple of days until the garage reopens (Narbonne used to be by the sea, but the estuary silted up so now it's 13km inland!), then we can set a date to empty our piggy bank and sort out the clutch.
Have a great long weekend!
Ju x