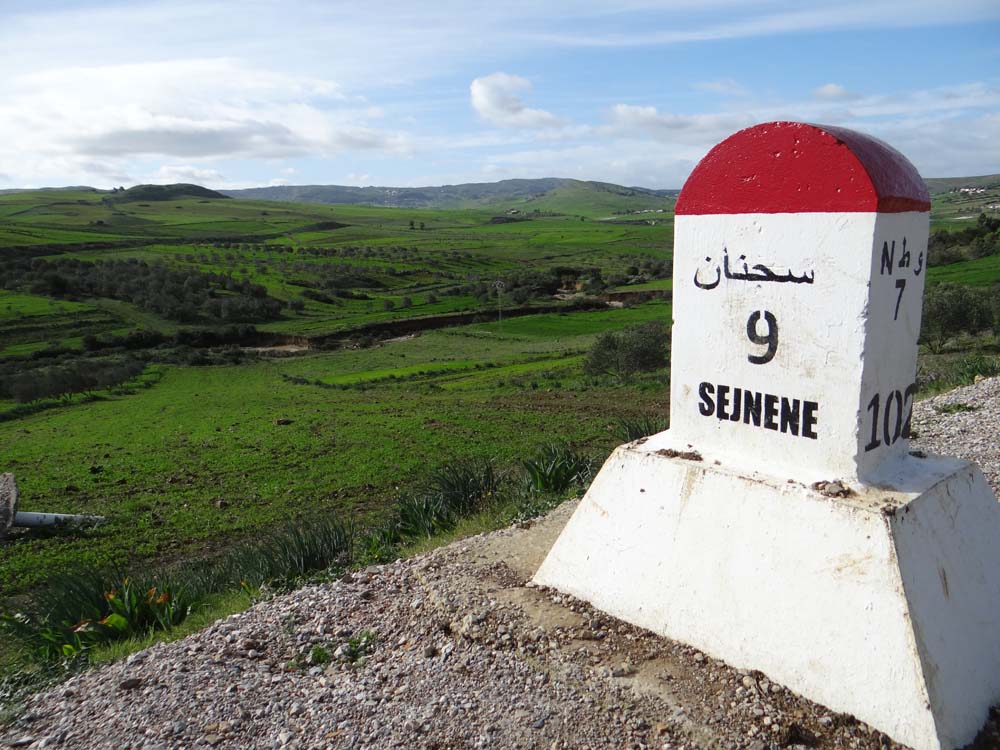 Dave the motorhome is being watched over by the intensely benign police (the sûreté) in the fishing and leisure port of Tabarka (N36.95804 E8.75875), North West Tunisia. The port, a stop-over used by Blue Camel Tours, has been recommended by fabulously helpful folks, and appears in several of the lists of motorhome stopovers we've been sent by loads of kind folks. Cost per night: nowt, they refuse payment.

As Forrest Gump famously said: "Life is like a box o' chocolates, you never know what you gonna get." Last night I lay awake listening to the noise of a hundred nail-gun wielding monkeys on the roof (it rained, big time) and thought to myself 'excellent, that'll keep people off the streets around us'. Tonight, as the lights come on in the port casting yellow pools over the fishing boats, we're in arguably the most secure place we've ever stayed.
Up at 8 this morning. Being in Africa has an odd effect on my body clock, I want to get up and see it. Each day brings something different. Usually a challenge, but never monotony. Maybe you can tell from my use of language that we're far more chilled out today than we were the past few days. A small flood of information followed Ju's pleas for help on places to park up, following our woeful lack of preparation. Our map is now adorned with notes, and we've a plan on how we can move around ensuring we have a back-up option if/when any of them don't pan out.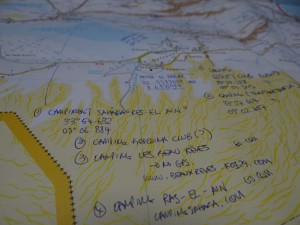 Spying the above map this morning, Tabarka stood out as a place we could be fairly certain of a being able to stay safely. Being the other side of Tunisia, and only a few kilometers from the Algerian border, we were sure of neither (a) how long it might take to get here and (b) whether the border area was safe. Pulling up the Foreign Office web site, all looked clear, and we took off about 9. Driving through the fairly empty streets of Bizerte, it seemed to take forever to leave the suburbs and it finally dawned on us that we'd just done the equivalent of free-camping right in the centre of a European city, something we'd never dare do.
Cruising along at 50 or 60kph, as the last of the blocky unpainted concrete houses fell away, so did some of my unease. I've always preferred the countryside to cities, and we found ourselves flowing along past lakes and into a landscape of rolling, luminescent-green hills. Riding along a near-empty dual carriageway, we passed a few police road blocks, one stopping us and checking out passports, V5 and the green import document we received in the whirlwind customs process. He shook my hand and smiled, pointing up the road, confirming it was the right one for Tabarka. Another distant road block turned out to be a nasty crash, a ubiquitous pick-up truck planted firmly sideways into a lampost. The passenger lay inside, eyes open and still, awaiting help with a small crowd stood around. I remain convinced the most dangerous aspect of our trip is me getting behind the wheel.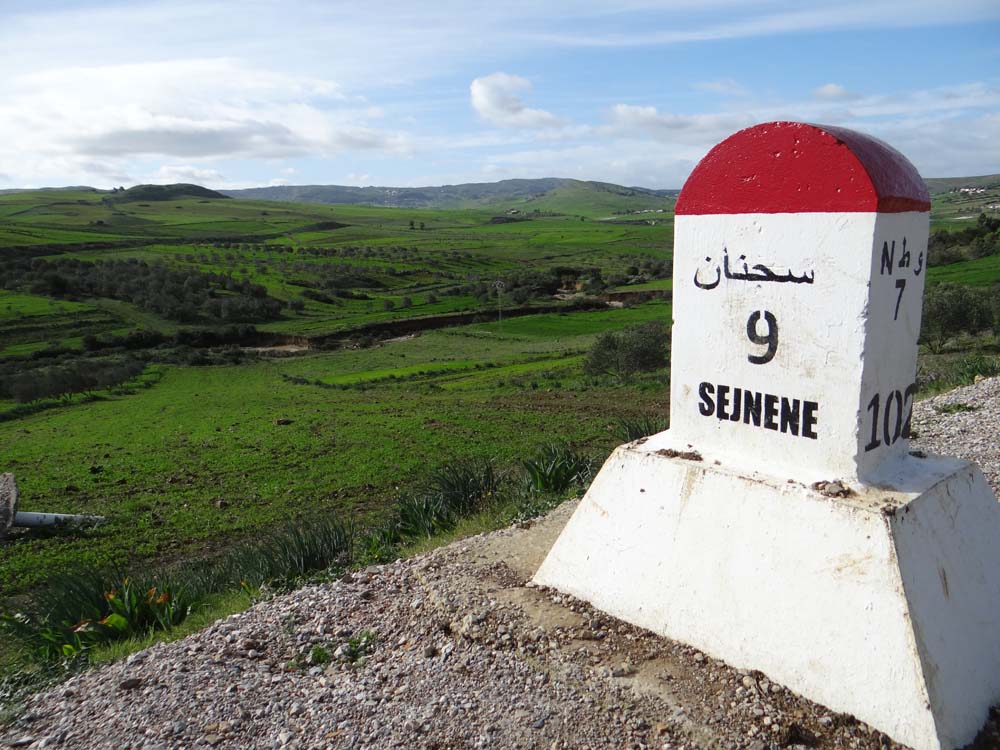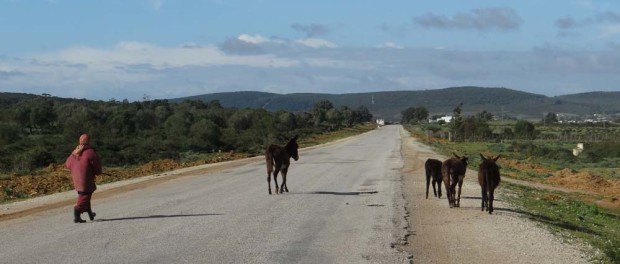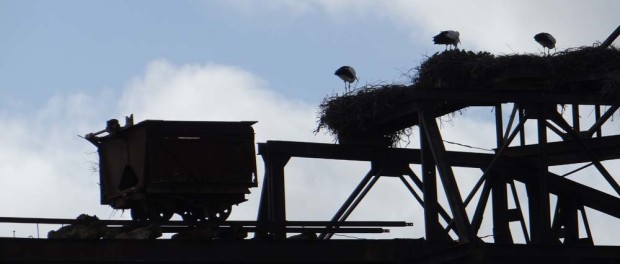 Each small town we came to was announced by a succession of speed bumps, announced only by a shadow on the road. Some tiny little things, all in a row, giving a gentle shake. Others quite fierce head-hitting-roofers, but we spotted 'em all. In complete contrast to Morocco, we could stop Dave just about anywhere and no-one took any notice of us, except for the odd wave and smile. Oh, and one road-side seller who dropped his bag to leg it across a laybye back to his honey-pot stall shouting and waving in excitement at us. We smiled and waved back, no hard feelings, we've loadsa Lidl honey. Near to towns tiny children walk in twos and threes, presumably to school, no adults in sight.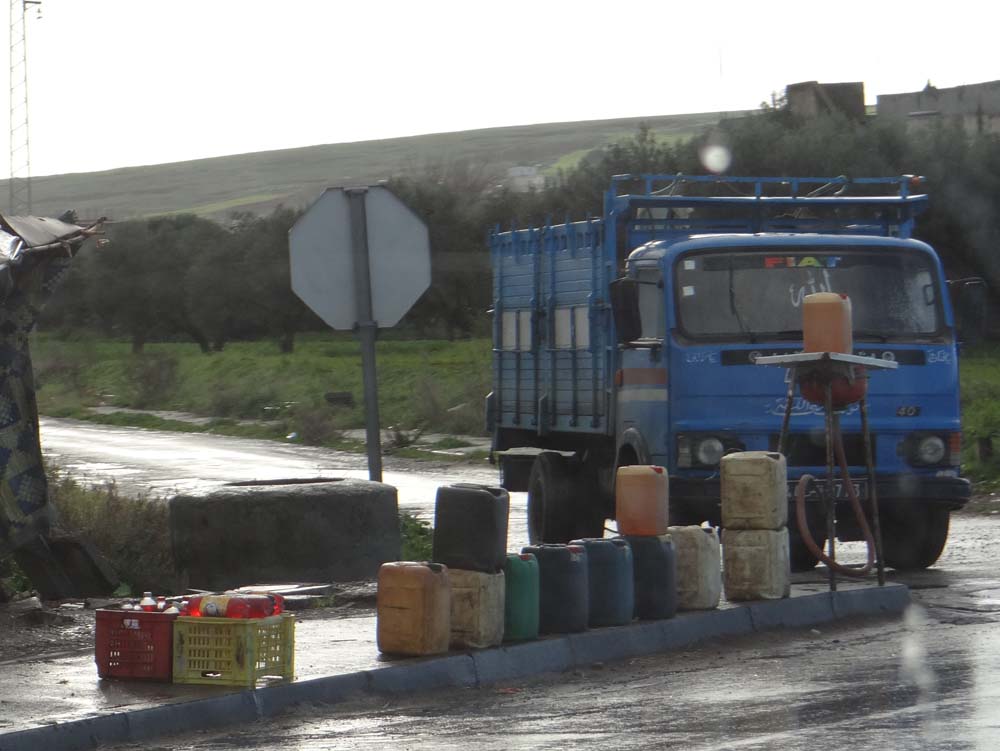 Reaching Nefsa after an hour or two, we slowed the a crawl in the beautiful, flowing treacle of traffic and people which denotes a North African market day. I didn't see much of the market itself, as I devoted full attention to not squashing anyone, nearly failing once. The chap who I'd nearly crushed laughed and waved once he'd squeezed past.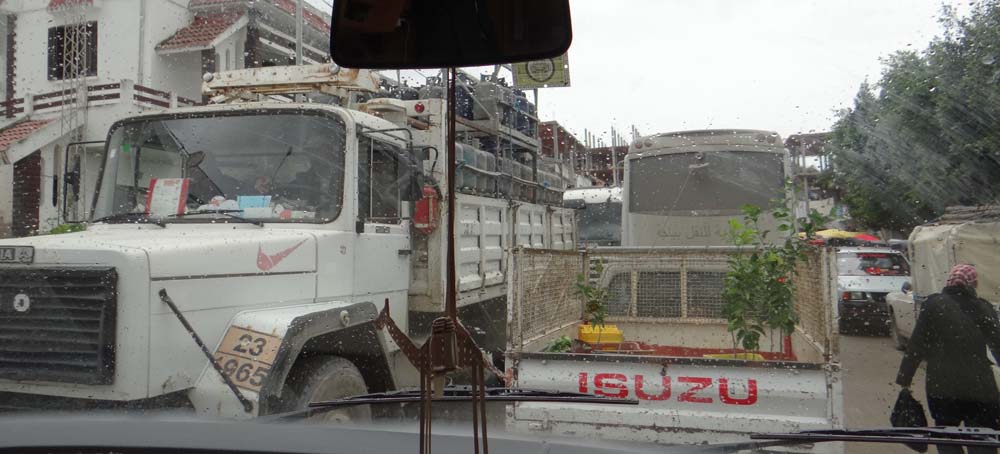 As we slowly closed in on Tabarka, a sign told us of a war cemetry coming up in 150m. We'd no idea it was there, but pulled over to take a look. Ju stayed in Dave as I wandered the place, reading the stones. I found myself squatting beside a headstone, leaning on it, in tears. I consider myself a young man, still full of energy, but all the men I looked upon were younger, many 19 or 20, all 500 of them were killed within a couple of months. It beggars belief, and I vowed to man up, and put my heart and soul into enjoying this country, with the small sacrifices that requires.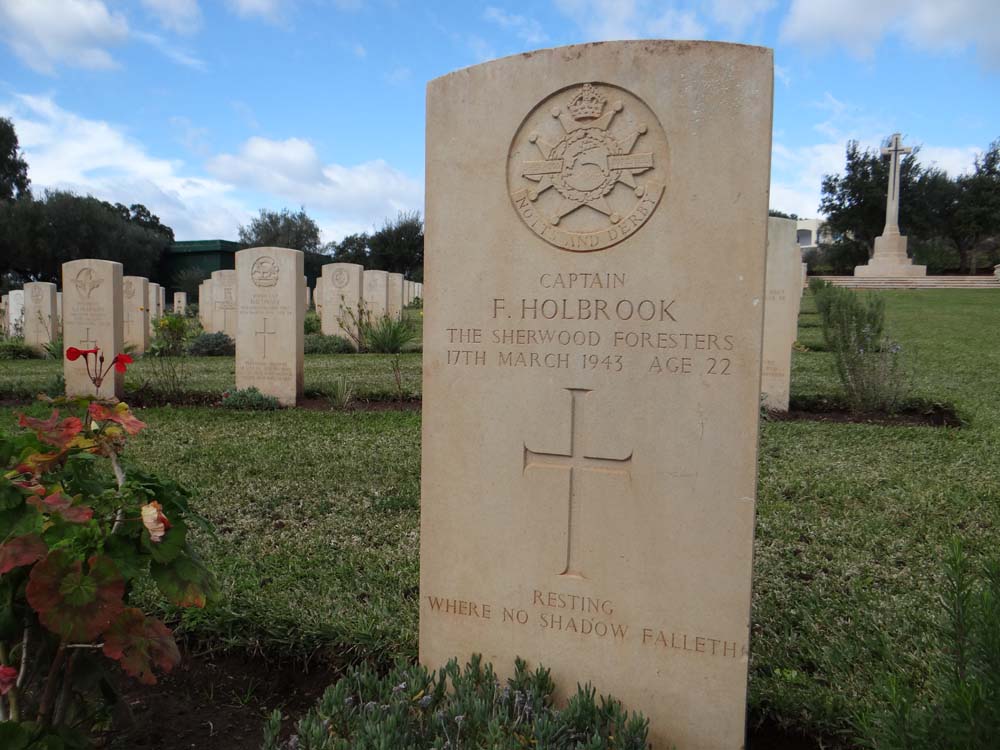 Ju's grandfather was killed in Tunisia, a solider in the Scot's Guards. We are not far from the cemetery  and will be there tomorrow or the day afterwards. Both of us sat in Dave outside this site and cried. The additional personal impact of visiting the next cemetery will be tough to deal with.
Dropping down slowly from the hills to the port of Tabarka, the road led us past some rambling suburbs, described as 'something of a slum', and into the small town itself. A giant saxophone at the side of the road, and then a roundabout with a huge cello had us wondering, turns out they hold music events here in summer. Ju's GPS-less navigation skills are fully functioning and we drove straight up outside the port entrance. Just inside I spotted the blue sign of the local police and walked in. Using my best/rubbish French I explained we have a camping-car, could we stay? Sure, anywhere over there. The uniform-less man who appeared to be the boss stood up, shook my hand, and walked to the door to point out the place to park, and where there's a cafe in the port. I asked him the cost. It's free.
Dave rolled in under the archway, reversed into place and we headed out with Charlie for a look around. Behind us there's an old Genoese castle looking over the town. These guys made their living as intermediaries to get captured folks released from slavery in Tunis. Tables turned at some point and they were all captured themselves, becoming slaves in the process.
Charlie legged it about on the beach, grabbing a flat piece of wood which he characteristically refused to drop as we walked around the town, drawing laughs and coos from people in cars and in the street. As always, we smile, and encourage nippers to stroke him, some do, others hide behind their mothers. Outside the town a man with a dog on a lead (another unknown in Morocco) takes a huge shine to Charlie, asking me to hold his increasingly-jealous pooch as he strokes Charlie, singing 'Charlie' over and over.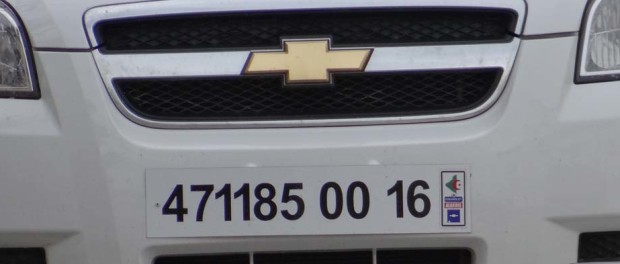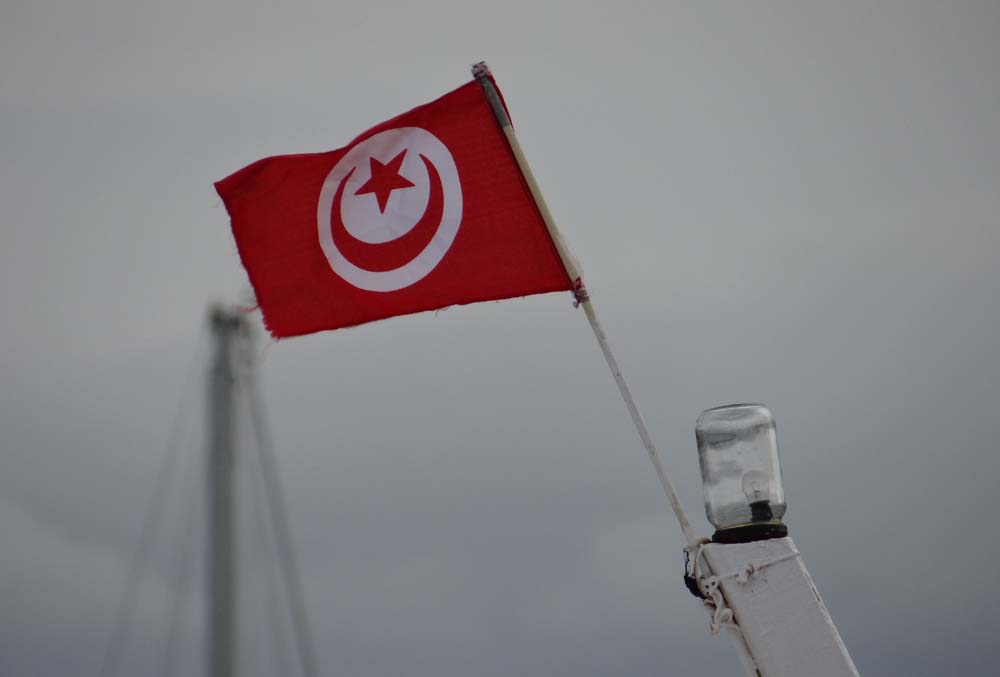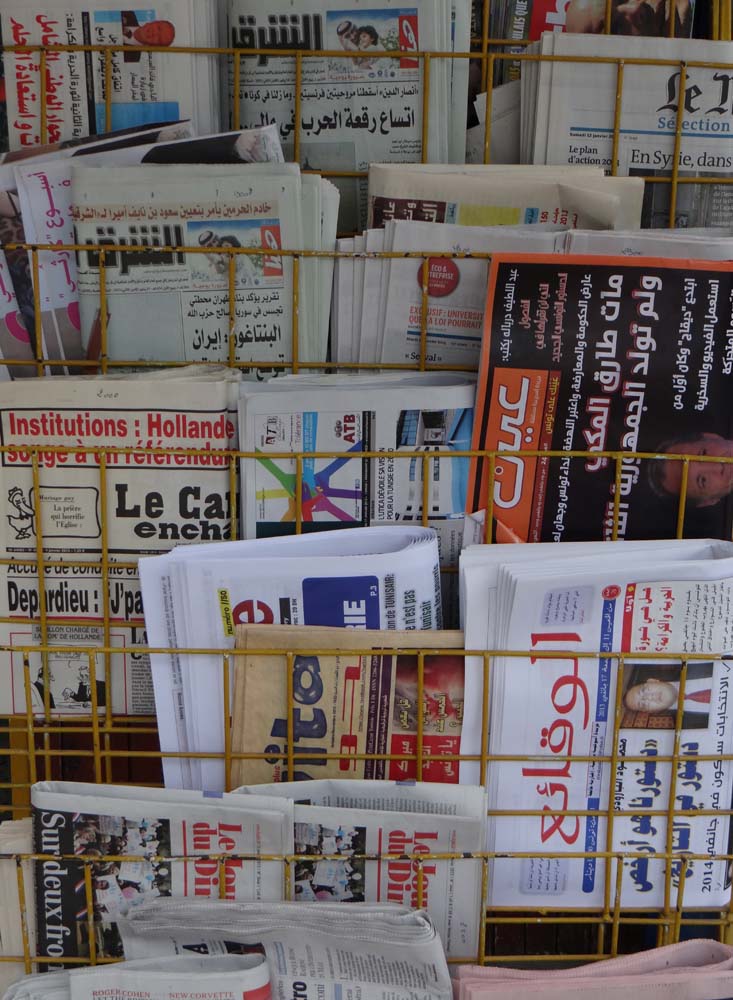 Retreating into Dave still feels a relief, but far less of one than yesterday. After a while one of the policemen walked over to us. Opening the door before he got to us, he explained he needed to fill in the paperwork  -the usual stuff. Inviting him in, he turned out to be the most gentle, interested of people. Slowly speaking to us in French, trying again when we got lost, he told us that we were very welcome here. Anything you need, anything, come and see us. He took our details, and asked after our plans. Perhaps half an hour later he reluctantly left, having exhausted conversation about his hometown in the mountains behind us, viable routes across this part of the country, how Tunisia wants to move forwards after the revolution, and his holiday on the Isle of Jerba.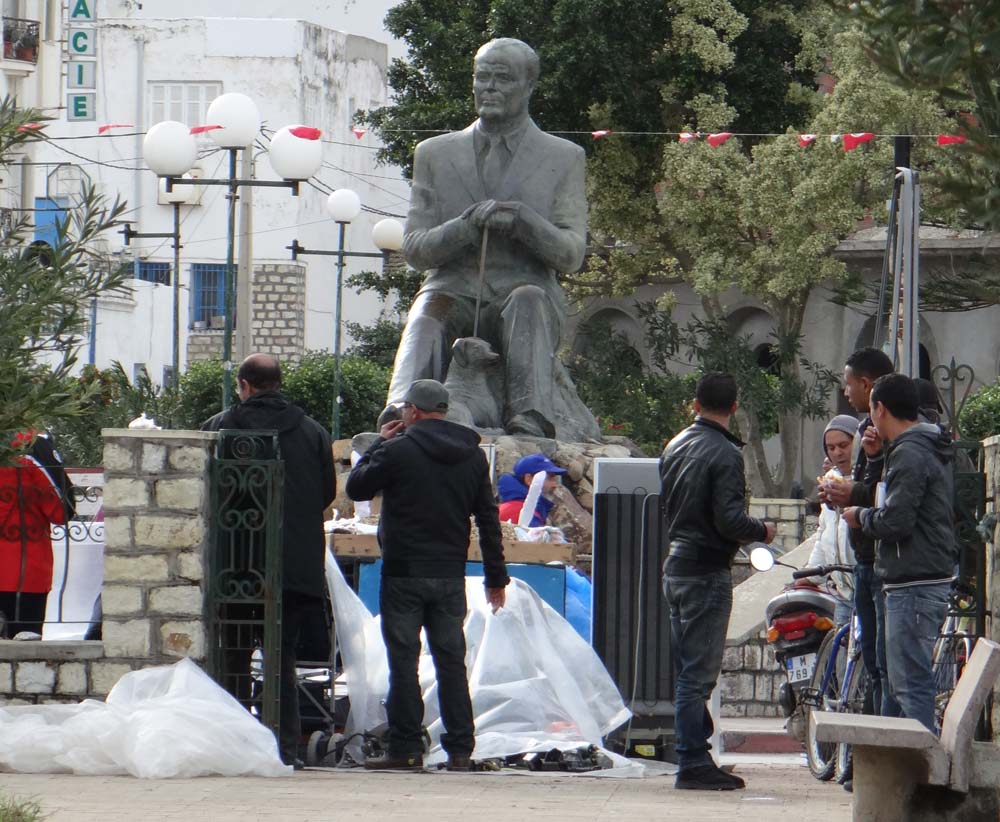 The day's drawing to an end. It's been an ordinary day in North Africa, which means extra-ordinary by my normal standards. That's why I find this demanding continent so intriguing.
Jay