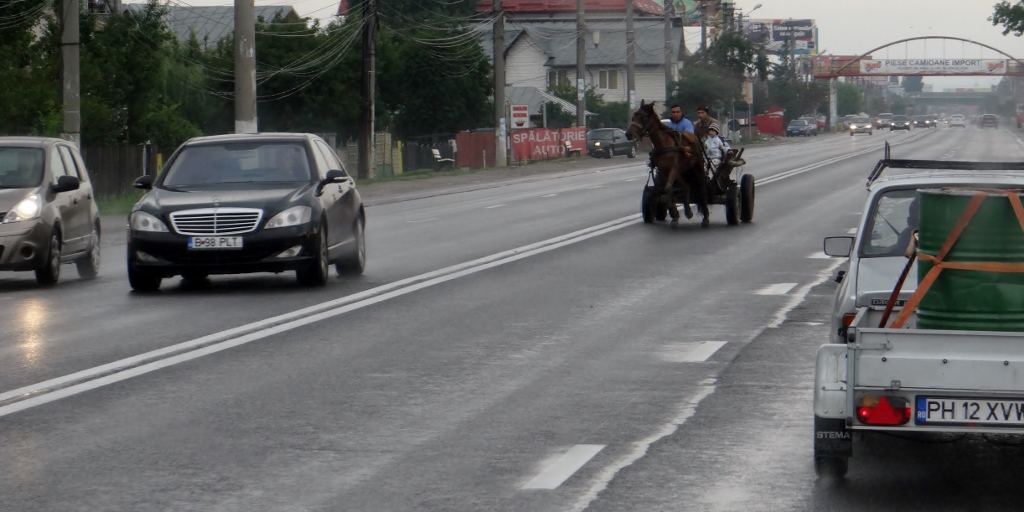 Dave the motorhome is sheltering under a tree, but not from the sun this time – it's the rain he's sought cover from. The temperature inside him is 23ºC, more than 10ºC lower than it was yesterday in Bucharest, as he sits by a mountain stream in the lower car park of Peleș Castle in Sinaia (N45.35681 E25.55165).
Last night after Skyping Jay's parents we surfed the internet until gone midnight, making use of the campsite wifi as we don't know when we'll have an unlimited connection again. We dug out some Romanian campsites for emergency back up, as hope to be able to free camp (or at least sleep in car parks that we've paid to stop in during the day) across most of the country. The thunder and lightning started around 11pm with intermittent rain throughout the night, it didn't bother us – after our full-on day our touring Bucharest we slept like logs.
This morning Jay took Charlie for a walk to scout out the black water emptying point (the 'turd pipe' as we call it), as he wandered around the campsite he counted over 20 motorhomes tucked in behind chalets and in the woods – yet the place still seemed very empty. The piping hot showers, which you couldn't seem to add cold water to, were welcome in the chill of the rain, and once Dave was emptied and filled of various types of water I wandered over to pay. When we arrived the young fella at reception simply pointed to a price 80 Lei on a price list, I didn't think to ask if that was per person or per camper. It turned out to be per camper – making us very happy bunnies (so the site's about £16 a day). Today's reception chap (the one Jay had a run in with yesterday about the campsite dog) was as nice as pie and gave us directions for Brasov without even asking where we were going next – it must be everyone's next stopping point.
As we were heading north thankfully we didn't need to go anywhere near the centre of Bucharest again.  Soon we were out of Bucharest's grasp and making good progress along the A1 – the main road north. It was two lanes most of the way and we spotted several signs showing date and time restrictions for anything over 3.5t – making us glad Dave is light on his feet. The rain continued as we drove, but Dave's new front tyres and Jay's driving skills kept us on track despite several huge puddles taking up most of our lane (the photo below's for 7.5 tonnes, but there were also 3.5 tonne ones).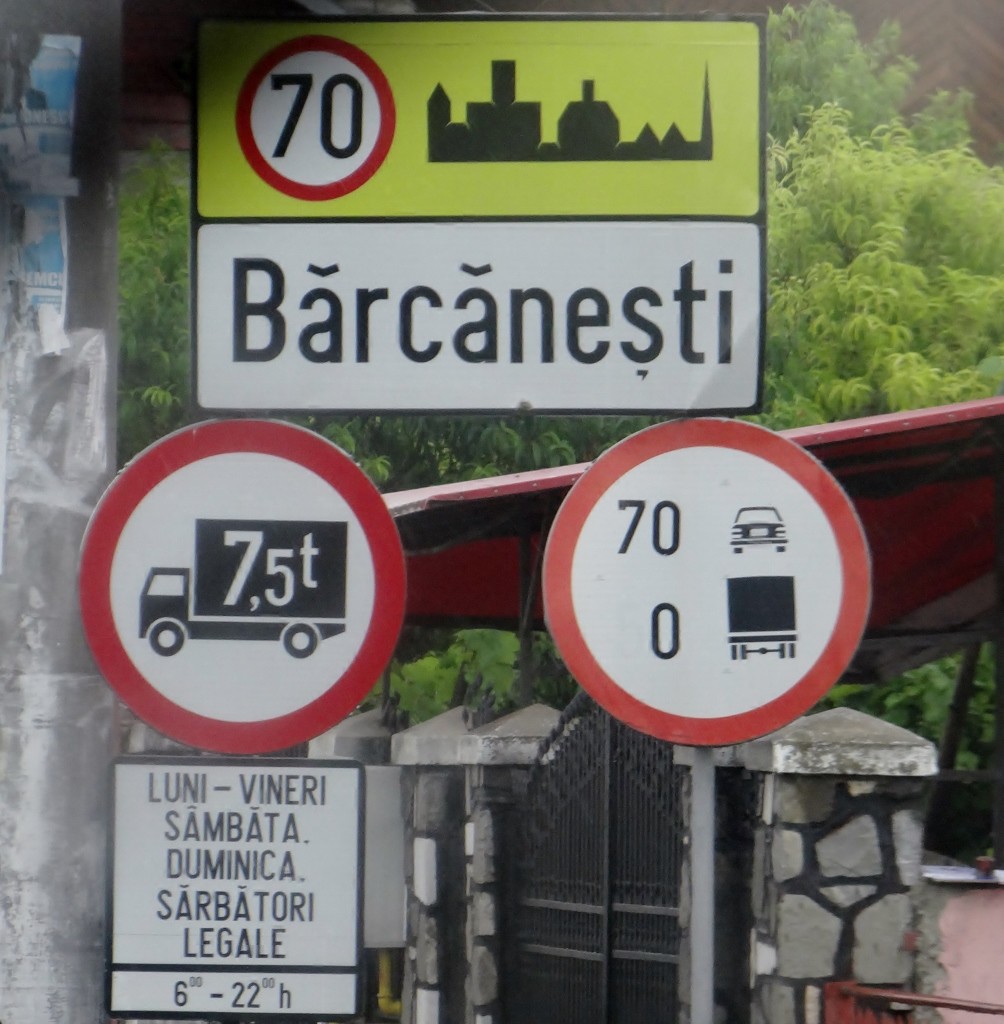 We by-passed Ploiesti, so didn't see anything of the town other than several low high-rise apartment blocks, however I did steam up the window looking at the huge Carrefour and Decathlon as we sped past (a wise move as Dave's cupboards are still groaning). Reaching Sinaia we were unsure as to where the castle was – satnav had once again decided that Romania has no roads, so refused to navigate us anywhere other than back onto the Bucharest ring road. (Sorry for the load of pics, but everything is still new and interesting to us here!)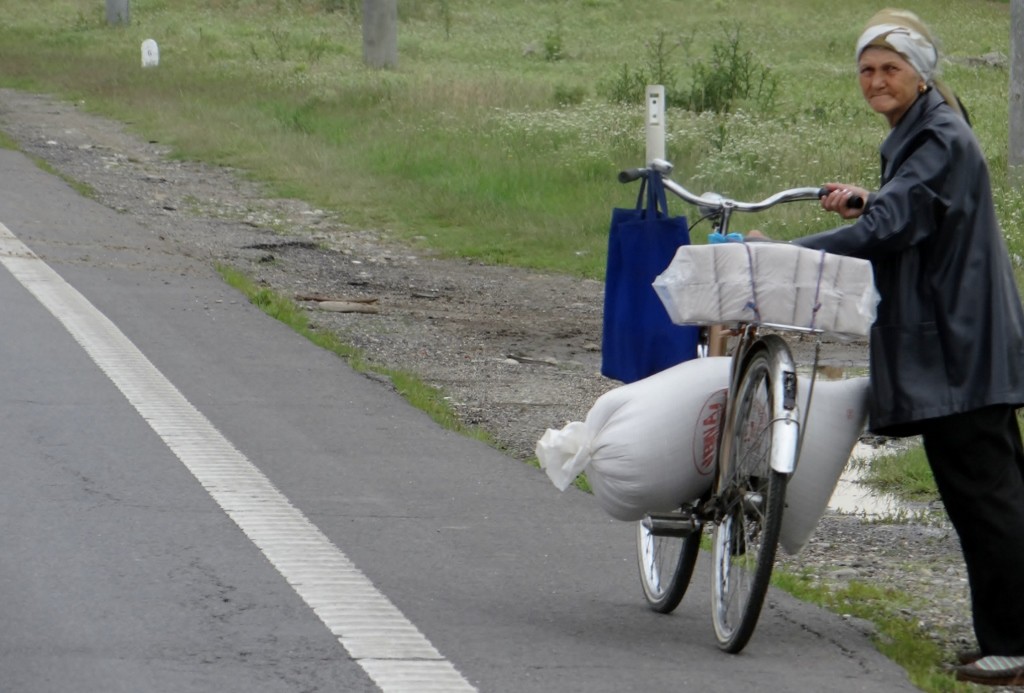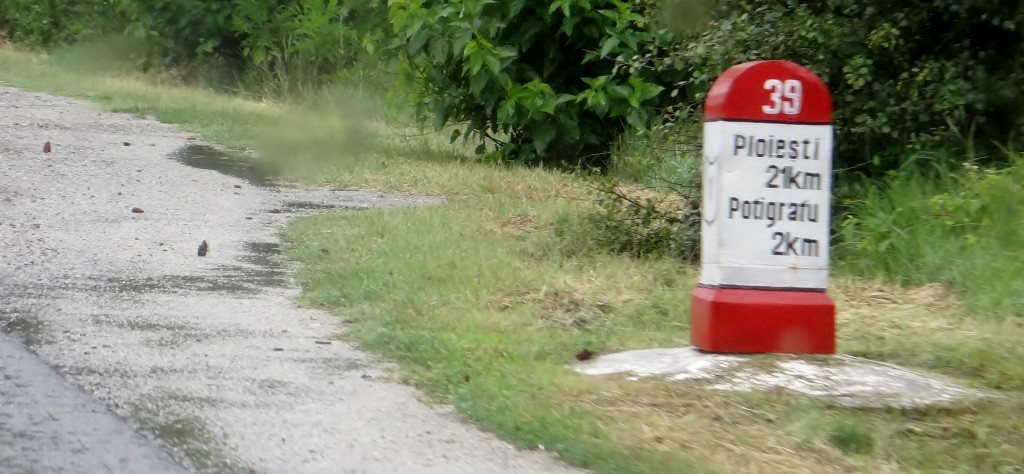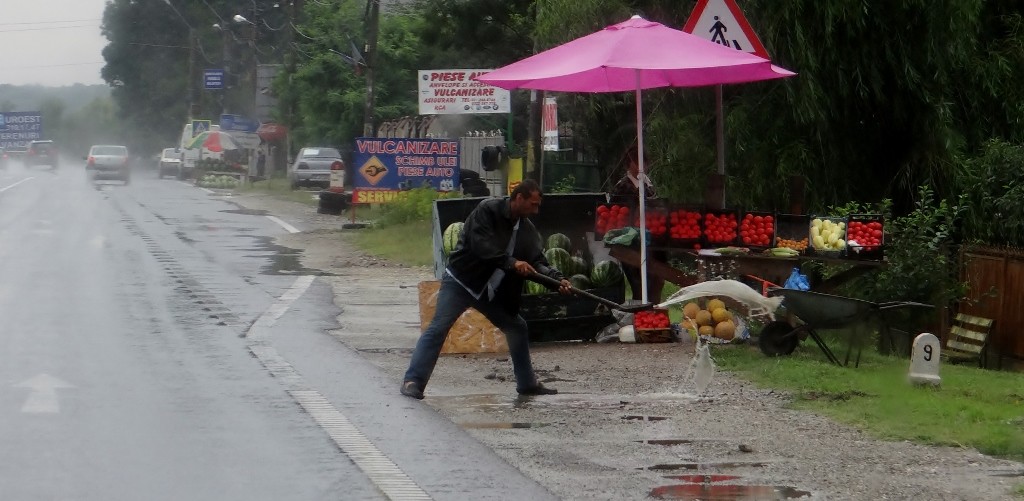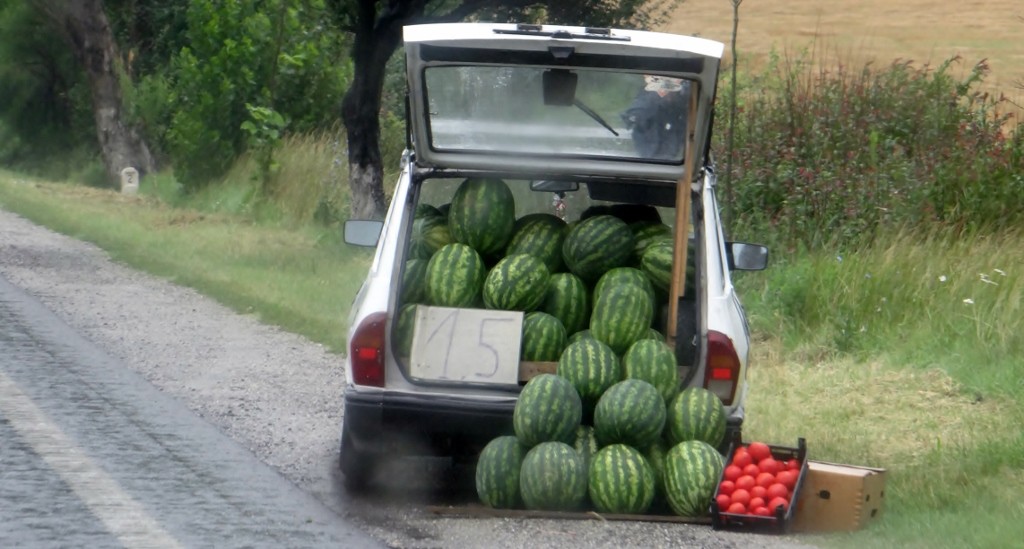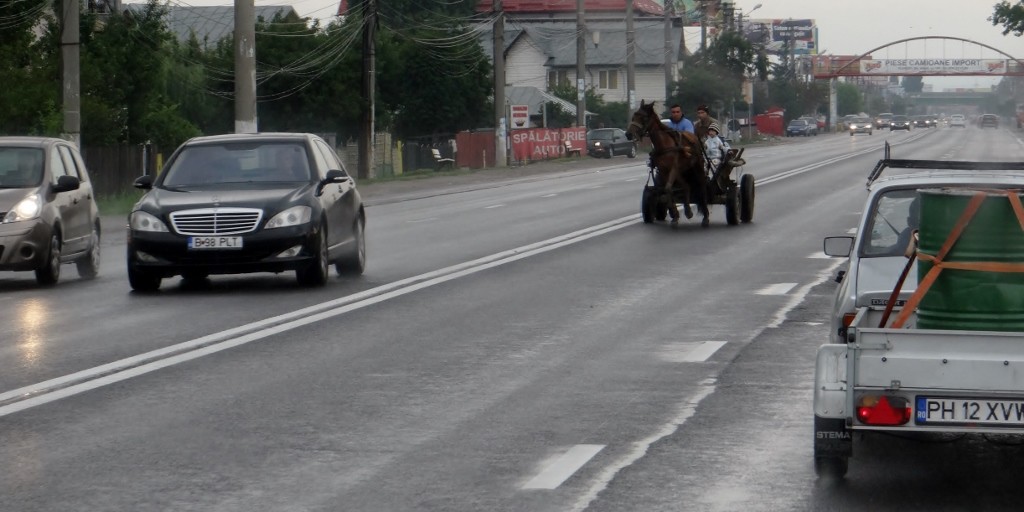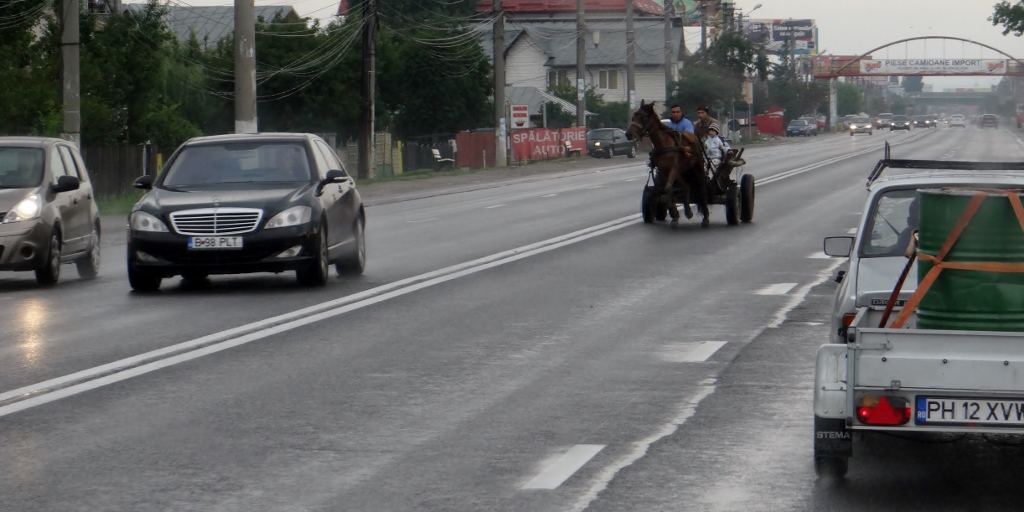 Fearing we had way overshot the mark we pulled in at the train station prompting a guy to wander towards us, eyeing up Dave cautiously, with a ticket machine in his hand (he was probably wondering what category to charge us – car, minibus, coach?). Jay headed him off asking for directions to the castle and after an overshoot and u-turn in a petrol station (where someone was having their car jump-started next to the pump, using jump leads, which is surely more dangerous than being on your mobile!) we found the place.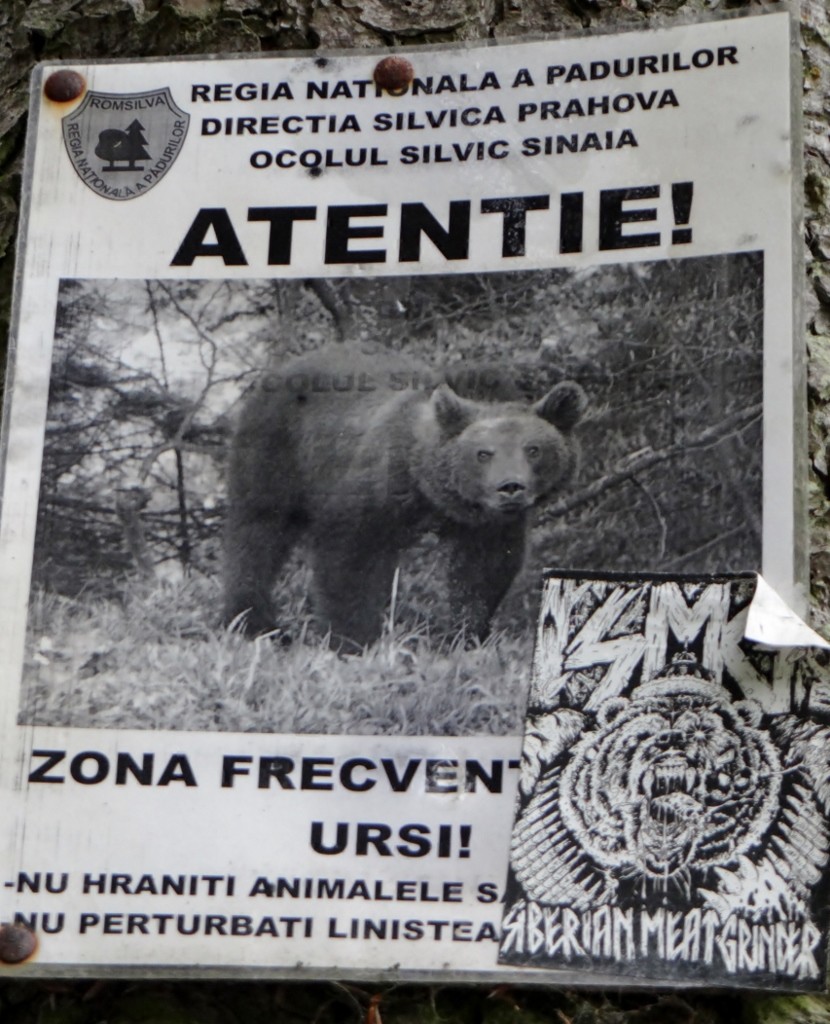 The parking attendant didn't really understand when we asked if we could sleep in the car park, but he was almost apologetic that it was 20 Lei (£4) to park Dave (as he was deemed to be minibus price). We drove up the cobbled lane, thankful that the rain had stopped, and pulled into the first car park. The place was busy – we had to remind ourselves that it's a weekend and in June -supposedly summer, still the rain had stopped by now. Leaving Charlie in Dave we headed up to the castle, dodging the Romany folks selling flowers, raspberries and boomerangs; the first old lady we passed had the best technique, crossing herself and mumbling while gesticulating her throat being cut. The others were young and lacklustre after we made it past her.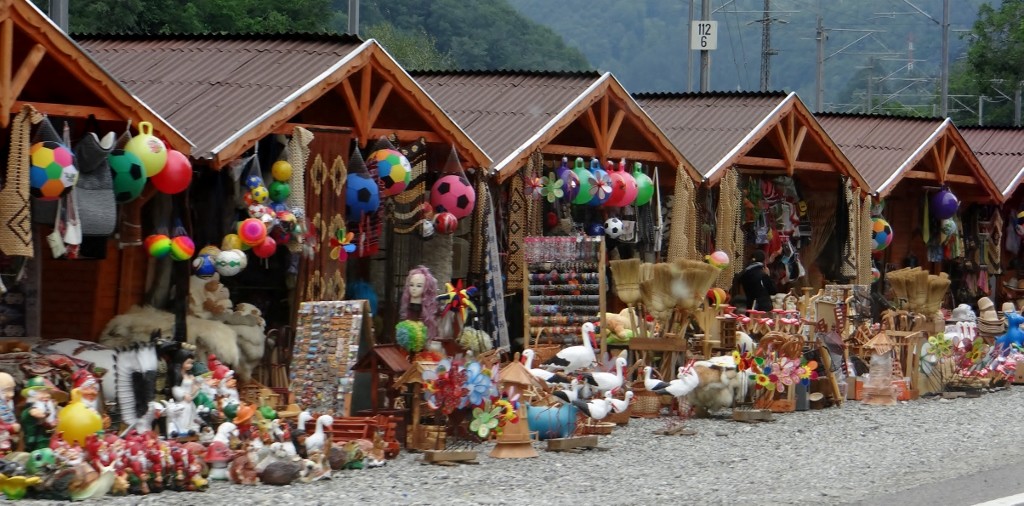 The castle strikes a fairytale pose with turrets, paintings and wood carving on its exterior, all rising above a lush green lawn. It was the first castle in Europe to have central heating, locally produced electricity (from its own power plant) and vacuuming! It was built by an international team of craftsmen and Queen Elizabeth of Romania wrote the following in her journal during it's construction, 'Italians were masons, Romanians were building terraces, the Gypsies were coolies. Albanians and Greeks worked in stone, Germans and Hungarians were carpenters. Turks were burning brick. Engineers were Polish and the stone carvers were Czech. The Frenchmen were drawing, the Englishmen were measuring, and so was then when you could see hundreds of national costumes and fourteen languages in which they spoke, sang, cursed and quarrelled in all dialects and tones, a joyful mix of men, horses, cart oxen and domestic buffaloes.'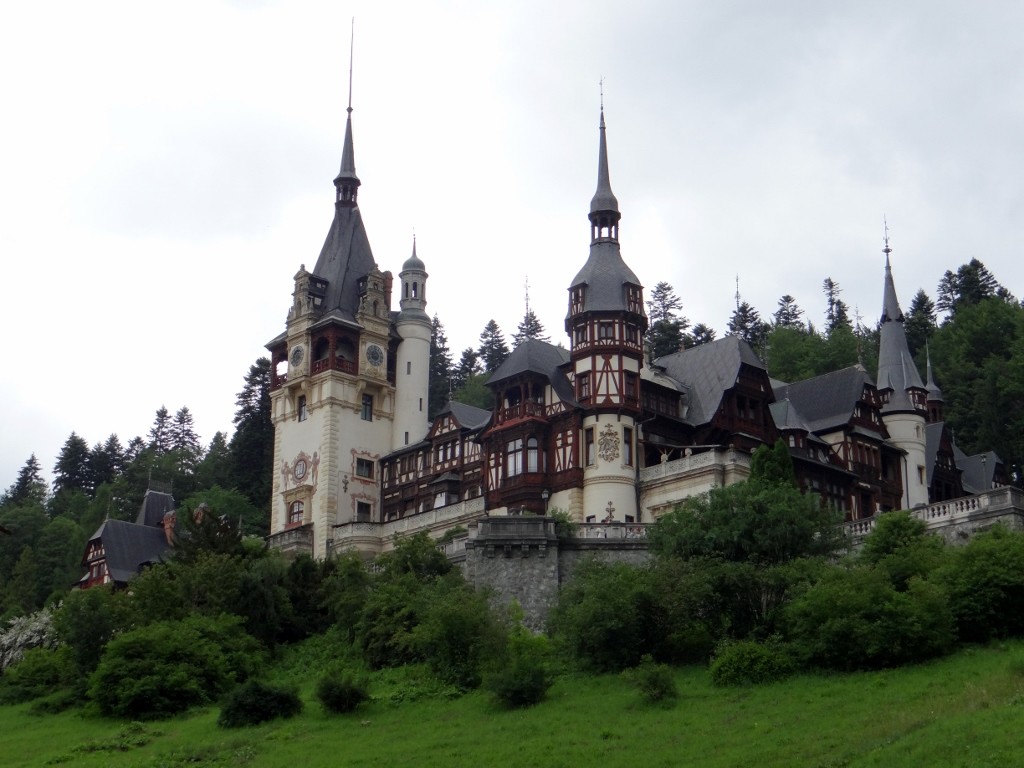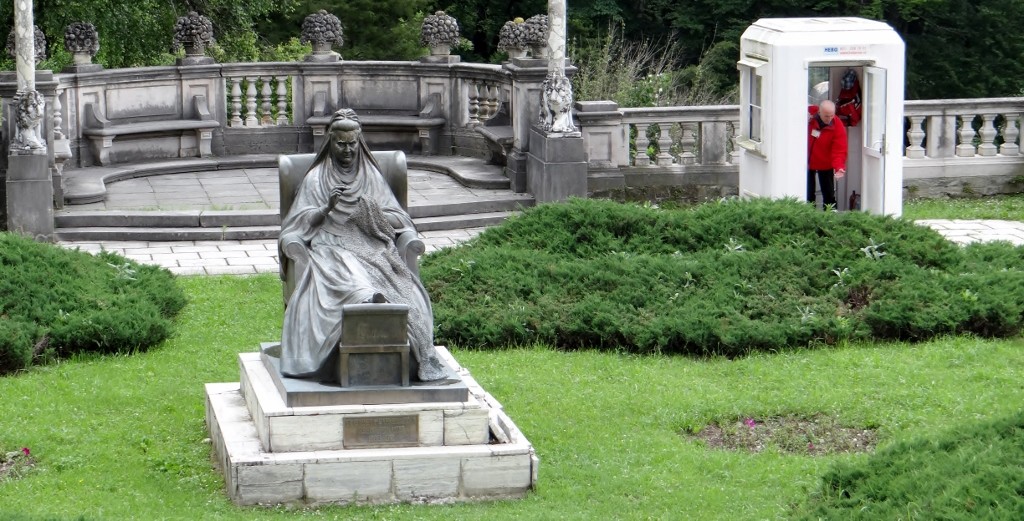 The building was intended as the summer residence of Romania's longest serving monarch, King Carol I, Queen Elizabeth's husband, however it took 39 years to build and was completed just months before the king died in 1914. During Ceausescu's time it was used as a private retreat for leading communists and statesmen from around the world. Richard Nixon, Gerald Ford, Gaddafi and Yasser Arafat were all entertained by Ceausescu here but hopefully not all at once!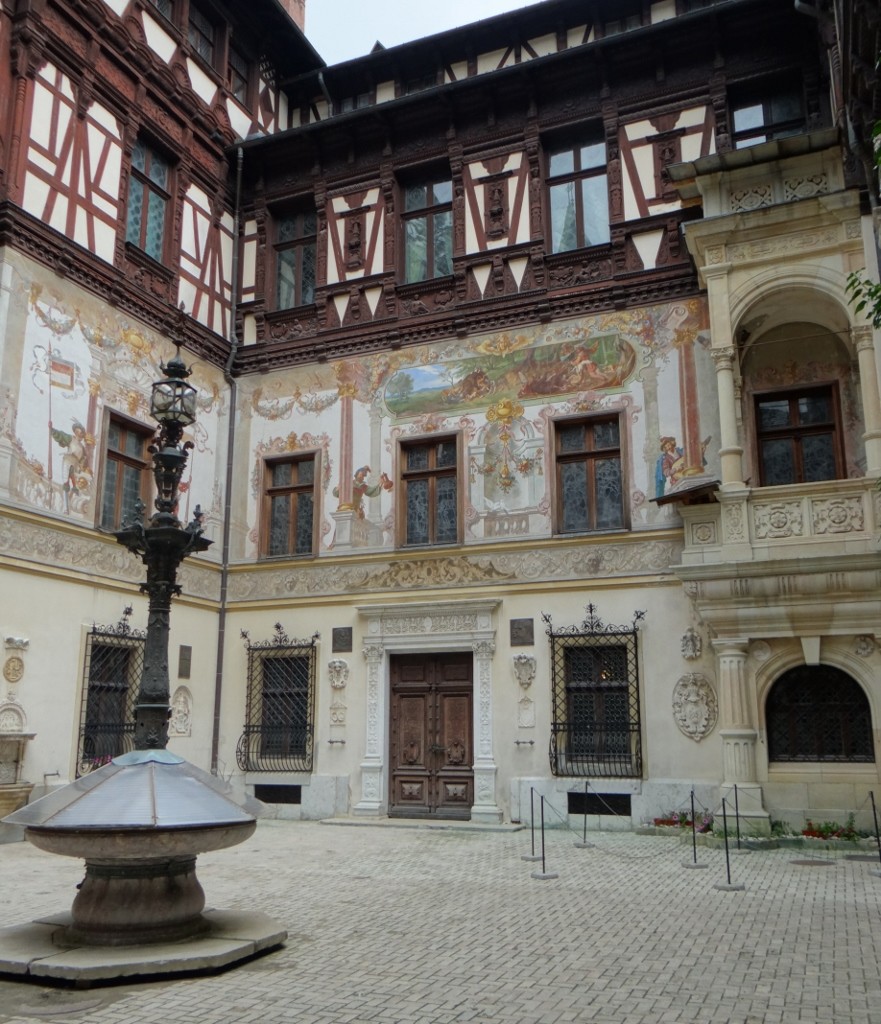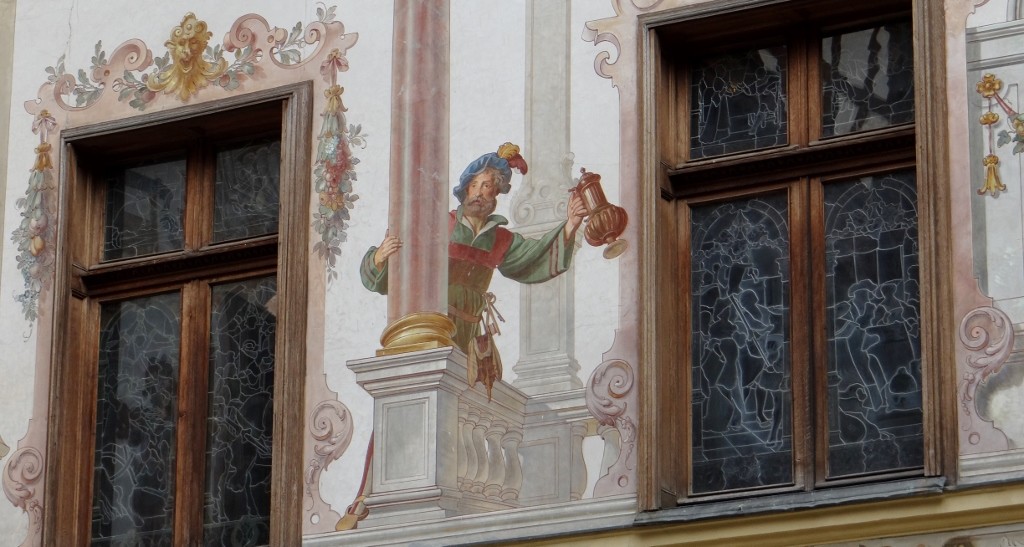 A sign told us that it was free to wander around the outside and take photos, once inside there was a fee for a tour (20 Lei (£4) ground floor only or 50 Lei (£10) for ground and first floor) and an additional fee if you wanted to take photos inside (32 Lei for photos, 50 for video). With thoughts of wandering around stuffy stately homes back in Blighty and seeing the huge mass of bodies queuing for the next tour, we nipped into the souvenir shop and eyed up the postcards to get a sneak preview of the interior. Granted it looked pretty impressive and if at that point in time the heavens had opened we would have coughed up and gone in, but the black clouds held their water so instead we took a walk up to Pelisor Palace just up the road. King Carol I planned the more subdued palace for his nephew, and future King, Ferdinand.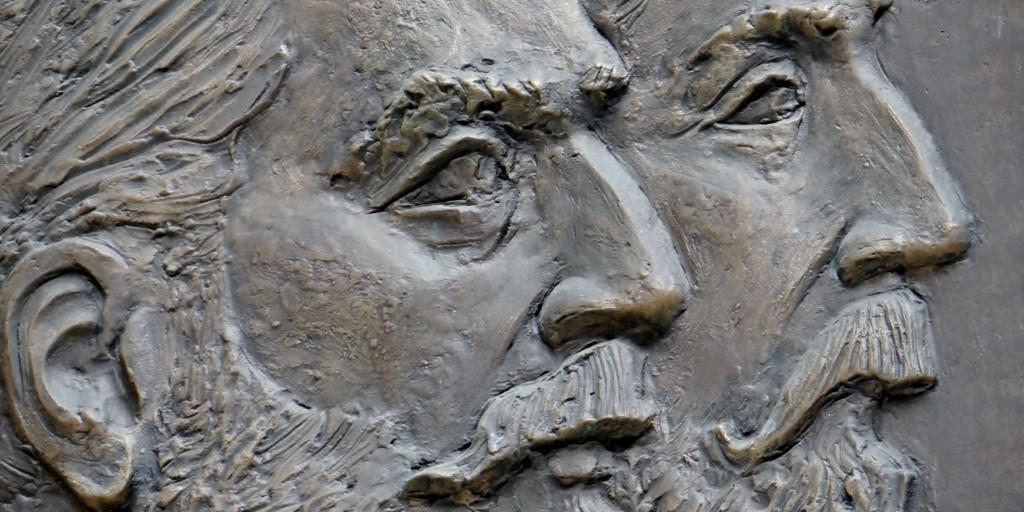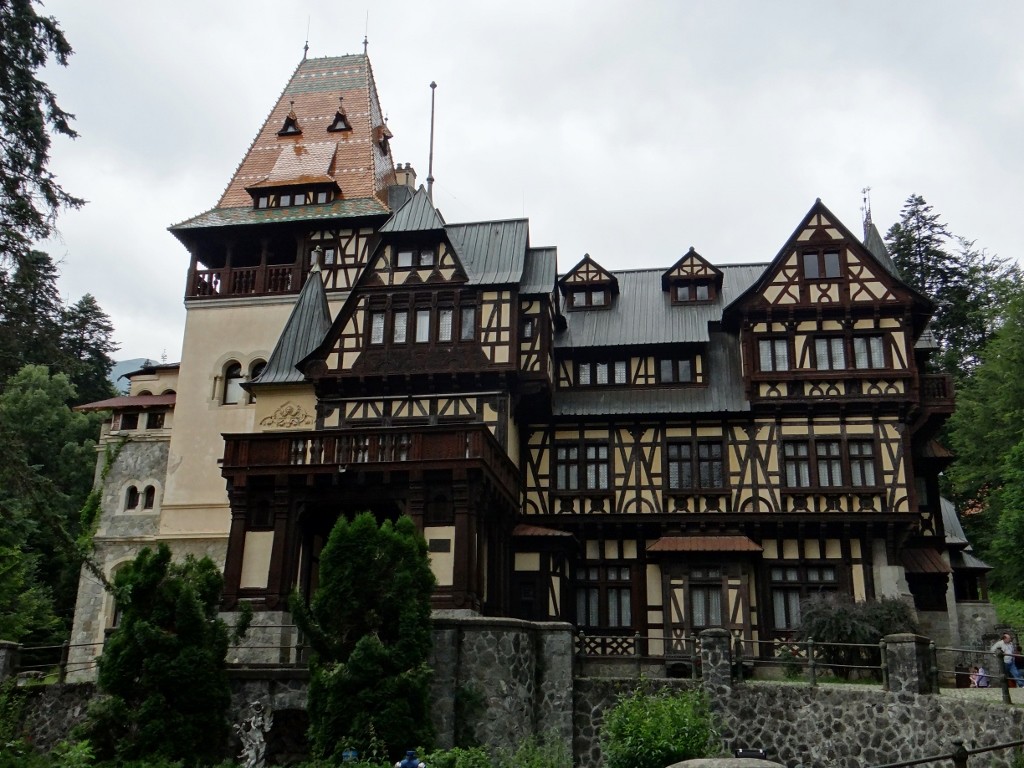 Enough palaces! We ran the Romany gauntlet back towards Dave, turning left just before we got to their best seller and making our way along a walkway lined with souvenir stalls, only none of the staff were that bothered about selling anything. We were left to giggle at the Dracula mugs and T-shirts, Christmas style jumpers and sheepskin boots without any interruption. We soon found out why all the tat stalls were on this path and not the main path to the car park when we reached Sinaia Monastery. Home to 20 monks the monastery has a large church, a history museum which holds the first translation of the Bible into Romanian from 1668, another smaller church and the tomb of Tache Ionescu who was head of the transitional government for a short while in the 1920's. This time it was only 5 Lei to get in, but still we just didn't fancy it. As we walked down the steps away from the monastery we debated if we were travelled out. We don't think we are, but just didn't fancy it today.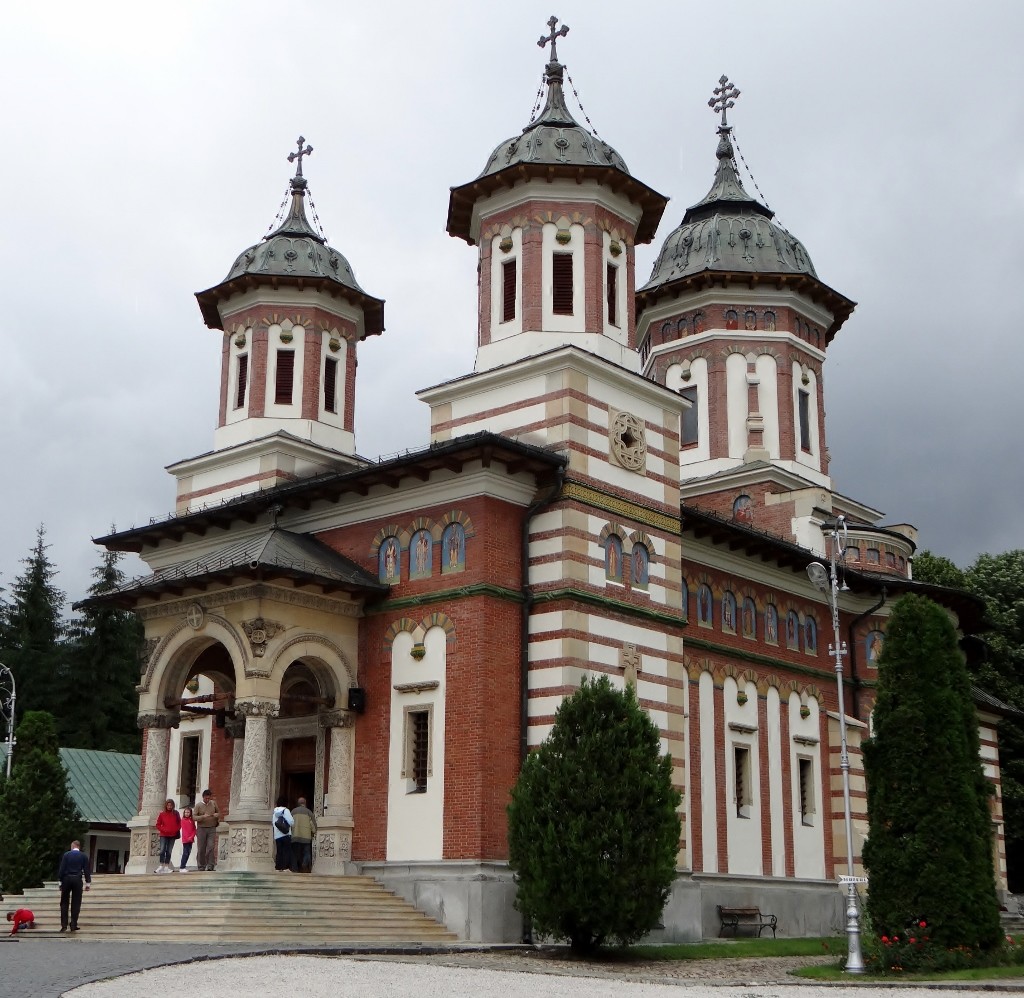 We found our way back to Dave and after a quick drink to refresh ourselves we took Charlie on a walk to the town. Jay was armed with his wild dog defending stick, but only had to wave it once at someone's dog that charged out of their garden towards us. The wild dogs (of which we saw around four) were just curious as opposed to aggressive, most of them keeping their distance when we looked at them. As we reached the tourist information kiosk at the opposite end of town the heavens finally opened, prompting a quick march back to Dave to dry off.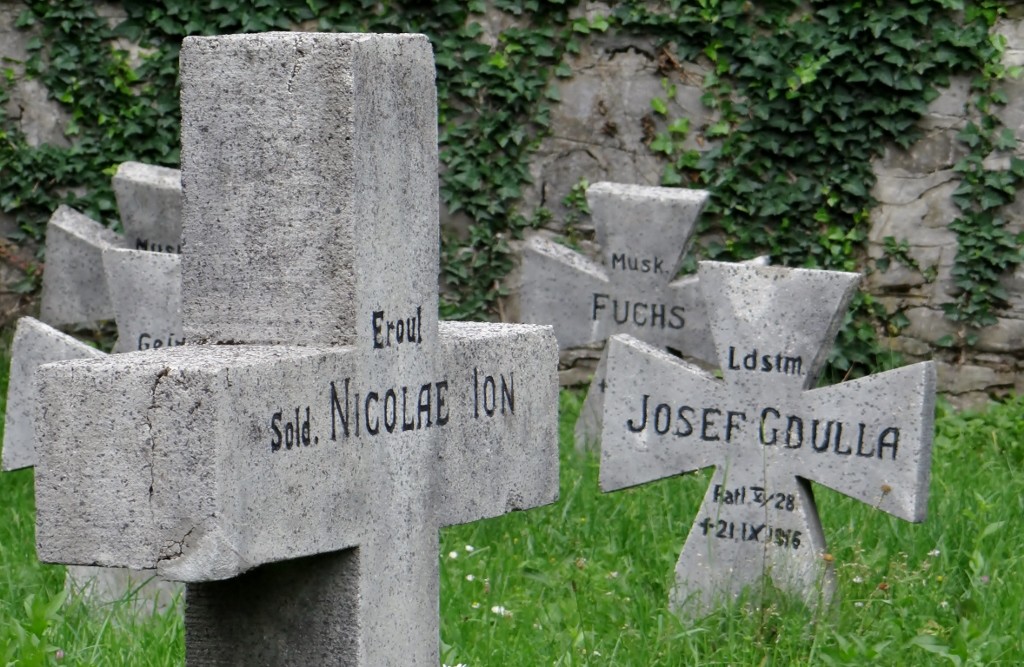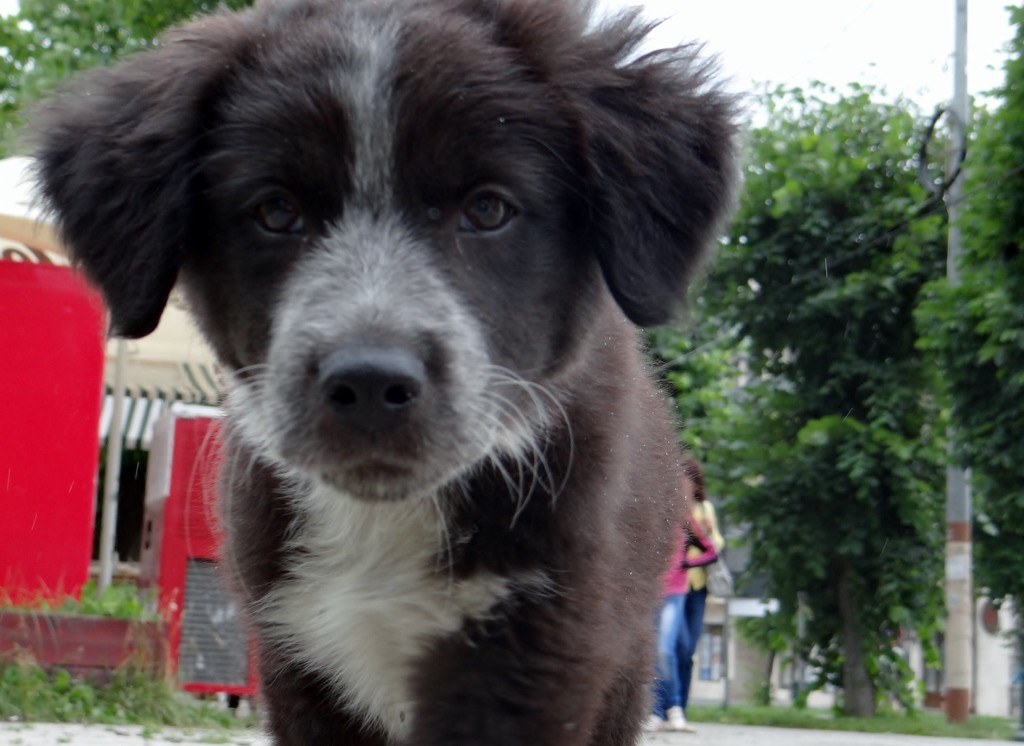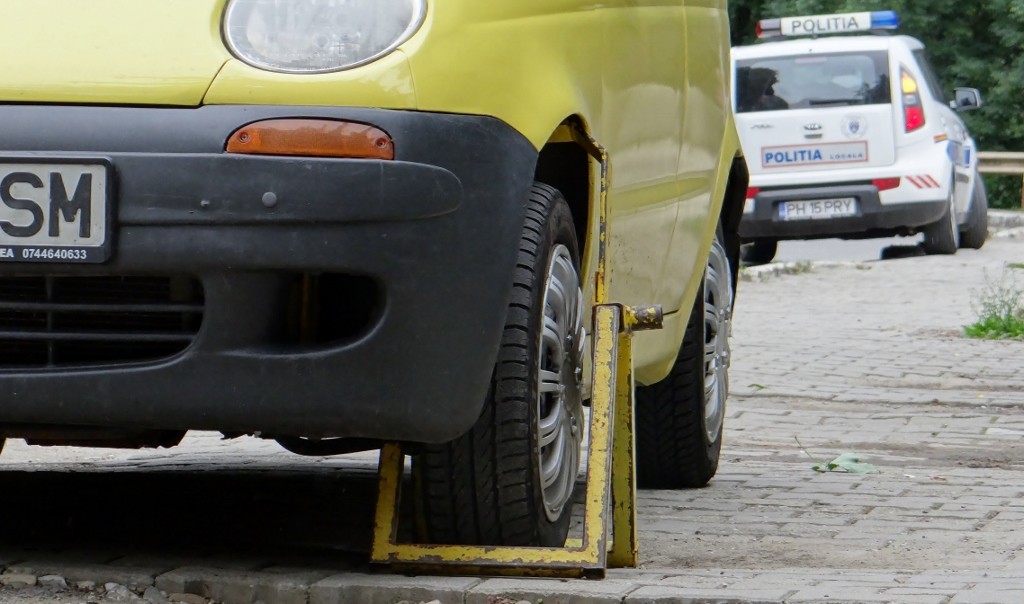 I can't believe how different the weather is today, we're both wearing fleeces and when we got back to Dave a mug of hot mulled wine hit the spot perfectly. Who would have thought only yesterday we were sweating on an open top bus?
Ju x