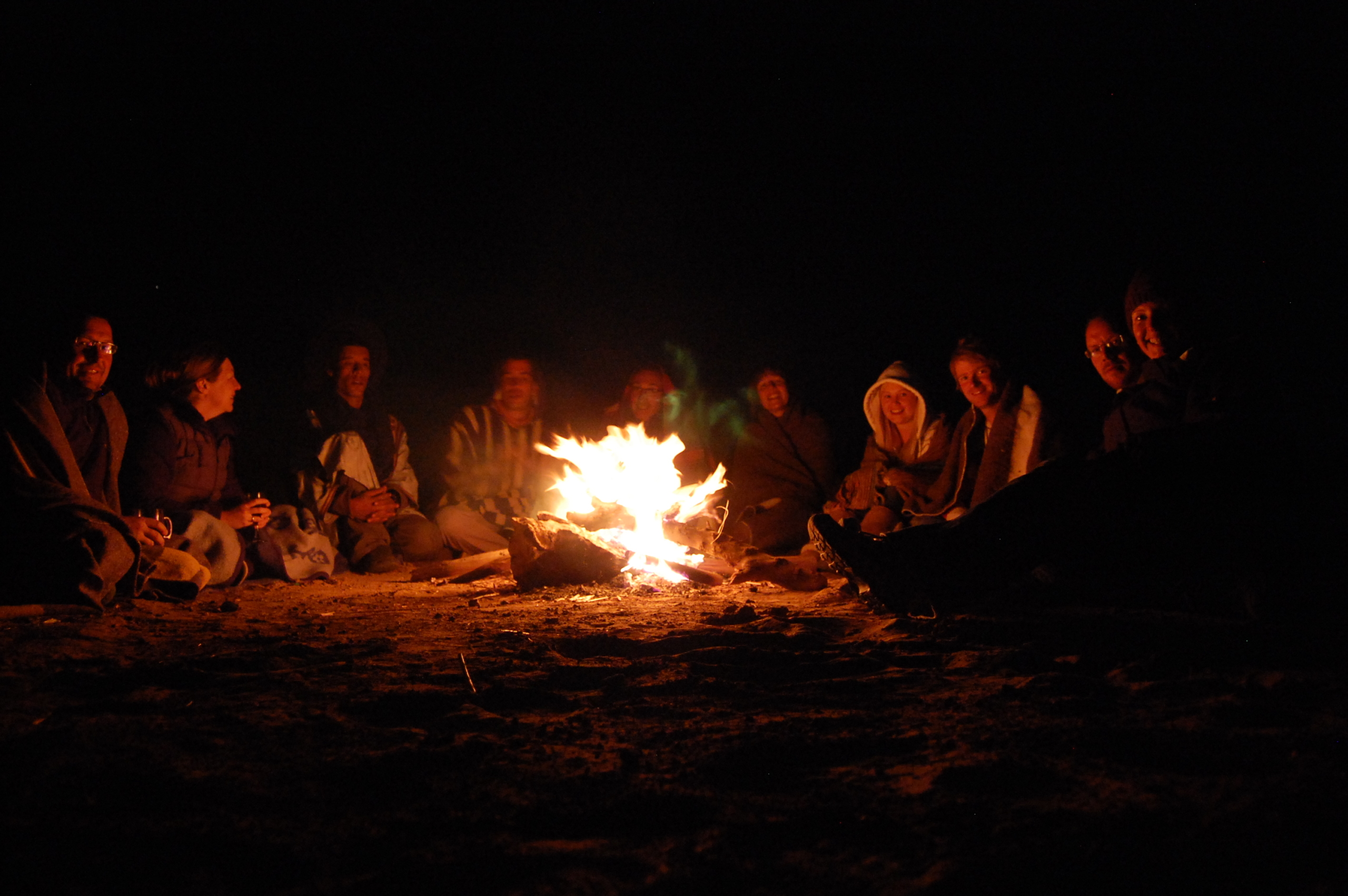 We're here (no thanks to TomTom which didn't have the road on it; and it's the main road here): N31.54747 W5.59090. It's a campsite near the Todra Gorge, sat slightly up on the hillside overlooking a dry riverbed, with rock-strewn hills and girly-pink block desert houses around us.
The weather is: hey, we're in the desert, it's sunny and dry. Cold though, now the sun's going down. I'm sat outside the van (as we can't get a decent signal inside) but I have my fantastic berber coat on, so I'm nice and warm, and camouflaged Ju says.
Pitch dark, stars above us, surrounded by desert with the dunes behind us, palm trees rustling and a wood fire keeping us warm. We found ourselves sat under thick woollen blankets last night chatting with the berber owner of the hotel next door, who spoke good English, Italian, Japanese, German… A few staff form the hotels wandering in and out of the circle around the fire, and we saw off just about the last of our dwindling supply of wine. Chris asked him how he'd managed to get to own the hotel, but he would only discuss it over a mint tea in the morning? We'll never to get find out how he did it as we left without the tea, citing the fact we had a decent drive today. It was a great nice last night, extraordinary. We even got to try some Moroccan red, which was rather nice. Our fellow travellers Chris, Catherine, Adam and Sophie had driven over to see us, and we said out farewells wood-smoked style. Great to meet those guys at last, and unbelievable for me to be in the same company as these heroic travellers.
Waking this morning to a slight hangover, the whole van hummed of wood smoke. A shower was called for. The hotel (Auberge Tombuctou, Erg Chebbi – a great place) spa has showers they let you use (we spent 200Dh for 3 night's stay, including a 50Dh tip for sorting the fire out for us). Only problem was, the spa was locked. I nipped around to the reception and the next thing I know they've given me the key to one of the rooms, and once I'd sussed the hot and cold taps were labelled up the wrong way around, I was in hot shower heaven. I'm now cleansed! As soon as I got out the spa was open, I think they didn't want to make me wait a few minutes. Good guys.
We've hooked up with Chris and Tina as our wing-men in Morocco. Great to have their company, although today I accidentally forgot they were with us and drove off into the distance with a couple of French hitch-hikers we'd picked up, only meeting up again at the campsite. Doh!
The scenery here was once again stunning. Maybe a 3 mile wide valley, reddish cracked rocks and dust, dead of pretty much everything except the off Moroccan fella just stood there like a sacrecrow miles from anything. Either side of us the mountains rose up. Every now and again I gawped at the surroundings a little too much and hit the off pothole I should have avoided. It didn't seem to bother the hitchers though, who had a nice nosh-up and then a kip for the 4 hour drive.
We're at the foot of the Todra Gorge now. I don't know what it is (well, apart from it being a gorge), I just know everyone comes here. I'll go and have a read about it now.
Jay