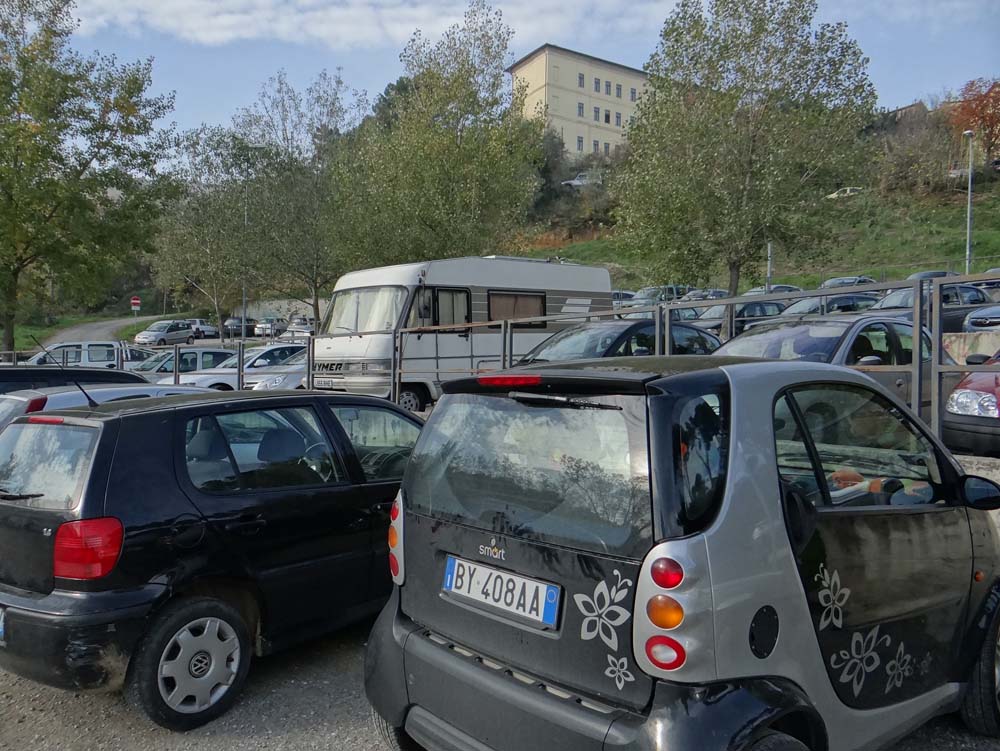 Dave the motorhome is contemplating life in a bobsleigh team, or maybe a bucking-bronco rider, after rolling his way into the Umbrian hill town of Ficulle via a crazy B road. We're sat in a free sosta (N42.83047 E12.06858). Only a Polish chap in a self-made but Brit-registered (it's his boss') white windowless motorhome for company.
We slowly woke to the world this morning, tucking into a breakfast of fresh fruit and mascarpone, which we'd never tried before and were gleeful to discover it's the most thick stand-up-your-spoon of creams. Gorgeous. The empty car park around us gathered life, the upper-most tier which is closest to the market above filling with cars, and then slowly the lower ones until we were well packed in, effectively trapping big old Dave. No worries, we've a bit of experience of Italian markets and they always seem to be done and dusted (or washed down by orange painted machines) by 2pm, the time we normally arrive at places.
Before hitting the market, we'd another job to do. The 5c a litre mineral water machine called. With a motley collection of half-squashed water bottles we headed off to the machine, waited for a local couple to fill about 15 bottles, and dived in. It didn't work, spitting our 20c coin back out. Just before leaving with his glass bottles, the elderly chap leaned in to help, he'd left about 2c worth of water in the machine, and gave it to us for free, then it accepted our cents. This way of re-using packaging feels refreshing, and of course we relished the thought of getting even cheaper water than in Lidl. Sure, tap water's the cheapest option, but many of the taps we use have, erm, been used for dubious purposes and we've never any idea if there's a dead pigeon involved somewhere in the supply.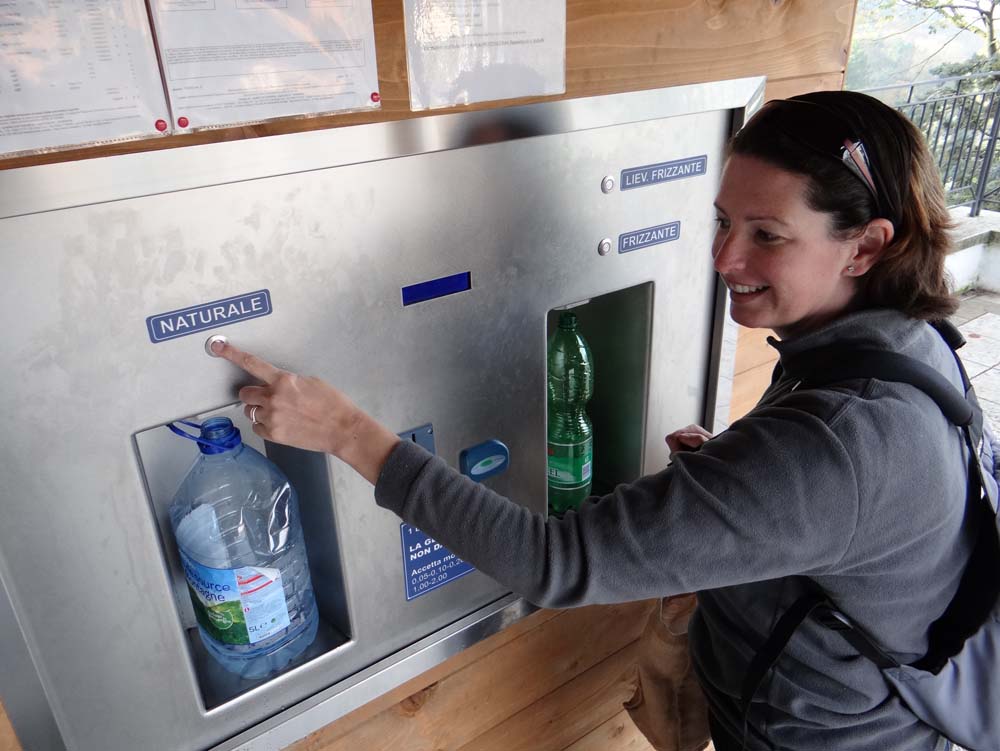 Back into the market, I'm permanently amazed by the Italian stalls. Like American RVs, they double or triple in size once they've parked up. Slides slide, metal doors open, flaps unveil ranks of batteries, A Dracula coffin on top of each cracks open at the press of a button and unveils a spreading awning like Batman's wings. Within minutes, tired old vans stretch their chests and bang! A shop appears.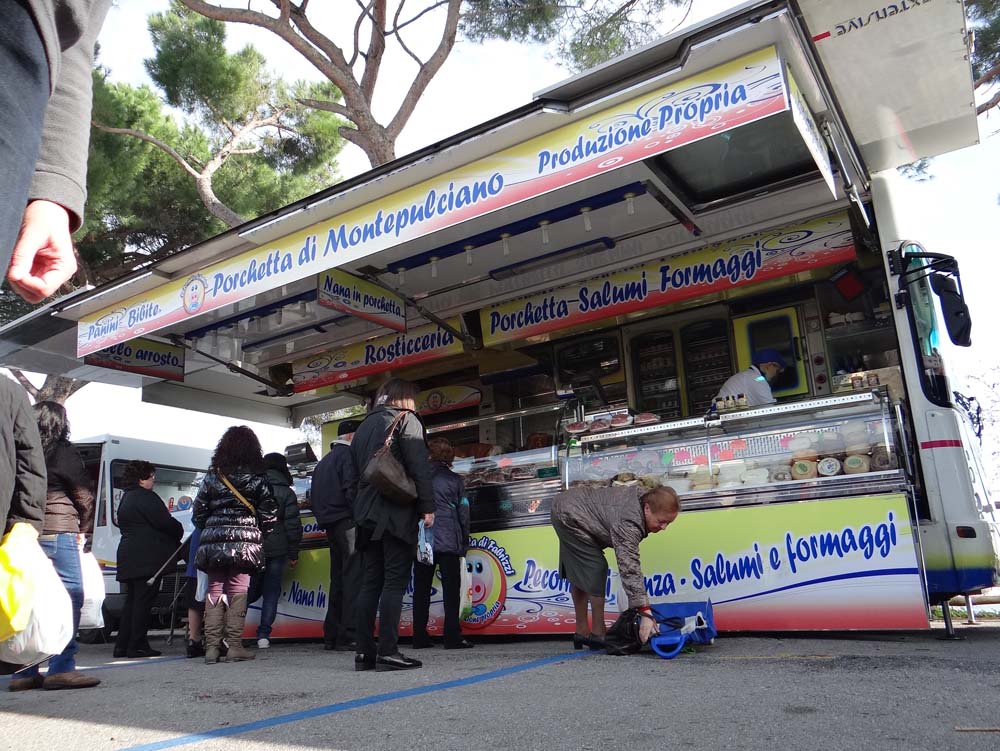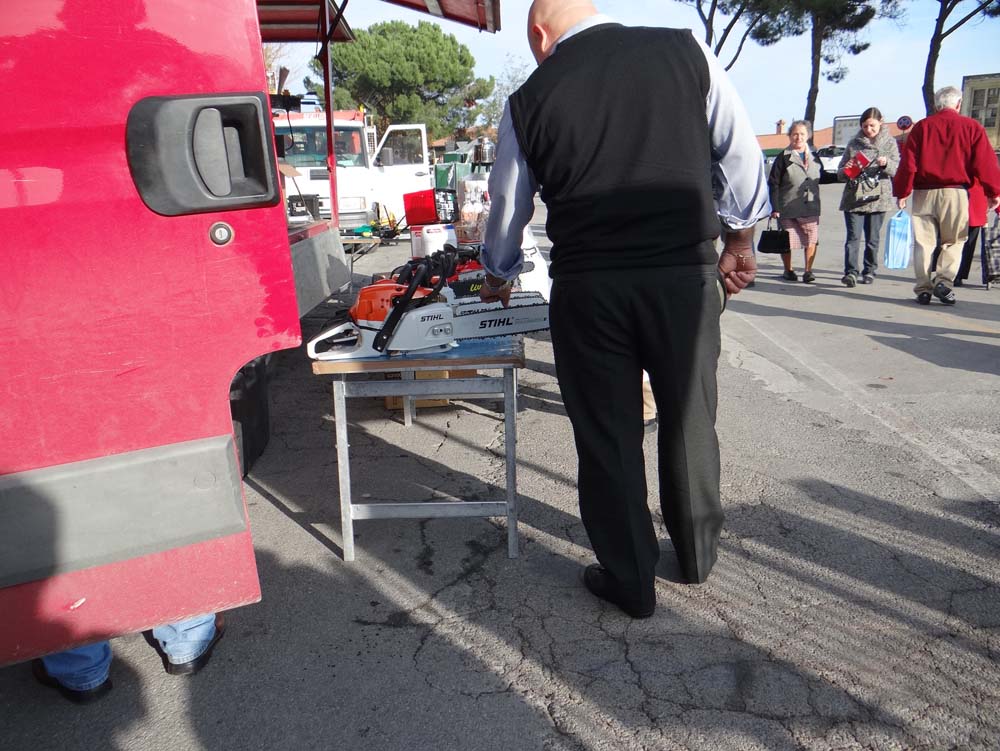 I could tell Ju was keen to buy something, I could sense her stalking around the stalls. I was keen too, but let's be honest, us blokes aren't usually the best at owning up to the fact they hardly speak a word of the lingo, while Ju just goes for it, and I love her for it.

Wild boar salami tops the list among a veritable sea of tasty treats, mainly as we could tell what it was. 'Ching-ya-lee' pronounces the stall owner, jumping from the heights above to our level, and slowly pointing to each sausage we could see and then to a picture of a wild boar (Cinghiale) or a pig, depending on which type of animal had volunteered itself to be munched upon. Once she's sussed we want the hairy tusked variety, she climbs back up and starts selecting a range of suitable sausages and laying them out before us, no rush, she sees we are obviously wild boar sausage connoisseurs no doubt? The same scene played out around us, a huddle of women at the cooked chicken stand had specimens held out on a long fork to inspect, many being rejected with the shop keeper showing no loss of patience. Charlie lost patience many times however, the smells were too much as he squeaked his way into knots at out feet. We ended up with an €8.50 sausage (which lasts until March 2013!), €4 worth of the most succulent cooked pork sliced with an intense salted stuffing, and a box of roast spuds and rosemary (which didn't survive 20 minutes back in the van).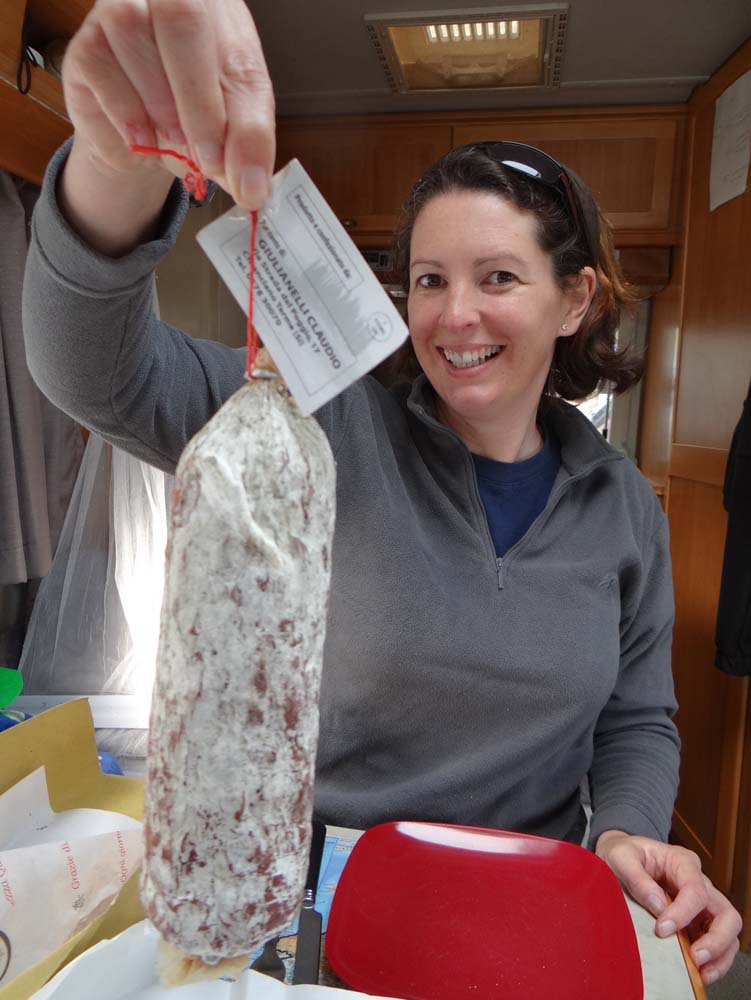 Back in Dave we waited, sorting out bits and bobs until the cars melted away at about 1pm, no doubt heading back down the hill into the hamlets and stand-alone farmhouses in the Tuscan valleys below. Time to go. We programmed in Chiusi, as our Italy Rough Guide
didn't sound too dismissive of the place, and it was on a route south-ish. Just before we arrived Ju spotted a sign: Etruscan tombs, sling-shotting Dave around and up the 2km detour. We found them, and they were locked shut, the way to get in was to go into town, get someone from the museum to come back with you and open them up. Since they were ransacked  by grave robbers 'in antiquity', they're each now only a tunnel and small caverns hacked from the stone, and we decided we'd gotten close enough to these particular examples. There are more further south we might try.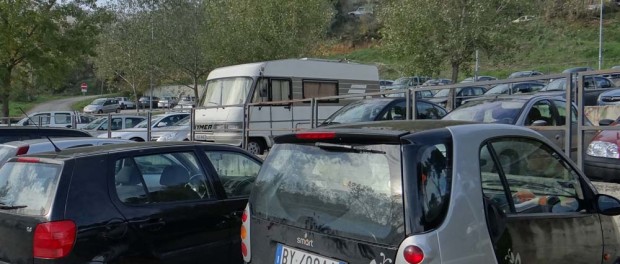 The town itself proved a disappointment. Our entry was marked with the raising of two fingers from a disgruntled van driver I'd held up for about 5 seconds. I returned fire with a volley of fingers of my own, getting into the spirit of it. The tourist information office only opened in the morning, the Etruscan catacombs under the town were shut, parking was limited to 4 hours, and the 'National Archaeological Museum' looked seriously up itself with a faux Roman columned façade. There were some great views from the edge of the town mind, but they weren't enough to hold us, off we trotted.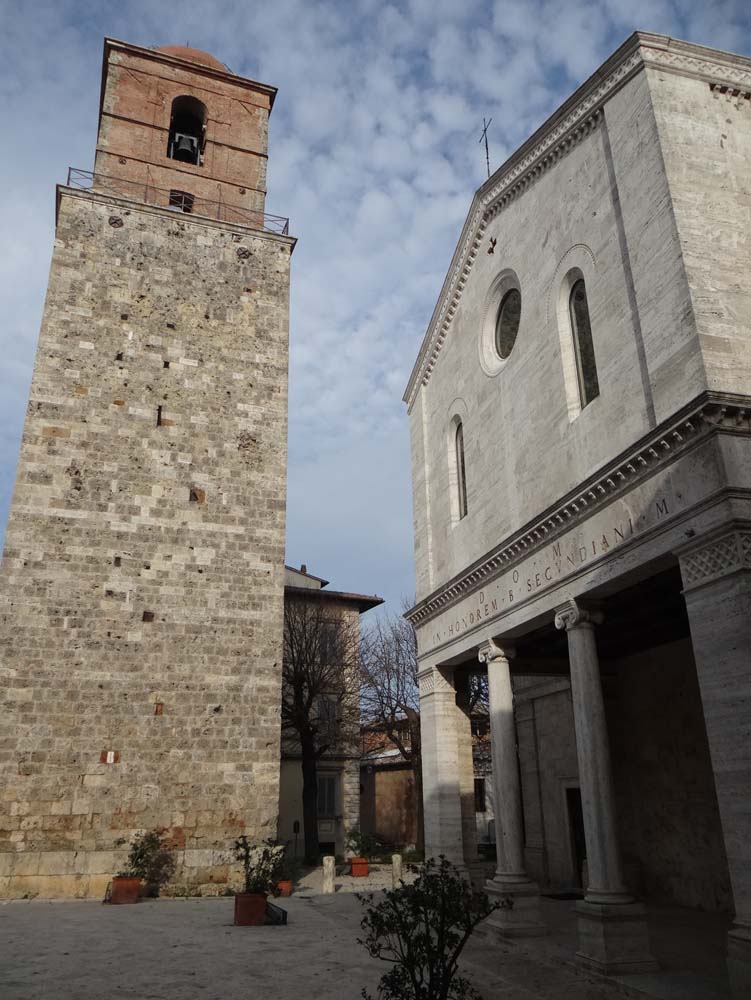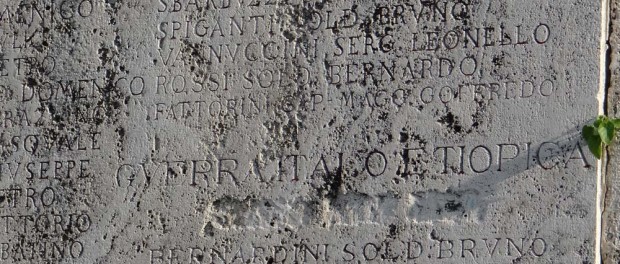 At this point I made a bad call. The map showed a single toll junction on the motorway, maybe a few euros. But it also showed a red B road running alongside, zero euros. Puckering up, I instructed sat nav to avoid toll roads and, well, that's when it went a bit wrong. The map on this site only shows the locations we sleep in, drawing a straight line between them. This is a good thing sometimes, as you can't see the crazy fool routes we sometimes end up taking as sat nav brings us, still talking all serious, to a gravel track into the olives, or decides to take us on a 10km circular detour. Once we'd done with these tasters, we got onto the main B road here, which rather than following the valley, did a bonkers join-the-dots route along hill tops and ridges between the high-up towns. My shoulder is killing me, but we hit nothing, received no more V signs, and only built up a tail of six, a poor show given the miles of second gear hauling we did!
Why Ficulle? Our database shows a free place to sleep, and it's on the way to Orvieto. It turns out to be quite a beautiful little place, high up on an edge of rock with stunning views off in each direction, and the usual mass of rambling tight stone-lined alley ways. There's an olive and wine festival on tomorrow night, but we're not convinced it'll be an epic affair as the tent set up for it is barely big enough to fit Dave. We may hang about for another night, or we may not, the olives and wine will decide.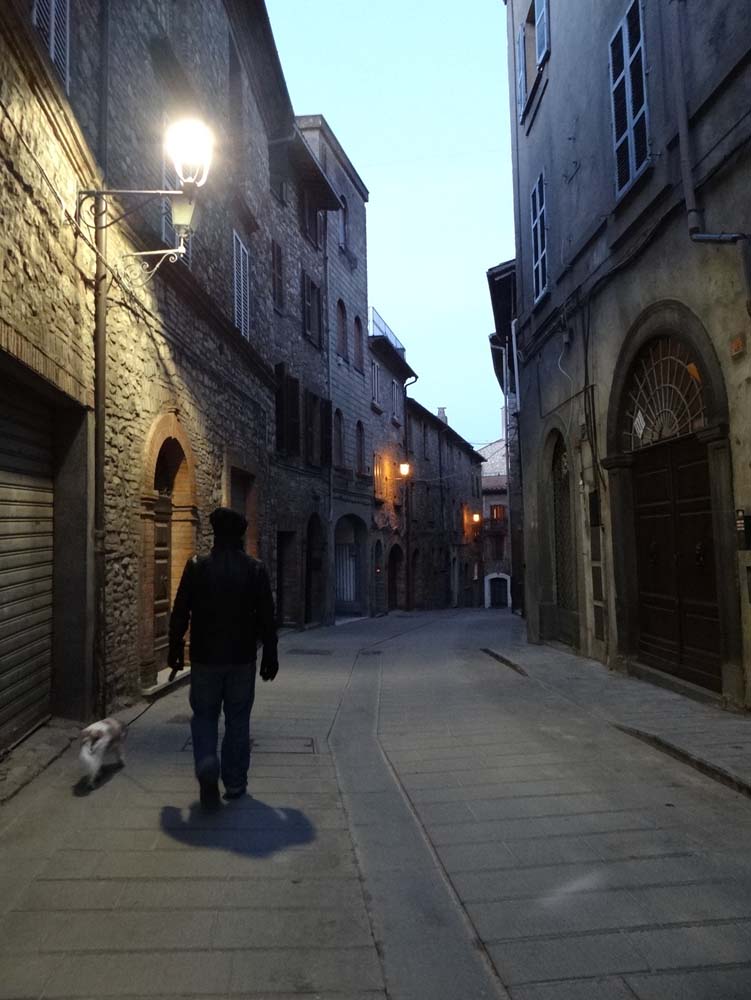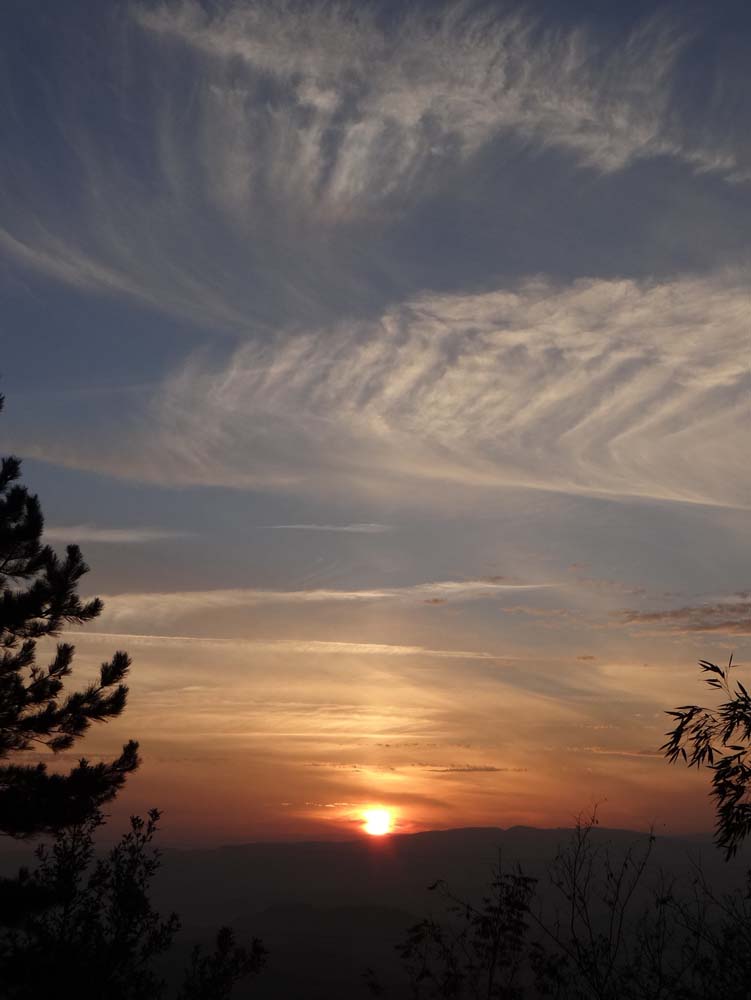 Cheers, Jay