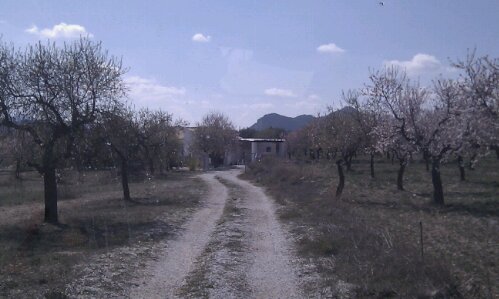 We're in Valez Rubio, at Bob and Pauline Bardill's luxury villa. It's sat among their fields of almond and olive trees, with a backdrop of mountains to complete the idyllic location.
We woke at 6am to, well, we don't know. Probably a couple of rabbits in the throws of passion and hammering on the underside of Dave. Free camping is the best way to camp for us, but it does generally mean we get less kip for one reason or another.
A quick outback Uke practice, wash the pots and we're off for our motorway side mechanic rendezvous. Mike is bang on time. He arrives in his van, full of every conceivable Dave cure and gets to work.
He whips his body board out, flings it on the rough ground and gets to work with a screwdriver and hammer. The verdict's the same as the last garage: the clunk doesn't indicate imminent Dave death; the leaf springs are just getting on a bit and need some spray grease. Mike tightens a squealing alternator belt and attempts to get at the cab heater switch without success. €30 lighter, we're very happy. No need to hang about for days for parts, we can move on. Mike tells us some great tales as he works, not least of which is the one about his downhill mountain bike encounter with a wild boar which left a series of foot-long scars on his arm.
Dave sorted, we headed up to meet Bob, an expat friend of Malcolm, Ju's Dad. Cruising the motorway we're taken with the panoramic views of almond trees in blossom and a bowl of mountains around us. Mike had told us none of them are lower than Ben Nevis.
After a quick loo emptying session at the empty aire, and a longer attempt to get back to the main road past double-parked cars, we're met by Bob.
Bob is cool. He's an ex coal board man, having worked as an electrician at Calverton colliery near where we live at home. After that he worked hard and made some canny moves to end up with the millionaire's lifestyle out here. Him and Pauline have invested hard work and money into their life here and it's paid off. They're extremely generous too, happy days.
Right, I'm off to see the log fire I've heard about. Come to daddy.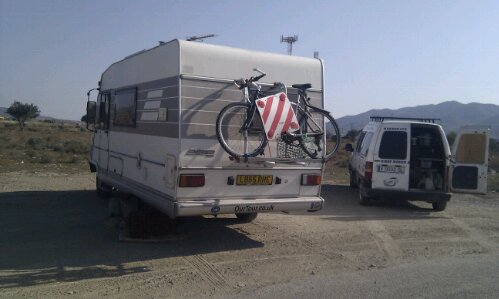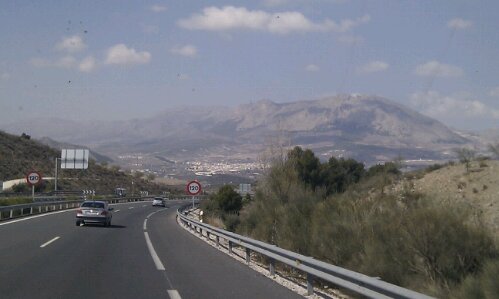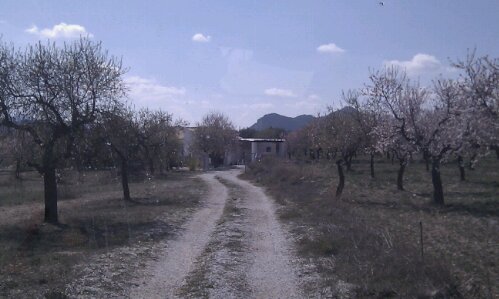 Jay