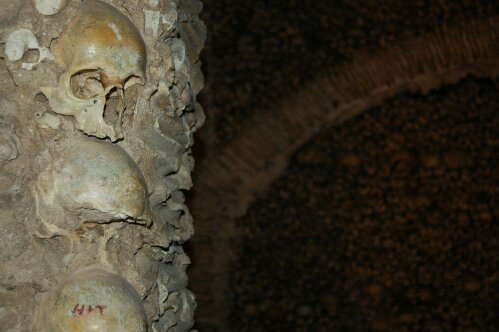 We're here – N38.55697 W7.92745
The weather is once again bright blue sky. A couple of blokes have just flown past with parachutes and motorised fans strapped on. Good weather for it. I fancy a go.
It seems we're not the only ones with a guidebook which says 'go to Evora'. From a quick look around today, they also do Japanese, Dutch, American and French versions. The place is an honest to god tourist trap, but a pretty enough one.
Rather than once again risk our dental fillings on the Portuguese A roads (if there's a road roller salesperson reading: get yourself to Portugal), we hit the toll road. Noone else can afford them it seems as they were eerily quiet, think I Am Legend quiet.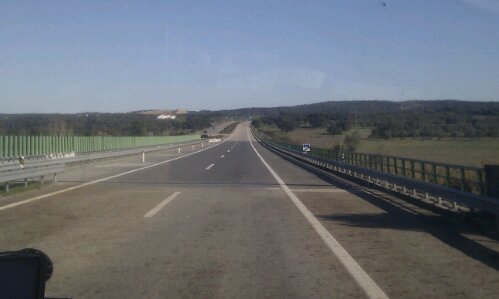 As we're frequently finding, the campsite Wifi is down. I could offer to try and fix it, but honestly cannot be bothered. We don't really need it anyway. Also as usual, the place is dead. Or it was when I took the photo. The Dutch, French and English caravan club have since arrived. No Portuguese in sight, no wait, one's just arrived.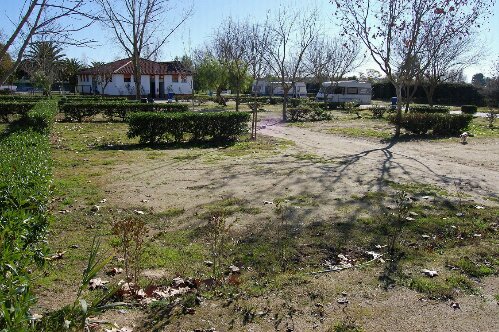 Ju asked at Tourist Info if any events are planned for NYE. In short the answer was no. We'll wander into town anyway (aka yomp the 2km there and stagger it back).
We took a look about the place. Not much of a look. More Roman ruins, cathedrals, churches. Yawn :), we're a bit bored of seeing very similar spectacles.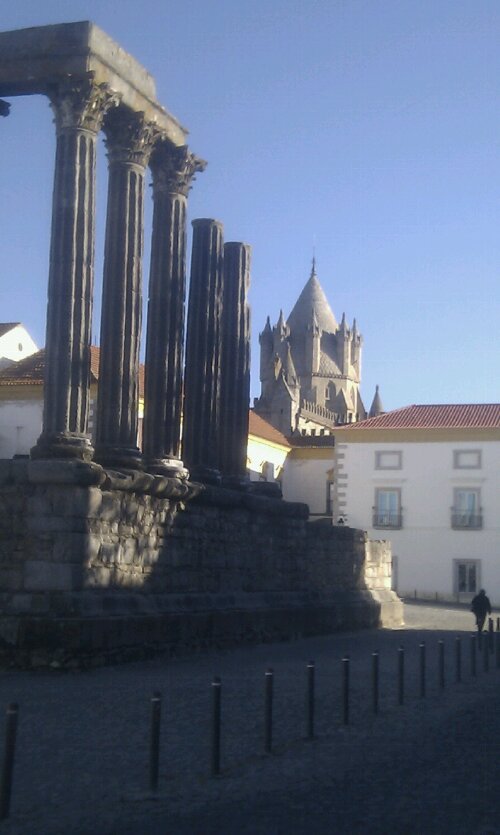 But there is something else here. The 'Bones Chapel', a room lined with the bones of 5000 people, taken from nearby graves. For some reason the Franciscan monks thought it would help prayer and meditation? A comforting inscription welcomes you to the room: 'We bones that are here, we are waiting for yours'. The shock of the site only just outweighed the cheeky euro extra they charge if you want to take photos. And the ticket woman was wonderfully curt, practically rolling the 3euro ticket into a ball and throwing it at the punters.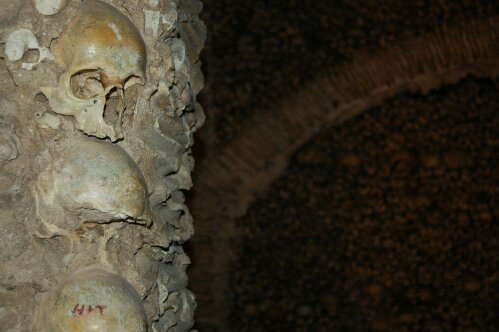 The plan: hole up for the night with the heater on and a glass of vino. Tomorrow walk Charlie to tire him out then hit town and see what trouble we can make.
Happy Friday night folks! Jay