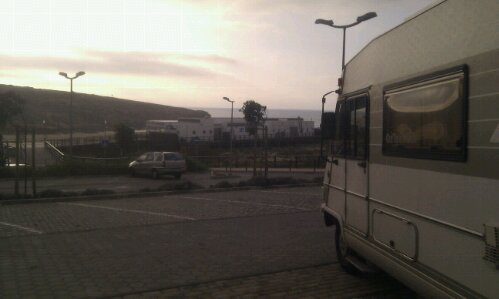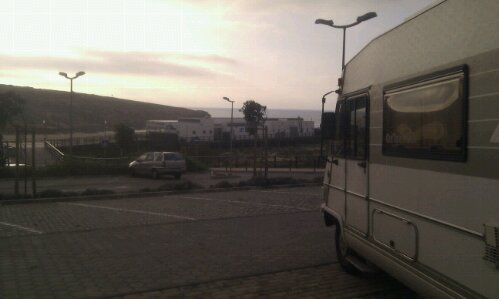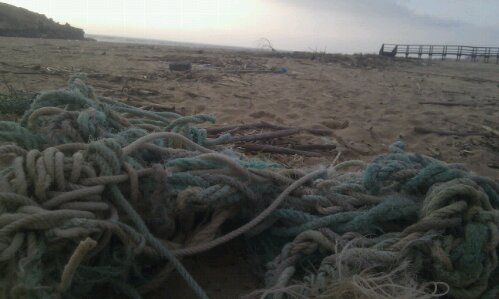 We're here – N38.94183 W9.41304
The weather started off very foggy, then very sunny, now a bit overcast, and you need a fleece on the beach!
After weeks of avoiding the toll roads, today's thick fog and my thick (cold addled) head, pushed us onto the A8 toll road. €10 well spent. Visibility was almost nothing so we missed no sites, and with the way I'm feeling, it was the safest option (and we did spot that the Portuguese desire to overtake everything seems to disappear on the motorway as they all hog the slow lane?).
We made it as far as Ericeria, a small seaside beach town right in the middle of surf central (Ju's enjoying the ripped surfer blokes getting changed in our little car park) . The town doesn't allow motorhome parking, so we headed south to the spot in the video below. They don't allow motorhomes here either but it's pretty remote so we're chancing our arm.
We also got the news yesterday that our friend Josh's father died after a short illness. There is nothing we can say to help, but we're here Josh if you want someone to talk to.
Tomorrow we'll head to the campsite, and settle in to celebrate xmas with our new friends. They have Internet access which we'll be using to Skype our friends and family back home, fantastic.
Cheers, Jay