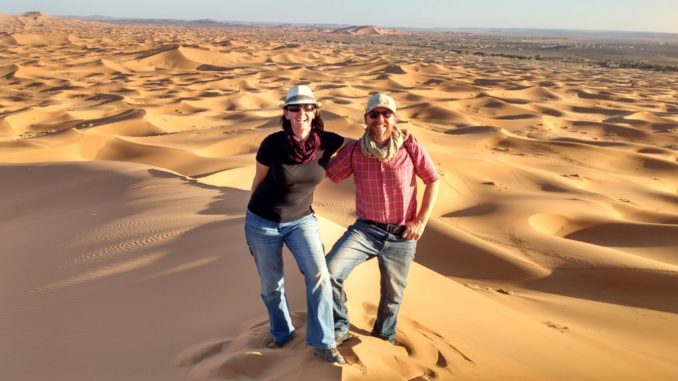 Zagan the motorhome's feeling a little relieved that his innards have started working again. During an early morning loo trip our SOG unit stopped working mid-ablution, and on subsequent inspection it wasn't alone. In solidarity, all of the van's 12 volt electrics, which power the lights, water heating, air heating, TV, electric step, gadget charging, fridge ignition, taps and me electric toothbrush, had conked out. Fuses checked, manual read, Internet consulted, switches waggled, I came to conclusion the £600 Elektroblock – the brains behind the Zagan beast – had decided enough of this sandy-stony-shenanigans, it was giving up the ghost.
But it hadn't. When I came back from a shower (a delightful, guilty thing when you're where we are), Ju was claiming to have retracted the electric step, with a hammer. The ruse was short-lived and she fessed up life had returned into the system when we tried the switch again, and we were back up and running. To those rare and impressive folks who gave their knowledge and time to send rapid and useful advice via the Facebook forums: we salute you. If you aren't already a member of one of these great and free Facebook forums, simply search for: Hymer Owners Group, Classic Hymers or Motorhome Madness, and be sure to tell them we sent you. It seems the problem may have been an isolator switch on top of the Elektroblock – switching it on and off a few times seems to have done the job.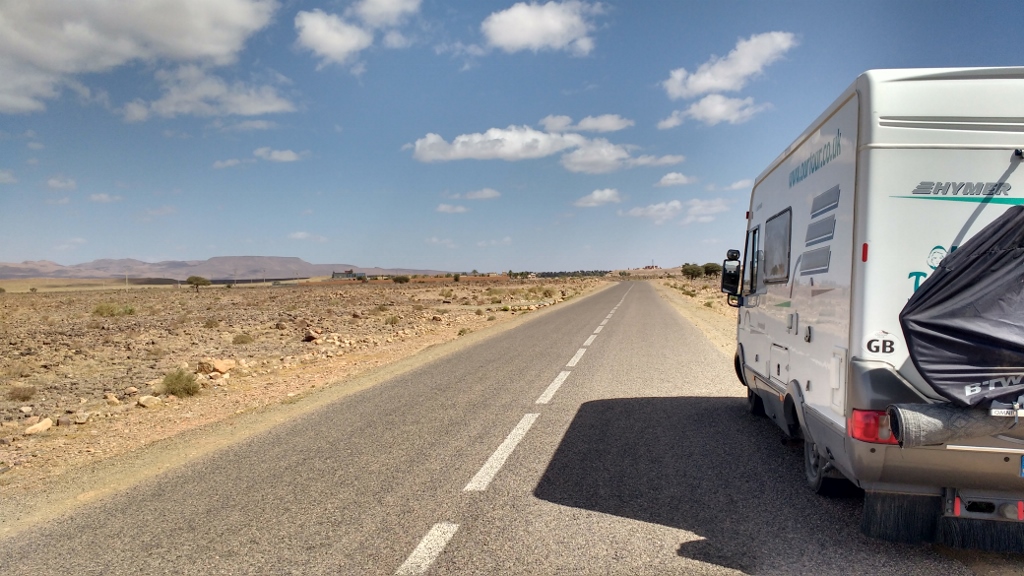 Anyway, where's 'here'? Here is the magnificent Saharan Erg Chebbi, a 30 miles long sea of sand sculptured by the wind into dunes in places 150m high. Most of Morocco's desert is hamada – endless plains upon which rest a million billion stones of every shape and size, apparently scattered when the Earth was first formed. In a couple of places though, the sand inexplicably rises from nothing to form Ergs – dune fields which cover more than 48 square miles and have practically no vegetation. The dunes are, apparently, active things which migrate about the place, but they're not that lively as we were here back in 2012 and the flash (for Morocco) auberge hotels which are built right up to them are still un-submerged, and the massive dune which we failed to climb last time is still there, challenging us from its place amid the deep blue sky.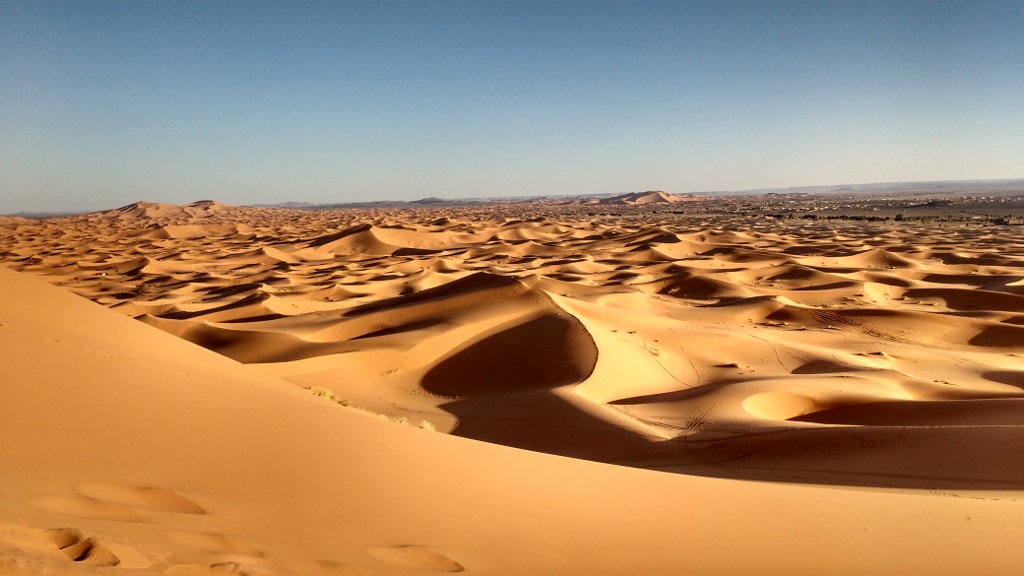 Our campsite at the moment is, quite incredibly, a flat area of hard land levelled out right up against the dunes. We're at Haven Auberge La Chance, at a tiny price of 50Dh (electricity's another 30Dh but we don't need it with all this sunshine), which equates to £4 a night (N31.13488, W4.01594). When we arrived I found myself in a blazing stand-up row with an ageing Austrian chap who insisted we park in such a way we didn't spoil his perfect 180 degree view of the dunes. Since I speak no German and him no English, this wasn't a particularly fruitful argument, as I wailed at him something about him not owning the place and he gesticulated and yelled back at me as if to say "I was here first, I don't want to share this front-seat view with anyone, so sod off". Which is exactly what I think he was saying.

Rewinding back a bit, the last blog post accurately reflected the fact we were getting worn out by Morocco. I find Morocco bewildering, and this kind of travel through it drains my beer-addled brain. Could I ever hope to understand it, this unfathomable culture? Probably not. If you've been here, you might have an idea why we were feeling worn. Then again, you might not. How anyone reacts to a place is always going to depend largely on that person, and what events happen to befall them at the time. For us, the steady, low level but relentless human challenge was proving hard to handle. In stark contrast to life in Europe, there's a much greater intensity of interaction with people here. Transactions are more personal, always in cash, always face-to-face, often with no displayed prices, sometimes with no shared language, and always more difficult than the buying experience at home. Almost everyone is trustworthy, but picking out those who are less so is enough to drive you to drink, if you can find any. Personal reflection on how privileged we are, compared with most people here, is inevitable and the unfairness of it is an utter mystery. The question of whether to give to begging children and adults seems to always come up when we meet others travelling the country; and it wrings us all out. Last off, the need to avoid holding hands with each other anywhere in public has a strange and unpleasant effect on us, somehow changing our relationship in a way neither of us likes. Oh, and the related need to avoid wearing shorts or  T shirts (no matter how hot it gets) if you want to avoid offending the more modest among the locals is a minor irritation to us.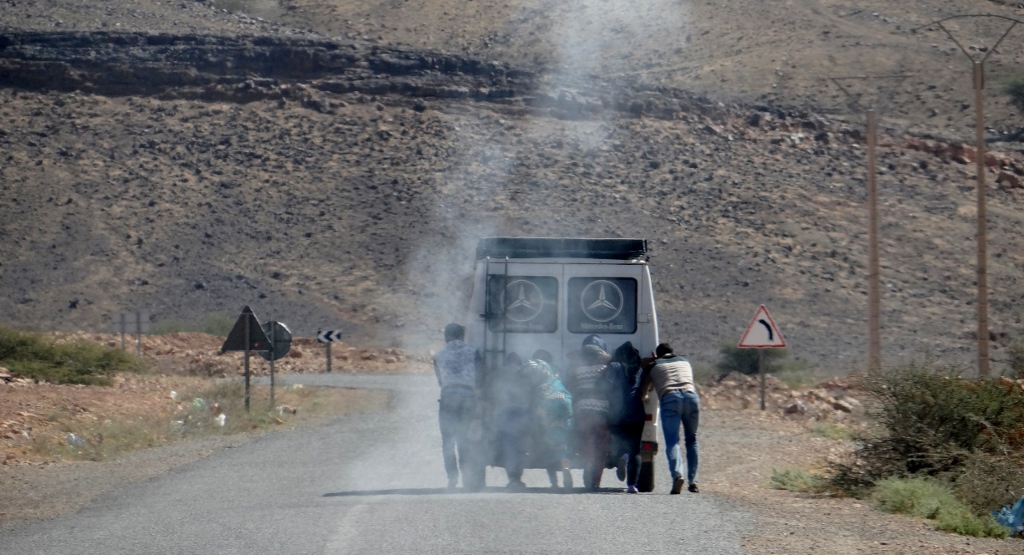 A message arrived from our friends Jules and Phil: we're off to Merzouga. That was enough for us, we packed up and headed off across the well-surfaced N12, through the crappy-surfaced town of Rissani (I had to stop and check we'd not cracked the sump at one point) and south down the N13.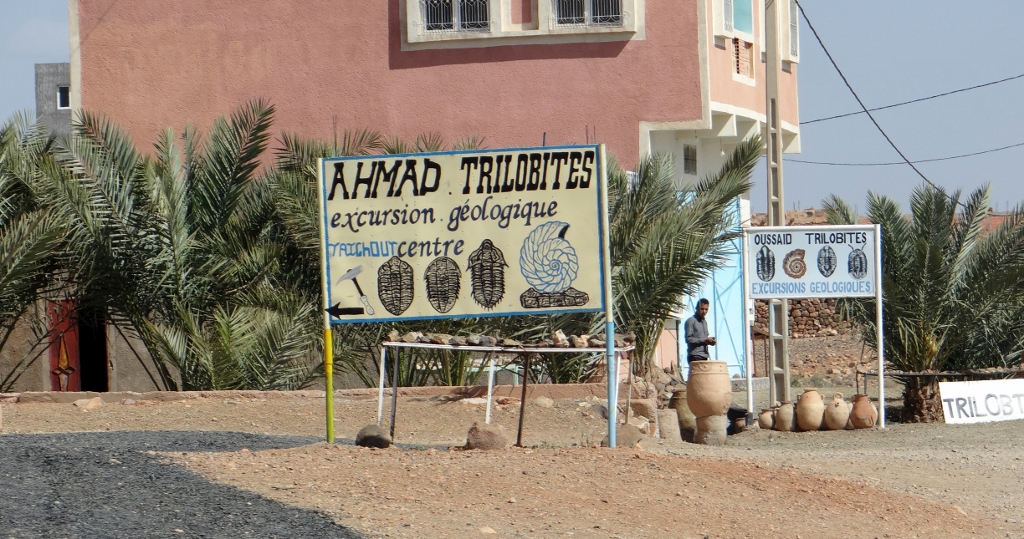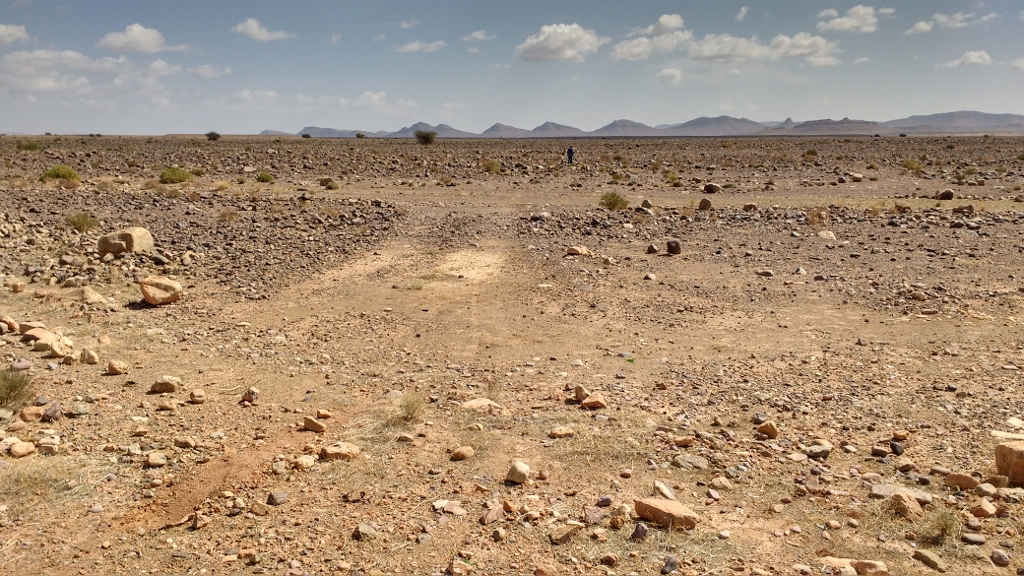 The last time we were here signs on the N13 pointed off to our left down long pistes across the desert to the auberges. No more. Roads have been built across the desert so instead of 2km of piste, we had about 200m of dirt road to rumble over. We rolled into a compound parking area behind Kasbah Mohayut (N31.131684, W4.015469), which was looking a bit half-finished, but with new friends Margot and Jurg and their massive MAN overlander also there, we all opted to stay and enjoyed a smashing wine-fuelled meal of chicken, prunes and dates. Earlier Phil had produced a long-hidden stash of Proper Job from his adopted Cornish home, which we sunk on a terrace over-looking the dunes at sunset. How Phil managed to not drink the hoppy beauties in the past 10 weeks is quite beyond me, what a hero!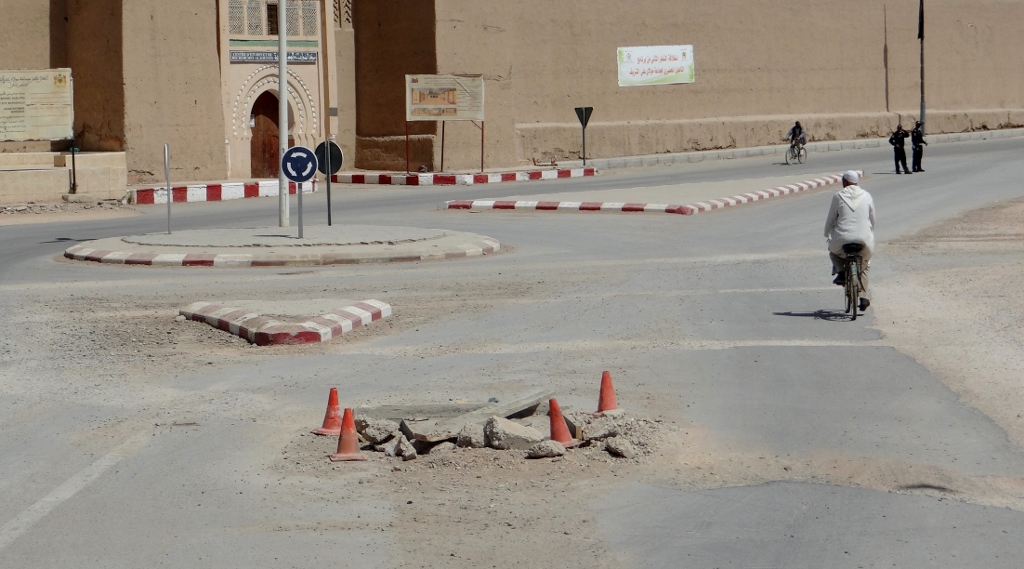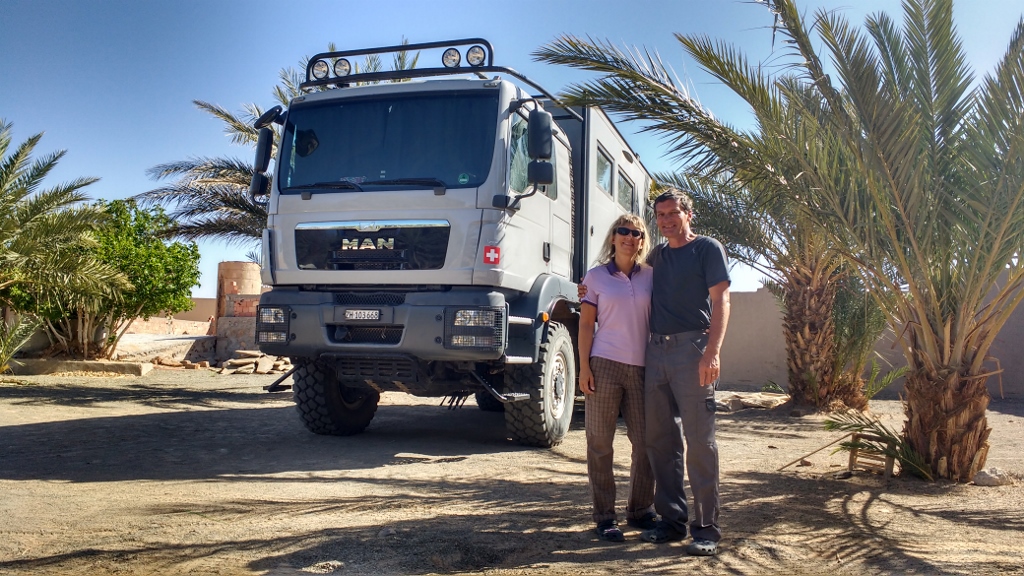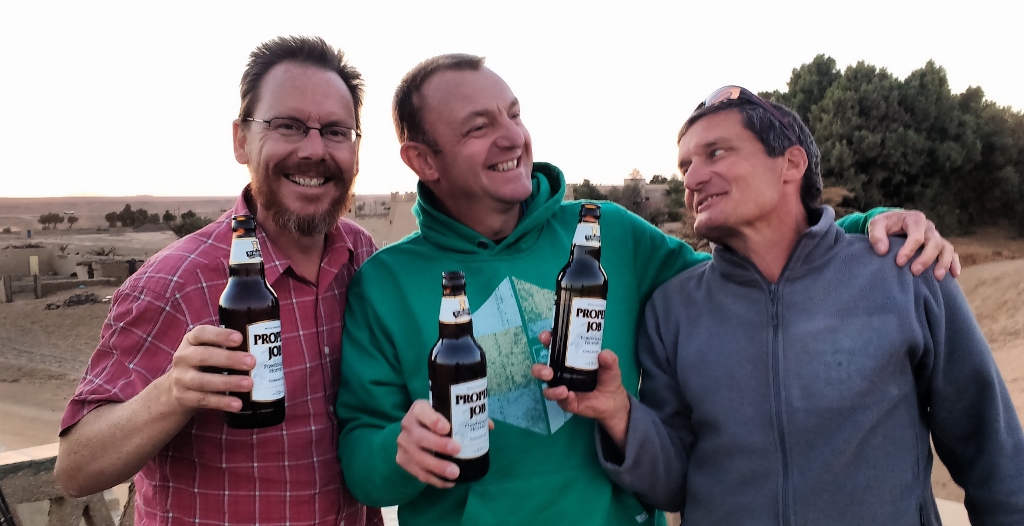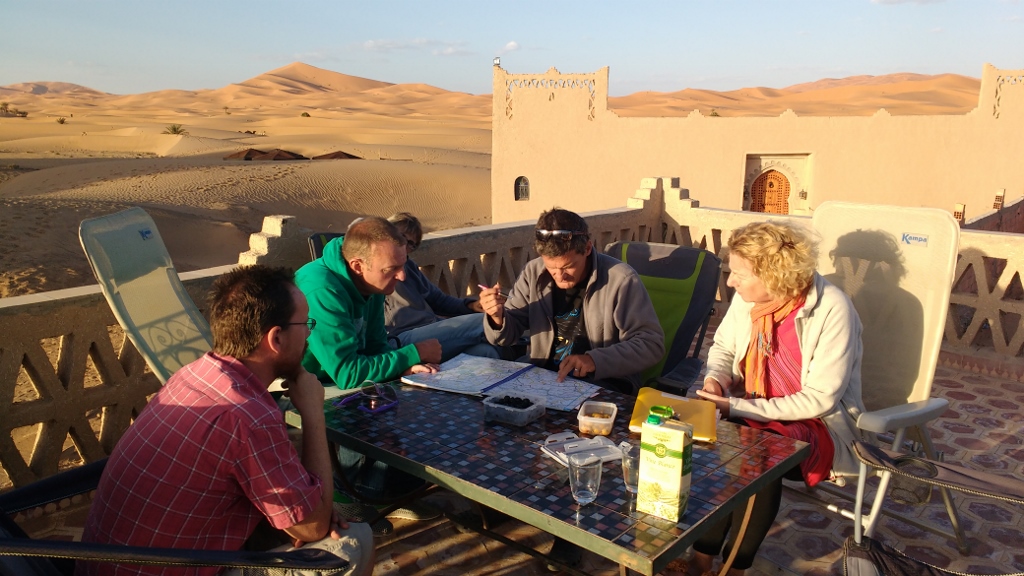 After a 200m commute here to La Chance for the views, and the altercation with my Austrian neighbour, we've all enjoyed some chilling time. Charlie was only up for a short foray into the sand. His aged legs aren't up to dune climbing these days, but we later proved ours are by dragging ourselves up the biggest dune we could see, topping out an hour before sunset and staring out at the simply glorious views all around. Having taken our snow-disk to the top, we shared it with a few Moroccans who were up there, and with varying lack of success we tried to scoot down the sand-slopes on the thing. Once climbing back up became unpalatable (in other words, after one go), we all ambled back. One of the lads we'd loaned the disk to followed us back and begged for beer from us twice from the edge of the campsite, I asked him in my best French to understand something: we showed respect to him, please show us some respect. With these words he left.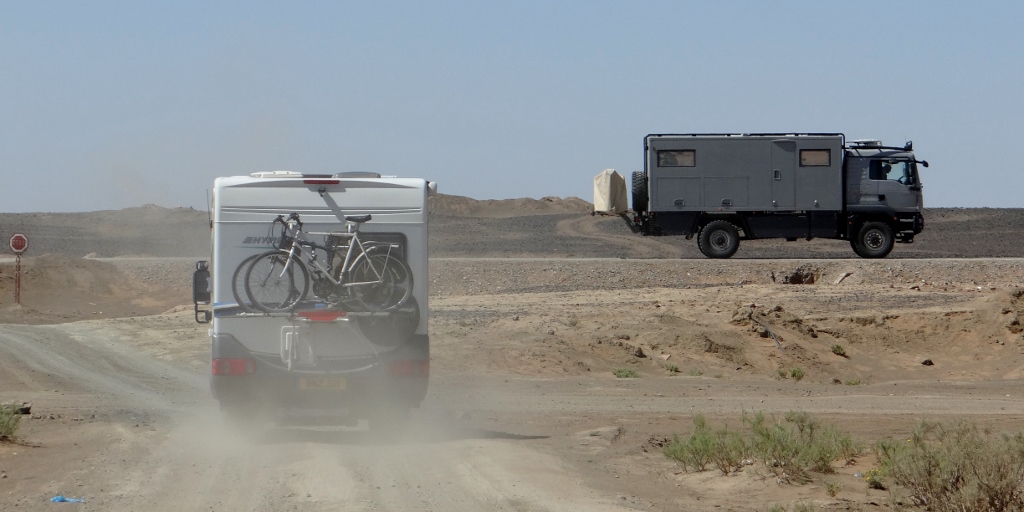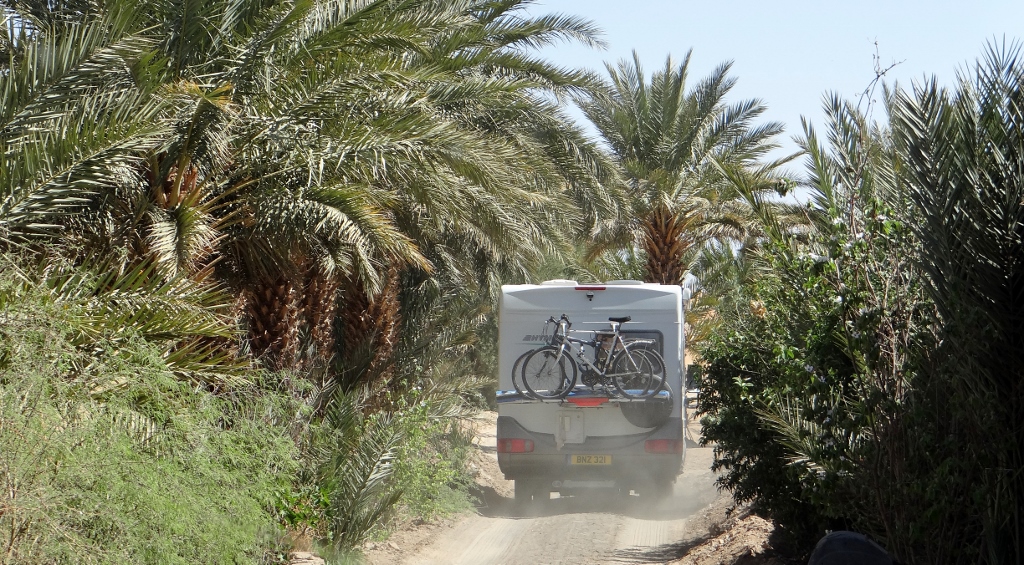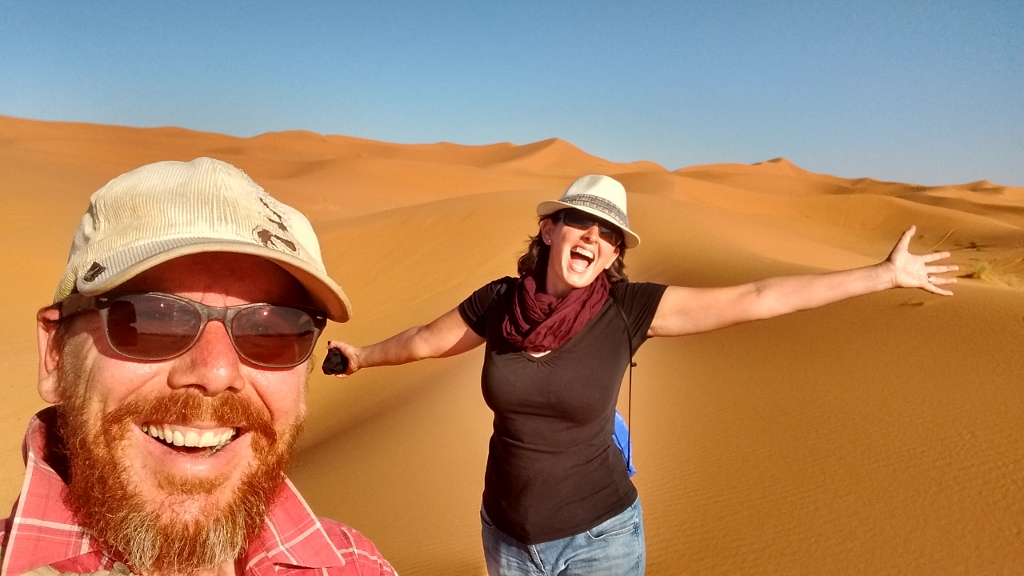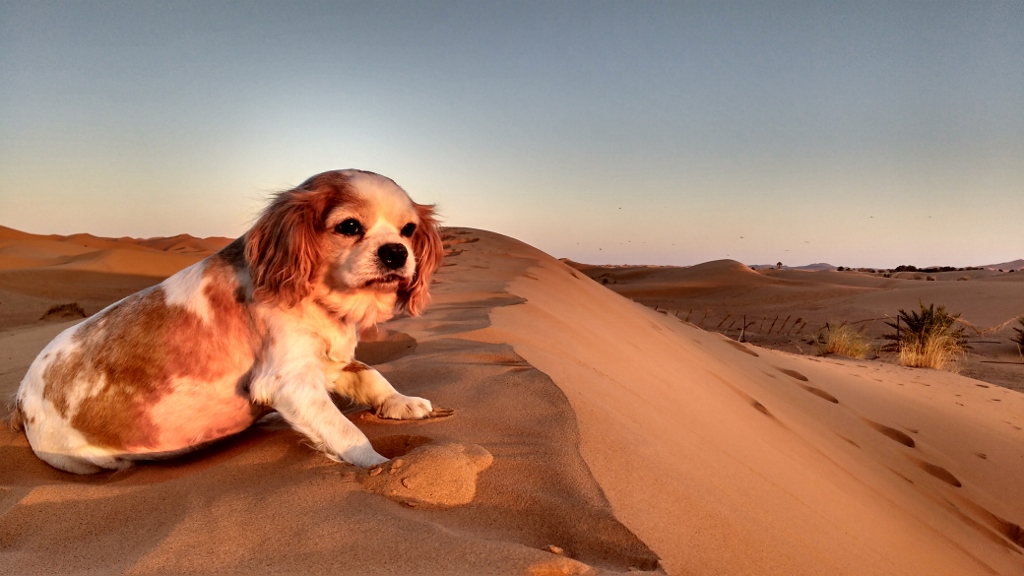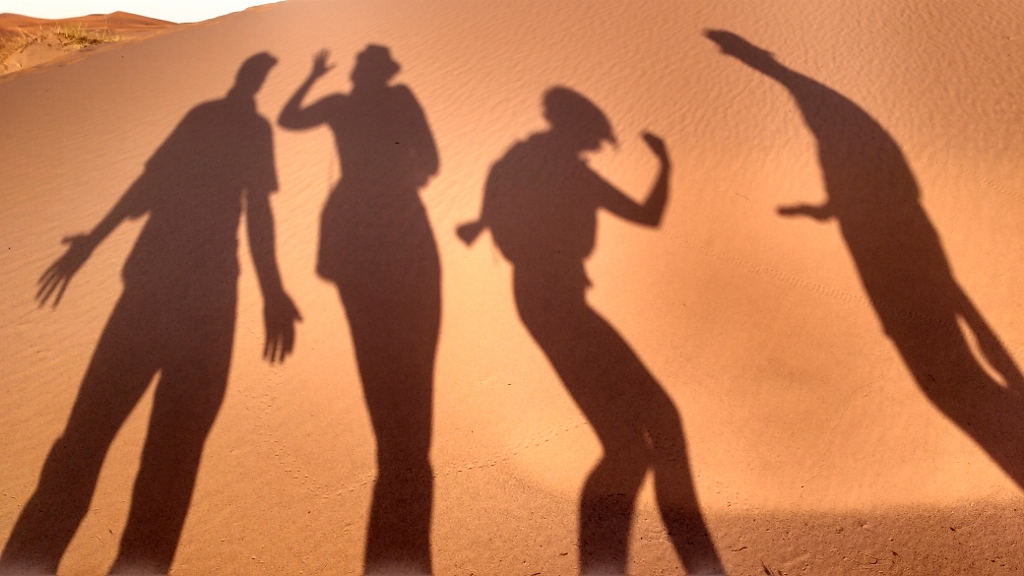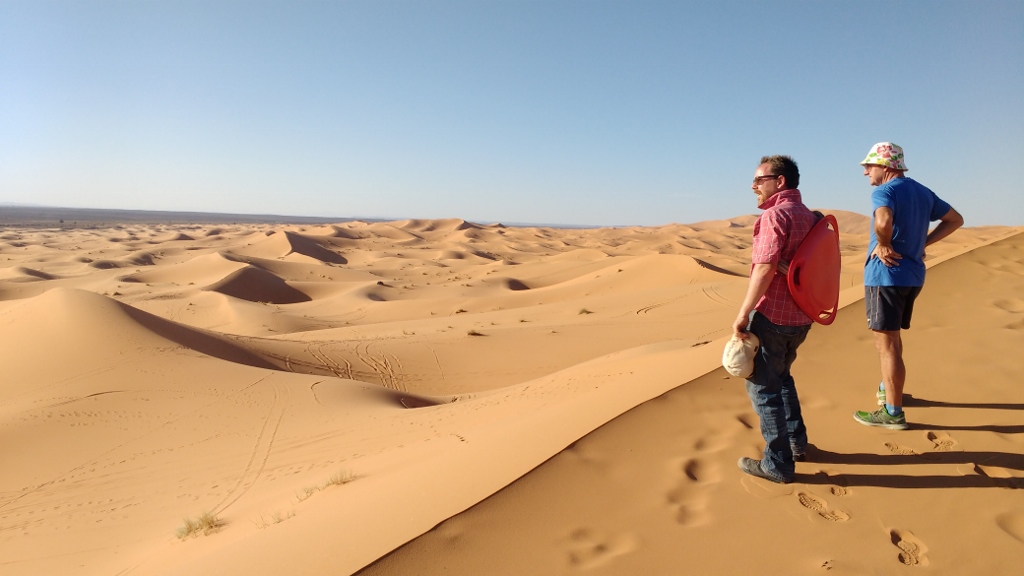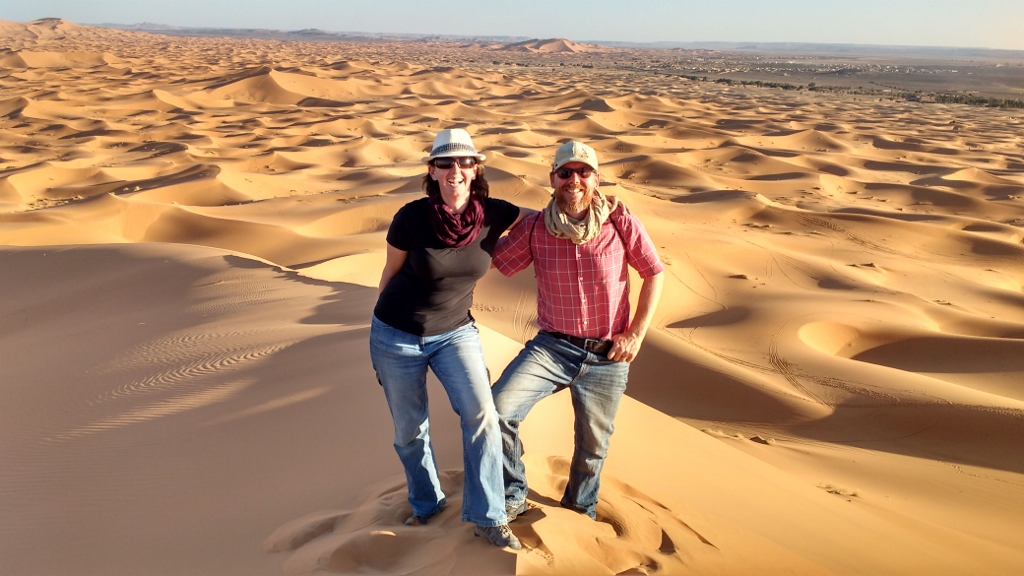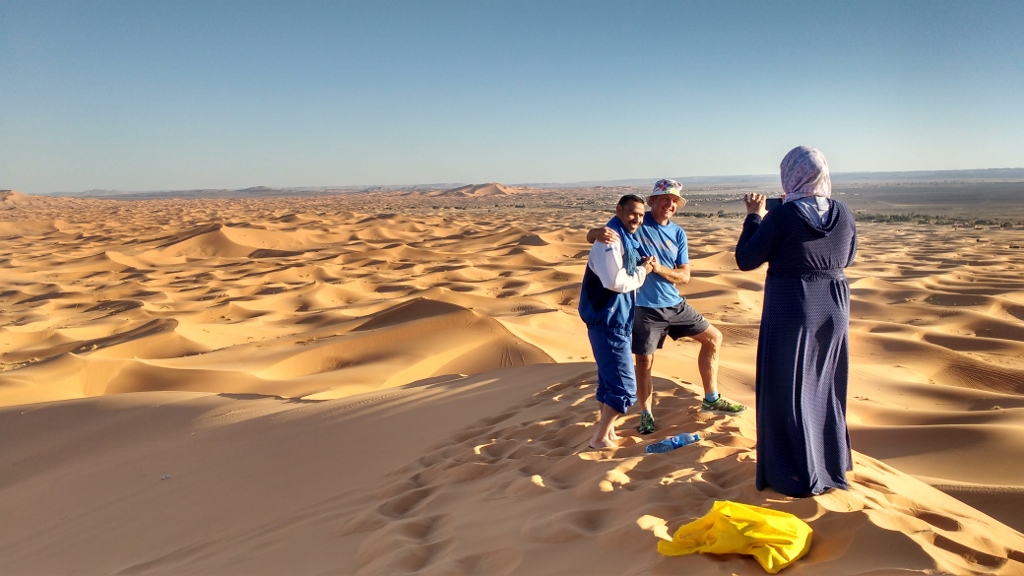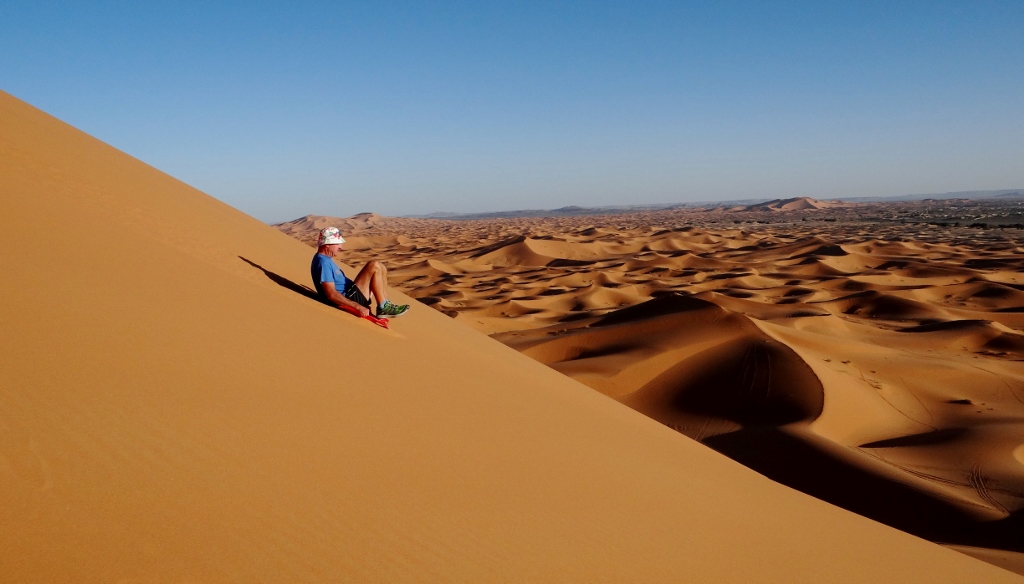 Curious about Merzouga we've nipped down on the bikes for a look around. Conclusion: it's not much of a place. Functional mud and dust again, but with a post office, bank and shops so you can grab supplies. There's a rally on at the moment so British and Czech businessness with more money than they know what to do with were busy repairing 4 by 4's and doing test runs in the sand. When we got back a couple of small twisters made their way across the campsite, the second one lifted a neighbour's carpet 10m in the air before scoring a direct hit on Big Ben. Their paper concertina blind across the main skylight took the brunt of it, being sucked upwards and needing some TLC to unbuckle it straight again.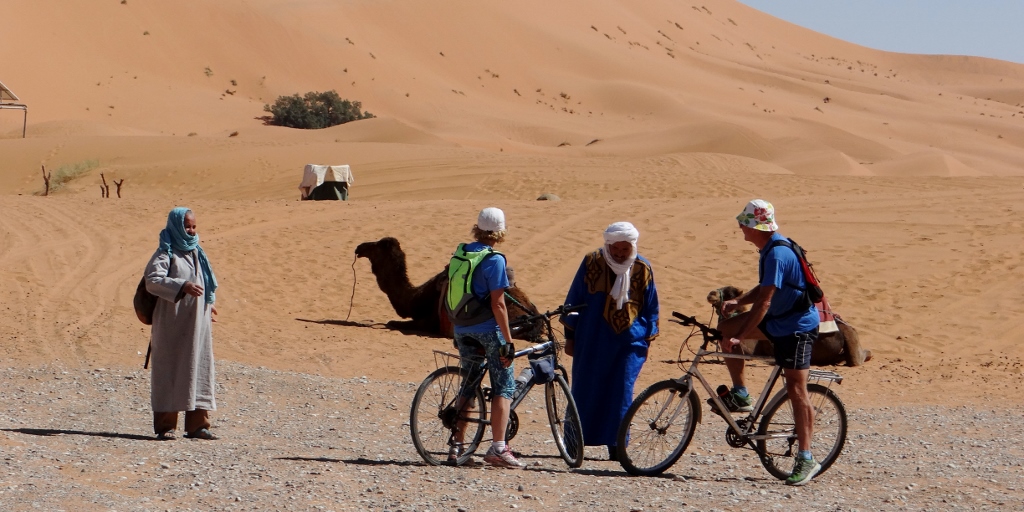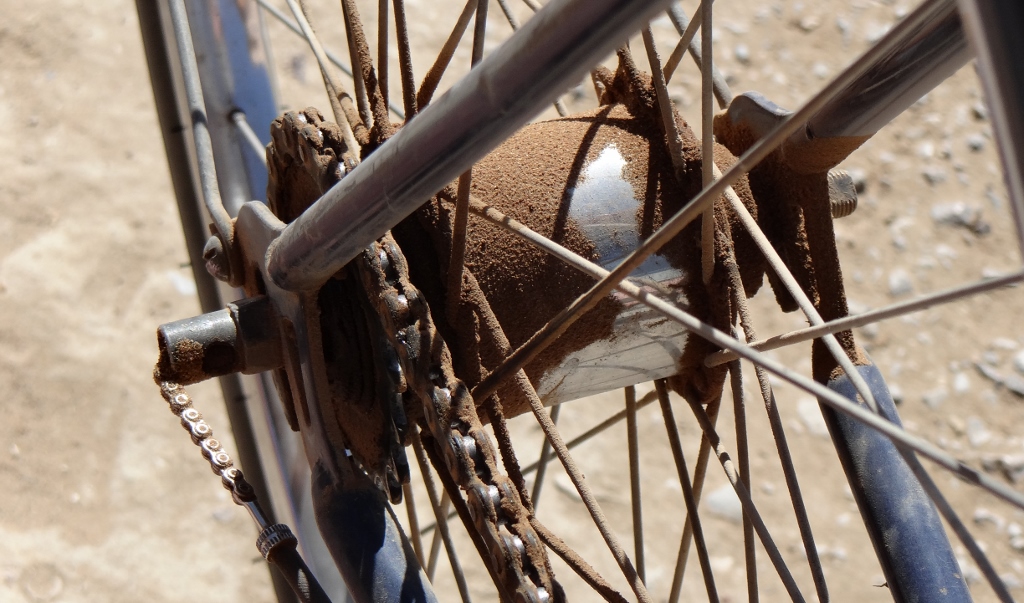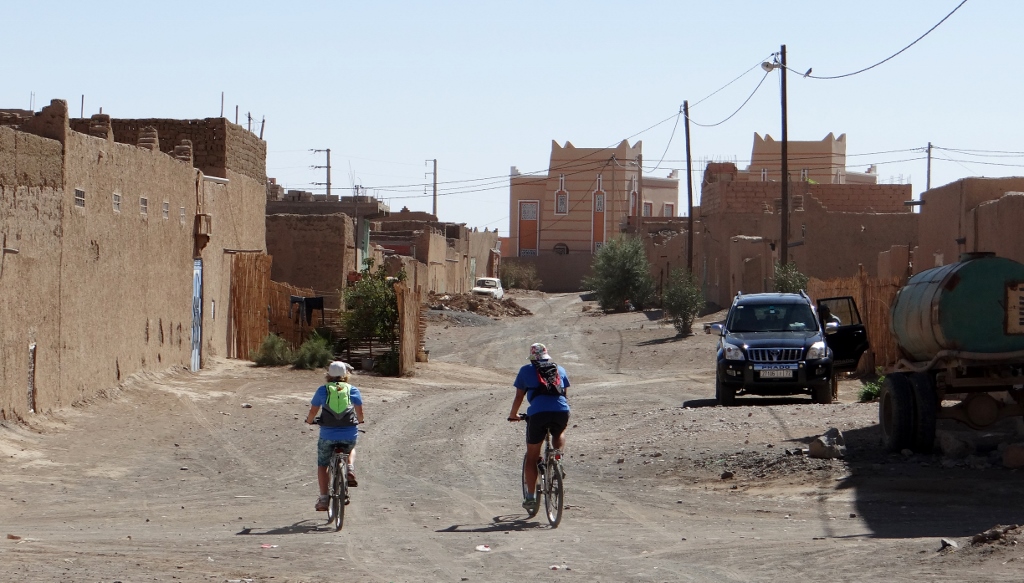 This morning Phil and Jules went for a pre-dawn camel ride, loping off at 5:30am, after some pondering whether they'd really enjoy the cliched touristyness of it all. They came back grinning, same as I did when we did it last time. It cost 150Dh each, which was actually 50Dh each less than we paid five years ago, so camel inflation seems to be well under control.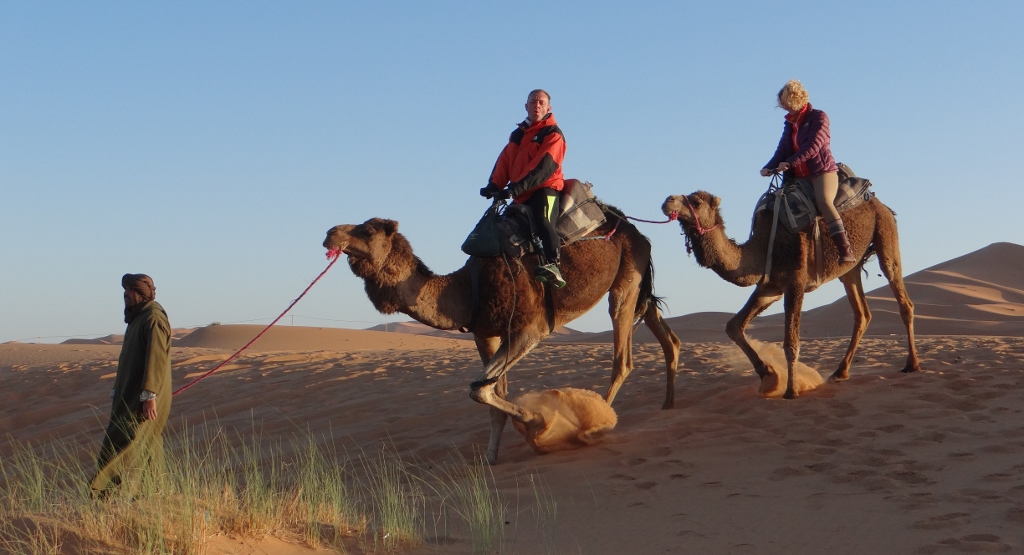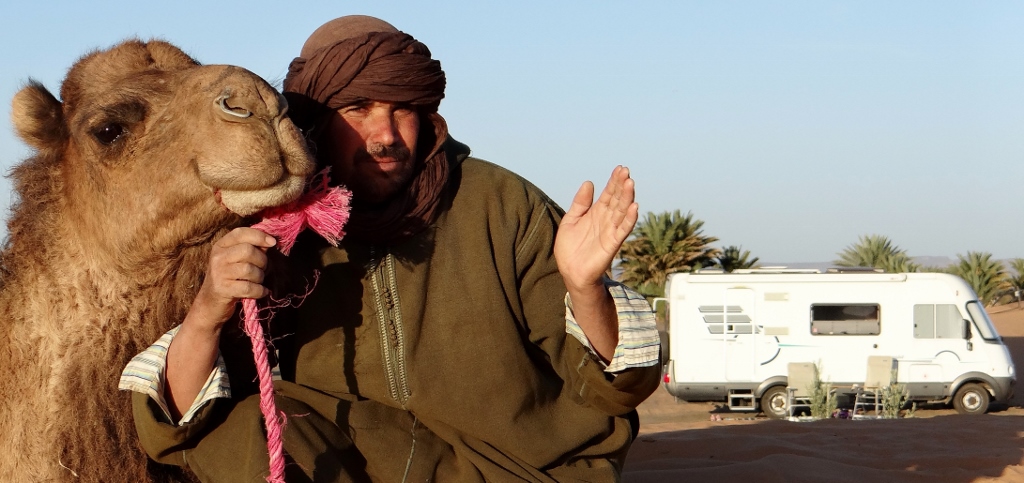 Phew, we're up to date! In summary we're all good. We know as soon as we leave Morocco we'll miss it. And at the same time we almost can't wait to leave now. All of us are imagining a blow out weekend in Gibraltar with fry-ups, pints of ale and Sunday roasts. We're giddy with the idea of shopping in Morrisons, stocking up on sausages and bacon. Menu del dia's likely to take a battering too, as well as a tapas nosh-up. We've eight days left in Africa though. And in 8 days, many weird things can happen…
Cheers, Jay
Can't resist a few more photos: