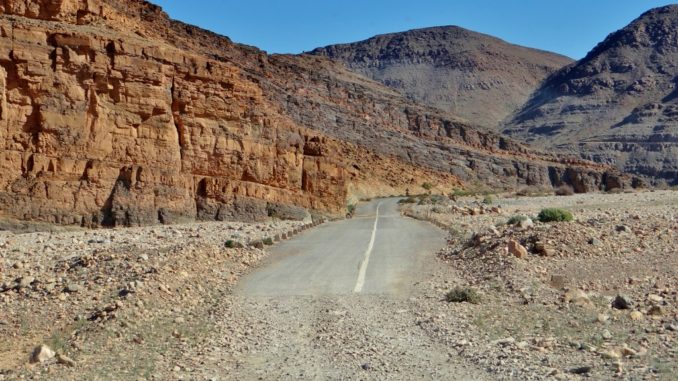 Zagan the motorhome's stretching out each of his suspension struts, shuddering off a thick layer of dust, and clenching and unclenching his tyres to check for damage. Yes, yesterday we did something stupid. So today we are relaxing at the lovely Borj Biramane Auberge and Camping (N29.058956, W8.851843) just outside Icht, while we all recover.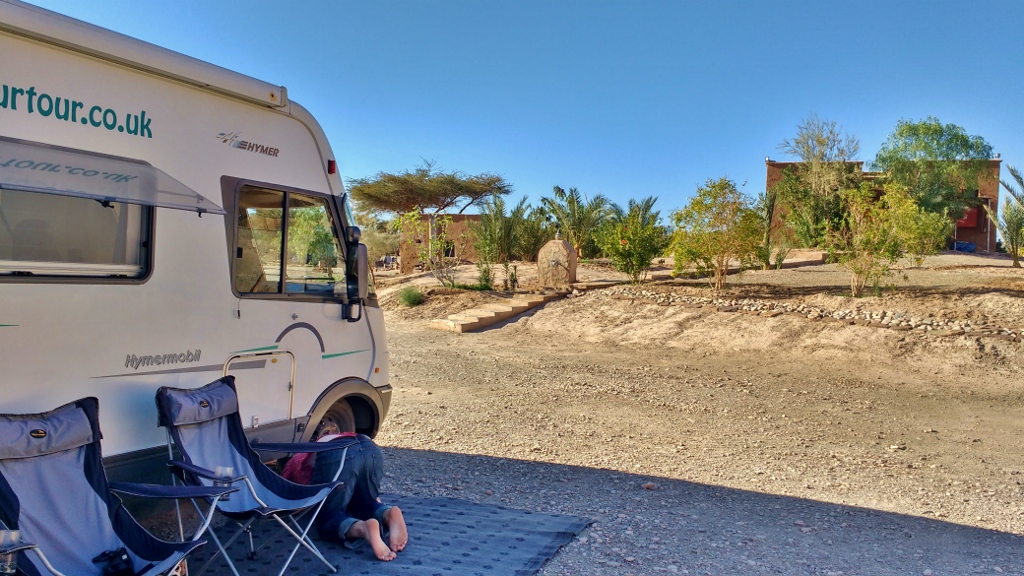 Yesterday morning started well with a 5km jog along the gorge we were staying in. It was partly the views that kept me going, but mainly the women along the riverbed collecting up some sort of plant. From our bike ride the day before, we know that once they have a huge stack of the stuff they walk for miles with it. We have no idea what it is, but they must get up before dawn and take the best part of the day to get it back home.
After showers it was time for the off. Having cycled some of the route the day before, we fixed our GoPro to the windscreen as we knew it was going to be a pretty special drive along the gorge. We'll upload it once we have some WiFi.
Jay's previous night's sleep had been fitful. Thoughts of a lorry bearing down on us, forcing us off one of the unbarriered bridges over the riverbed occupied his mind. Fortunately the only traffic we encountered were a throng of Dutch tourists walking the valley, a couple of cars and the local buses, packed to the rafters with unlucky (or lucky) passengers travelling on the roof. All of these mobile obstacles were easily navigated around.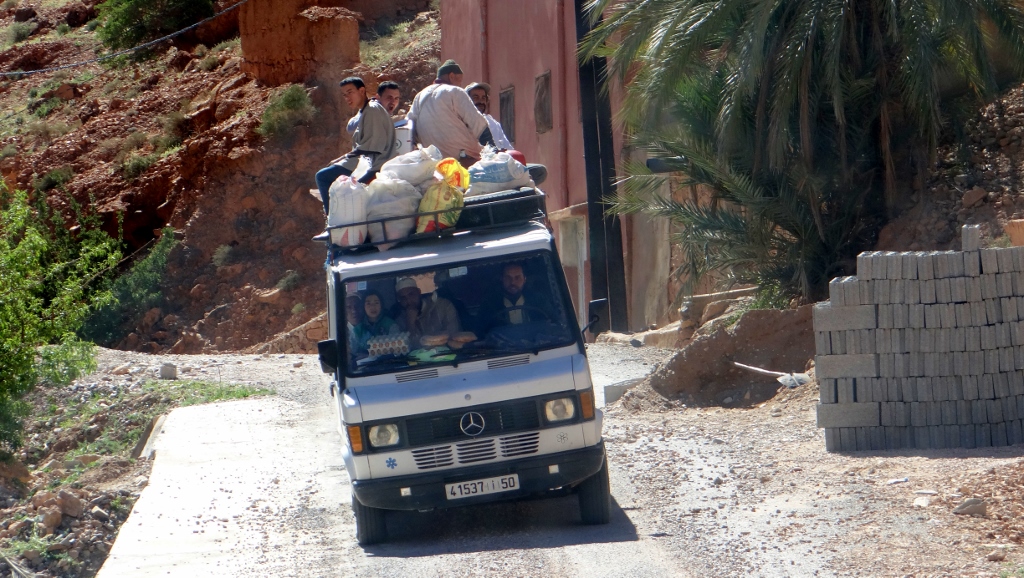 As we wound our way along the narrow path snaking through valley floor, overhanging palm and olive trees brushed against Zagan's sides and roof. The occasional 'dong' rang out to mark a fresh date landing on the satellite dish. We laughed and joked that anyone buying Zagan in the future may wonder where the marks had come from, and stopped several times to take photos of the beautiful landscape around us.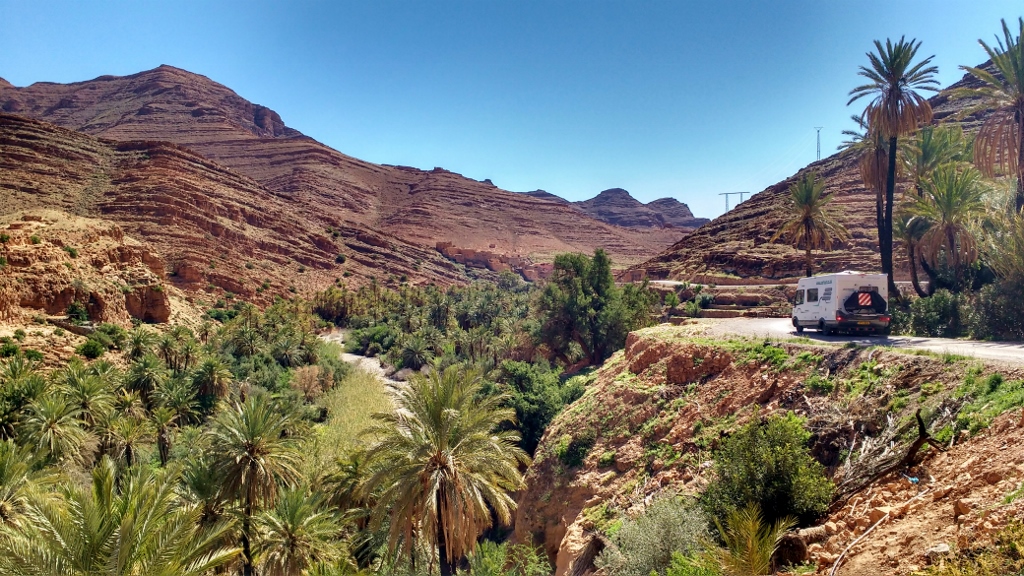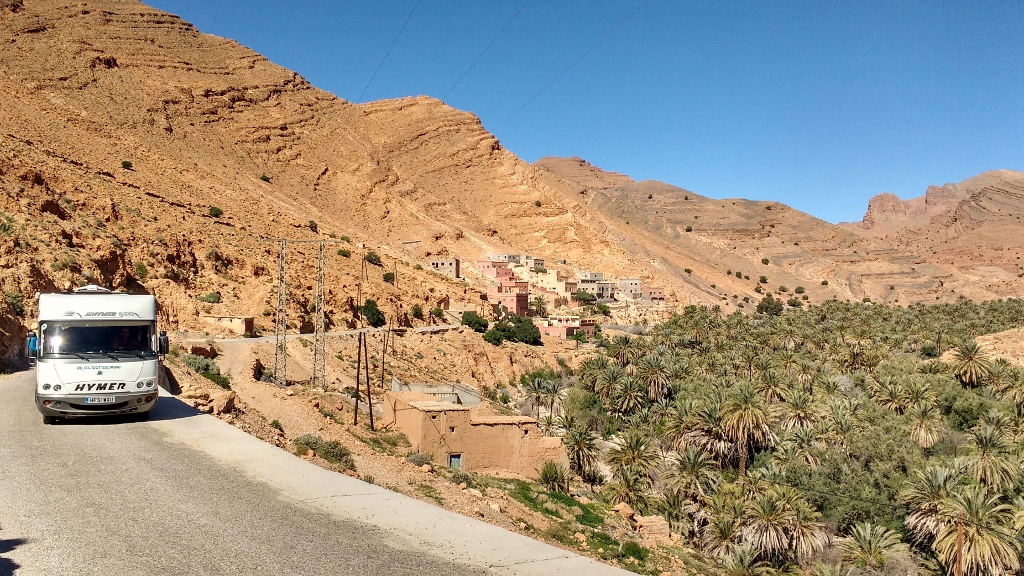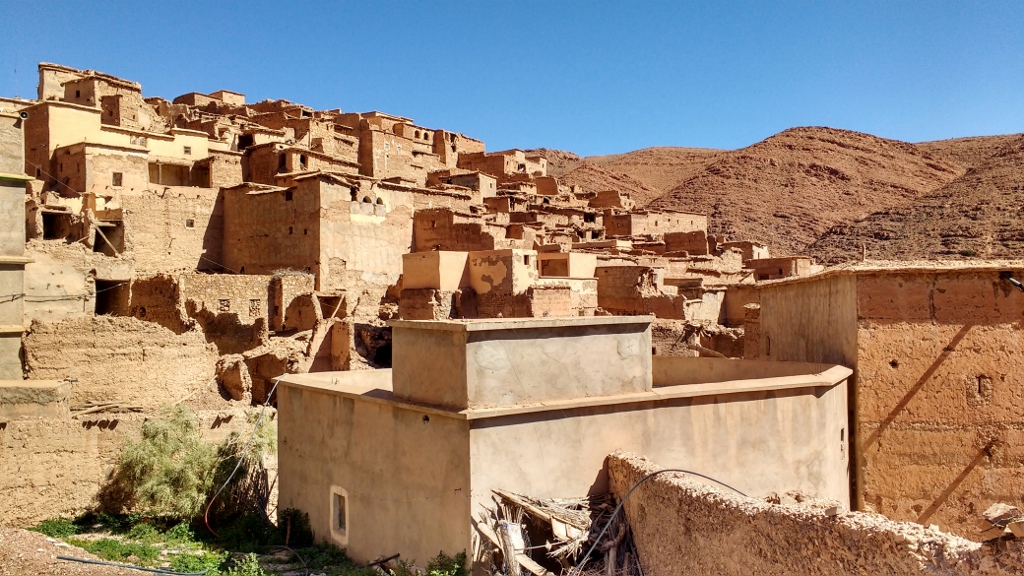 At the end of the valley we turned onto the road Mustapha, our parking guardian for the past two nights, had drawn onto our map. The Biro road transported us to a Martian-like land of orange hills. Each hill covered in lines of rocks in swirling patterns, as though they had been combed.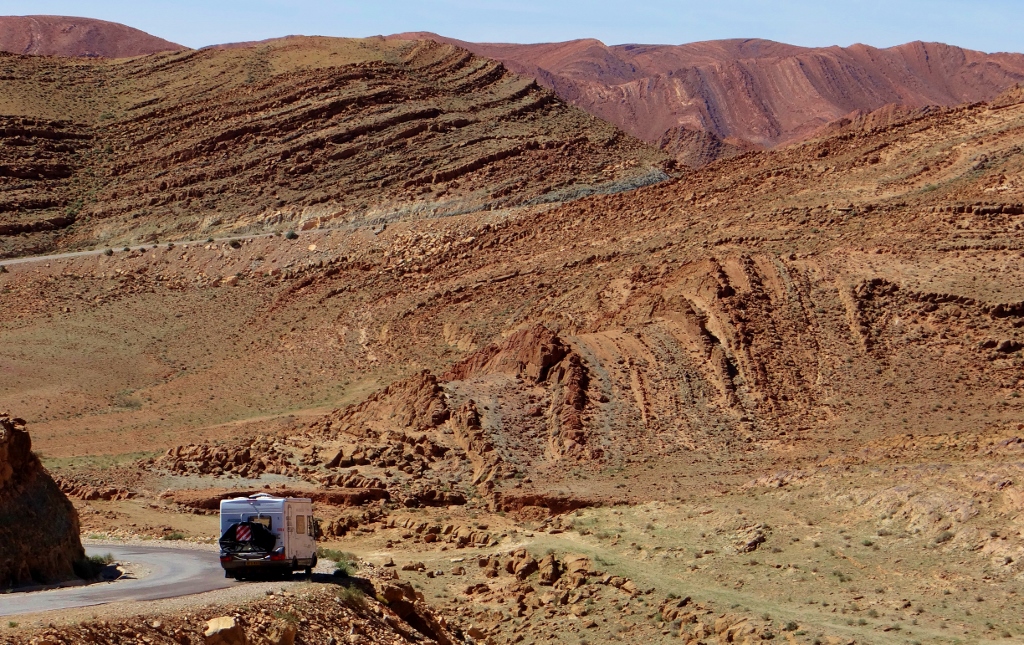 Along Biro road were small villages, also not on our map, where children ran towards the van shouting for sweets, pens or footballs. Jay stopped and chatted to one group of boys. The leader claiming to be 15, but looking so much smaller, could speak four languages – French, English, Arabic and the local dialect of Berber. Jay kindly told him that with his language skills he could do whatever he wanted, sadly all he wants to do is beg from the infrequent tourists passing by his home.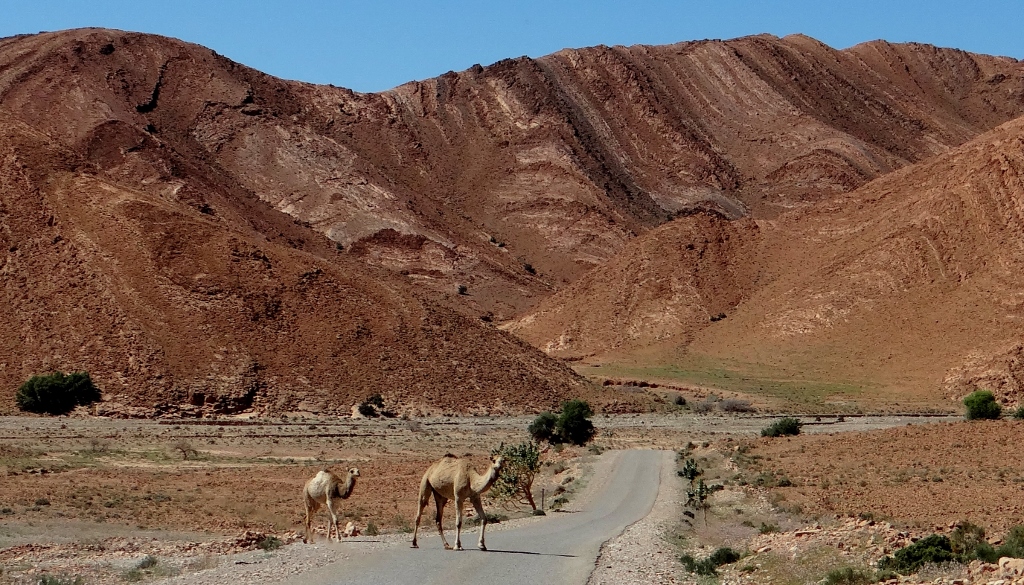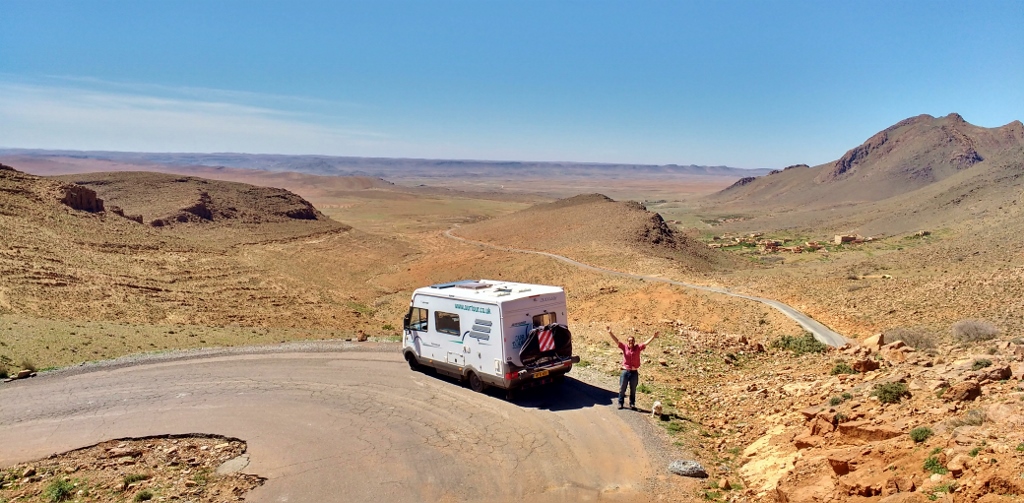 Soon we reached the R107, a shortcut to the road we want to take across the south of the country. We'd heard it was paved most of the way to Igmir where we planned to spend the night, so we turned south and whooped as we tore up the miles on freshly laid tarmac. We were taken on a diversion off the smooth black top to avoid a bridge damaged by the recent rain, and laughed at how that would be the bit that wasn't tarmaced. Of course you know what is coming. Ten kilometres from Igmir, the tarmac stopped.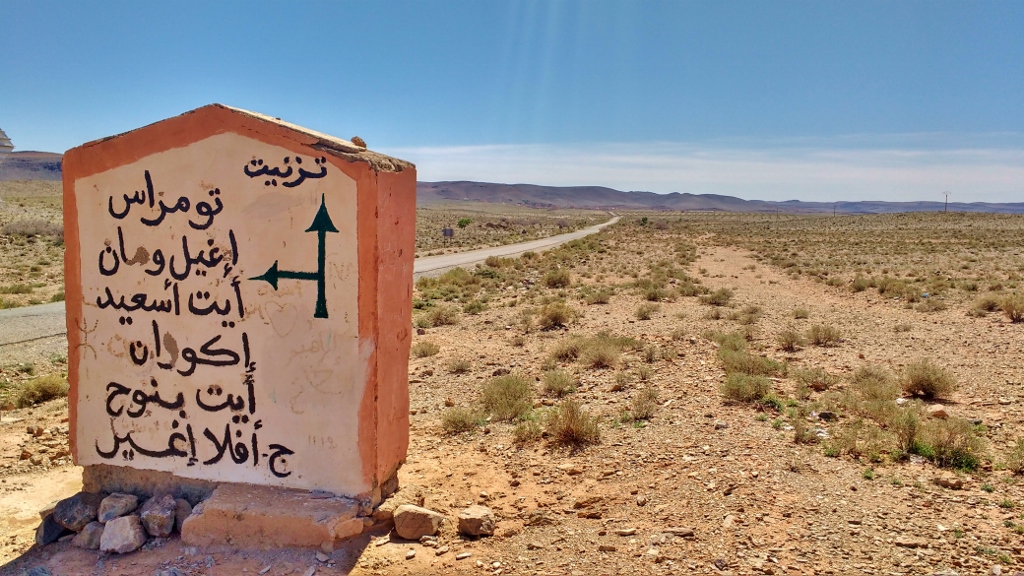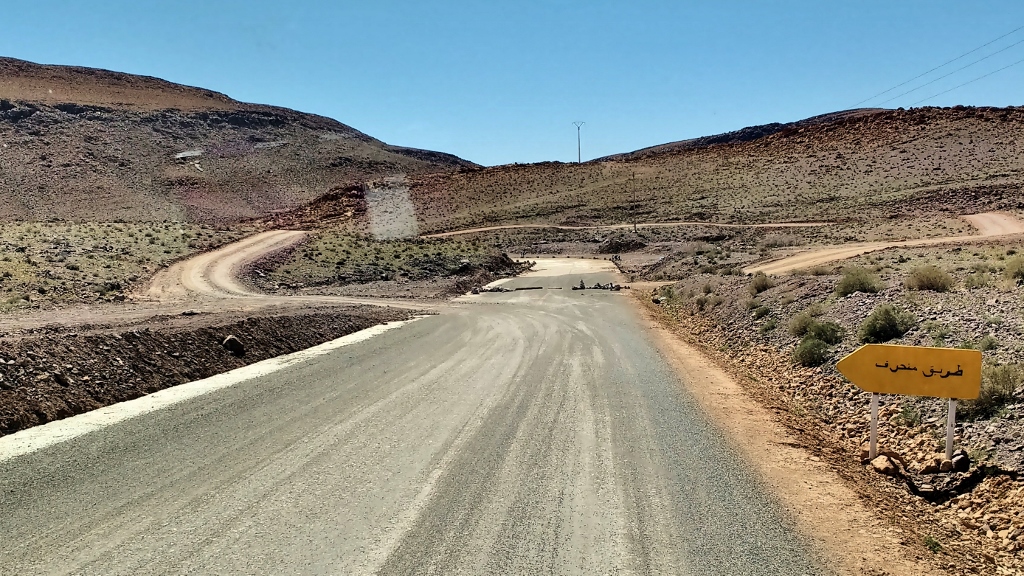 We drove past a road roller and a few other yellow mechanical beasts working to get the piste road ready for its final spread of tarmac, so the piste surface was nice and flat and smooth. On we trundled, at a reduced pace. Our 'satnav' (we're using maps.me which is free and works offline, as we don't have a Moroccan map on our TomTom) showed the road winding around on itself, we were about to start the descent to Igmir. Now I've never seen The Grand Canyon, but Jay has and he assured me that we were about to drive into something that looked a lot like it.

Again we set the camera rolling, but it will never do justice to what our eyes could see. The website for Gite Igmir, where we planned to stop for the night, shows a 4×4 tip-toeing along a precarious path to the town, so we were more than happy to use the newly-blasted out road, without its tarmac topping, to reach our digs, engaging first gear to get us down the last section of the descent. Sadly as we reached the entrance we realised we'd have to cross the riverbed to get to the Gite. We eyed it up and decided we didn't want to risk Zagan's tyres on the rocks. Behind us were ten kilometres of piste and a very steep hill, ahead of us it was around 30 kilometres to the main road, surely the tarmac would return once we were back out of the town? Surely?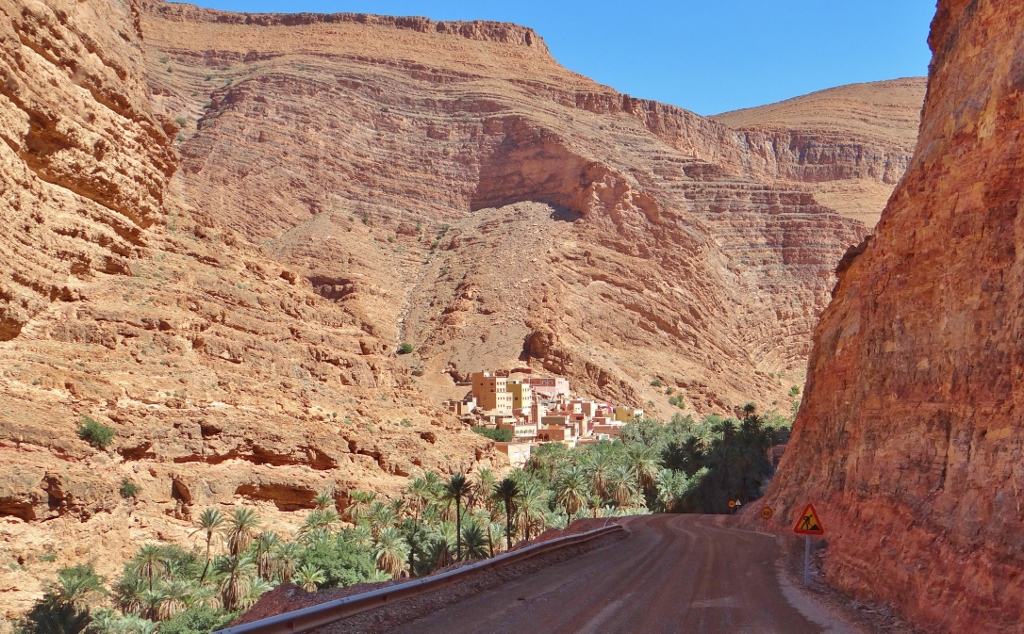 We trundled out of the town and the road got a little worse. Not quite as smooth as it had been and with a few more stones. However the scenery was still stunning, so we carried on, filling up an entire 2GB SD card with photos as we went.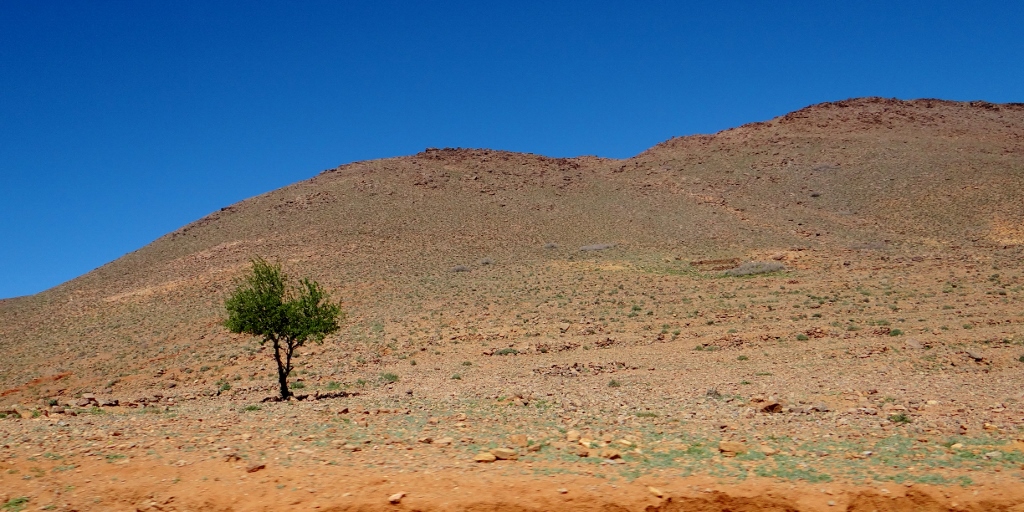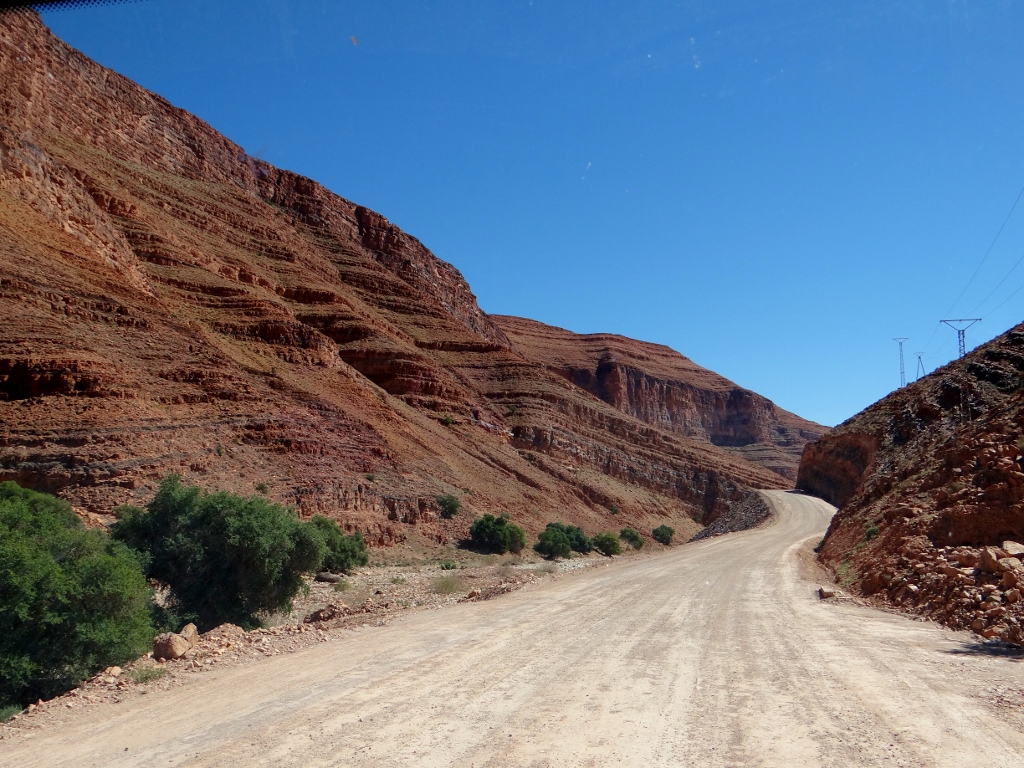 Slowly we realised that the tarmac probably wasn't coming back. Now we were 20 kilometres along the piste with only 10 more to go, past the point of no return. So of course, we carried on. Creeping along to protect Zagan's tyres meant we had plenty of time to drink in the views.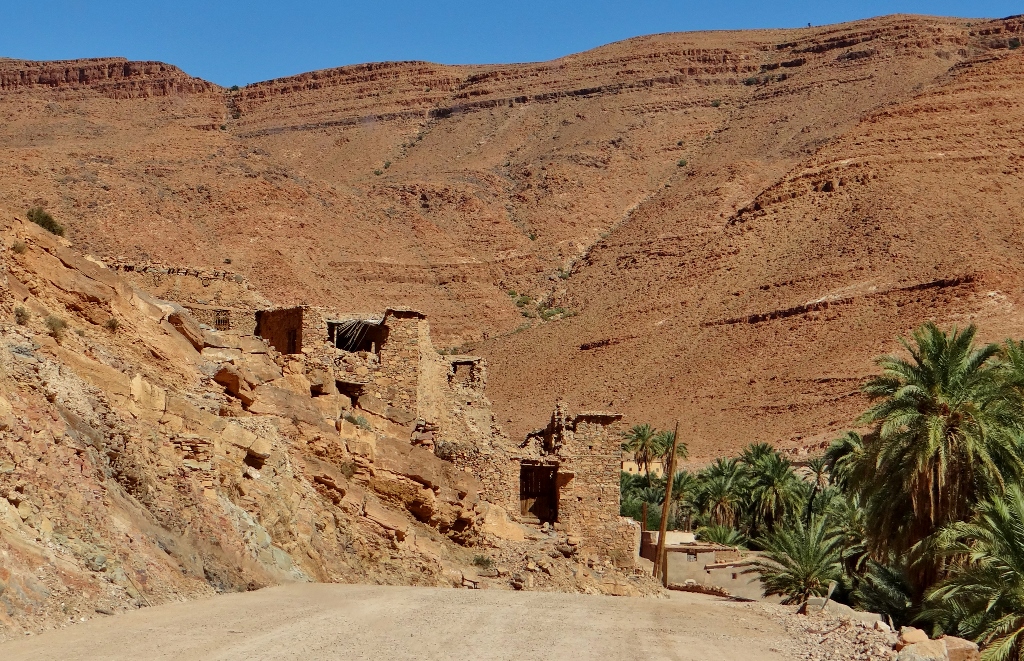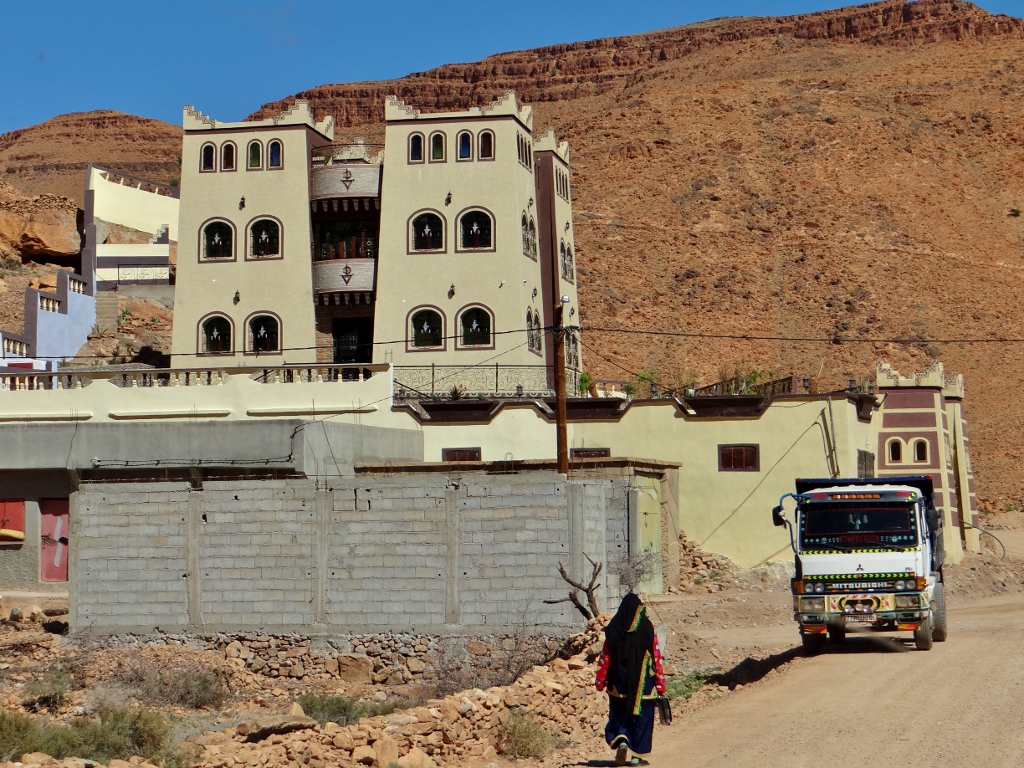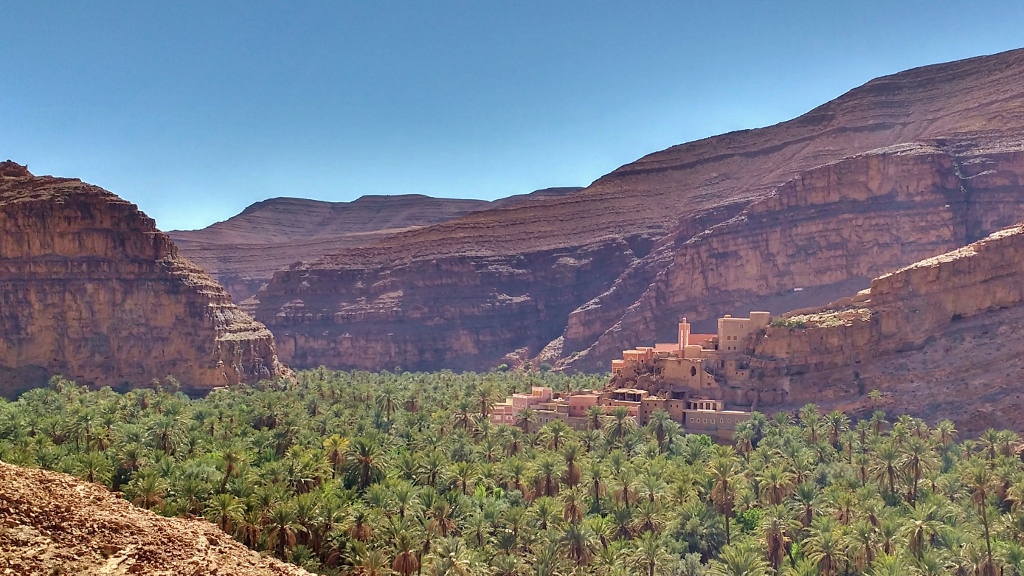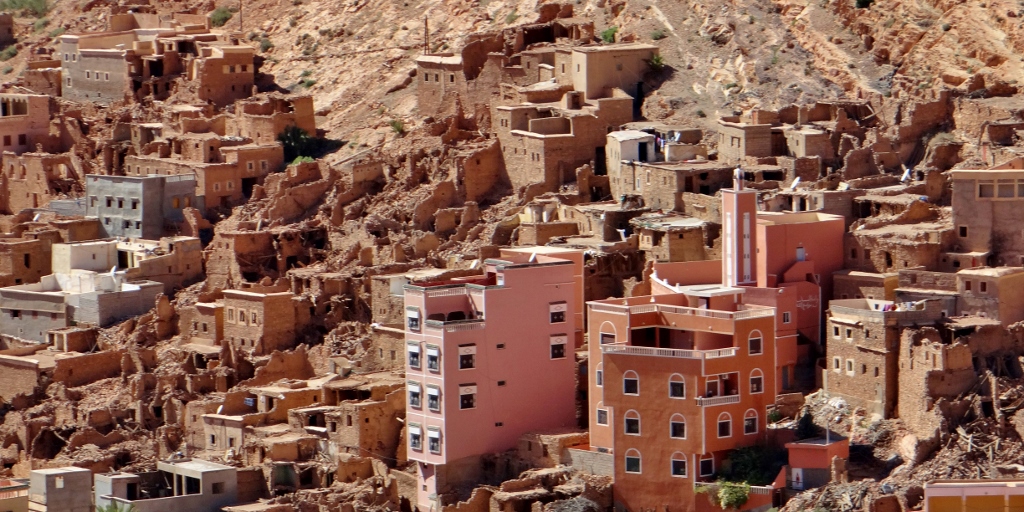 After an hour or so, the views lost their appeal as the road got rockier. We both went quiet, thinking about what we would do if we got a flat or broke down here in the middle of nowhere, and slowly we both began to feel a bit sick in our stomachs.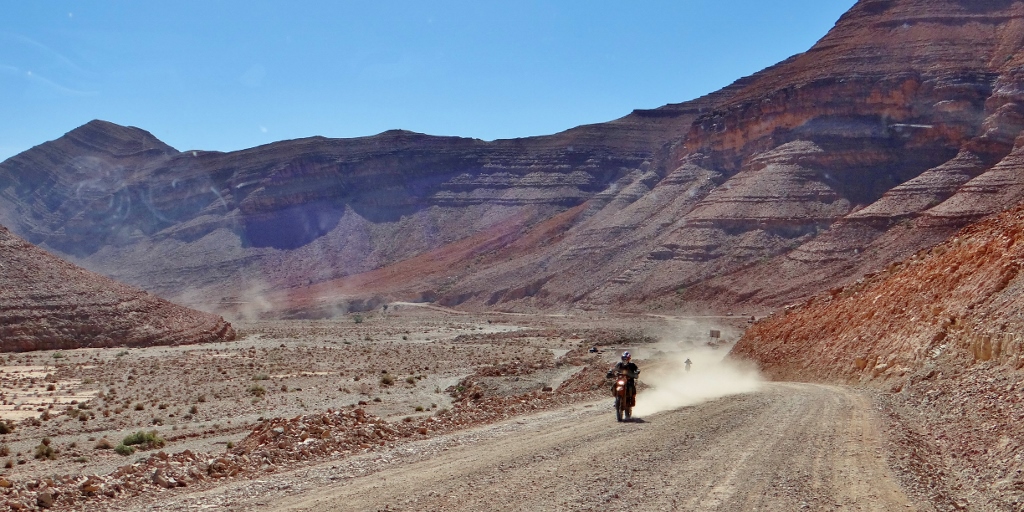 By now we were bumping along on a bad piste, one that we would never have taken if we had seen it beforehand. Ahead of us a bridge of the river bed was broken but passable, nervous laughter filled Zagan as we wondered what would have happened if it wasn't. That question was answered just a mile or so later. The bridge having been swept away by the rain, so we were diverted over the riverbed.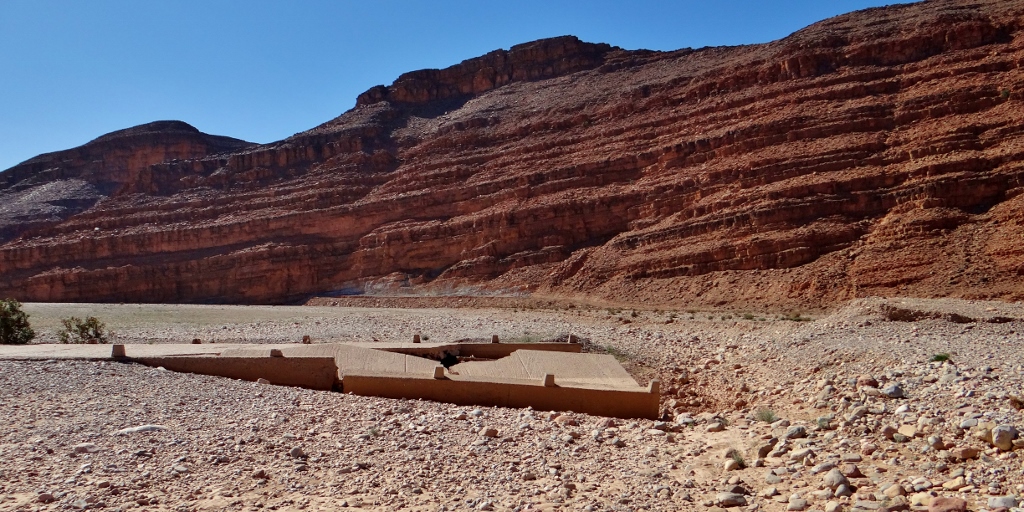 Bumping along at a crawl we winced with every large 'thunk' from Zagan's underbelly, wishing we had crossed the short and flatter riverbed to the Gite. Back on the piste, which to be honest was now resembling the riverbed for quality, we were diverted off again for a much longer stretch. Onward we crept in stony silence.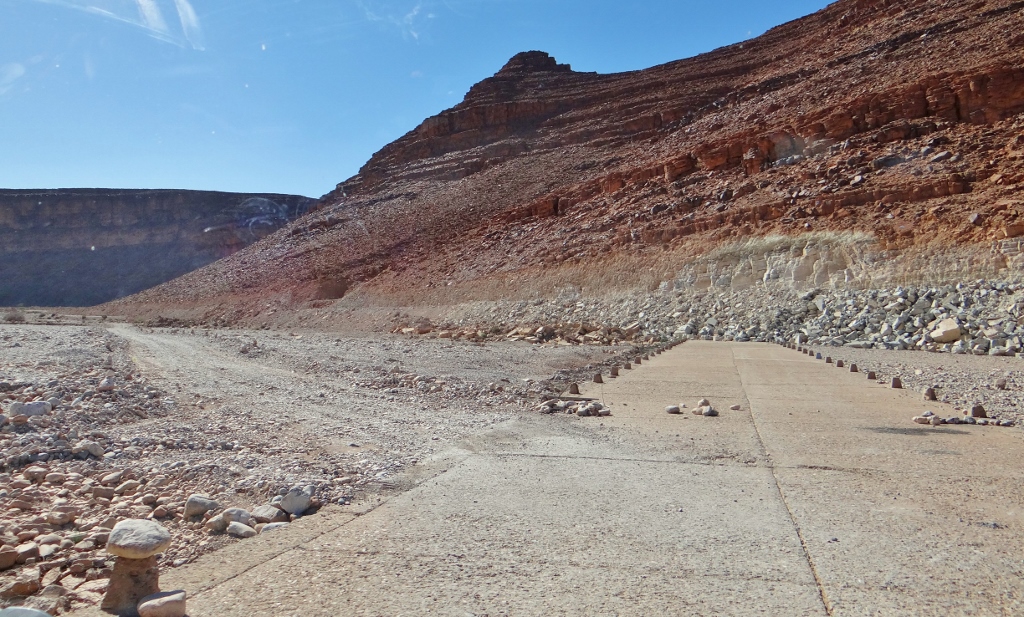 After five hours of driving we now both had seriously frayed nerves, so at first we didn't believe what we were seeing up ahead. Then as we got closer it was clear it wasn't a mirage, it was tarmac. Not only that, but tarmac with a stripe on it, a proper road. If we weren't so bushed we would have got out and kissed the tarmac like The Pope.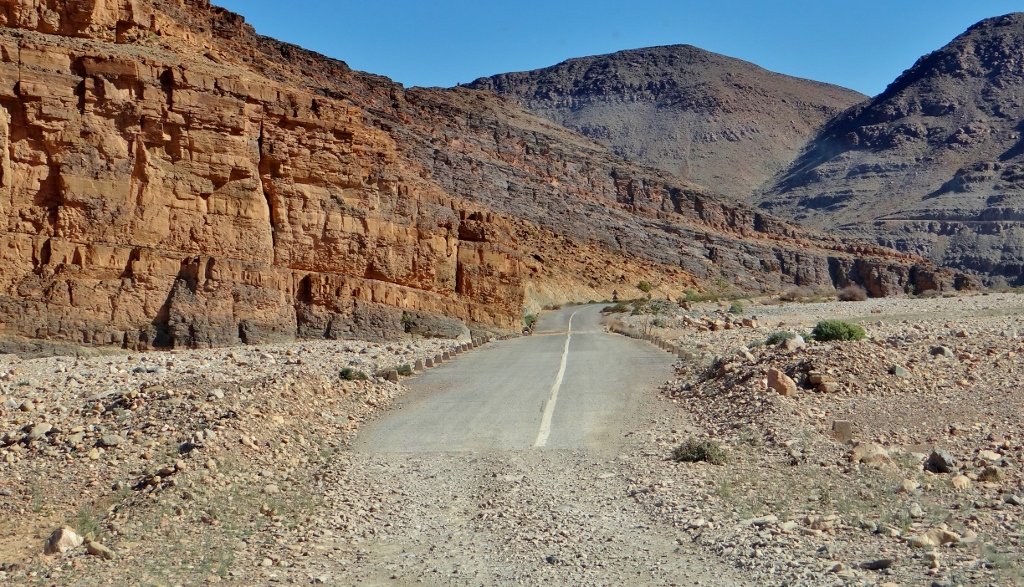 After 30 kilometres of increasingly bad piste the mood in Zagan instantly lifted as his still intact wheels touched the black top. Pot holes and bumpy bridges became a joke once more and we both had that Friday feeling, on a Sunday. Once again the small towns and villages became picturesque, as we both realised how lucky we had been.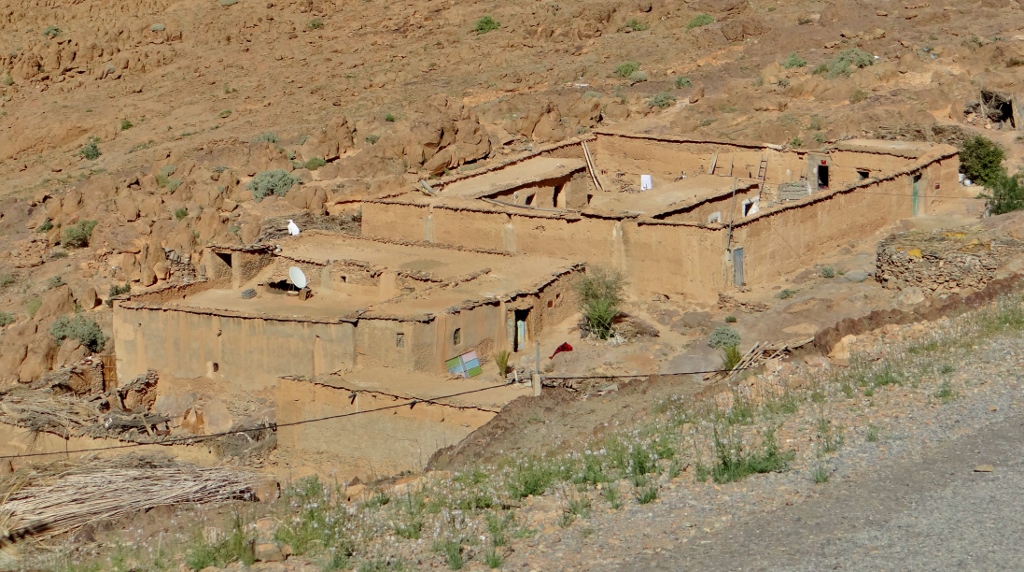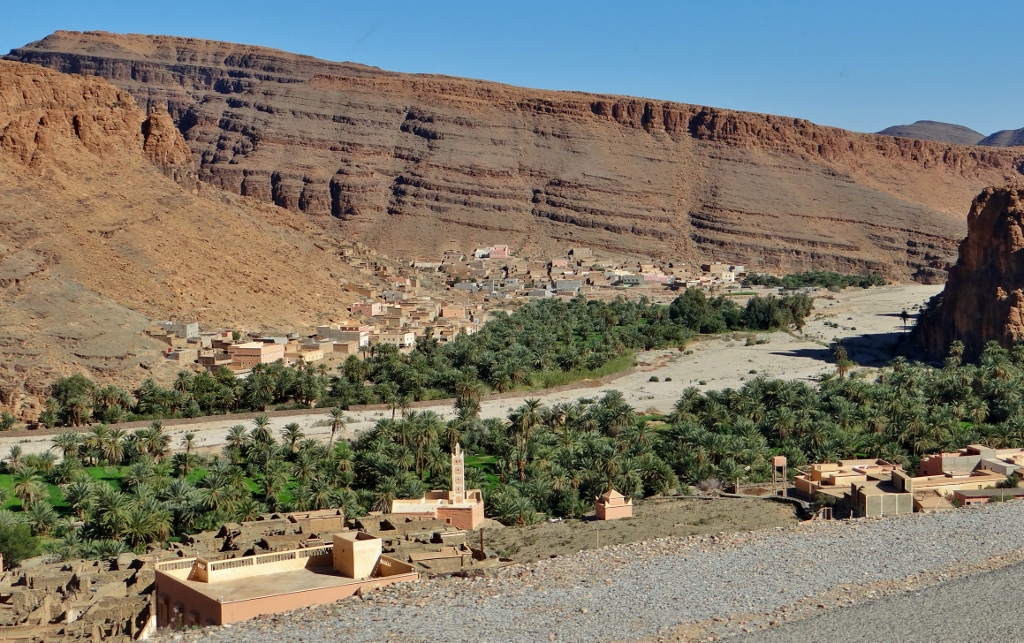 After five and a half hours of driving we reached the campsite. Pulled in, parked up, put beer in the fridge and ordered chicken and chips for tea. As I stood in reception filling out the fiches (documents used to track you around the country in case you get lost) I looked up and saw a map on the wall advertising 4×4 adventures – guess which road they were taking?
Ju x