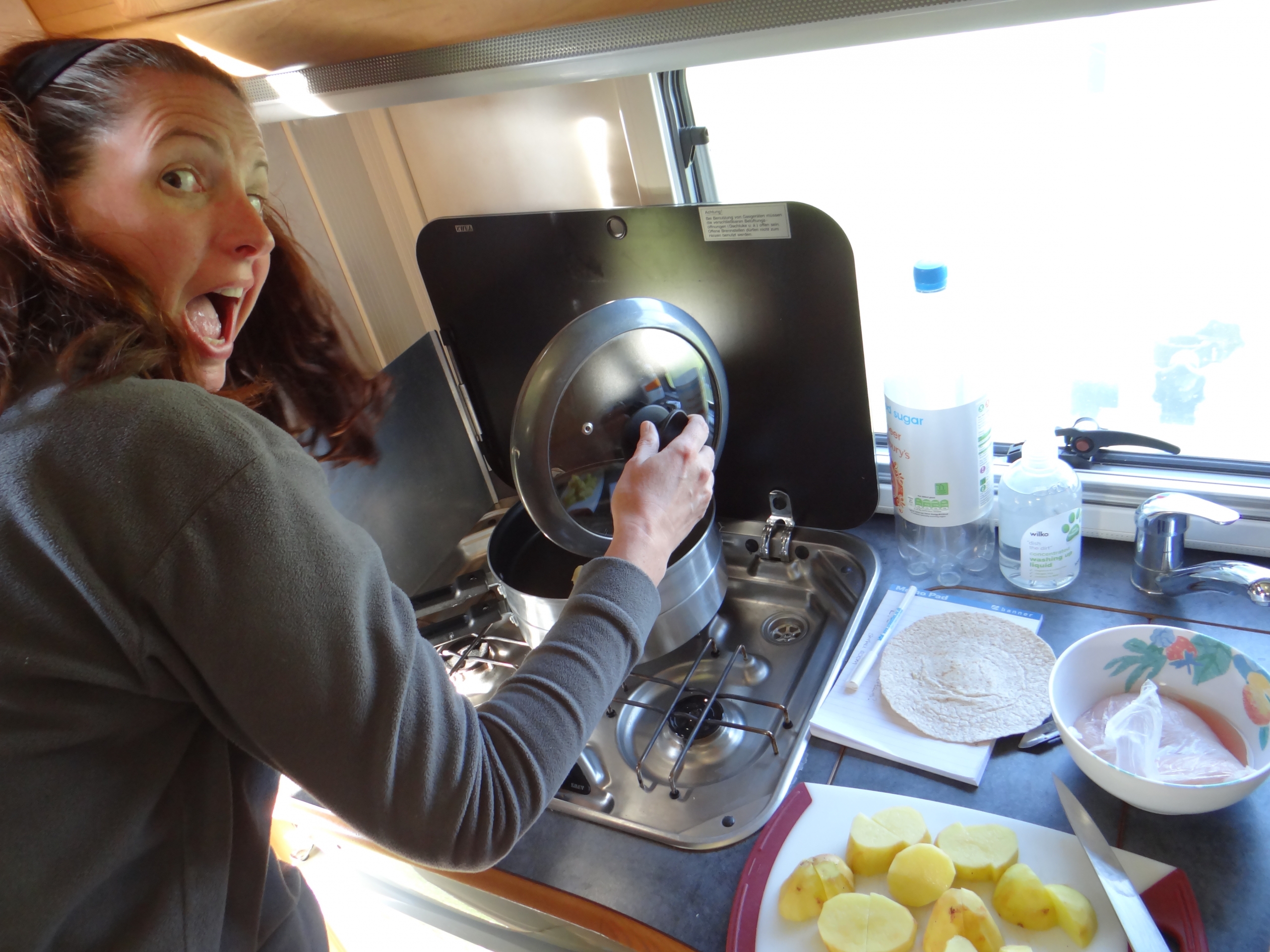 Roast chicken. Roast potatoes. Jacket spuds. Pizza. **Salivate**! All of these puppies are on the menu in our motorhome from now onwards!
Our previous motorhome Dave had many fabulous qualities, but an oven wasn't one of 'em. He sported a 3 ring gas hob, and we cooked on it for the best part of two years. Spending much of our time loafing around motorhome aires and car parks, we were mostly off-grid, so an electric oven of any kind was off the menu, and we didn't want to fit a gas oven. Nah, if we were cooking, we were cooking on a gas hob. Zagan's the same – 3 ring gas hob only.
We had a few hob-related revelations on our earlier wanderings:
1. Ju worked out we could make toast by laying the bread flat in a dry heated frying pan, and flipping it over from time to time. Worked really well that one.
2. The hotplate and domed top of a Safari Chef BBQ could be popped onto the hob and heated to make an oven. A couple of pizzas were crafted in this way (from fresh dough we got in an Italian supermarket and couldn't get flat for the life of us). Until we noticed the assembly over-hung the edge of the hub and was burning the worktop, curtailing that line of culinary investigation.
3. Meeting Chris and Tina at the cracking aire in San Sebastian, they demonstrated how a double skillet they had could be used as an oven, knocking up lunches of delicious roast chicken and potatoes/cracking tapas, and knocking our socks off. The double skillet is basically a couple of deep frying pans, one of which has a lip so the other can be sat on it either upright (so you can cook with two pans on one ring) or upside down (making a neat oven).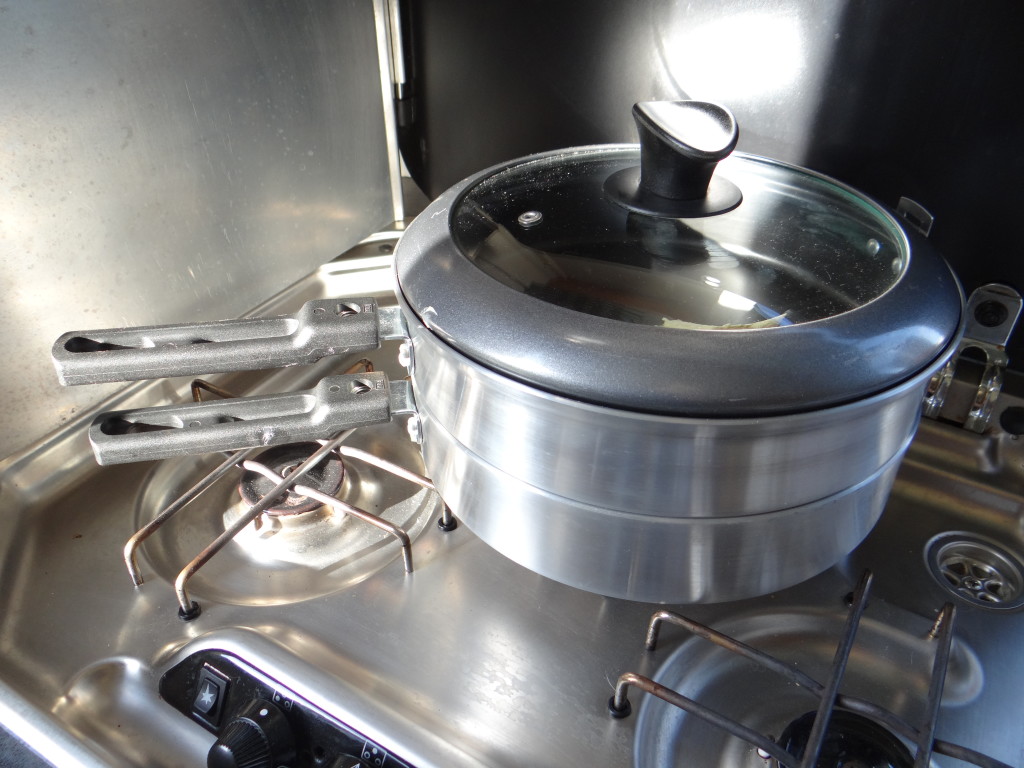 This far-off introduction to the double skillet was 3 or 4 years ago, and Ju and I have hankered after one in all of that time. It seemed fitting we were about to have our first play with the one we've now got at a field in Derbyshire back again with Chris, Tina and their daughter Libby parked in their motorhome Christina next to us. The first time we'd been in motorhomes again together since Essaouira on the Moroccan coast. Memories and feelings flooded back. The sensation of being close to hitting the road again had me buzzing.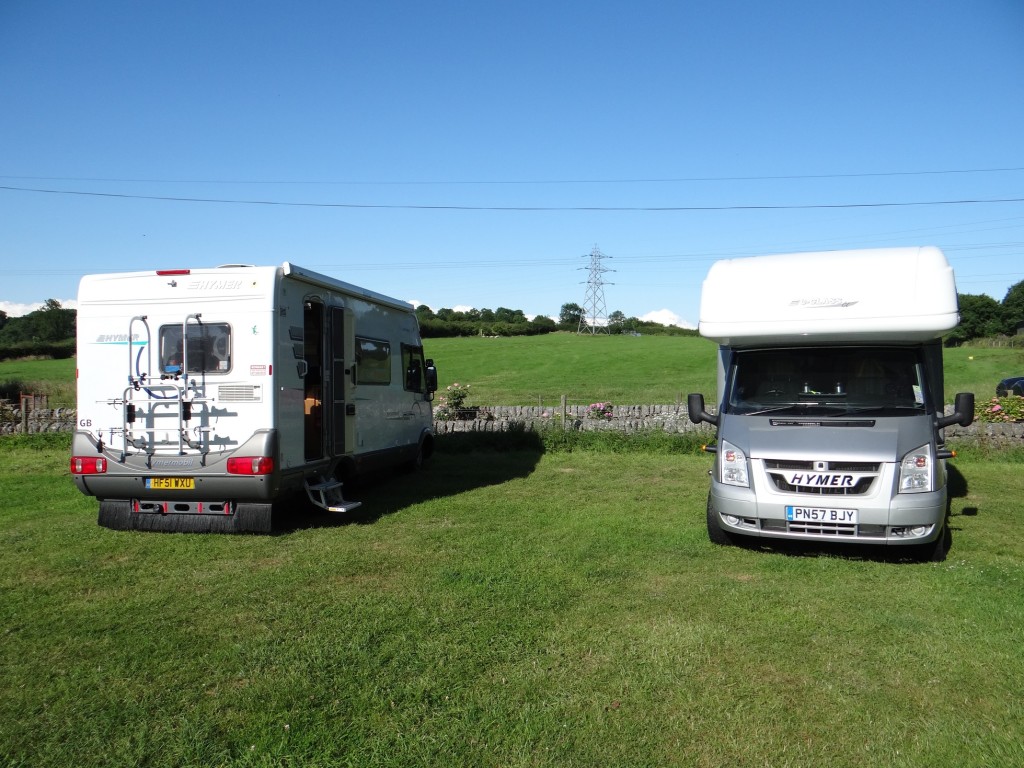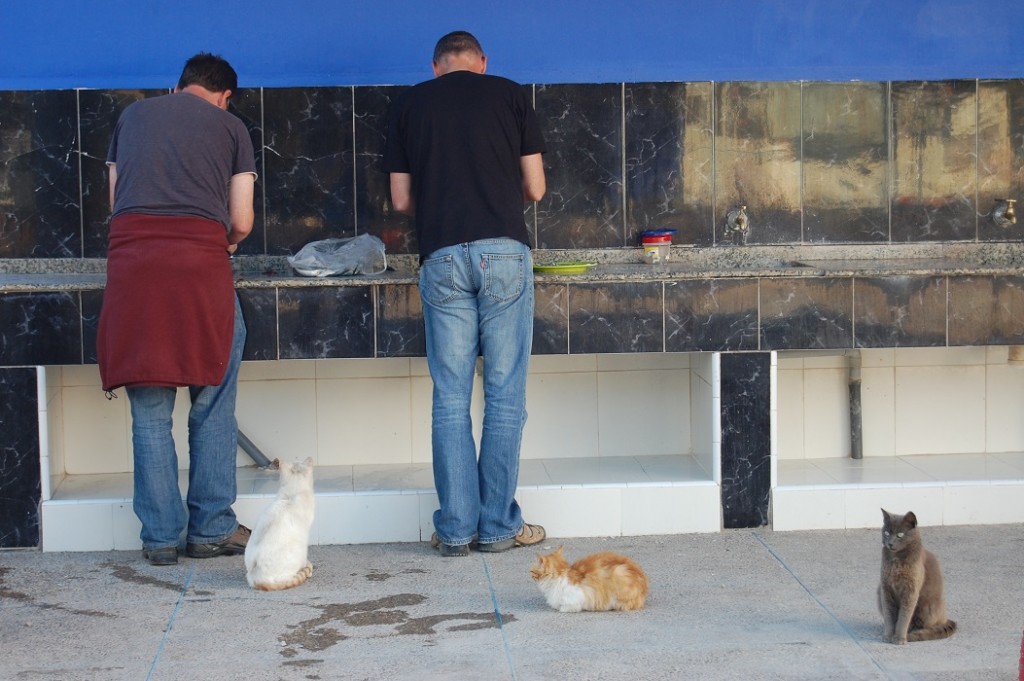 In waiting to buy the skillet though, we almost missed out, as they've stopped being made in the past year or two… The story goes that two ladies developed the concept and marketed it, selling the skillets at the motorhome shows and online. They were a success, but unfortunately one of the ladies passed away and production stopped. Ju bought ours second hand from eBay for £72 (the cheapest she found – others were going for over £90).
UPDATE: A new company has started up selling the skillet at www.thedoubleskilletpancompany.com, currently for £49.95. No idea whether the quality is as good as the original, although the photos on the website look like it's the same product.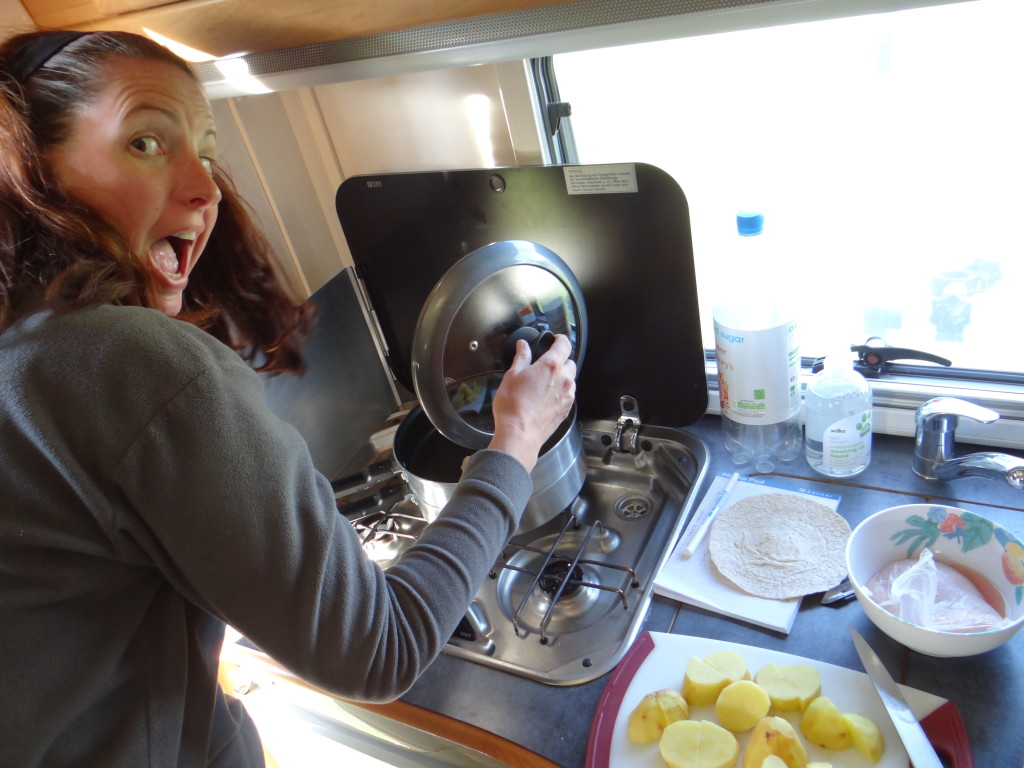 On an initial test this weekend, Ju read out the instructions to me as I started cooking with it:
You don't need to use oil, or maybe just a bit (as I dropped in a fat spoonful of marg, oops)
Use a low heat (I was on maxi-gas, the flames roaring away)
Put the skillet with the lip on the bottom (I'd got it on top)
Don't turn it over unless you're only dry-cooking food (I was in the middle of turning it to get the lipped part at the bottom, when melted marg drippped all over the hob, **sigh**)
Yep, I spent 6 years working as a technical author, but still never read the manual. Despite this series of cock-ups, I did manage to roast a couple of chicken breasts and make a decent effort at some roast spuds. We hooted with delight as the grub was consumed, so many more eating options just opened up to us! The idea of using a heat diffuser
also came up, as a way to get a more even spread of heat and a better oven effect.
We used a campsite for the weekend (of sorts, just a field for £6 a night at Carsington Water and a fab little spot) as we needed to get the safari room up and photographed to go on eBay (it's here if you know anyone who's after one!). It's a lovely room, but not for us. Our plans have us staying on aires and car parks most of the time, where you can't normally roll out an awning, never mind put up a safari room, so it has to go. We'll put the cash towards the GasIT LPG system, so we can more easily grab the fuel needed to keep that beloved double skillet in action!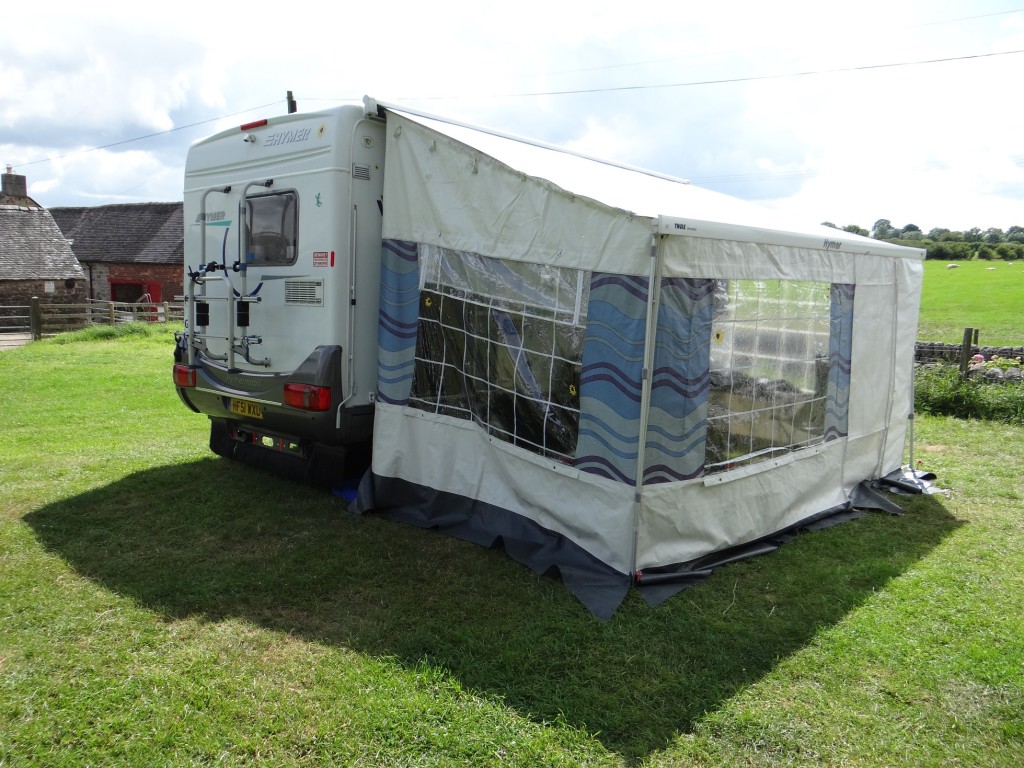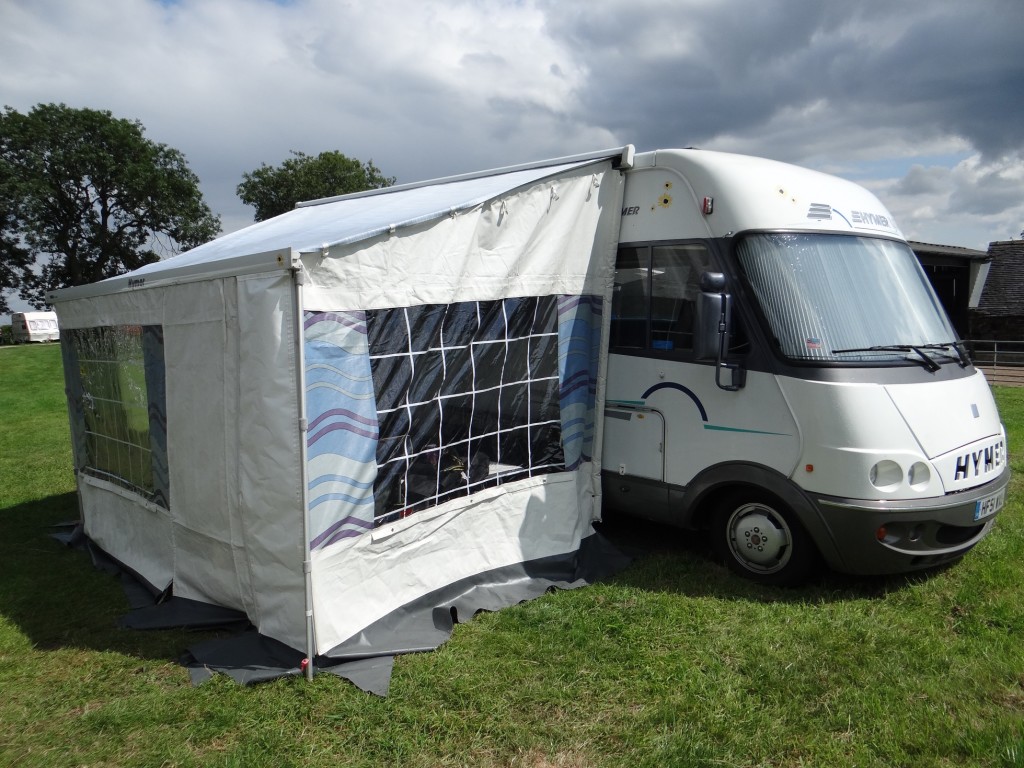 Cheers, Jay