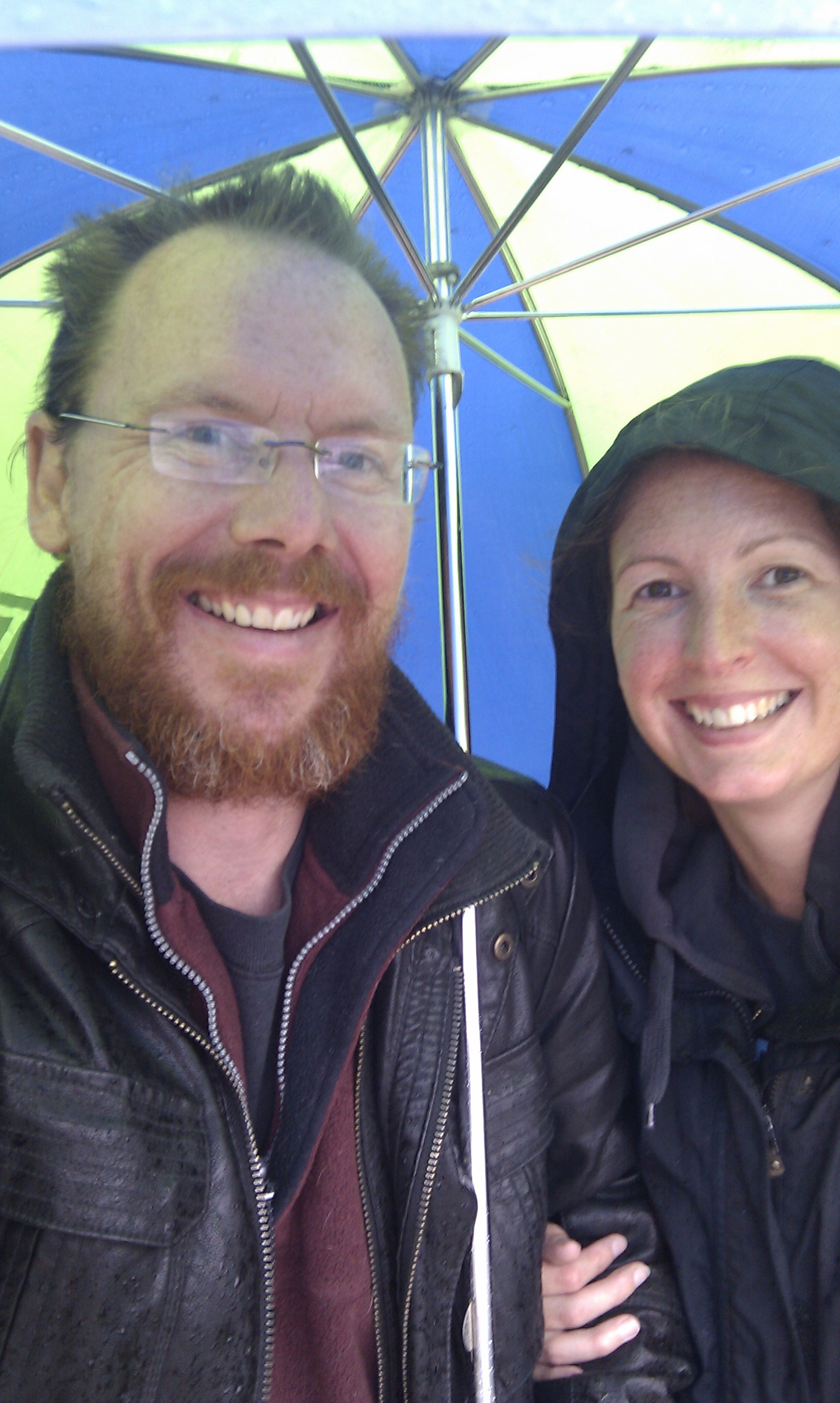 We're here: N43.20376 E2.52902
It's a lay bye off the D610 near Marseillette. We're far enough from the road not to be buffeted by the cars going past. We have a good view of a scruffy looking vineyard which is raised up from the road so it's oddly almost level with our window. A French painter and decorator just pulled in and chucked all his rubbish into the bin here, perhaps not to annoy his neighbours by filling the communal bins back home?
The weather is: British. It's been raining on and off all day. Good bit of thunder earlier on but now it's back to good old grey with a bit of spitting rain.
When we first discovered life beyond the campsite, we were amazed at the availability and location of cheap or even free motorhome parking and services in France. Today we were brought back to Earth a little as we wandered the Aude countryside in the lashing rain and wind searching for somewhere to stop. Just a little, judgement is reserved for now :). We found two aires in our All the Aires book have closed (at Puicheric and La Redorte). Next option: a France Passion vineyard at Aigues-Vives. No indication of any France Passion sign at the old vineyard courtyard, we wandered the rain-sodden courtyard but no-one was around so we quit. Finally we've found this lay bye which we have commandeered. It's a little picnic spot; no-one in their right mind would be piccy niccing here at the moment.
We had been trying to find somewhere near the Canal du Midi, built in the 17th century to connect the Atlantic and Med together, cutting a month off the trip around Spain. I'll leave the wikipedia article to describe what it's all about, but it's yet another of those great achievements which hinged upon a single individual to drive it forwards. In this case, the chap died months before it was completed, and financially ruined. Hopefully he still felt the glow of success he deserved. Hopefully we'll still get chance to see some of it in the coming days.
This morning (just, about 11:30am) saw us make our rendez-vous with Fiat Narbonne. The chief booker-inner man (who appeared to have graduated from the shop floor and seemed to know his stuff about the mechanics) recognised us (probably thanks to my beard). He quickly whipped out an estimate for the work and handed it over with a grim look on his face. Ouch. It's not gonna be cheap, with 12.5hrs of labour needed over two days (the garage works 8:30am to 5:30pm with 2 hours off for lunch – the French work to live). C'est necessaire though; the clutch is getting progressively worse. We book Dave in for next Monday and Ju books us a room in a nearby hotel which takes pooches (at €5 a night, he's getting a shower out of it).
Next job: the air suspension is now airtight, but I've removed three of the brackets which hold it together, so it's currently doing nothing. I sheared off bolts from two of them, so we need new ones. We've hunted around the usual bricomarche type places with no luck, they're heavyweight items. An old parts garage looks promising but the chap rummages about and comes up empty handed, recommending a trip to Norauto. It's back near the Fiat garage so we wander back over; we've getting very familiar with the inside of these places! I demonstrate my reduced Britishness by practically elbowing a grumpy looking old chap out of the way as he tries to queue jump. Our Norauto expert takes one look at the bracket and suggest we try somewhere in Perpignon. Exiting, we head over to the bricomarche place and buy a length of 10mm thread, and a couple of tools. I'm determined to make the brackets; just need some help from a deity to bend them into shape! Failing that, a blacksmith. We spotted signs for one on the way here but couldn't find it.
As we're stuck in Aude for a week, and the weather's pants, we decided to buy a 3G SIM for the laptop so we can Skype people, play with Facebook and maybe even plan our trip out a bit more. I'd unlocked our Maroc Telecom dongle, so we didn't need one (they're about €60 here from the telecom providers). Ju did all the shopping (well done baby!), asking for details of pre-pay SIMs with no contract and no French address. Not exactly an exhaustive search, but we found:
Bouygues – these guys wanted a French credit card to do the top-ups, so no-go
Orange – €8 for the SIM (including 100MB lasting a month), plus 2GB for €25 which again lasts a month (ask for Pass Let's Go Prepay – oddly the name of the tarif is in English)
SFR – wanted €33 for two day's access, plus top-up – something like €25 for a GB, but also giving you access to their WiFi hotspots, which appear widespread
We went for the Orange option, so have 2.1GB of data over the next 31 days for €33. Not bad, and once again, well done Ju, good bit of French language use! Orange wanted €29 to help set up the SIM, which we declined. They don't hand over the APN details you need, but they're easy to find on t'Interweb.
Last but not least: the beard vote counts. If it says beard-be-gone by Sunday evening, I'll have rid of it in our cushy hotel on Monday night as Dave's being fettled. Come on beard lovers, or indeed friends who like me looking daft, vote for beard! We didn't fight two world wars for beard votes not to count. Ahem.
Cheers, Jay