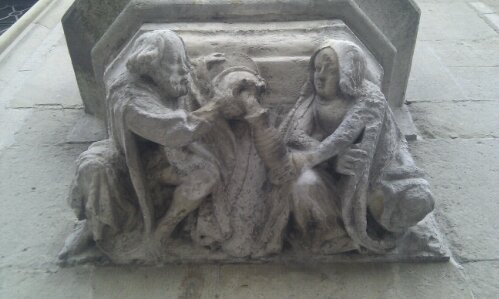 Dave the motorhome is tucked into the corner of a cobbled car park withing a stone's throw of Ypres town centre (N50.84811 E2.88049). We're the other side of a hedge to an ammunition dump, built in 1870, with 3 metre thick walls. Ominous bangs are coming from over there as the shadows stretch.
Sleeping for free sometimes means not sleeping at all, or not much anyway. Alongside the road in Ghent, traffic flowed until late and again early, as the good folks of the town wound their way to work. Charlie didn't help, claws hitting the floor at early am meant he needed out. Yesterday the length of water behind us hosted four lane rowing races, at night the even-spaced lights struck against the flat surface. Circles appeared giving away the position of curious fish.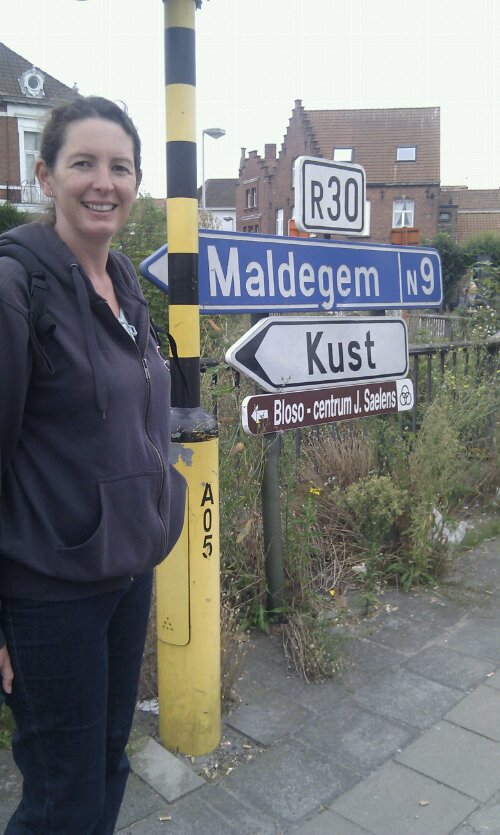 As a consequence of the unwanted nocturnal activity, we were tired today. Driving to Bruges, a Belgian motorist found himself rather badly cut up, and I took step down from my judgemental high horse. I'd been bemoaning an occasional lapse from Belgian motorists, crossing solid white lines seems a lightly-taken action here.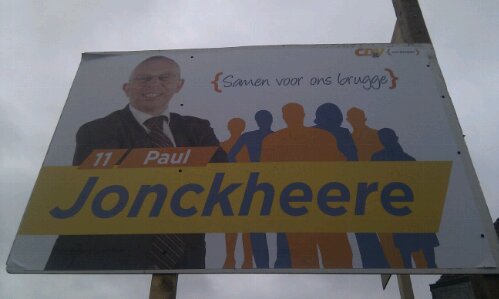 Bruges proved easy to park up in, or at least just outside. Sections of the ring road double up as car and lorry parking, and are free. We opted for the latter, with the advantage of having a coach in front with the driver twiddling his thumbs: our own private security guard.
I liked Gent, but Bruges disappointed us both, a little. We wondered why, as they are similar in terms of size and architecture (although much of 'medieval' Bruges is a clever lie, built only 100 or so years back)? Part of the mild annoyance with the place was us, we were low on energy. Added to this, fellow tourists thronged through the place like cows to market, only cows with cameras. With the sun tugging apart from cloudy sky, we dodged about avoiding adding the back of our heads to someone's eager capturing of a faked building facade or other. Only, we didn't know which were faked. Tourist information charged for maps (almost no one does this) and were misery with info (perhaps best when half your town's faked). Buying fast food, we found the place charged extra for the pleasure of dispensing with any earlier inbibed drink (40 cents for the loos). With so many friendly about, any replication of closeness like the bunch of roudy, dog-loving school kids on the bus to Gent, wasn't likely. The closest we got to closeness was photographing a French couple for them. Let's go.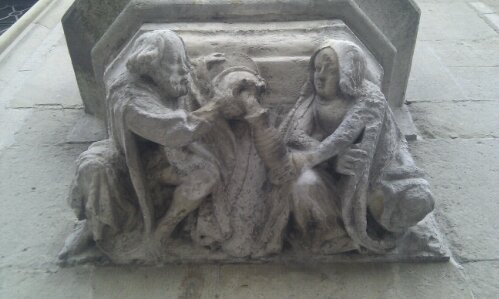 Where next? We both know relatively little of World War 1, the Great War, unless Black Adder counts as educational? We'd heard of Ypres though, and it's on the route to France for Charlie's vets appointment tomorrow. Heading here via Lidl, the aire eluded us as we scuttled about the countryside like mice in a maze of corn. Reversing around tiny roads, I'm ever glad we bought a smallish van with a London Cab turning circle. Ju spots a chalk board outside a farm entrance, the message in elusive Flemish, and walks up the lane to find the parking closed.
Hot and bothered, the database of overnight kipping spots came to the rescue, finding this place. No other motorhomes here though? Ju thinks it is because we're into September and everyone's back at work.
On the 15 minute drive, green signposts pointed off along perpendicular side roads. Lots of them, each gently guiding people to graves, memorials, museums. We took a left turn and followed one to Sanctuary Wood. In the quiet walled enclosure facing suburban houses and backing onto stubbly fields, a plaque tells a tale: created in 1915 it had to be rebuilt in 1916 after the cemetery itself was shelled. Of around 2000 soldiers held within, only 636 have names. The rest read 'A Soldier of the Great War, Known Unto God'. Even their surviving mates couldn't work out who they were.
Ypres looks old too, like Bruges. The walls appear aged, a huge stone building running along the cobbled square would easily fool me to believe it was at least 300 years old. A postcard in a shop window told another story, the entire town was levelled. 5:58pm and we legged it into a closing tourist information. With one eye on her watch, the lady answered Ju's request for info on the large commonwealth cemetery near here with 'which one, there are 157 of them?'
Further along a dominating broad and tall white archway stands solid over the road, the Menin Gate. We left it tearful. 60,000 men's names are engraved within it, a vast array of initial and surnames. Although the names only represent those killed in this area who have no grave, it was found to be too small, another monument for 35,000 more guys was created at Tyne Cot Cemetery (the one we wanted information on). The London Olympics stadium holds 80,000. And these memorials are just for those with no grave. We wept, who wouldn't.
Cheers, Jay