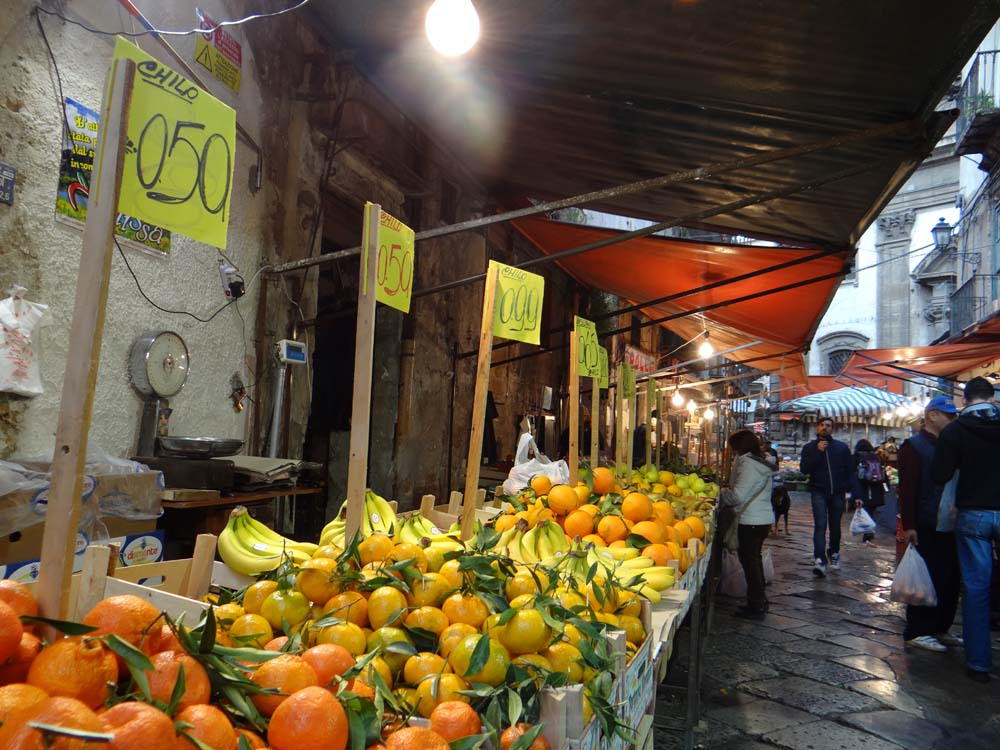 Dave the motorhome is tucked up safe from the insane Palermo traffic, along with a few other Italian and German vans in the Idea Vacanze sosta. It's basically a car park, with a guard by the gated entrance, but Palermo being a decent-sized city, with all the usual problems that brings, we're feeling our €18 a night is cash well spent.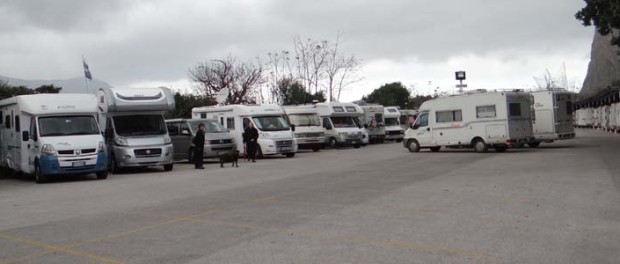 The bullets we're dodging here are made of metal, travel at lightening speed and flash past seeming to ricochet off stuff with a rasping whine. They are, of course, mopeds, and unlike bullets these menacing puppies can go around corners, quickly. I was once a biker, and I love these things, I love the way people ride them sometimes without lids (helmets), sometimes in the dark without lights, sometimes squealing brakes as they decide that 0-50 kph leap from the pavement into the traffic might just not be a life-preserving idea. Some of them can only be described as bloody cool, bright painted Vespas, carrying an aviator-sunnied tweed jacket wearing stubbled young bloke, revving it alive while leaning over to plant a kiss on a mate. It's the stuff of Hollywood, and it's just over there, a half hour's walk to my right. Yeah baby!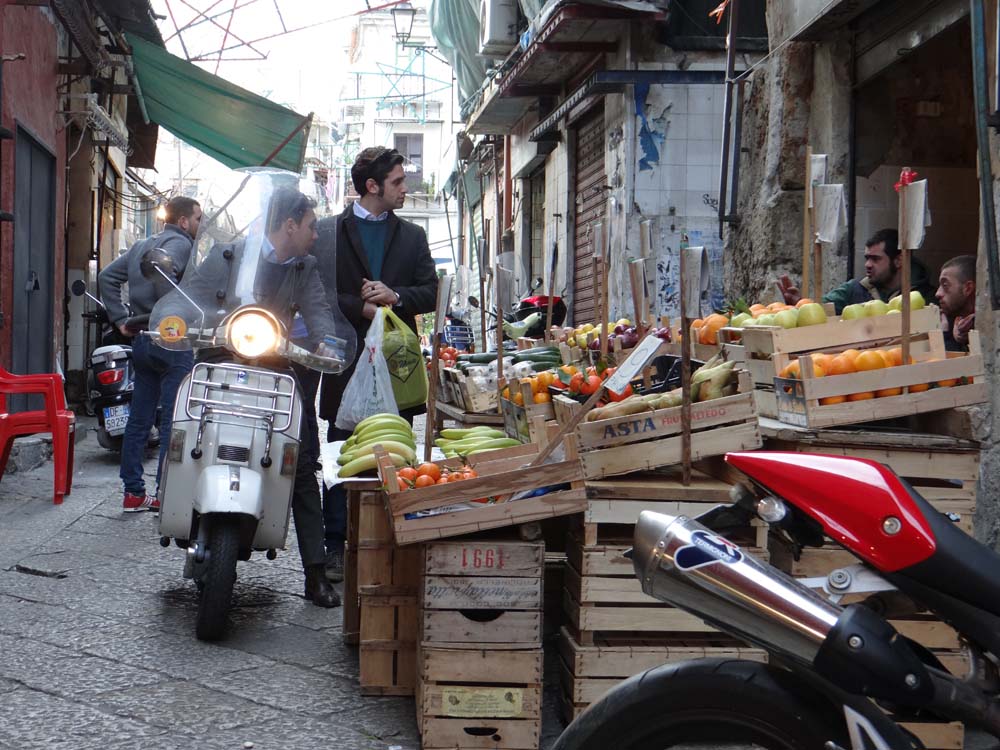 The photo above was taken in one of Palermo's famous street markets. We got there on foot, walking a few km from here, taking the road towards the port, past the imposing stone prison, following the continual steady stream of traffic.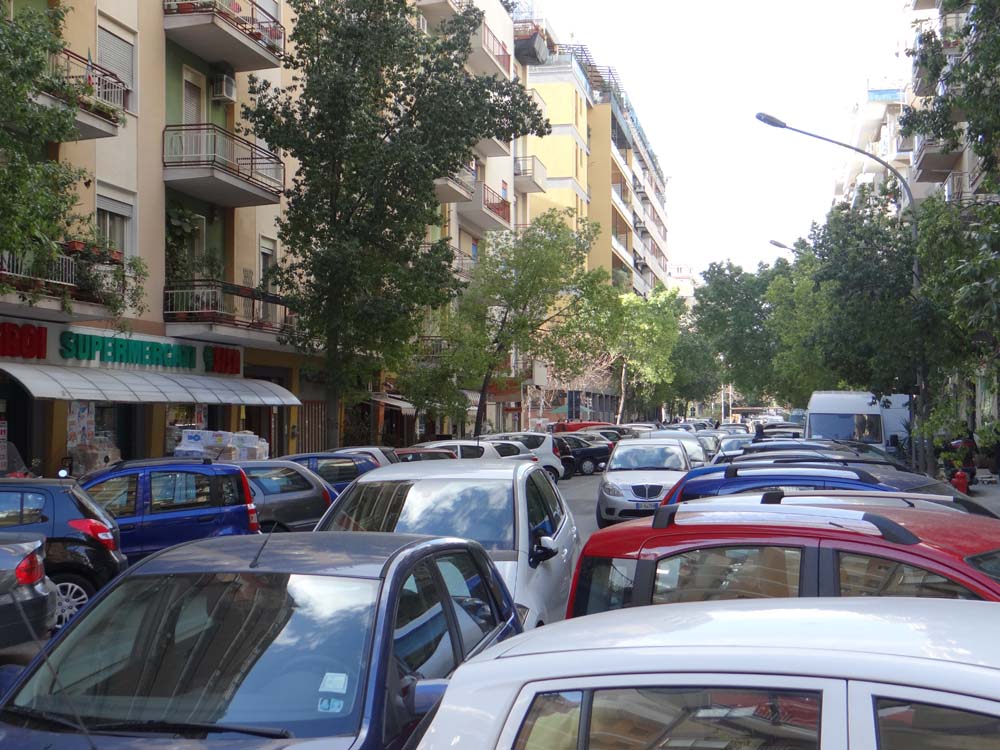 Our first impression of central Palermo was thus the port. Two cruise ships are docked, ice bergs fashioned into sleek blocks of flats. Outside the port a few touts press punters for a ride in a horse-drawn steel-wheeled buggy, or to grab their taxi. They mostly ignored us, Charlie maybe marking us out as being a little alien. Ju asked around to see if this was where we embark from on Saturday, it was, the chap pointing to the side of the big bruiser cruisers.

Grabbing a free map, we walked up to the Teatro Massimo  and marked up the places to go see from the Rough Guide. Our plan being to tire out Charlie today with things we can do with him in tow, and do some non-pooch friendly stuff tomorrow. It's worked, he's zonked out on his blanket. Churches. That's what is basically on the list, church after church, along with a palace. Charlie's obviously not allowed inside (I explain to him this is due to him not being one of god's creatures, he stares back), but we can take it in turns to look.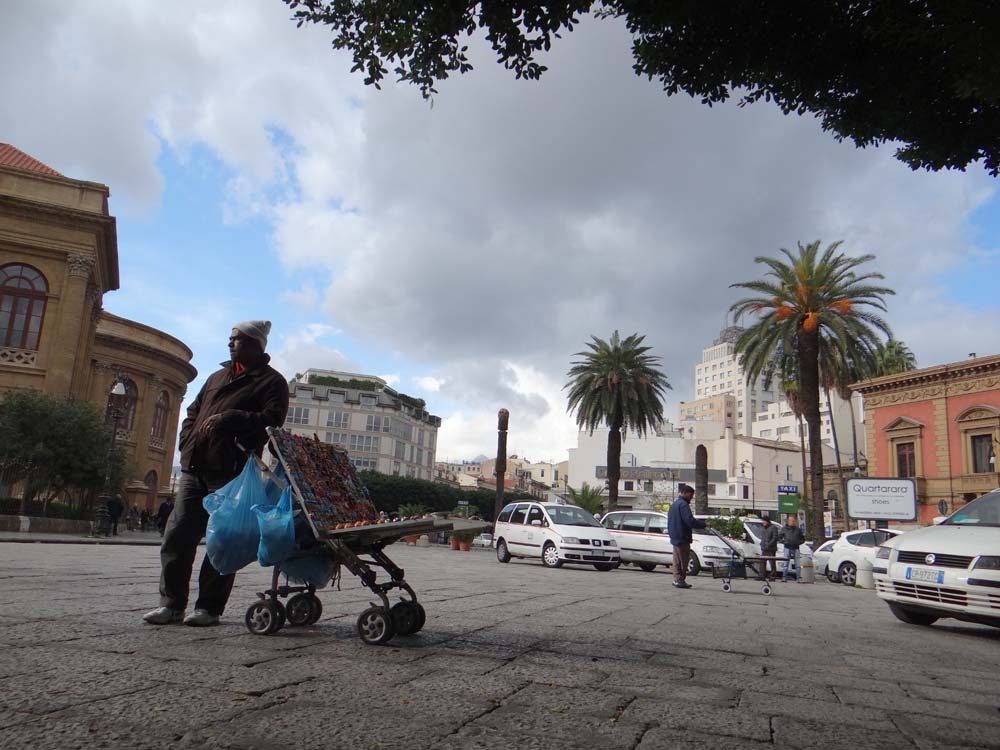 Heading for the Cattedrale, wondering why it's not called the Duomo here, we stumbled upon one of Palermo's back street markets, this one titled the Vucciria. The roads are narrow, in an organic medieval wind of arteries through the tall blocks of crumbling apartments, each with an array of iron-railed balconies.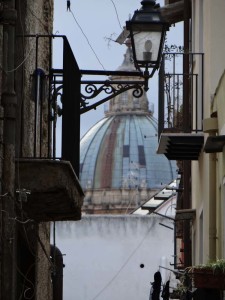 Slowing to a crawl, our eyes scanned about the place, trying to avoid the gaze of the sellers, who sat in amongst their trestles looking, to me, mean and tough. Over the course of the months we've seen these markets across the continent, and they look much the same everywhere, often beautiful in their presentation, always fascinating. Spying the crushed ice-covered fishmonger stalls I've never an idea what any of the hapless animals are, much of the fruit befuddles me.
Popping out the other side, we found the contents of the cruise ships, a gaggle of coaches at jaunty angles giving the game away outside the cathedral. We have to be in the hundreds of churches by now, and they have to be something extraordinary to lift our drooping eyelids these days. Palermo's is a mismash of styles, as is the whole place, having been inhabited by Muslim Arabs for 150-odd years, the Normans, and a whole host of other invaders. The folks from the ships had us intrigued, we see so few fellow tourists in the off season. Some had been forced to slap a sticker on them marking out their ship and, we guess, coach number, a request which would have driven me Victor Meldrew off the edge.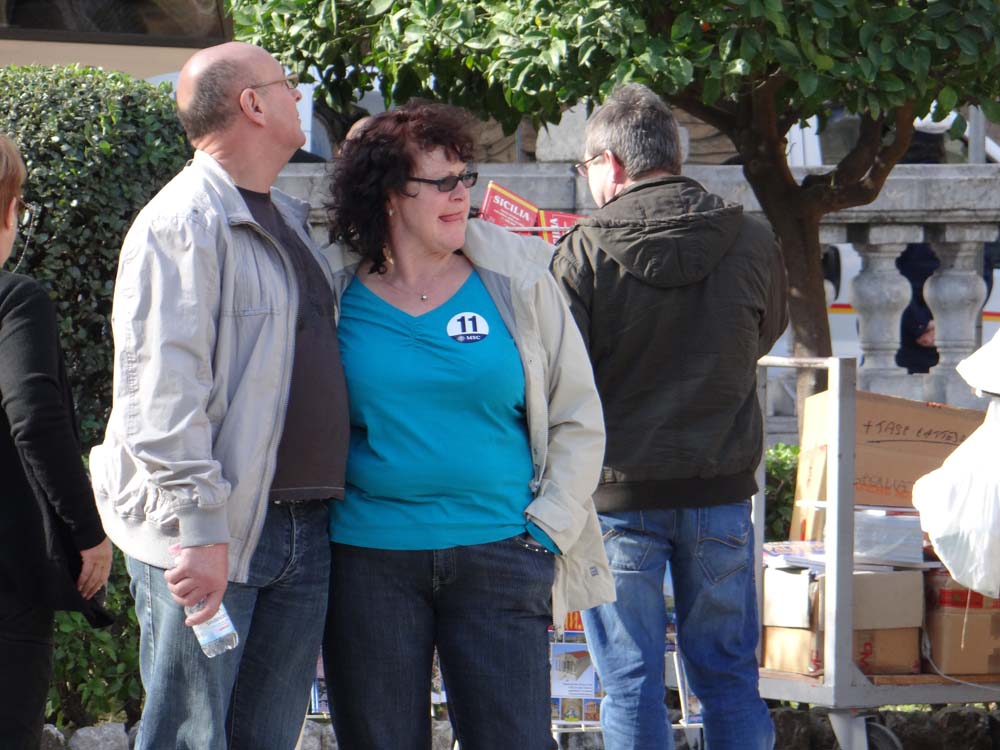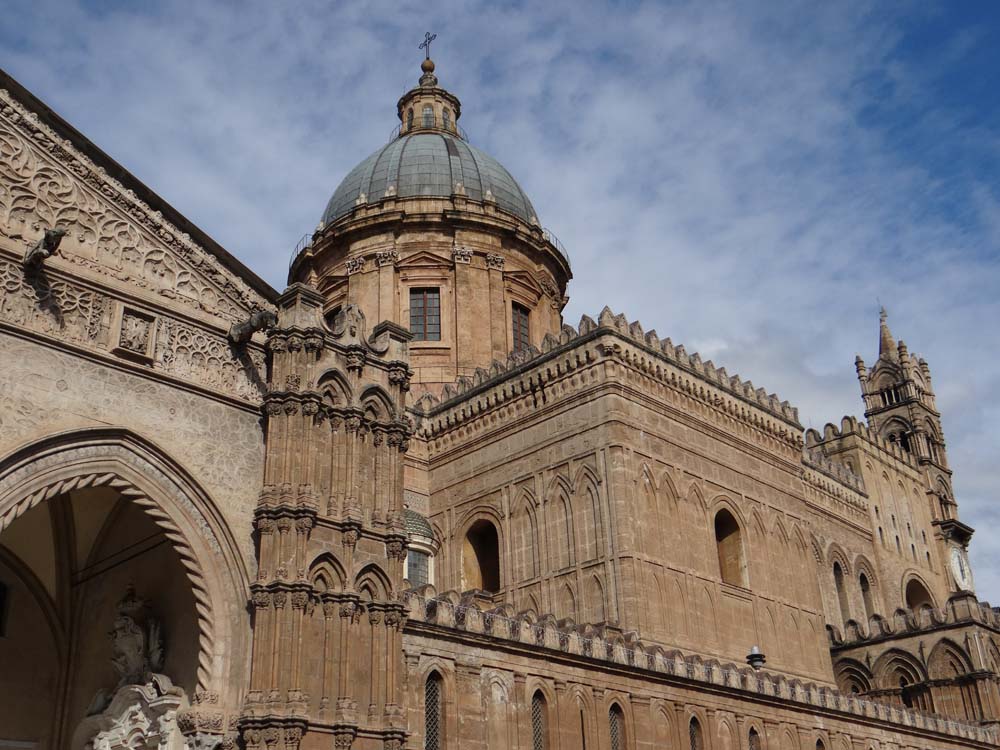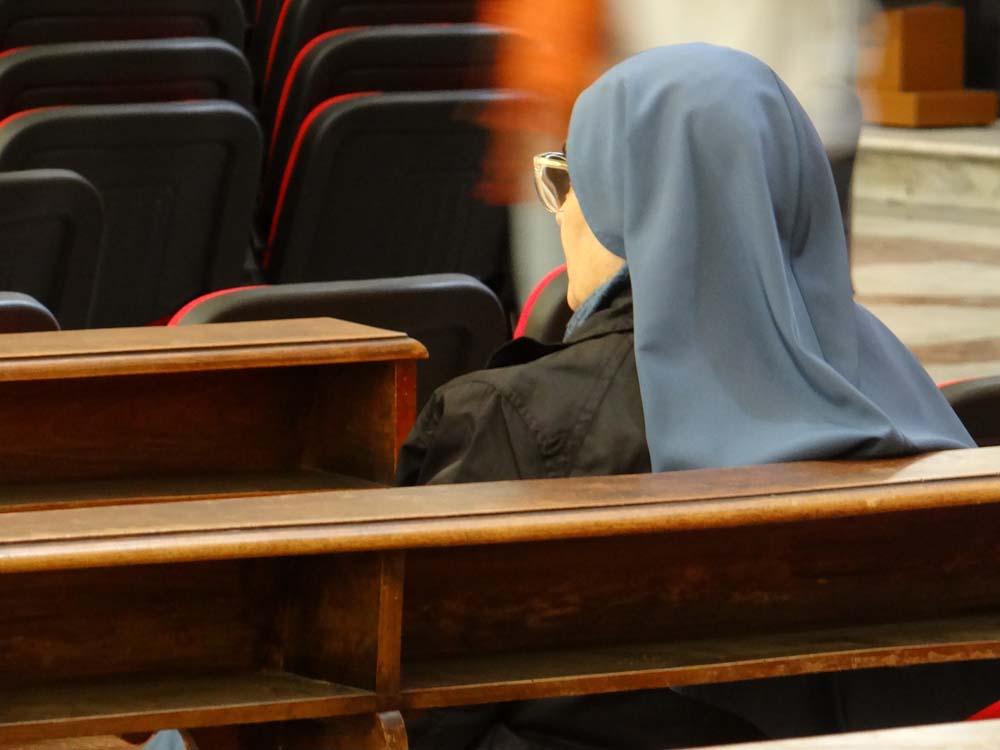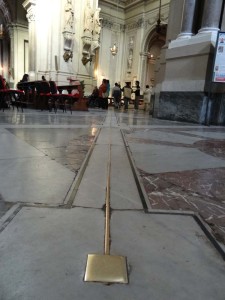 As well as the guy above trying to sell fridge magnets, we saw a few men today trying to eke out a living. On the way into town a man almost desperately tried to offload a pack of socks onto us, walking the street aimlessly with a bag of them. Outside the Cattedrale an elderly chap limped around passively proffering sun glasses; I watched him for ten minutes, he made no sales. Tiny Ape vans trundled about with a few crates of veg, enlarging themselves to giants with loud speakers mounted above the cab, the driver yelling out his prices. At one point we passed a sleeping tramp, his dog barking at us to stay away. Palermo's skint.
Next stop the Palazzo Reale, a jumbled mess of buildings which contain yet another mosaic-lined church. Finding the guarded entrance we peered over the shoulder of another tourist. €8.50 each? Nah. Instead we found a tiny streetside cafe and had a bit of pizza and an unspecified-meat cob and can of pop, €4, while the TV played out scenes of it snowing somewhere in the Middle East.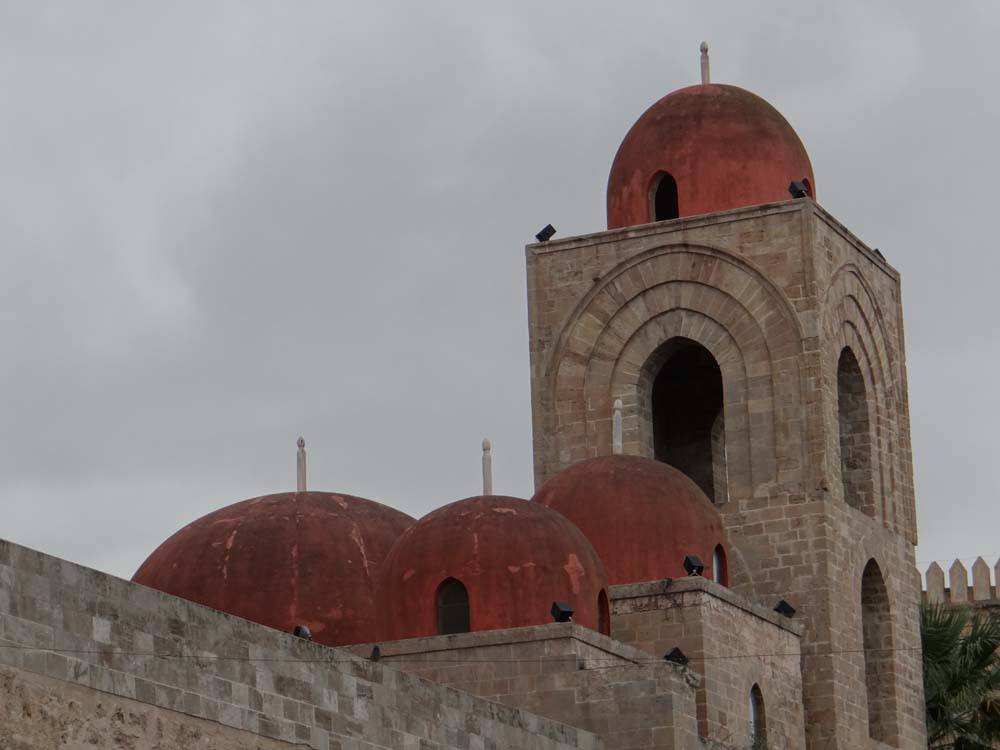 Giving up on the churches and starting to flag from the walking, we headed for more market. Far more interesting people watching, and free. Charlie had also put in a request for more floor-fallen prawns. This time into the Ballaro market, which had the advantage of leading through to the main train station.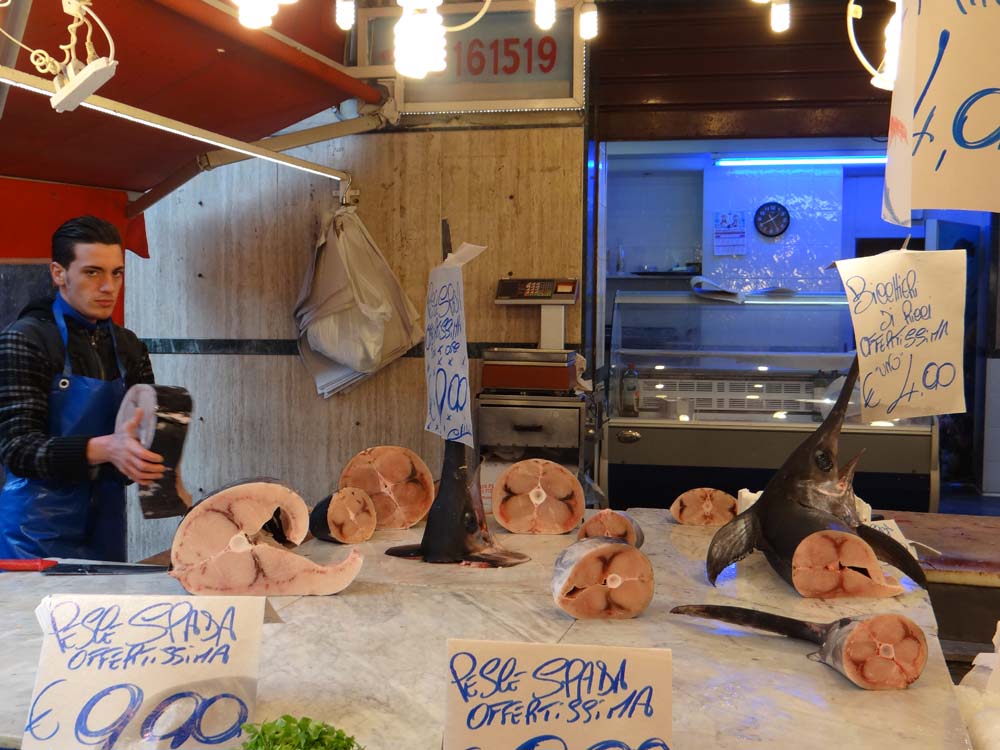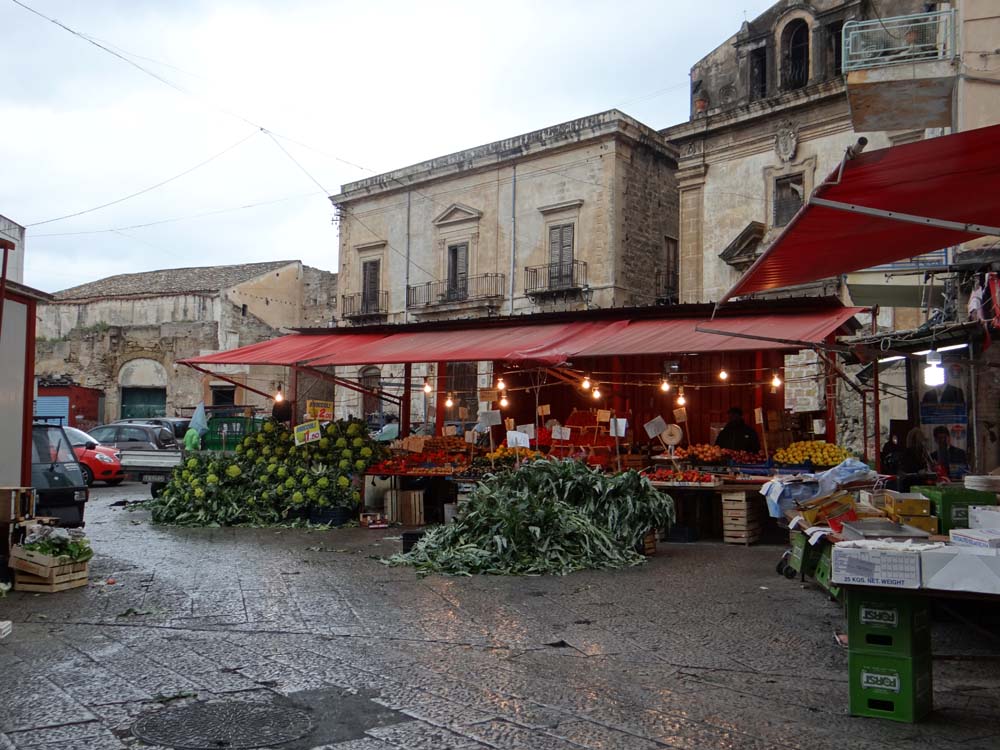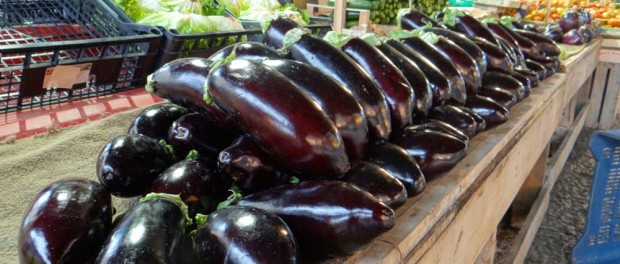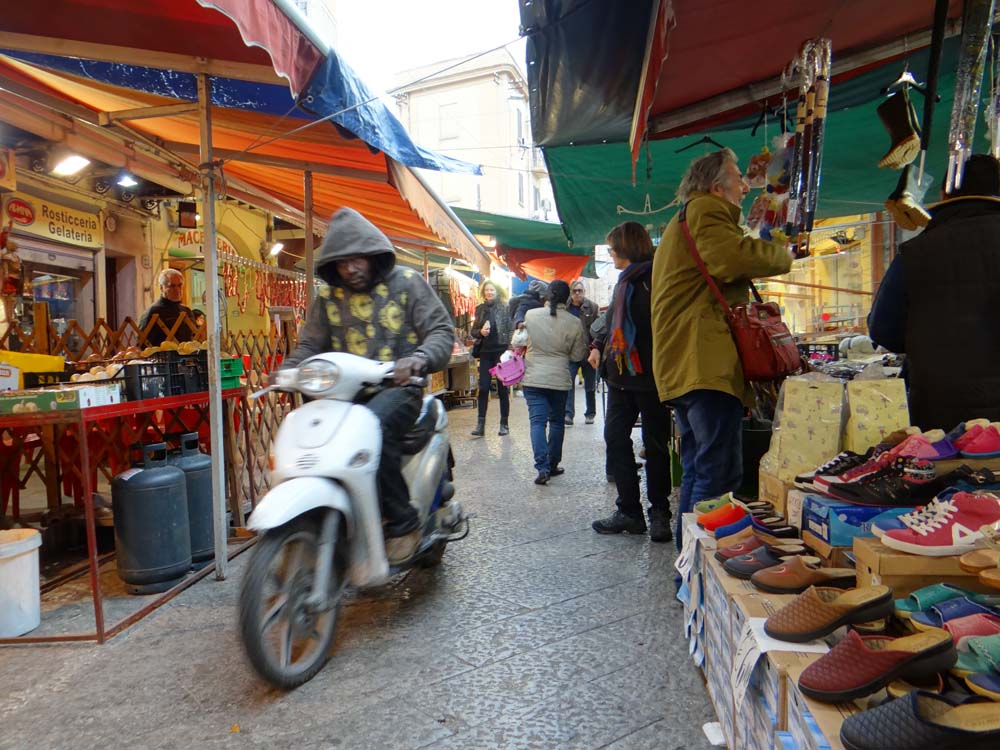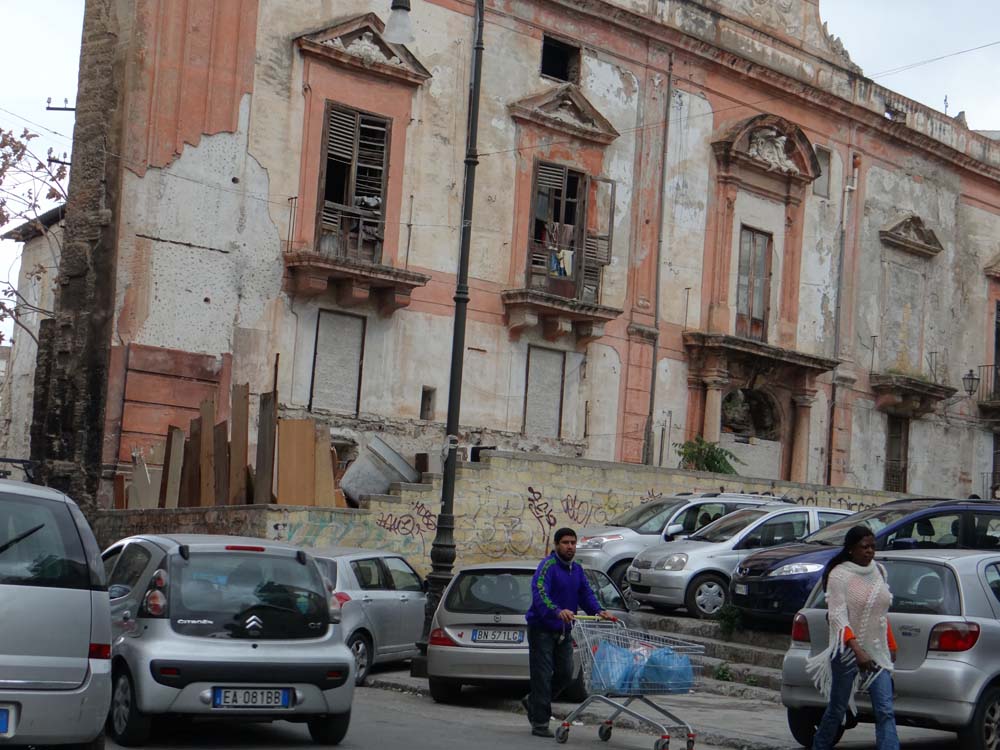 Finding the train station, a local chap spotted us wandering around trying to suss out how to get back here and explained in English how it was done. I spied him with caution, he looked a chancer, but turned out to just be a helpful bloke. I need to relax a little, easier said than done in a city like this, it takes a little getting used to perhaps.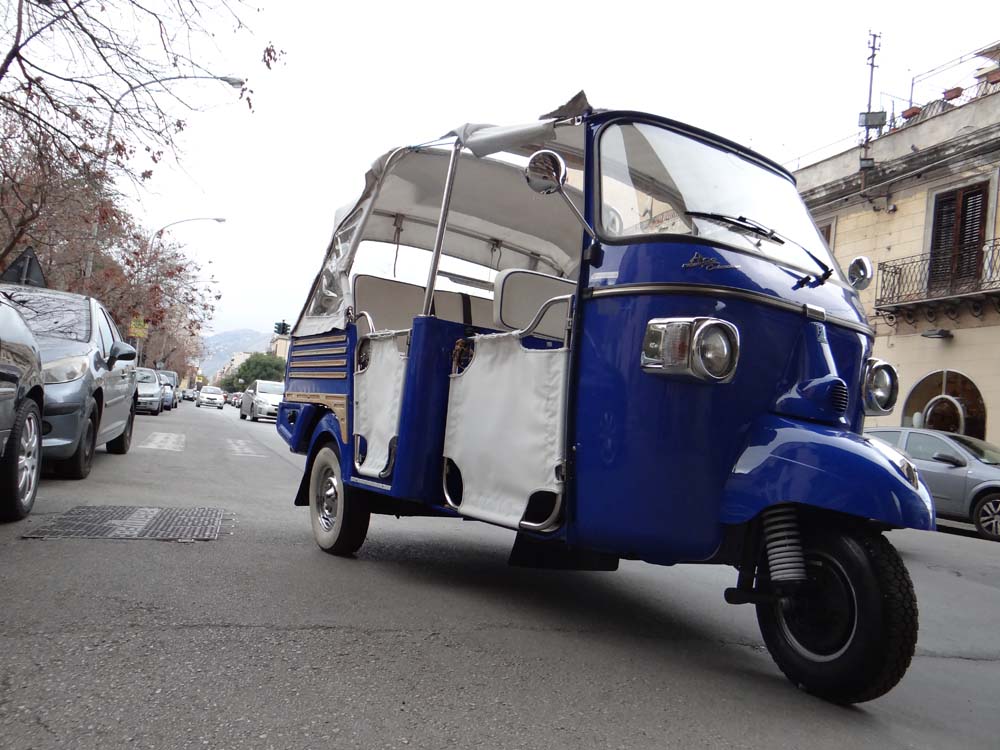 Back at Dave we gathered up our four bags of washing and staggered off down the street, determined to find the laudrette which had escaped us on two previous recces. We found it. It's a dry cleaner. Ah. The fall back option also turned out to be a dry cleaners. Ju went in to ask where there is a self-service laundrette. Bad news, there are none, in a city of a million folks. Seems the blocks of flats have their own, and hotels provide a service to guests. We staggered back to Dave, a Tunisian river calls.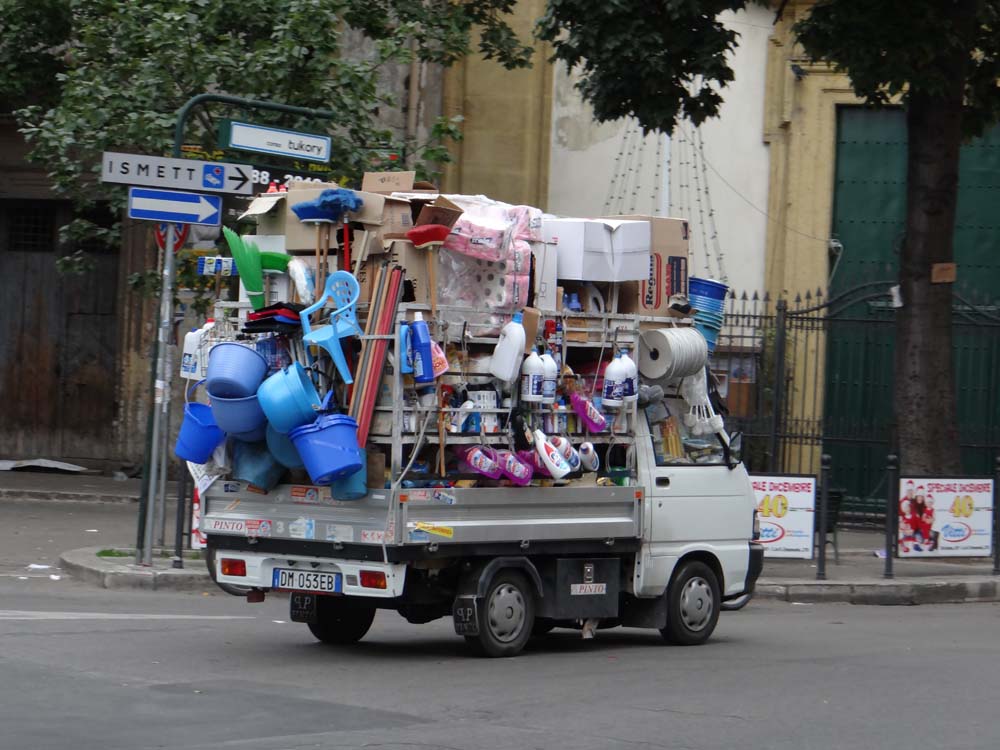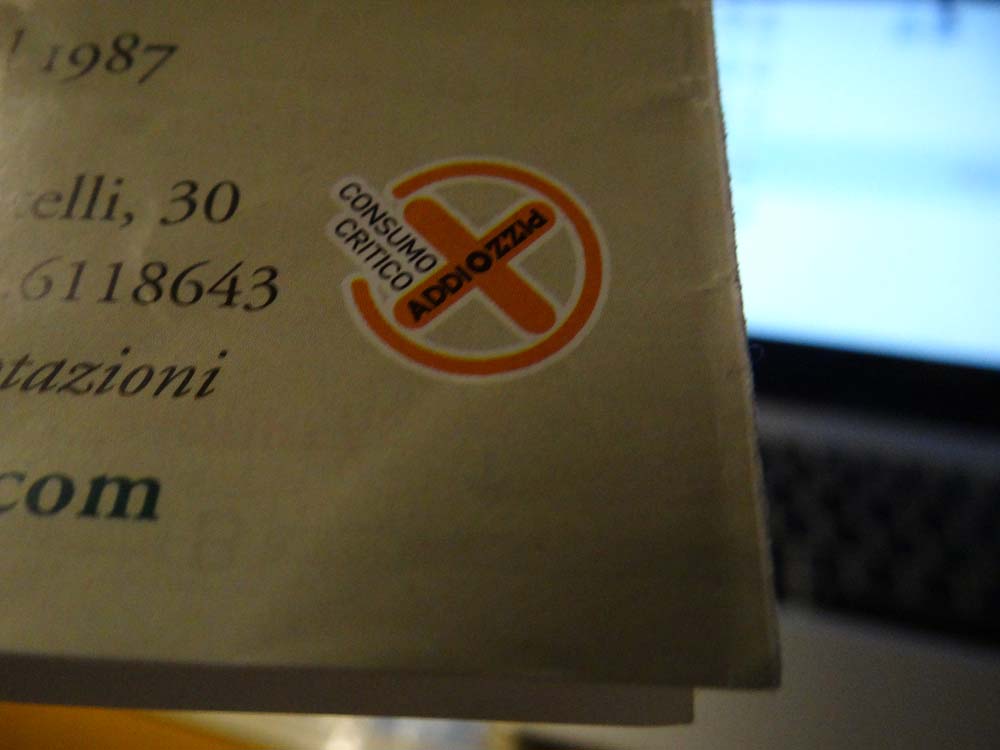 Cheers, Jay