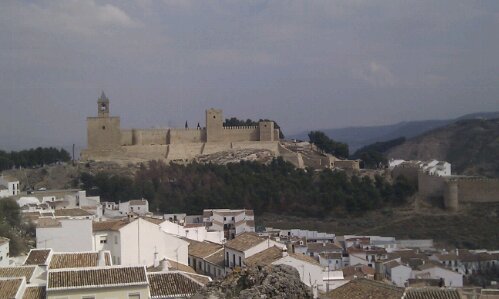 We're here: N37.12441 W3.58649
We both slept really well in our quiet car park last night, so this morning we were up and at 'em translating a few sentences we might need at the garage and giving Dave a bit of a clean.
At 11am we arrived and were directed into the garage. We handed over our phrases – asking them to check the brakes while they had him and fix the heater. Using the internet to translate for him, the garage man told us everything looks ok on the suspension, and could we come back at 3pm so he could sit in while we drive.
So, we headed back to our parking space in the town (about 10min drive from the garage) and went for a wander around the other side of town. Don't get me wrong, the place isn't massive, but there's lots to see. We counted 9 churches, 10 convents, 4 palaces not to mention the castle and a few arches.
We found a spot with a good view of the Castle (it's being renovated and we suspect a lot of it might not be original, so we were too cheap to pay entrance fees – especially if they don't let dogs in!) and took a few snaps. From behind us we could hear goat bells, we looked round to see about 100 goats and sheep wandering down the hill towards us. We marvelled as the goat herder whistled and they all stood patiently in line waiting to cross the road. When given the go-ahead it was like a sea of animals washing over the carriageway. They then scared a horse tied up in the next field by surrounding it, before heading off onto the football pitch and over the hill to eat somewhere else.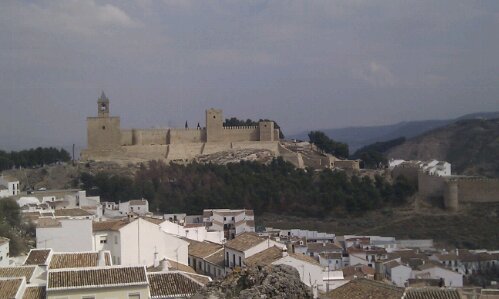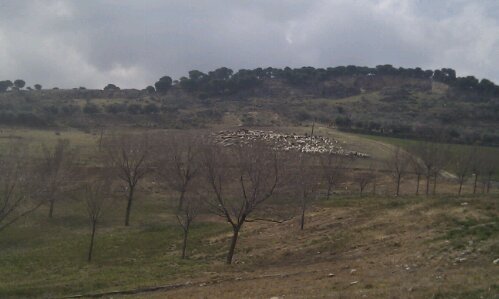 A quick lunch of Ratatouille (from a can) in Dave and it was time to head back to the garage. When we got there it was all locked up and the sign said it didn't open til 4pm – had we really both misread the time? Then a couple of minutes before 3 a Toyota flew past us, out popped garage man and opened the gates. Straight after him another Toyota containing the mechanic who parked up and jumped into the back of Dave.
We only needed to go to the roundabout at the entrance to the industrial estate before Dave let out his first clonk. The mechanic looked at me, Si, I said. True to form several more clonk followed then we were back at the garage and straight in onto the ramp.
We headed back to reception and the internet translation and explained we'd had some parts made before we left because the garage couldn't get hold of them. Garage man put Dave's chassis number into the system, found the drawing of the rear suspension and most of the parts were in red – no longer made and no substitute. Poor Dave.
A bit more checking and it seems the parts made for Dave in the UK are fine, very little movement there – even after 10,000km! So the noise could be the leaves of the suspension rubbing together – along with half the Sahara between them. An hour later and Dave (and poor Charlie) was down off the ramps and better lubricated. We'll find out in a few more km's if it's helped. If it's not that then the rear suspension would need to be dismantled and parts ordered with Dave left in bits at the garage – if it comes to that we might nip up to Germany where there should be plenty of old Hymer parts.
With the excitement of an OK Dave, we totally forgot about getting the cab heater fan fixed, but it's not urgent here in Spain. We did see a few drops of rain this afternoon, but they were the first in over a month we think.
We asked for the bill – as they both came back an hour early from lunch for us, and overall we must have taken up about 3 man hours – nada, he said. Nothing. We're loving Spanish garages!
Dave's doing a sterling job for us, especially as he gets put through his paces on some terrible roads, thrown over the odd raised crossing and asks for very little in terms of tlc. So on our way to Granada we stopped at a motorhome dealership and treated him to some chemicals. His drinking water tanks will be sterilised (needed after Morocco, we've been drinking bottled stuff), and as they were on offer; more blue for the loo and freshner for his grey (washing) water tank – food bits from pot washing can collect in there.
We're now at a campsite just outside Granada. We hope to go and see the Alhambra tomorrow, but we haven't booked tickets in advance because their website is shocking and sends you in an eternal loop of pages (minimal pics today as the rubbish site used up most of our data allowance too – grrr!). So fingers crossed they haven't sold out.
Then it'll be a late night tomorrow as (technology willing) I'm the ex-pat guest on BBC Radio Nottingham. I'll be on Dean Jackson's show around half past midnight UK time. So set your alarms or stay up and have a late one with us.
Ju x