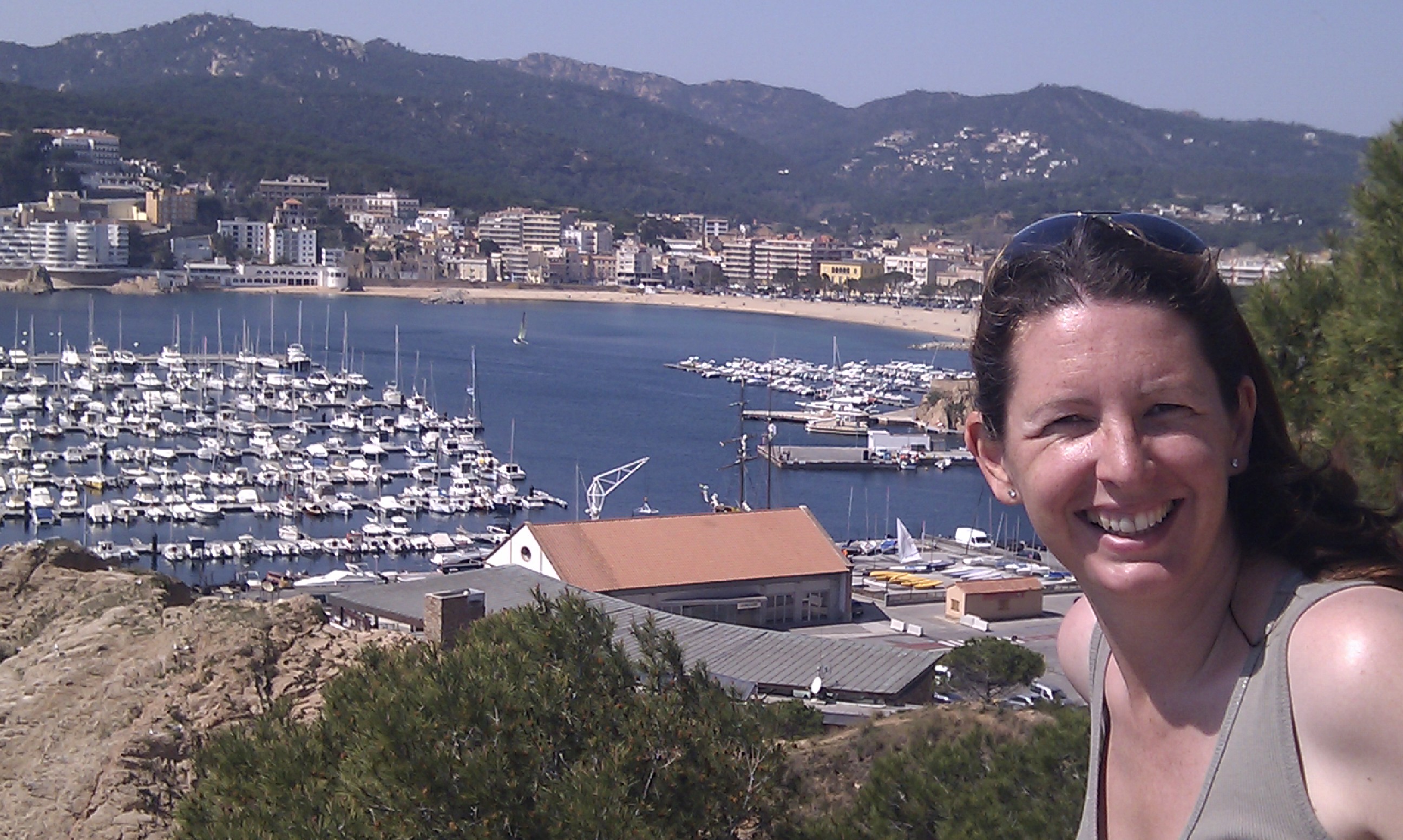 We're here: N41.7801 E3.02290. It's the same place we were at yesterday, and probably the same as we'll be at tomorrow. It's so loverly here.
The weather is: lovely and sunny, again. It's like groundhog day.
Sant Feliu de Guixols is clearly a pretty affluent place. The Menu Del Dia index runs at about €10 for a 3 course meal including wine in much of Spain, but is about €12.50 here. The Brits we met earlier who have parked their removals lorry behind us were charged €5 for an icecream, and were justifiably a bit miffed. The aire we're parked in is free, as is the museum, kind of pointing to the fact they don't need the money. The marina is packed with yachts, some of them real million dollar machines (OK, a coupla hundred thousand Euros).
It all points to the fact the recession's not made it here. We ate out last night though and heard a different story. Our waiter was a young chap named Ramon. He told us the restaurant had just opened and apologised for not having English menus. How do you respond to a man who's taken the effort to learn your language, and apologises for not having an English language menu, when you're in their country? We get it everywhere and do our best to tell people we really appreciate them speaking English to us, and we are dim wits for not being able to speak their language.
We had Pintxos and Tapas. Pintxos (pronounced pinchos) are basically diagonally sliced bits of baguette with various toppings available, and come in at a euro to €1.50 a pop. Ramon agrees to choose a couple randomly for me. I get one with Spanish Cheese and Anchovies, and the other with a kind of crab stick cream stuff. Both delicious, as were the tapas, which are similar to those you'd see in La Tasca in Blighty, only in bigger dishes.
At the end of the meal I ask Ramon where he learned English. 'While working' is his reply – he's basically self taught. He goes on to tell us he's happy the restaurant has opened as there is very little work around. His next option was to try and get work in London where his brother works. That's a great attitude; no work in this country, I'll go abroad. He tell us families are struggling with no bread winners. But even in the depths of a great recession, we see hardly any beggars here in Spain. They're clearly a proud people and we guess they're helping each out within their families. As we were about to leave, Ramon's mate behind the bar conjures up a couple of evil-looking digestifs. I choose the 'aromatic one' which it turns out, at only 30% vol, is for the ladies. The man's one is 40% and was best described as 'rancid'.
Today we've been out and about. There's a great coastal walk from here, up and down steps along the cliff top towards Sant Pol, with viewing points dotted along it. It wasn't very long, a few km, but took us ages as we kept stopping to admire the view, the yachts cruising the coast of anchored in the small inlets, the snorkelers and divers and the labrador retrieving sticks from sea. Charlie took an involuntary dip to cool him off, demonstrating some impressive rock climbing to get out as soon as possible rather than swimming another 3 feet to an easy exit point.
Once back we relaxed a bit, talked about the plan on where to go next (decision: almost made, almost) and had some grub in Dave and Ju had a kip. Once she'd awoken we hit the museum in the nearby ex monastery. It's got a range of temporary exhibitions from stone age flint to cork shaping machines to Roman pottery to 19th century medical instruments. Worth a visit. The receptions doesn't speak English except to say 'it's free' which is I guess all the English she'll need for most visitors, us included.
Back in Dave, I've acquired a €1 litre of Spar Cerveza and Ju's reading. Charlie's kipping and the Spanish nippers next door are playing footy. What a cheap holiday for those guys, they can be here a week and pay nothing, just 400m from the sea.
I also took another decision today. As we travel we're meeting lots of people. We also get to 'virtually talk' with a few people via this site. Almost everyone we meet are positive, interesting and inspirational folks. Some are negative in the extreme. My decision is to strive to be positive for the rest of my days, looking at problems as challenges, and not being ashamed of it. If this draws ridicule from people, I'll take it in my stride. I'm giving everyone free license to tell me if I'm being negative without realising it. With any luck I have 1500 weeks left on planet Earth, and my glass will be half full for every single one of them.
Cheers, and happy Saturday night guys. Jay
Video of the coastal path down to Sant Pol. I'm flipping freezing as this slowly uploads to the wifi connection at the bus station I'm stood outside in the dark. And I need the loo. I shouldn't have drunk all that lager.