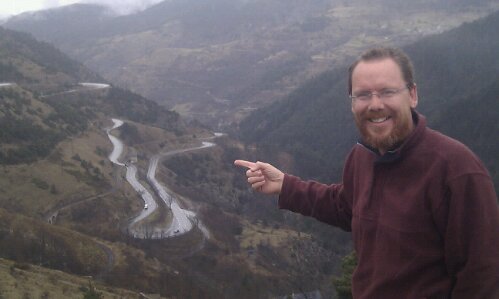 We're here: N42.53344 E2.39244. It's a free motorhome aire, set in rocky woodlands just before the small end-of-the-road Catalan village of Casteil. Three French vans have joined us since we arrived to find the place empty.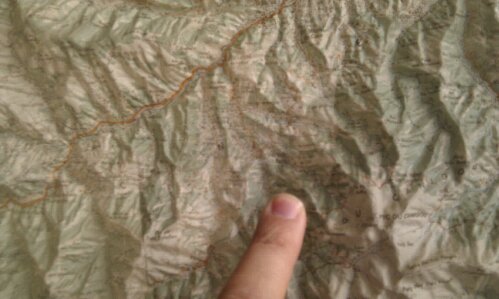 The weather is: see below :).
We woke up to find the rain hadn't given up during the night. We lay and listened to it for a while, having a chat about this and that before leaping into action.
With our patched up cab fan fired up, it was great to actually be able to see the mountain road as we headed out east along the N116 towards Perpignan. We'd read about some ruined chateaux (castles) to the north east of us in a book of 1000 places to see in France, which our friends Marc and Jacqui had given to us in Seville. The grainy black and white photo of a pile of stones perched high above a precipice sold it. We'd also seen snow on the weather forecast, and having no chains we also figured we'd better lose some altitude. The 3rd factor for our planning was some odd green highlights drawn on towns on our map. Ju remembered our French hitch hikers in Morocco were from Perpignan and had marked up the places they thought visiting. Villefranche-de-Conflent and Vernet-les-Bains were picked out, as was the Pic Du Canigou. As the latter is a 2784 mountain peak, only reachable by a decent hike (serious enough to have killed a pair of German tourists in 1991), and we're lazy, it's off limits to us. Interestingly, this area of France is Catalan, as is the area to the south in Spain. The Catalans from both countries unite in celebration on the night of June 23rd, climbing to the peak and having a big knees up. This weird split identity between nationally and region is hard for us outsiders to get our heads around.
Anyway, just a few km after leaving Saillagouse, it starts to snow. Having just passed a 'snow chains area' sign, we have a little panic before reasoning to ourselves. It's just sleet, there's loads of rain, it's too warm to settle and the like. We plough on (pardon the pun) and soon enough the road hits a 10 percent decline and we quickly lose sight of the snowline on the steep valley sides above us.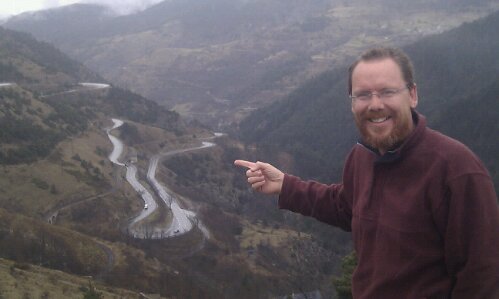 We catch a glimpse of the Petit Train Jaune, a narrow guage railway which runs half the length of the valley carrying passengers in enclosed and open top carriages in summer. Today's dank and dreary, the mists are low obscuring the peaks, and we don't see anyone on board.
After pulling over to (a) let the frustrated queue of cars and vans past and (b) eye up the impressive train bridge at Pont Gisclard, we stop a short distance later at Fontpedrouse. The Rough Guide says there are free hot springs nearby, channelled into 3 varying temperature pools for taking a dip. On a day like today, this sounds champion. A walk down the steps into the town confirms that the pools are 2.5km away on a road Dave won't realistically physically fit down. We're lazy, plus it's raining and head off down the road instead.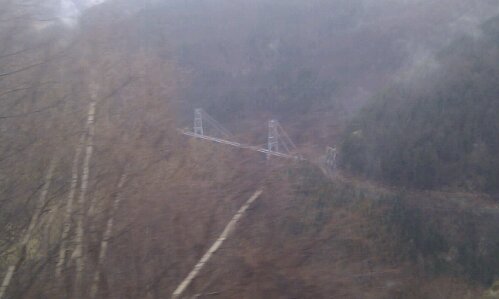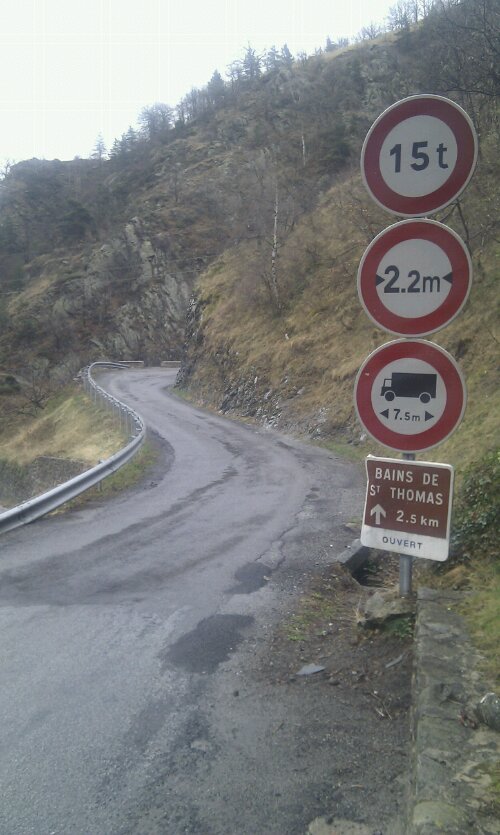 The road itself was a sight to see, running along the valley side, which itself was prevented from crumbling down onto the route by the hairnet of the Gods, miles of metal mesh. The river and railway line ran along below us, with their rumblings inaudible above Dave's ever growling engine. The only thing to spoil the driving is the gear changes; it's taking all my strength to get the thing into first or second, and reverse is just painful for anyone with an ounce of mechanical sympathy.
More pit stops follow to save the frustrated locals from front ending oncoming cars during mad overtakes (most pip their horn in thanks to us as we pull in). Soon enough we're in Villefranche-de-Conflent, a medieval garrison town built in 1100 to fend off the Moors. It's hardly changed since, just the addition of more tat shops, a mushroom exhibition (huh?) and the removal of drawbridges to aid the tourist influx. A fortress was built high (1000 steps) above the town to prevent the obvious attack route of climbing up and chucking big rocks down over the walls. It's €7 per person entry and a 20 min climb, we decline and head back to do battle with Dave's gearbox.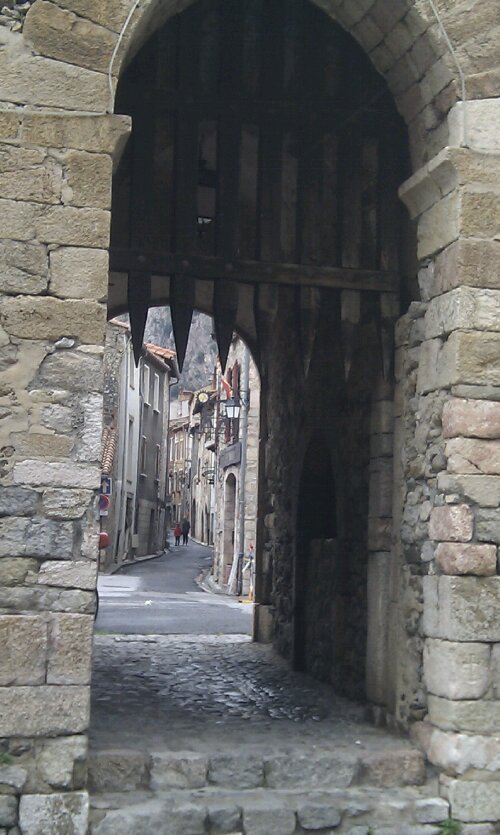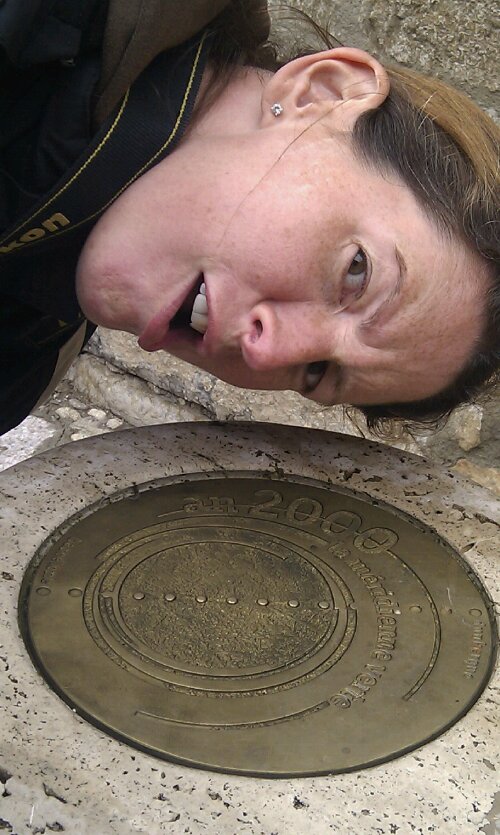 Next stop: here. We drove straight through Vernet-les-Bains to get here. It looked a nice place, but as we're at a dead end at the top of a little valley, we have to go back through it anyway. I was struggling to drive too. As soon as we got here I got under the front of the van, dropped the plastic engine guard and with a couple of 10mm spanners tightened the clutch cable (my toolkit has somehow got all the right tools, despite me spending all of 15 mins putting it together, winner). We'll find out if it's worked tomorrow, a quick test seemed to indicate I could easily select gears, but depressing the clutch now sets off a new whining noise. Ho hum, ADAC will rescue us if needs be.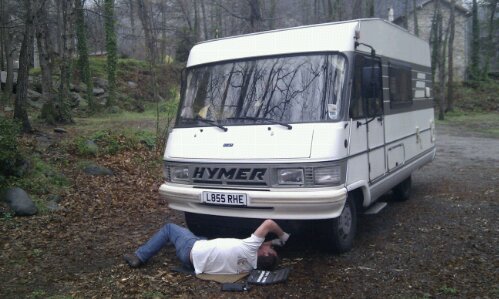 After refitting the cover and a bite to eat we headed around the corner to the village. We'd heard there's an Abbey here (St Martin of Canigou). Fortunately we could see the signs to it, but didn't actually spot it. If we'd seen how high it was, or the switchback upon switchback path up through the woods, we'd have given up immediately. As it was, we yomped up in 40 minutes and had a wander about. More euros needed to get inside, but we were happy to enjoy the view down into the valley and across to the green coloured sheer rock face opposite. Ju bought a bottle of water, and was most impressed to be served by a real live nun! She grabbed some leaflets too, which tell us the abbey was completed in 1014. Weird to think it was finished fifty odd years before William the Conquerer wades ashore in Blighty. The last monks left in 1783, and the locals immediately looted the place, using the carvings to decorate their houses and churches. It was finally restored in 1982.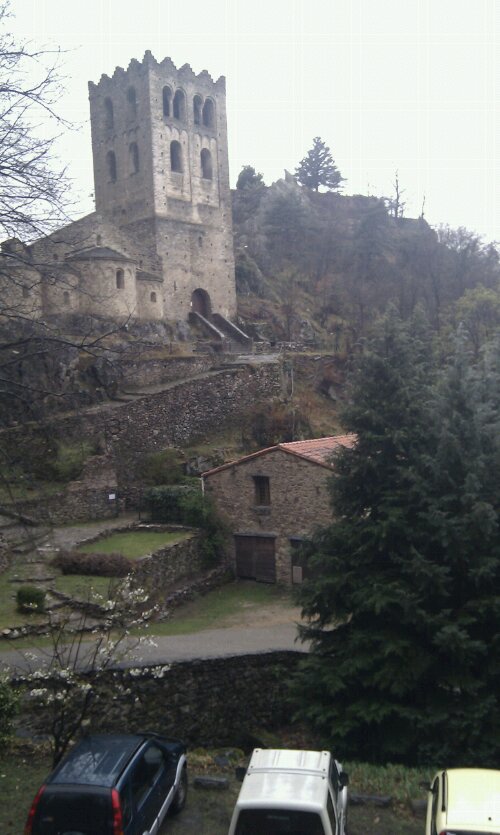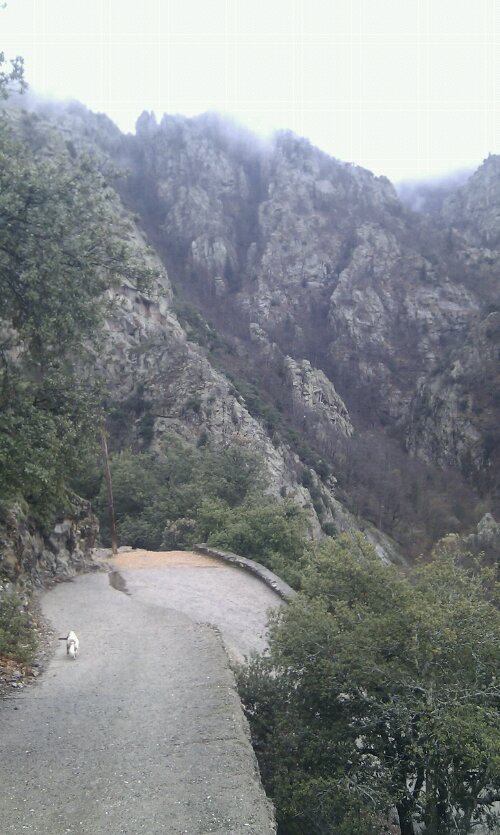 The descent was easy, as was seeing off the glass of red to my right. We're down at 1000m now so we're fairly sure we won't wake up to snow. Tomorrow, we're in search of chateaux.
Cheers, Jay