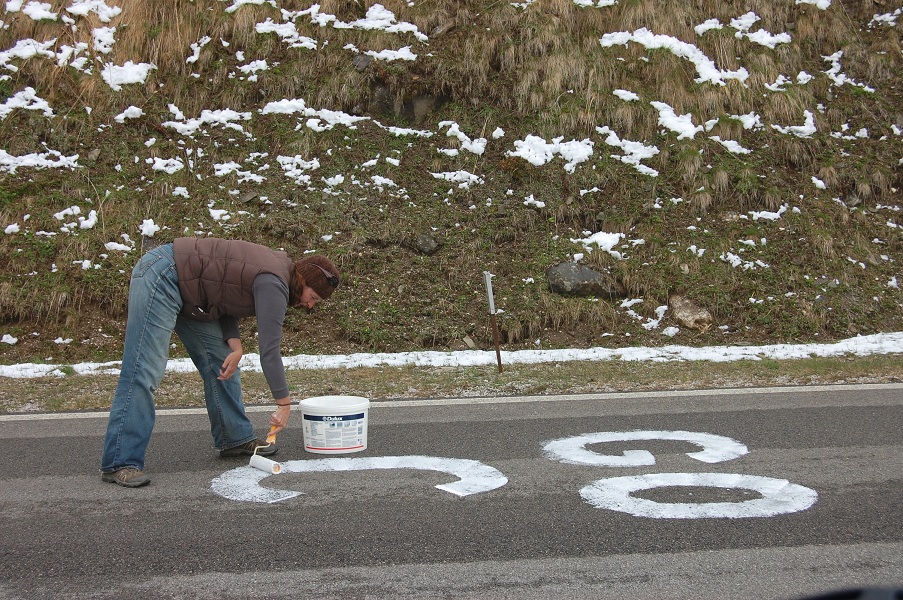 We're here: N46.48752 E12.03758. It's just above the 23rd hairpin bend on the way up to the Passo Giau in the Italian Dolimite mountains, and it's stunning.
The weather is: yesterday's low cloud and mist has lifted, revealing one hell of a majestic skyline.
The rain had stamina last night, hammering on Dave's roof as we drifted off to sleep, and managing to force it's way into one or two leaky bits on his exterior. More silicon sealent needed. At the unheard-of waking hour of 7am, Ju was up, and shortly after so was I. The fluffy blanket had lifted from the jagged, snow capped peaks of the surrounding Dolomites. It was one of those 'crane your neck up and slowly spin around' moments, truly memorable. It must have been to get us our of bed before 8am.
After a walk over the world's ricketiest bridges and around the lake, our excitement couldn't be contained. Stage 17 of the Giro d'Italia! We'd already driven the route up the mountain pass last night, albeit in 'demo mode' on our TomTom. Mucho twisty. The real thing turned up just as bendy, with the added bonus of some good old first gear steepness and snow, lots of snow. The valley's rain had falled as the white stuff up here; my irrational fear of mixing Dave with frozen water kicked in. I reasoned that I'd been over the Pyrenees, Alps, Rif, High Atlas, Middle Atlas and Pico de Europa mountains; surely I can get over these here Dolomites?
23 of 29 hairpin bends later and we're in, fear begone. An Italian van pulls in to a flattish part of the mountain and I'm more than happy to pull along side him. He's a really friendly guy, whipping his bike off it's rack and making a reccy up the hill before returning to say he'd found a better spot; we could both fit in. We're now installed, plastic chocks under the back wheels and big rocks under the front ones!
With Charlie harnessed up, we ascended the rest of the pass. Gravelled areas either side of the road are rapidly filling with campers, and the snow's getting deeper. I'm off into it, running about like a kid with Charlie ploughing his face through it and rolling about. It's nearly June, we didn't expect this opportunity to fool about and make the most of it!
We indulged in an expresso and hot chocholate at the summit lodge, accompanied with a busload of French tourists, Italian camper vanners, German motorbikers (making me feel like a right idiot for being worried about the snow) and the odd Spaniard. The atmosphere was starting to build, and it's only midday, the riders don't get here until 4 or 5pm tomorrow. We're glad we didn't try and park up here, the whole area has been reserved.
As we wandered back down the hill, everyone's saying hello, mainly in Italian, with a few other languages thrown in. Charlie, who has decided it's lunchtime and is thus whining like a banshee, pulls in a few bonus strokes from folks sat outside their vans and tents. Many motorhomes have Giro d'Italia flags from years past hung up against them. We're total amateurs, we only know Mark Cavendish, whom the Italians seem to know as the Cannonball. One group of guys who've got a fire going and are cooking on a steel drum call us over. They're knocking up some prawns and offer us one, only letting us eat it direct from the fork, no fingers. Unsurpisingly they're delicious, even France's cooking was taught them by Italian chefs. Another pot's opened and out comes something which looks just like a testicle I once saw Charlie Boorman eat in Mongolia. It's actually a small octopus, but I can't bring myself to eat it. Ju explains us Brits don't eat stuff which still has its legs!
An English voice draws us to a tent, with www.thomsoncycletours.com splashed across it. A real life Bear Grylls (I eyed up his RAF dog tags) is untangling some cord being used to secure the tent to wind-resistant water bottles. I'm calling him Bear as (a) we forgot to ask his name and (b) he casually mentioned how he'd taken climbers up mile high cliff faces around here, how he spoke Arabic and Swahili (joking he didn't speak Italian, but he did), and how he'd used dog slippers on his huskies to stop their pads freezing up. I told him he must have the biggest cahooners on the planet, he laughed it off, I'd love to see him and Bear fight it out (we met him again – see below for his real name and details).
Further down there's the one and only other Brit van we've seen. Ju nips over and gets talking to Ryan (from Wales) and his partner Verena (from Austria). It turns out Ryan's a pro cyclist (he's writing about biking in various European countries for www.urban-cyclery.co.uk), and he's just ridden past Dave to prove it, cycling down and back up the mountain. That's 6 miles down and 6 back up, at about a 10% incline – probably nothing for him. We had a good chat, swapping a few 'long termer' vanning stories and tips. Hopefully he and Verena will be back for a brew later on.
It's now 2:30pm and we've got over 24 hours to wait for the riders. We've heard it'll be five deep in spectators here, with more campers, cars, busses and people cycling up to watch. Ju's been out and painted Go Cav Go on the road in front of us, the paint and roller coming from our German neighbour. There'll be helicopers buzzing about. Oh my god, we can hardly contain ourselves. Look our for us on the telly tomorrow folks (we think it's on Eurosport), we'll be the wide-eyed ones madly waving our George Cross flag and leaping about!
Cheers, Jay
The real Bear Grylls! Details from his business card:
Gordon J Thomson
"An Englishman Living in Alleghe"
Mountain Adventures in the Dolomites
Summer:
Rock Climbing, Via Ferrata, Guided Walks, Mountain Bike Trips
Winter:
Ice Climbing, Alpine Ski Trips, Snowshoe Walking Trips, Downhill Ski Instruction
Tel: 0039 346 322 4848/ 0044 788 144 1634
gordon@dolomitidreams.com