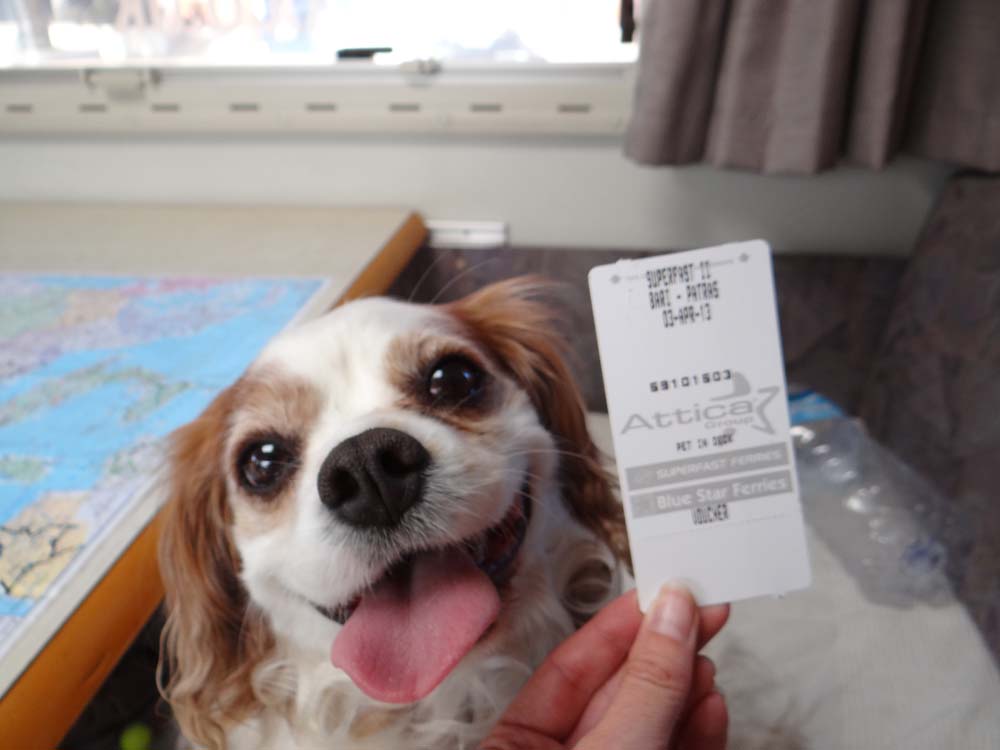 Dave the motorhome is officially in the sea, satnav agrees and shows him surrounded by blue as we sit onboard the catchily titled 'Superfast II' ferry at Bari port (N41.13844 E16.86210). We tried to book our tickets online yesterday, but after what seemed like a lifetime of waiting we got an email back earlier today saying we were too close to the departure time so we should buy our tickets at the port.
This morning after Jay had inspected the upside down cathedral – it's across three floors but you work your way down from the main entrance – we went for a final wander around an Italian town. Trani was basking in the warm sunshine, the fish sellers out on the quayside selling what they had caught overnight. I'll miss the Italian marble, stone streets (although not when driving on them as my fillings are loose enough thanks), ice cream, passionate people and the beautiful architecture spanning the centuries. But it is time to move on, so we plotted a course for a camper service place in the next town and headed over to empty Dave's tanks (as we were unsure if we'd be able to do so on the ferry).
Satnav's directions took us to a set of roadworks, the road clearly shut. We told her there was a roadblock, so she recalculated and tried to send us down a wide dirt track. Ignoring her we carried on but it was a dead-end. Turning around we braved the dirt track, it seemed wide enough, but then it got narrower, and narrower. As it reached a train track it turned left to run alongside the lines, but a metal barrier stopped us from following. Facing a long reverse back up the narrow track Jay started a three-point turn into a small clearing to our right. Then we heard a noise. One of those that make you think 'that's not a good noise', I jumped out to investigate.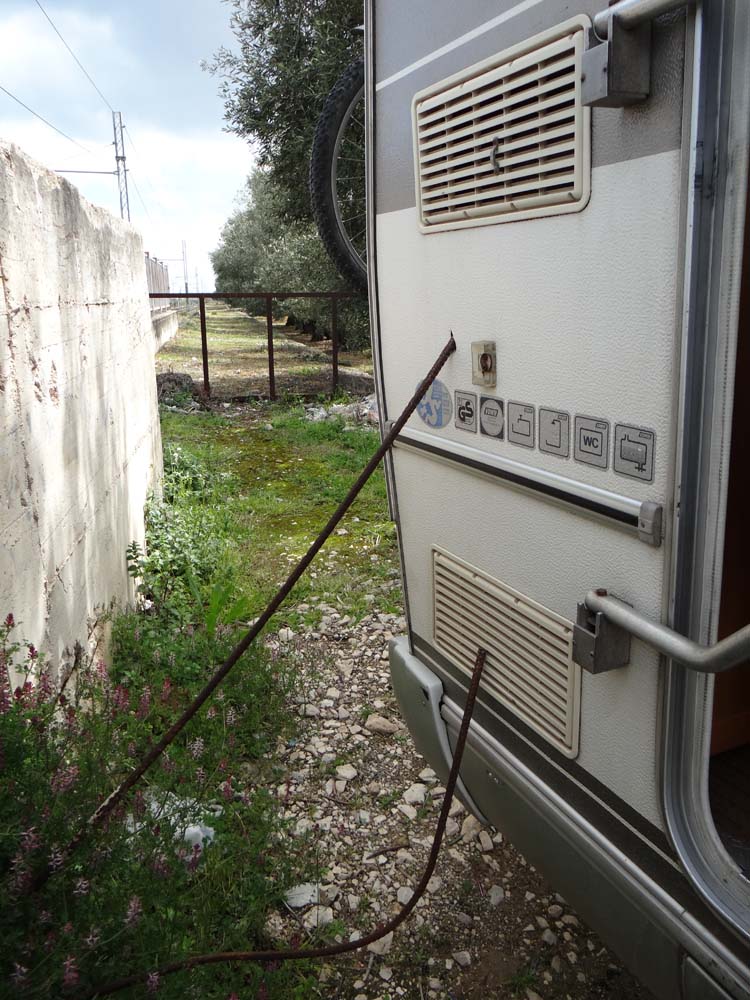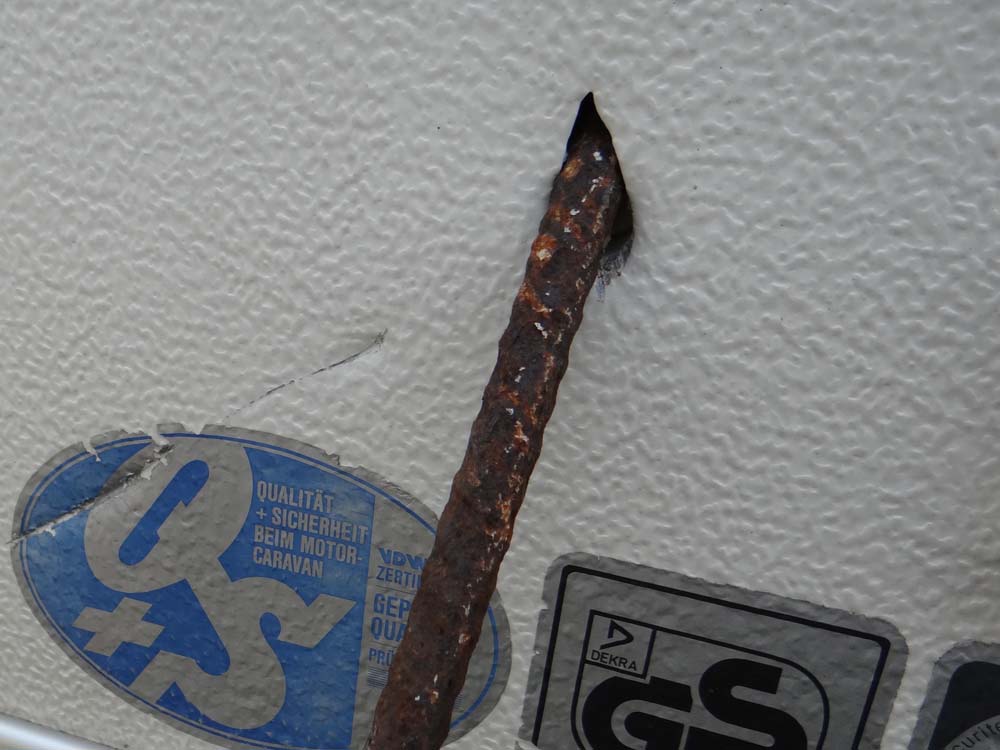 Two rods of 'rebar' (rusty metal bars) were sticking out from the concrete siding of the train track. They weren't noticeable until they scraped along Dave and one of them decided to poke a hole in him. Poor Dave stood there skewered while poor Jay thought it was his fault; it wasn't and I'm still in awe at how he copes with all the scary driving while I sit in the passenger seat and panic. We checked inside the fridge to see if we could see the rebar nestling among our Italian cheese collection as we couldn't tell how far it had gone into Dave. Unable to see it in the fridge the only thing left to do was to un-skewer Dave, so Jay drove forward slowly as I pulled the bar towards me as much as possible. It worked and soon Dave (aka Scarface) was free, his skin punctured but it had gone no further than his insulation – phew!
After the inevitable long reverse up the dirt path we headed back to the main dual carriageway (it will never cease to amaze me how quickly roads turn to dirt once off the main drag in southern Italy) and got off at the next exit. A short drive on a decent road brought us to the emptying point, handily next to a cheap LPG station (if only we hadn't filled up yesterday!). It seems to be a car sales place, but offers overnight parking for motorhomes and a service point. Mustering up all the Italian I know (apart from ordering ice creams) I told the chap we only wanted to empty the loo, he waved us in and three Euros and a lot of stinky brown liquid pouring later we were off.
Next stop? You guessed it – Lidl! A final, final stock up of tasty Italian treats and cheap wine – after all who knows what will be available in Greece (Jay is hoping for lots of kebab!). Next to Lidl was a Brico Casa (Italian B&Q) where we found some sheets of aluminium which look just like Dave's outer skin, but unpainted. At only €6 we grabbed a whole sheet then set about wondering how to trim it to size, knowing that our hacksaw doesn't like to cut through butter unless it's very warm. The hacksaw blades aisle also stocked super strong scissors, well there was no point in buying them if we hadn't tested them to make sure they would cut through the aluminium. Once we'd tested them it only needed one more cut and the bit we wanted was free. At the check out they didn't bat an eyelid, so apologies if you buy any slightly blunt scissors from Brico Casa in the near future!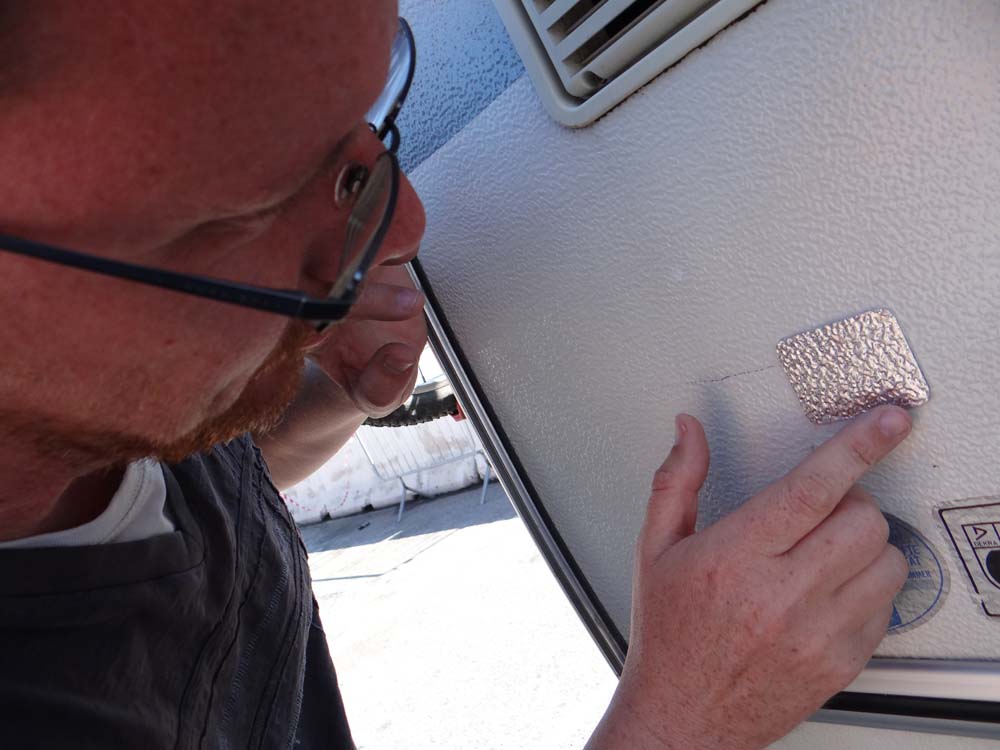 We got to within a kilometre of the ferry port and stopped in a car park for some lunch, so when we arrived we were only a couple of hours before loading time. A lady at the port entrance directed us to the ticket booth (roundabout, left, blue building – it was all we needed) and the price at the booth was the same as it was online; at €209 for an 18+ hours crossing it makes the channel look very expensive.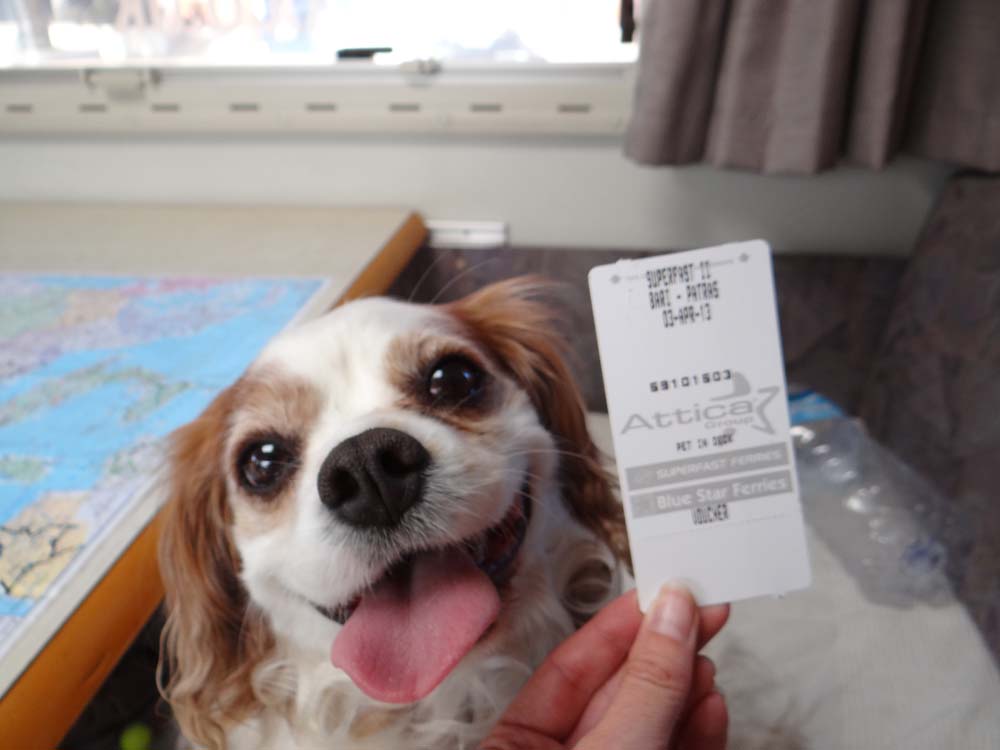 Rolling into place on the deck we're behind an English family who it turns out are old hands at doing this, they split their time between the UK and Kefalonia – I'm every so slightly jealous. Electric hook-up drops down from the ceiling and everything goes on charge before we settle down to enjoy the view from Dave's window. They're still loading at the moment, and we aren't set to sail until 8pm.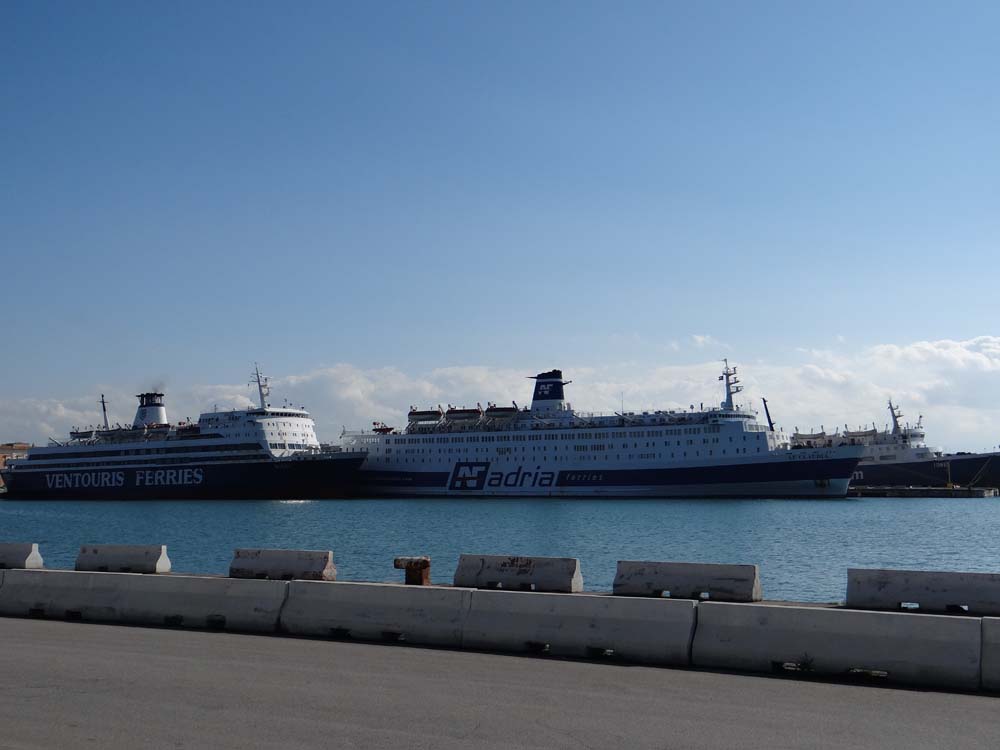 An announcement has just declared the onboard restaurant to be open – but for me it'll be sea sickness pills and tea in Dave tonight. I love the idea that we sleep in here for the crossing, Charlie likes it too. Why waste money on a cabin when we have everything we need here?
We're due to arrive in Greece around lunchtime tomorrow, but you can check our progress on these two sites (thanks for the links Josh!)  http://www.marinetraffic.com/ais/ and http://www.vesselfinder.com/ we're on the Superfast II. So please don't worry if our update is late, or there isn't one as we'll be back on only 100MB with our EuropaSIM (oh yeah another thing we'll miss about Italy the 500MB allowence) and will have no doubt used that surfing the internet and studying our Greek phrase book to kill time as we cruise across the Adriatic!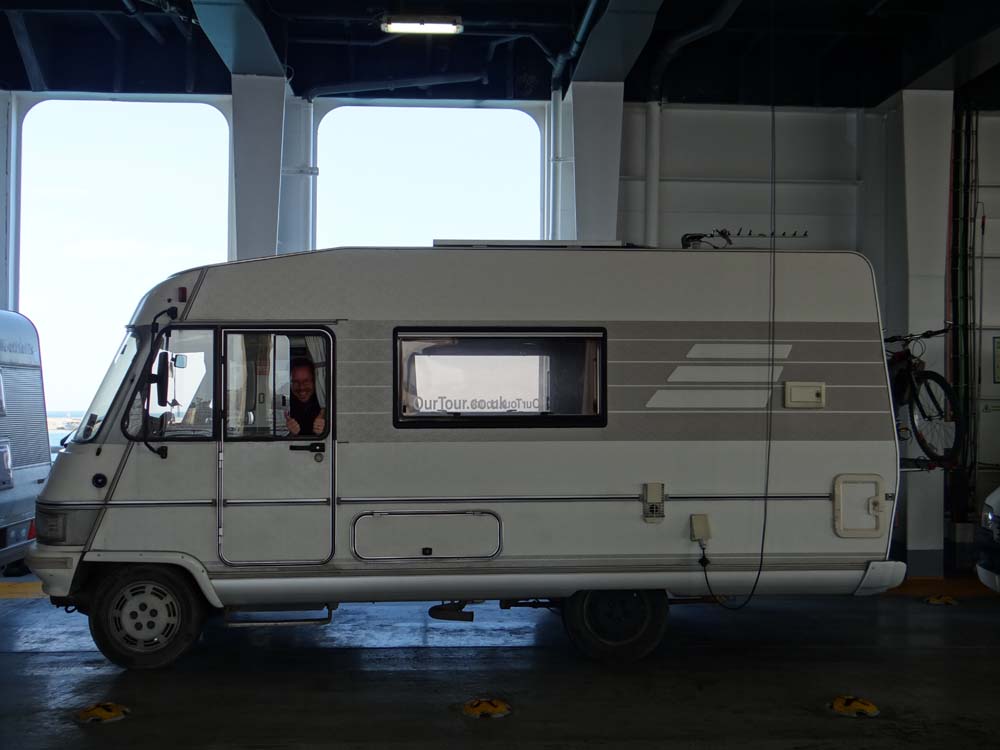 Bon voyage!
Ju x